Magnetic Separator Market - Key Research Findings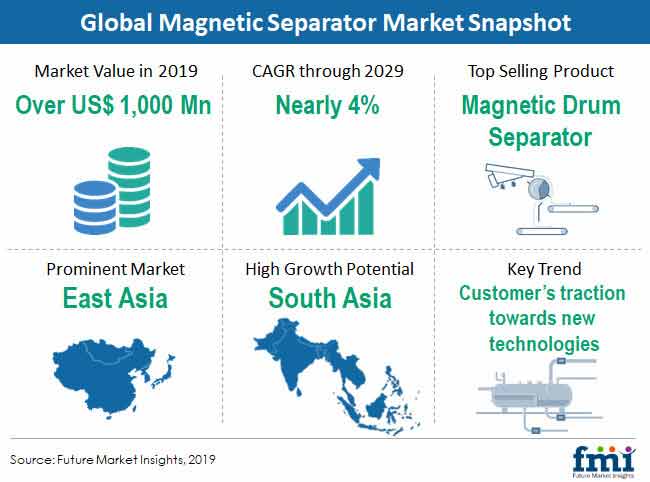 Global magnetic separator market size in 2018 – nearly US$ 1150 Mn.
The magnetic separator market is expected to grow at a CAGR nearly 4% over 2019-2029.
East Asia and Europe are expected to remain prominent regional markets in the magnetic separator market.

East Asia and Europe are the prominent regions in the magnetic separator market, owing to the presence of several industries in these regions that mandate the use of efficient separation equipment at all connections to prevent metallic contamination.

India and Australia are most lucrative countries in the magnetic separator market.

By region, the magnetic separator market is segmented into North America, Latin America, Europe, East Asia, South Asia, Oceania, and Middle East & Africa. The South Asia region is expected to grow at a significant CAGR in the global magnetic separator market, owing to the robust growth being witnessed in the several end-use industries. In terms of value share, the East Asia market is projected to dominate throughout the forecast period and is projected to create substantial absolute $ opportunity between 2019 and 2029 in the global magnetic separator market.

The magnetic roller separator segment is expected to remain the most preferred product type segment after magnetic drum separator segment in the global magnetic separator

The growth of magnetic roller separator segment can be primarily attributed to the increasing popularity of the segment over the magnetic drum separator segment. Roller type, pulley type, and other new technologies are gaining significant traction among customers.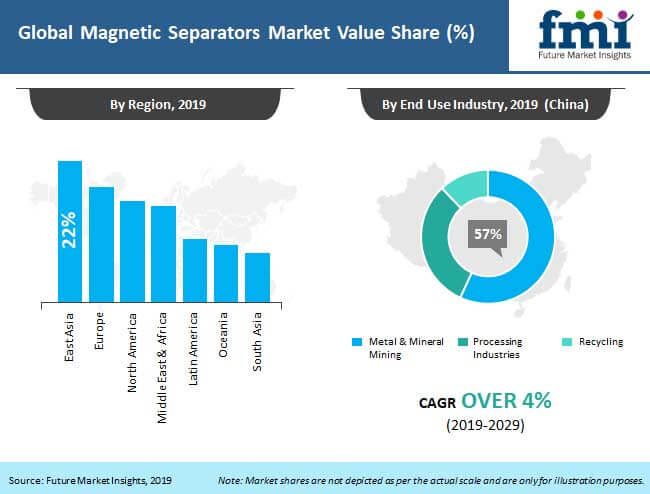 Top 3 Factors Shaping the Magnetic Separator Market
Recycled Metal Usage in the Manufacturing Industry is expected to Drive the Demand for Magnetic Separators

Magnetic separators are a vital part of the metal recycling industry. Metal recycling is the process of collecting and processing used metals to develop recycled metals. Metals can be recycled without altering their metallic properties, which comes as an advantage. The prominent reason for the usage of recycled metal is less energy consumption. Energy consumption for producing virgin ore is 20 times more than the recycled ore.

Moreover, metal recycling has advantages such as environmental benefits, energy conversion efficiency, and economic benefits. The manufacturing industry is more inclined towards using recycled metals as raw materials, owing to benefits such as effective cost and energy consumption rate. For recycled metal production, collection of metals from the waste is a crucial part, which is sorted with magnetic separators. The increased use of recycled metals in the manufacturing industry results in increasing usage of magnetic separators.

Increasing Demand for High Purity Metals and Removal of Unwanted Particles is expected to Drive the Magnetic Separator Market

In the mining industry, bulk materials extracted from the mine are required to be reformed into the required size. Mining crushers are utilized for crushing the bulk material into the required material size. In the crushing process, tramp metal might damage the processing equipment such as crushers. This damage is estimated to impact the operational life and the maintenance cost of the equipment.

To avoid damage to the processing equipment from the tramp, magnetic separators are installed before the processing equipment to remove unwanted materials from the extraction mixture. Increasing usage of process equipment in the mining industry is anticipated to positively affect the utilization of magnetic separators.

Surging Construction Projects to Propel the Growth of the Magnetic Separator Market over the Forecast Period

Magnetic separators find significant applications in the cement industry to separate unwanted metallic particles from raw materials or processed cement. Increasing construction projects particularly, in developed countries is expected to fuel the growth of cement industries, subsequently increasing the demand for magnetic separators.
Magnetic Separator Market Structure Analysis
The global magnetic separator market is a fragmented market with prominent global players accounting for less than one fifth of the total market share.
Some of the prominent companies in the magnetic separator market includes Metso Corporation, Outotec Oyj, Eriez Manufacturing Co, Noritake Co., Limited, SLon Magnetic Separator Ltd., KANETEC CO.,LTD., LONGi Magnet Co., Ltd, Shandong Huate Magnet Technology Co., Ltd, Nippon Magnetics, Inc., Douglas Manufacturing Co., Inc., A AND A MAGNETICS, INC and others.
Most key players are maintaining the strategic focus on the development of distribution partnerships and agreements for global market expansion.
Some of the top manufacturers who contribute a high revenue share to the magnetic separator market are Metso Corporation, Eriez Manufacturing Co, SLon Magnetic Separator Ltd., and LONGi Magnet Co., Ltd.
Magnetic Separator: A Powerful Tool for Mining Extraction
Magnetic separators market continues to witness significant gains owing to growing usage as an effective tool to separate unwanted material generated by mining extraction process. Growing rate of mining extraction process, coupled with increasing requirement of maintaining the purity of extracted material is driving the demand for magnetic separators in metal and mineral mining industry.
Market Set to Grow 1.4X between 2019 and 2029
The magnetic separator market is envisaged to grow at a steady pace during the forecast period. Gains will be driven by growing adoption of magnetic separators as a viable instrument for the filtration and removal of ferromagnetic foreign bodies from product streams that ensure high product quality and prevent damage to machines. Increasing development of magnetic separators to maintain energy consumption level is likely to drive market growth.
East Asia Leads the Way in Magnetic Separator Market
East Asia will continue to spearhead magnetic separators market during the forecast period, owing to positive outlook for various end-use industries, such as metal and mineral mining, food and beverage, and recycling in the region.
Growing rate of adaption of technological advancement in the region has been generating increased demand for magnetic separators. South Asia holds high growth potential for magnetic separators market, owing to substantial growth in several processing industries in India and ASEAN.
The Broader Perspective
Increasing demand for a high performance separation equipment, coupled with the growing focus of manufacturers on business expansion via establishing new distribution centers and sales offices to extend geographic presence likely to scale up the market value considerably. Growing application of magnetic separator in recycling facilities holds lucrative growth opportunities for stakeholders.
How the Growth Will Unfold
The magnetic separator market is likely to scale new highs in years to come, due to the growing demand for high-gradient and high-intensity magnetic separators to treat ultrafine magnetic particles.
MAGNETIC SEPARATOR MARKET TAXONOMY
The global magnetic separator market is segmented in detail to cover every aspect of the market and present a complete market intelligence approach to the reader.
By Product
Magnetic Drum Separator
Magnetic Roller Separator
Over band/Cross Belt Separator
Magnetic Pulley Separator
Coolant Separator
By Intensity
Low Intensity
High Intensity
High Gradient
By Material Type
By Cleaning Type
Self-Cleaning
Manual Cleaning
By End-Use Industry
Recycling
Processing Industries
Metal & Mineral Mining
Region
North America
Latin America
Europe
South Asia
East Asia
Oceania
Middle East& Africa
Need specific information?