New application areas and increasing utilisation of drones and autonomous cars are trending the global GPS tracker market
Western Europe
New applications of GPS trackers are developing in Western Europe. The use of GPS tracking in laser aimed darts is a novel concept which got success after its testing. Such areas of applications, getting developed successfully and now need to be brought to light to the population. For instance, In June 2017, the police in Waterloo, Belgium used GPS trackers to track a truck. The police found the laser-aimed darts a safer alternative to chase. This innovative technology was deployed for the first time.
Eastern Europe
GPS tracking is still in introductory stages of its application in the aviation industry. The delay in delivery of correct piece of information is a major drawback of this application, which is particularly critical in regions like Eastern Europe, where pilots have to operate in regions with unstable connection. This is motivating the several companies to launch high standard GPS trackers that could be helpful in aviation industry. In February 2017, UTair-Helicopter services, a Russian helicopter operator, launched GPS tracking over its entire fleet. These trackers monitor aircraft movements and thus work towards improving the aircraft safety.
Latin America
The rising imports and exports between countries bolsters the market growth for GPS trackers. The amount of cargos transported between countries is witnessing a fast growth which create an inevitable need for fleet management solutions to ensure the safe delivery of goods. These needs create an opportunity for a strong growth potential in the global GPS trackers market. According to World Bank, the exports and imports of goods from Brazil and Mexico increased significantly from 2010 to 2016.
APEJ
Apart from the traditional usage of GPS trackers in vehicles for navigation, umpteenth of new areas of applications are developing. One of the emerging area of development is in nabbing of criminals by the police department. In July 2017, Police officers in India used a small, discreet GPS tracker called the Track 24×7 Mini-Tracker developed by a local Indian developer. The device was used to track suspects in a special case. Further, satisfied with the results, the police asked the developer to provide them 50 more mini-trackers
Japan
GPS is critical to the development of new applications like drones and self-driving cars, which has become an indispensable part of population especially in the developed regions like Japan where people lead a luxurious life yet are very much concerned about their safety.
MEA
The increasing amount of goods transported between the countries mainly the UAE and gulf countries is one of the primary driver for the growth of GPS tracker market in MEA. Due to rising transport, companies providing fleet management solutions.
North America
Advanced tracking in high value air cargos is still a nascent technology which needs careful handling. The transportation of valuables like pharmaceuticals and temperature sensitive electronics, needs to be monitored throughout the journey very carefully. The trackers used for such purposes are undergoing extensive R&D, with the launch of successful trackers are expected to increase the demand for trackers in the near future.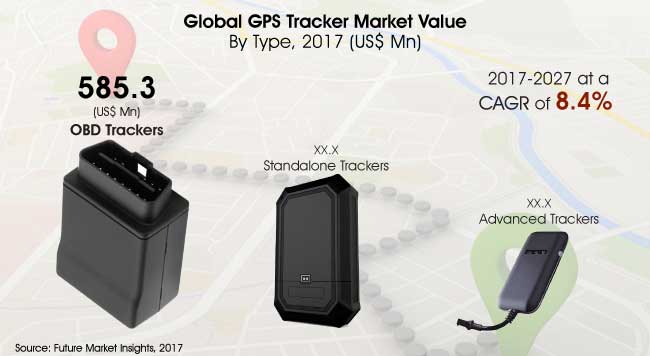 Advanced Trackers segment is anticipated to exhibit high market attractiveness index over the forecast period
In terms of value, advanced trackers segment is projected to be the most attractive in the global GPS tracker market during the forecast period. OBD trackers segment is expected to register moderate Y-o-Y growth rate throughout the forecast period. In terms of value, this segment is expected to expand at a CAGR of 8.2% during the forecast period. In 2017, advanced trackers segment is estimated to be valued more than US$ 445 Mn and is expected to witness steady growth in terms of revenue throughout the forecast period.
Market Segmentation
By Type
Standalone Tracker
OBD Trackers
Advanced Trackers
By Application
Fleet Management
Asset Management
Others (Pets wearable devices, wearable devices etc.)
By Industry
Transportation and Logistics
Construction
Government
Defence
Energy & Utilities
Healthcare
Others (BFSI, Media and Entertainment, Telecom)
By Region
North America
Western Europe
Eastern Europe
Latin America
APEJ
Japan
MEA
Need specific information?
Talk Show:
The Rise of Intelligent Packaging
Personalized, Connected and Sustainable
November 18, 2021
11:00-11:45 AM PST (USA & Canada)
This is a LIVE session