Fleet Management Market By Component (Hardware, Software, Services), Fleet Type (Trucks/Cars/Buses, Ships/Vessels, Aircrafts, Railcars), Application (Fleet Tracking and Geofencing, Vehicle Maintenance), Industry (Construction, Manufacturing, Mining) & Region - Forecast to 2020 - 2031
Fleet Management Market - Analysis, Outlook, Growth, Trends, Forecasts
June 2021

REP-GB-3186

322 pages
Fleet Management Market Snapshot
The global fleet management market is forecast to surpass US$ 11.5 Bn in 2021. As per Future Market Insights (FMI) analysis, the market will register steady growth at 10.4% CAGR between 2021 and 2031, as end-use industries around the world exhibit high demand to improve transportation network operations.
The market is forecast to exhibit 8.8% y-o-y growth in 2021. Among components available, the demand for hardware is expected to be the highest, however, the software segment will grow at a higher CAGR of 11.6% over the assessment period.
Key Points Covered in Fleet Management Market Study
Market Estimates and Forecast 2015-2031
Key Drivers and Restraints Impacting Market Growth
Segment-wise, Country-wise, and Region-wise Analysis
Competition Mapping and Benchmarking
Brand Share and Market Share Analysis
Key Product Innovations and Regulatory Climate
COVID-19 Impact on Fleet Management Market and How to Navigate
Recommendation on Key Winning Strategies
2016-2020 Fleet Management Market Outlook Compared to 2021-2031 Forecast
The global fleet management market is estimated to be valued at US$ 11.5 Bn in 2021. The fleet management market is expected to witness growth at a CAGR of 10.4% during the forecast period 2021-2031.
The market is projected to witness significant growth due to various factors including the growing need for reliable and cost-effective fleet management, coupled with growing demand for cloud based and big data analytics solutions.
Technological innovation is backing every industry vertical and transportation and logistics industries are no exceptions. Today, consignment delivery is ensured with rise of smartphone and related applications along with the availability of real-time tracking solutions.
Owing to such advancements in technology, fleet management solutions enable consumers and businesses to facilitate cost efficient transport and logistics with fuel and route choice optimization.
The global fleet management market is anticipated to witness growth in revenue from US$ 10.5 Bn in 2020 to US$ over 30.9 Bn by 2031.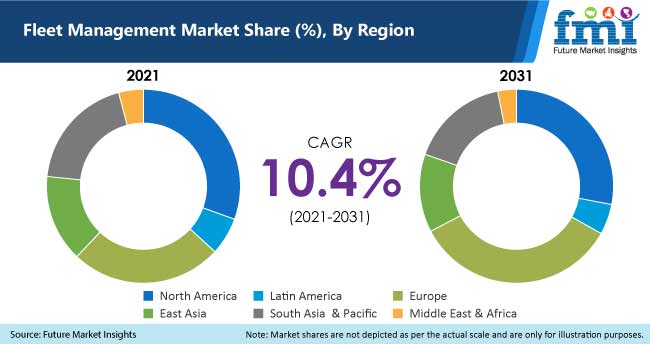 How is Digital Transformation Driving Fleet Management Solution Sales?
Increasing digitization is enabling firms to restructure departments and put additional staff on the front line where they can be used to support the growing demand for consultancy services. Waiting in the wings as an untapped resource is a huge volume of real-time vehicle data.
This information could deliver potentially huge benefits in terms of predictive maintenance, safety, and asset management. This looks unlikely to happen this year. The issue of who controls this data – OEM, leasing/rental company or end user – and how it should be packaged and paid for remains unanswered, with no conclusion on the immediate horizon.
For customers, digital platforms are becoming ever more intuitive and flexible. This is particularly true of the PCH channel. Digital interaction and customer service based Artificial Intelligence (AI) systems are being rolled out across the industry. This ensures the delivery of major levels of personalization and detail which are increasingly replacing car showrooms.
These services are providing a more reliable and efficient means of individual transactions for lease companies and brokers. The rental sector is also embracing digitization creating potentially lucrative opportunities.
What are the Key Expansion Strategies Adopted by Solution and Service Providers?
Market players are delivering solutions proactively, and providing consultation services to help end-users maneuver through the ongoing pandemic. Companies are developing creative solutions for their customers.
However, every fleet varies, which means different fleets demand different operational and management strategies. Customers dealing with larger fleets are concerned about the operational impacts of COVID-19. Companies are helping these customers ensure efficiency and enhanced productivity, especially for fleets that are deployed for essential use cases.
Companies are also deploying service professionals to cater to non-preventive and preventive maintenance demands. Small-sized fleet operators are more sensitive to short term economic impacts of the ongoing pandemic. Companies are working to cater to customization demands aimed at meeting ever-changing requirements.
Country-wise Insights
Why is the Demand for Fleet Management Surging in the U.S.?
According to the FMI analysis, the overall fleet management spending in the U.S. alone is likely to increase at a rate of 10% between 2021 and 2031, with a market value of US$ 2.6 Bn in 2021.
North America will emerge as the largest market for fleet management, due to the strong presence of service providers, in the region. This is attributed to the increase in demand from various industrial verticals. Moreover, increasing demand for full-service leasing is significantly fueling the growth of fleet management companies in recent years.
In North America, especially in the U.S., continuous innovation in big-data analytics in fleet management is resulting in greater choice, flexibility, and cost-saving solutions for fleet management and towards the future of mobility.
Is Germany a Lucrative Market for Fleet Management?
The market in Germany is anticipated to be valued around US$ 2.2 Bn by 2031. In the past few years, it has been observed that many small and medium enterprises in European countries such as the U.K., Germany, and France are adopting fleet management solutions and services driven by the growing popularity of cloud-based solutions.
Germany happens to be a home to globally leading automobile industry that produces around 6 million cars per year. Increasing government initiatives coupled with the promotion of electric vehicles through tax incentives and subsidies, is making fleet managers increasingly interested in new mobility contracts. Furthermore, Europe is identified by FMI as the second-largest market in2021, which is expected to dominate the market by 2031.
Growth of Commercial Vehicle Fleet Management Systems in China Driving Demand
According to the FMI analysis, the market for fleet management in China is likely to grow at a CAGR of 9.1% from 2021 and 2031, with a market value of around US$ 1.1 Bn in 2021. China, Japan and South Korea are creating potential growth opportunities for the growth of fleet management owing to rising emphasis of fleet operators on operational efficiency.
Transportation, oil and gas, and construction sectors are growing rapidly in the China supporting the adoption of fleet management solutions and services, which in-turn has increased the demand for the fleet management in the region drastically.
China's commercial vehicle fleet management system market is currently in phase 2.0, which focuses on people-vehicle interaction. In the coming years, the market is expected to enter phase 3.0, centering on technologies for vehicle-to-everything, vehicle-to-vehicle, and Internet of Things.
In China, the commercial vehicle market is being driven by the booming e-commerce industry, thereby driving the growth of overall fleet management market in China.
How are Fleet Management Solutions Faring across India?
The fleet management market in India is anticipated to witness a growth in revenue from around US$ 614.3 Mn in 2020 to US$ 1.8 Bn by 2031. The demand for cloud based and data analytics solutions in fleet management has increased rapidly across various industry verticals in major economies of the South Asia and Pacific region including India and Australia.
Moreover, in India, there has been a steady growth in the adoption of connected vehicle technologies by fleet management solution providers. The demand for commercial vehicles is projected to show major growth as Indian commercial vehicle owners are looking for cost-efficient and low-emission methods to cope with fleet management operations. Furthermore, rapid growth in the e-commerce and construction sectors in India, is expected to drive market growth.
Category-wise Insights
What is the Market Share of Fleet Management Hardware?
In terms of components, the market is segmented into hardware, software, and services. The fleet management hardware segment is dominating the market and it is estimated to account for nearly 48% of the total market value share by the end of 2020.
The hardware segment includes GPS tracking devices, dash cameras, Bluetooth tracking tags, and data loggers. GPS tracking devices are anticipated to hold the largest share of the market while growing at a CAGR of 10.8%.
With progressive improvements in how GPS devices track the geographical location of vehicles, they prove to be a great asset in fleet management. The data received from GPS devices can be translated and presented on mobile or web portals so that real-time location of the fleet can be easily tracked.
Why is Trucks/Cars/Buses Segment Reflecting Higher Growth?
In terms of fleet type, the market is segmented into trucks/cars/buses, ships/vessels, aircrafts, and railcars. The trucks/cars/buses are expected to register the highest CAGR of 13.6% during the forecast period, while also creating an incremental opportunity of US$ 11.7 Bn between 2021 and 2031.
There has been a rise in demand for on-demand trucking services in recent years. The benefits of on-demand trucking extends to clients, individual drivers, and fleets. The major benefits include the ability to lower expenses, optimize use of containers, reduce administrative tasks, and automate processes.
Why does Fleet Tracking and Geofencing Segment Hold Larger Share in the Market?
In terms of application, the market is segmented into fleet tracking and geofencing, vehicle maintenance and diagnostics, driver behavior monitoring, and fuel management among others. The fleet tracking and geofencing segment is expected to hold the largest share of the market accounting for US$ 4.3 Bn in 2020, while growing at a considerable CAGR of 12.1% between 2021 and 2031.
The growth of the segment can be primarily attributed to fleet management and geofencing software features that give you the ability to reduce costs, increase productivity, and visibility, and thereby improve fleet management operations.
Why is the Demand for Fleet Management Rising in Transportation Sector?
Among end use industries, the market is segmented into construction, manufacturing, mining, transportation, oil and gas, and others. With the growing popularity of connected cars, there has been rise in demand for fleet management solutions and services.
The transportation industry is dominating the global fleet management market and it is estimated to account for 37.8% of the total market value share by the end of 2021. Fleet management plays a crucial role in both transportation and logistics, which involves planning and management of dispatch schedules, cost optimization and real time tracking to ensure efficient last mile delivery.
The conventional approach towards fleet management involving human interaction and management fails to keep track of how goods are transported from the origin to the final destination.
Metrics such as real time location tracking, pace of fleet movement, and delivery routes, play a crucial role in enhancing trips and estimating delivery times. This is where the advanced variant of fleet management technology comes into light.
Competitive Landscape
Launch of new products and strategic partnerships are key strategies followed by top players in the fleet management landscape to increase their business revenue.
For instance, In February 2018, Cisco Systems, Inc. launched one of the most comprehensive closed-loop multi-vendor, multi-domain automation solutions. The solutions are intended to work together to offer data-driven insights, greater network visibility at scale, and provide outcome-based automation. This helps the company integrate future technologies into its products with ease and at low additional expenditure.
Fleet management providers are also focusing on entering into partnerships with technology and digital solution providers to target new innovations within the market. The strategy helps companies in enhancing its product portfolio to expand its horizons. Also, through this strategy, the companies are broadening their geographic reach with additional service portfolios.
In June 2021, Dtac Business announced its partnership with Cartrack Technology to provide fleet management solutions to small and medium enterprises in Thailand.
Goodyear entered a long-term agreement with ZF to leverage the company's mobility solutions and ZF's advanced Transics-branded, Fleet Management Solutions.
Moreover, technology giants and telecom companies are entering the fleet management market to expand on telematics, entertainment, and mobility platform offerings.
Scope of Report
Attribute

Details

Forecast Period

2021-2031

Historical Data Available for

2016-2020

Market Analysis

USD Million for Value and Units for Volume

Key Countries Covered

US, Canada, Germany, U.K., France, Italy, Spain, Russia, China, Japan, South Korea, India, Thailand, Malaysia, Indonesia, Australia, New Zealand, GCC Countries, Turkey, Israel, Northern Africa, and South Africa

Key Segments Covered

Component, Fleet type, Application, Industry, and Region

Key Companies Profiled

TomTom N.V.
Zebra Technologies Corp.
Trimble Inc.
Cisco Systems, Inc.
GoFleet Corporation
Geotab Inc.
Digital Matter
GPS Trackit
Fleetmatics Group PLC
GoGPS
Wireless Links
Embitel
Gurtam
Teletrac Navman
Linxio
StreetFleet
TigerFleet
Ruptela
Trakm8 Limited
WebEye Telematics Group

Report Coverage

Market Forecasts, Vendor Share Analysis, Competition Intelligence, DROT Analysis, Market Dynamics and Challenges, and Strategic Growth Initiatives

Customization & Pricing

Available upon Request
World's Most Profilic Intelligence Engine
Get Access To The World's Largest Market Research Database.
Sign Up Now
Market Segmentation by Category
Component:
Hardware

GPS Tracking Devices
Dash Cameras
Bluetooth Tracking Tags (BLE Beacons)
Data Loggers

Software

Fleet Management Software
Telematics Software

Services

Professional Services

Consulting & Advisory
Integration & Implementation
Support & Maintenance

Managed Services
Fleet Type:
Trucks/Cars/Buses
Ships/Vessels
Aircrafts
Railcars
Application:
Fleet Tracking and Geofencing
Vehicle Maintenance and Diagnostics
Driver Behavior Monitoring
Fuel Management
Others
Industry:
Construction
Manufacturing
Mining
Transportation
Oil and Gas
Others
Region:
North America
Latin America
Europe
East Asia
South Asia & Pacific
Middle East and Africa (MEA)
Key Questions Answered in the Report
What is fleet management market size?
The overall fleet management market is projected to surpass US$ 11.5 Bn in 2021.
At what rate did the fleet management market grow in the last five years?
Demand in the fleet management market increased at 8% CAGR between 2016 and 2020.
What are the key trends shaping the fleet management market?
Market players are likely to focus on introducing technological improvements. Their key aim will remain to offer cost-effective and advance fleet management solutions to help enterprises improve their productivity.
Who are the leading fleet management companies?
Leading fleet management companies include TomTom N.V., Zebra Technologies Corp., Trimble Inc., Cisco Systems, Inc., GoFleet Corporation, Geotab Inc., Digital Matter, GPS Trackit, Fleetmatics Group PLC, GoGPS, Wireless Links, Embitel, Gurtam, Teletrac Navman, Linxio, StreetFleet, TigerFleet, Ruptela, Trakm8 Limited, and WebEye Telematics Group among others.
What is the North America fleet management market outlook?
North America is dominating the global fleet management market and will account for an estimated 30.5% of the global market in 2021.
Who are the top fleet management providers and what is their market share?
TomTom N.V. and Cisco Systems are the top fleet management providers. They are likely to account for nearly 14% of the global fleet management market.
At what rate will the demand rise in the Europe fleet management market?
The Europe fleet management market is expected to rise at a CAGR of 13.8% between 2021 and 2031.
Which are the top five countries driving fleet management market demand?
Leading countries driving demand in the fleet management market are U.S., Germany, China, Japan, and India.
What are the key statistics for fleet management market in Japan and South Korea?
The demand for fleet management solutions in Japan and South Korea is expected to rise at 10.2% CAGR and 6.7% CAGR, respectively.
Need specific information?
Our Clients