Stool Management Systems Market - Key Research Findings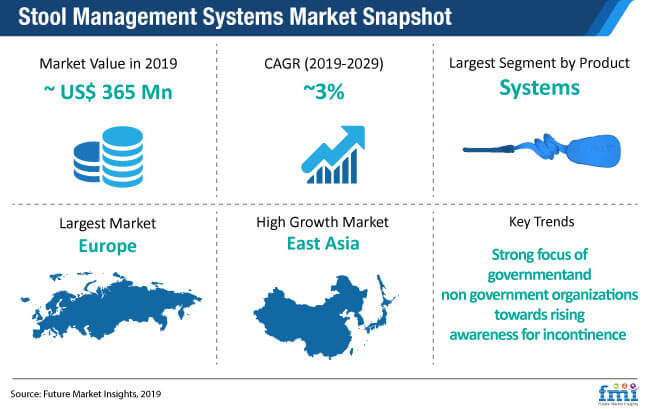 The global stool management systems market size in 2018 was valued at ~ US$ 355 Mn.
The stool management systems market is anticipated to grow at a CAGR of ~ 3% during the forecast period.
A number of etiologies lead to the development of fecal incontinence (FI), some of which include acquired structural abnormalities, functional disorders, neurological disorders, and congenital disorders, among others.
North America and Europe collectively account for ~ 2/3rd market shares in the stool management systems market.
Top 5 Factors Shaping the Stool Management Systems Market
Increasing Focus on Stool Management Training
Stool management training programs provides caregivers the required skills and knowledge to manage the bowel elimination needs of patients. These programs are targeted to caregivers who have mechanical and medical bowel problems. These programs enable the caregiver to look after patients' bowel needs at home. These are also focused on normalizing the stool consistency, and establishing a fecal elimination routine.
There has been an increase in the focus on establishing stool management training courses by hospitals and cancer centers to enhance the effectiveness of bowel management offered by caregivers. However, the bowel management training programs focus mainly on the adult and aging population.
Training to Control Incontinence Issues in Children and Teenagers
Government and non-government organizations globally are focusing to increase awareness related to incontinence issues among patients, enabling them to discuss the incontinence problems without the associated social stigma.
For instance, "ERIC, The Children's Bowel & Bladder Charity" is a charity organization in the U.K., dedicated to developing awareness and providing training to handle incontinence issues in children and teenagers. Similarly, the Australian government supports the management and prevention of incontinence through its National Continence Program (NCP). This program gives awareness and offers information resources to consumers, caregivers, and health professionals.
Rising Awareness about the Benefits of Stool Management Systems
The growing prevalence of various etiologies leading to fecal incontinence is likely to positively contribute to the usage of stool management systems, aiding the market growth.
Furthermore, advantages offered by stool management systems to patients include reduction of skin infections and discomfort, protection of the wounded area and burns from fecal soiling, reduced risk of exposure to infectious micro-organisms, reduction in the catheter-associated urinary tract infections, minimal soiling of the bed and linen, and enhancing patient's dignity, among others. In addition, the use of stool management systems enables the reduction of the acquired pressure injuries and hospital acquired diseases.
A Large Number of Unreported FI Cases
Fecal incontinence mostly goes unreported by patients owing to the social stigma associated with bowel issues. The attitude of people towards bowel issues is deeply rooted in social rules and conventions, which further leads to the feeling of embarrassment and shame in patients upon loss of bladder or bowel control. Patients thus make an effort to hide their incontinence, thereby, avoiding treatment for the same.
Patient concerns in seeking treatment for incontinence include altered relationships, loss of independence, and social disapproval and isolation, among others. Various studies have anticipated that ~ 70% of patients do not report the problem voluntarily to healthcare service providers, owing to the above mentioned factors.
European Market May Outperform North America's
Although North America holds the maximum share in 2018, the European stool management systems market is expected to lead the market during the forecast period. Owing to the rise in awareness regarding fecal incontinence, increasing number of local players in the region, and support from NHS for reimbursement of the stool management systems, the adoption of stool management systems is rising at a significant rate in Europe. Furthermore, large patient pool and efforts for rising awareness among the public East Asia is expected to grow at a significant rate as well.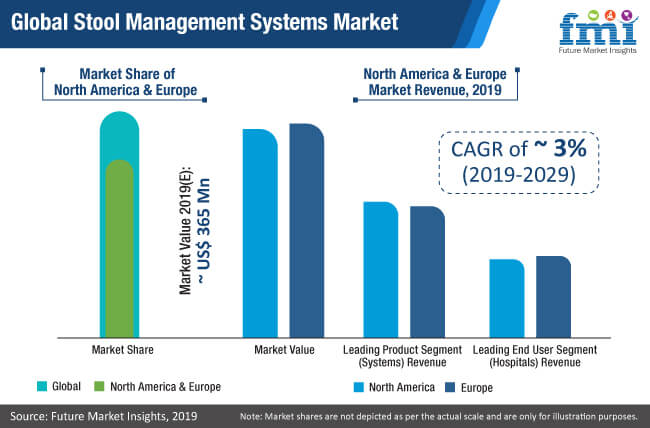 Stool Management Systems Market Structure Analysis
The top five players operating in the stool management systems market contribute to ~ 70% of the market value share.
The top players include ConvaTec Inc., Coloplast, B. Braun Melsungen AG, Becton Dickinson (C.R. Bard), and Hollister Inc. These players are focused on expanding their geographical presence through strategic acquisition and expansion and distribution partnership across the world.
Emerging players in the market are focused on the development of new products through investment in R&D.
One of the key promotional strategies that companies focus on is the participation in exhibitions and trade shows. Conferences and trade shows are some of the most popular ways to market products. Most of the leading manufacturers represent and launch new products in such conferences and trade shows.
Another important advantage of exhibiting at conference and trade shows is that manufacturers, particularly emerging players, have an opportunity to display and represent their products to key industry players. For instance, ConvaTec was a sponsor for the 26th National Conference on Incontinence, 2017, in Australia.
Balloon-Based Trans-Anal Irrigation for Treating Severe Bowel Dysfunction
Trans-anal irrigation (TAI) stool management system enables patients to clear the rectum and certain portion of the colon in sync at a suitable frequency, as well as to prevent fecal incontinence (FI) and constipation. The system does not rely on gravity owing to constant flow pump. In addition, the bag does not require elevation.
Balloon-based intra-rectal catheters in TAI stool management system facilitate patients while utilizing lavatories. The system involves a rectal catheter with an integral balloon, inflated to keep the catheter in position in the rectum, aiding to ensure a seal to support retaining of irrigation liquid.
TAI stool management system is highly beneficial for immobilized patients, or in inefficient assessment of cone-based irrigation systems. Rectal catheters are for single-use purposes, and reduce the requirement of further lubricant products following hydrophilic coating.
TAI stool management system tackles the seriousness of chronic constipation, enhances the quality of life for patients hosting bowel dysfunction, and decreases the prevalence of UTIs (urinary tract infection) in patients suffering from neurogenic bowel dysfunction. Since the method counters the frequency of stoma surgery, patients are subject to low treatment expenses.
Next-Gen Stool Management - Non-Balloon-Based Self-Retaining Devices
Medical professionals are leveraging next-gen stool management solutions, incorporating self-adjusting fecal diverter, eliminating the need for inflation or digital infusion for deployment, unlike legacy balloon catheter systems. Newly introduced, innovative stool management systems allow caretakers to effectively treat patients with conditions, such as liquid to semi-formed stools. The device can be positioned in patients regardless the sphincter tone, offering better patient eligibility (almost 3X).
Thorough in-vitro research suggest that the method showcases lesser radial pressure on the rectal mucosa as compared to existing balloon catheters, preventing the risk of necrosis. The advanced system is set up with specially engineered biocompatible polymers throughout the dimension of the device to assure inodorous fecal deviation.
The integrated stool sample port is aids in handling patients with C-diff infections. Further, the next-gen stool management solutions are manufactured to improve patient convenience and integrity over the duration of treatment.
Market Players Eye Profits in North America and Europe
In the US, about a tenth of overall demographic complain of fecal incontinence, while half of the patients suffer from both fecal and urinary incontinence. The incontinence is accompanied by muscle injuries, nerve injuries, or diarrheal illness, indicating the need for patient-specific stool management systems. Further, a majority of female cohort across the world suffer from fecal incontinence, with a third of them residing in Europe.
The FDI and European governments are granting approval to methods, such as SNM (sacral nerve neuromodulation), for application in FI management, grabbing attention of solution providers.
Key Stakeholders Going 'Customer-Centric' and 'Innovation-Driven'
Although balloon based catheter stool management systems have been proved to highly efficient methods for faecal diversions, the approach pose challenges in patients with anal sphincter damage. As such, solution providers are targeting their focus on developing stool management systems devoid of inflatable cuff. Realizing increased focus of stool management systems on the elderly, and geriatrics, market players are launching solutions to address fecal incontinence in malfunctioned pediatrics.
A majority of enterprises continue to follow the 'do more with less' approach; for an instance, some of the emerging stool management system service providers are offering free trials in a bid to increase product sales. For instance, Qora Stool Management Kits are available online for free trial/sampling. Furthermore, established market forces are providing 'money back guarantee' for certain products.
How Growth Will Unfold
The demand for stool management systems is set to follow an upward growth trail over the course of coming years, prominently driven by the high prevalence of fecal incontinence - particularly among children with spina bifida and anorectal malformations.
Studies suggest that, globally, more than 200,000 neonates are born with spina bifida and bowel dysfunction, and roughly 8,500 neonates are born with anorectal malformation and fecal incontinence. Further, intestinal problems, including constipation and FI top the list of complaints from the geriatric patient pool, especially the female cohort.
Key Segment
Product
Systems

External Management Systems
Indwelling Collection Systems

Accessories

Catheter Tubes
Luer-Lock Syringes
Collection Bags with Filter
Clinch Clamp
Age Group
End User
Hospitals
Ambulatory Surgical Centers
Home Care Settings
Long Term Care Centers
Region
North America
Latin America
Europe
South Asia
East Asia
Oceania
MEA
Need specific information?