Global Laminated Tubes Market - Key Findings
Global laminated tubes market anticipated to be worth US$1.1 Bn by the end of 2020, registering a CAGR of 13% between 2020 and 2030
Aluminum barrier laminate (ABL) segment to remain most lucrative, accounting for 82.4% value share
50 to 100 ml segment is the most prominent laminated tubes capacity, as analysts estimate it to reach 63.1% value share by 2020
The laminated tubes are highly preferred for oral care product packaging. Therefore, by the end of 2025, this end use segment is expected to account for more than 47% market share
Stand-up caps are most preferred cap types for laminated tubes which is significantly higher than that of other cap types and growing at a highest CAGR of 13.7% during the forecast period
Western Europe remains one of the leading markets, accounting for one-fourth of market revenues
Laminated Tubes Market Competitive Landscape
Players operating in the global laminated tubes market are opting for organic growth strategies such as acquisitions, mergers, and partnerships to strengthen their foothold in the competitive landscape.
On these lines, in October 2020, CCL Industries, a Canada-based manufacturer, completed the acquisition of Graphic West. The move is expected to expand the production and consumer base of the organization's extruded & laminated plastic tubes.
By the same token, in February 2020, CCL Industries acquired 100% of Rheinfelden Americas, LLC with an objective to leverage the large consumer base of the latter. In a similar move, the company acquired Flexpol Sp. Z.o.o. ("Flexpol") to penetrate the European landscape.
On the other hand, players continue to develop innovative products to cater to the growing demand for high-quality solutions, and are supply laminated tubes based on application-specific requirements.
On these lines, in June 2017, Kerklaan Therapeutics, the creator of cannabis-powered natural products launched a collection of cannabis-infused topical creams, sprays, and concentrated stick formulations, using the laminated tubes supplied by Montebello Packaging Inc.
Excellent Barrier Strength to Ensure Consistent Demand for Laminated Tubes
The demand for laminated tubes has been on the rise in the recent years as packaging industry has itself witnessed a stupendous growth rate. Unstoppable pace of consumerism is projected to increase the demand for laminated tubes, which are extensively used in wide range of packaging.
These tubes are laminated with multi-layer laminate foil that is made of plastic or aluminum, depending on the end use of the tube. The demand for laminated tubes has been escalating in recent years as these offer exceptionally barrier to external contaminants, keeping the product safe and intact for a long period.
Laminated tubes are being adopted across industries as an ideal packaging solution as they are light, offer a tough barrier, and protect the product from light, air, and moistures, making it a reliable product to transport goods over long distances. Furthermore, the sales of laminated tubes are projected to gain momentum as they prevent spoilage.
FMCG to Choose Laminated Tubes due to Better Printability for Improved Brand Value
The demand for laminated tubes is projected to be the exponential as it offers an exceptionally well-developed solution for packaging. Laminated tubes are thus used for packing ketchups, syrups, and other liquids across the FMCG industry. The impermeable sealing capability of laminated tubes is projected to drive up the demand in the coming years.
Increasing consumption of packaged food and demand for longer shelf life of a product has further given the usage of laminated tubes an impetus in this industry. Depending on the content, the barrier layers are can be made of ceramic, plastic, or aluminum.
In addition to keeping the product safe, the demand for laminated tubes is also on the rise as it offers superior print quality, which has allowed end users to make a good brand impression. The invisible weld seams ensure that end users can use 360° printing methods to ensure optimum utilization of space for sharing adequate information and branding.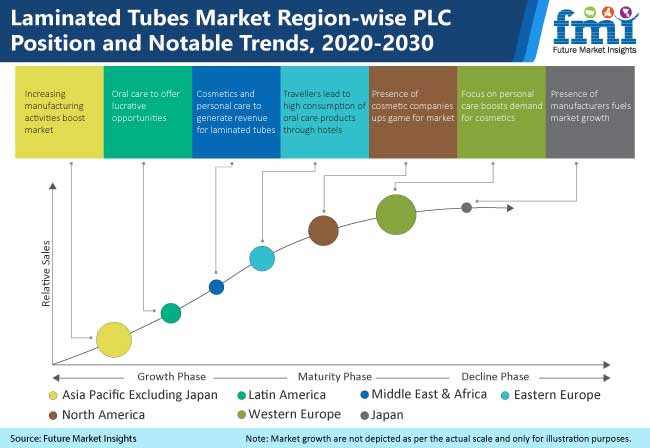 The above graphic depicts that Asia Pacific excluding Japan will be the leading region in the global laminated tubes market. This will be attributable to India and China being manufacturing hubs and key suppliers of raw materials required for production of laminated tubes.
Western Europe is also projected to have a significant impact on the global laminated tubes market as the demand for personal care continues to be high. The growing interest of males in grooming and impact of social media influencers on makeup are projected to bode well for this regional market.
Cosmetics Segment Emerges as a Key End User
The role of laminated tubes in packaging is cosmetics is essential and an unavoidable one. For this reason alone, Future Market Insights predicts that the demand for laminated tubes across the cosmetics industry is expected to witness a phenomenal rise as beauty trends remain dominant.
This can be seen across the globe with a new demand across South Asia and Pacific as K-beauty trends have triggered an international demand for myriad cosmetics. With brands such as Face Shop gaining spotlight, demand for night creams and other makeup products is expected to rise.
All of these factors are projected to have a positive impact on the sale of laminated tubes in the coming decade.
Furthermore, growing focus of Generation Z and millennials on skin care, increasing number of brands, impact of social media influencers, and improving purchasing power of a young generation is projected to fuel the cosmetics industry, which, in turn, will boost uptake of laminated tubes.
Analysts anticipate that lip care products too are likely to create a high demand for laminated tubes during the forecast period.
Demand for Oral Care Packaging Solutions Remain Consistent in the Face of Changing Dynamics
The demand products pertaining to oral care in insatiable one. Population explosion and growing awareness about dental hygiene have definitely added to the soaring sales of the laminated tubes required for packaging toothpastes.
End users will continue to opt for these tubes as they offer excellent advantage of aluminum layer, which acts as a tough barrier and polyethylene exterior for desired appearance.
As these tubes require minimum welding, most of their surface can be used to show case the product. Oftentimes, gel toothpaste manufacturers use transparent packaging to highlight the aesthetic value of the product.
The demand for toothpaste has seen an upswing as the number of hotels have gone up, which are key consumers of toothpastes of specific sizes for guests. Furthermore, increasing number of travelers have led to a rise in the toothpaste sales as one person inevitably ends up using a tube at home and one while travelling.
The oral care segment is projected to make a significant contribution to the global laminated tubes, as toothpaste manufacturers have been constantly investing in product innovation with flavoring, coloring, and packaging. Thus, Future Market Insights predicts that the laminated tubes market will stand to benefit from oral care segment in the long term.
Pharmaceutical Industry to Opt for Laminated Tubes to Package Ointments
The demand for laminated tubes is quite high in the healthcare segment as well. These tubes are designed in a way to protect the contents inside for a long time, preventing them from coming in contact with anything. These laminated tubes offer a multi-layer protection while remaining inert to the substance inside.
The pharmaceutical industry uses these tubes extensively to package ointments that are used over years. Resilient to temperature variations, these are exceptionally durable options for ensuring the ointment is used through the course of its life.
Global Laminated Tubes: Regional Analysis
According to Future Market Insights, the global laminated tubes market is expected to see a high growth rate in Asia Pacific. Report predicts that the Asia Pacific laminated tubes market will register a CAGR of 6.9% during the forecast period of 2020 and 2030.
This demand will be attributable increase population base with humungous oral care, cosmetics, and healthcare needs. Furthermore, the economies of India and China will contribute to the manufacturing of laminated tubes during the forecast period.
Western Europe will follow suit as the region boasts a plethora of beauty brands looking at making their packaging solutions attractive. Furthermore, the demand for laminated tubes in Latin America and Japan will also see a remarkable progress in the coming years. The growing focus on personal care is projected to aid Europe's laminated tubes market to pace ahead at a steady rate.
Global Laminated Tubes Market: Competitive Landscape
The global market for laminated tubes is projected witness stiff competition in the coming years. Low barrier to entry has made it possible for multiple players to make a space for themselves in the global market. Product differentiation such as using paperboard to reduce the environmental impact of plastic.
Some of the key players operating in the global laminated tubes market are:
Essel Propack Ltd.
Albea S.A.
Berry Global Group, Inc.
CCL Industries Inc.
Ctl-Th Packaging Sl
Montebello Packaging Inc.
Tubopress Italia Spa
Linhardt GmbH & Co KG
Hoffmann Neopac Ag
Intrapac International Corporation
Huhtamaki Oyj
Perfektup Ambalaj Sanayi Ve Ticaret Anonim Sirketi
Lajovic Tuba D.O.O.
Plastube Inc
Tubapack A.S.
Pirlo GmbH & Co KG
Norway Pack AS
Pack-Tubes
Burhani Group of Industries
Karl Holl GmbH & Co. KG
Cosmetics to Keep Redefining Success for Laminated Tubes
The unending demand for cosmetics is projected to propel the market for laminated tubes in the coming days. The increasing consumption of hand creams, face creams, and lip care products is expected to bode well for the market. Furthermore, the market stands to benefit from the increasing sales of toothpaste and ointments
Varying sizes of packaging tubes are also projected to fuel the growth of this market in the coming days. Ability to make attractive packaging out of laminated tubes is anticipated to help the market achieve a consistently rising revenue through the forecast period.
There will be a significant demand for aluminum tubes are they are corrosion-resistant and impermeable, which are sought-after packaging qualities by end users.
Laminated Tubes Market Report: Scope
| | |
| --- | --- |
| Attribute | Details |
| Forecast Period | 2020-2030 |
| Historical Data Available for | 2015-2019 |
| Market Analysis | USD Million for value and tons for volume |
| Key Regions Covered | North America, Latin America, Europe, MEA, Asia Pacific, and Japan |
| Key Countries Covered | US, Canada, Brazil, Mexico, Argentina, Rest of Latin America, Germany, Italy, France, U.K., Russia, Spain, BENELUX, Poland, Nordic, Rest of Europe, India, China, ASEAN, ANZ, Rest of APEJ, GCC Countries, Turkey, South Africa, Iran, Israel, and Rest of MEA |
| Key Segments Covered | Product, Capacity, Cap type, End-use, and Region |
| Key Companies Profiled | Carlsberg A/S, Diageo PLC, Asahi Group Holdings Ltd., Suntory Holdings Ltd., Halewood International Holdings PLC, Brown-Forman Corporation, Bacardi Ltd., Anheuser-Busch InBev SA/NV, The Coca-Cola Company among others. |
| Report Coverage | Market Forecast, brand share analysis, competition intelligence, DROT analysis, Market Dynamics and Challenges, Strategic Growth Initiatives |
| Customization & Pricing | |
Global Laminated Tubes Market: Taxonomy
Product Type
Capacity
Less than 50ml
50 ml to 100 ml
101 ml to 150 ml
Above 150 ml
End Use
Cosmetics

Hair Care
Skin Care
Others (Nail Care, Nail Polish, etc.)

Oral Care
Commercial

Sealants & Adhesives
Lubricants
Others (Speciality Grease and Pesticides)

Pharmaceuticals
Home & Other Personal Care

Laundry Gel
Toiletries & Hand Wash Gels
Others (Sealants, Adhesives, etc.)

Food
Others (Paints, Crayons and Shoe Polish)
Cap Type
Stand-up Cap
Nozzle Cap
Fez Cap
Flip Top Cap
Other Caps
Region
North America
Latin America
Western Europe
Eastern Europe
Asia Pacific Excluding Japan (APEJ)
Japan
Middle East & Africa (MEA)
Need specific information?