An Incisive, In-depth Analysis on the Laminated Tubes Market
This study offers a comprehensive, 360 degree analysis on the Laminated Tubes market, bringing to fore insights that can help stakeholders identify the opportunities as well as challenges. It tracks the global Laminated Tubes market across key regions, and offers in-depth commentary and accurate quantitative insights. The study also includes incisive competitive landscape analysis, and provides key recommendations to market players on winning imperatives and successful strategies.
Pharmaceuticals and Cosmetics industries to present lucrative market opportunities for manufacturers of laminated tubes
With features such as enhanced tube design, transparent look and feel, barrier properties, leak-proof nature, and capability for high flexographic printing technology, laminated tubes are fast becoming the most preferred packaging type in the cosmetics, oral care, and pharmaceutical industries globally. Consumers prefer visually appealing products along with high protection for the contents. Among the various end use sectors, the oral care industry will witness the highest adoption of laminated tubes in the coming decade. The pharmaceutical industry is also fast catching up in its adoption of laminated tubes as an effective packaging solution that provides extra protection against contaminations besides an improved shelf life.
Rapid growth of skin care and hair care industries will drive global market demand for laminated tubes
Consumer demand for skin care and hair care products such as anti-ageing creams, shampoos, and hair conditioners has skyrocketed in the last few years and FMCG manufacturers especially in the hair care and skin care segment are making a conscious shift towards laminated tube packaging from traditional plastic tube packaging. Besides an appealing look, laminated tubes also provide softness and ease of use. Considering skin care and hair care lotions, creams, etc. need adequate protection from sunlight and UV rays, moisture, and oxygen, this move by manufacturers of skin care and hair care products towards laminated tubes is well justified, as laminated tubes provide adequate barrier protection for the contents, thereby increasing the shelf life of the products.
Plastic Barrier Laminate (PBL) is the largely used laminated tube for hair care and skin care products. Aluminium Barrier Laminate (ABL) is also used in some special products. The last few years have witnessed a great deal of innovation in the packaging of hair care and skin care products. For instance, Essel Propack has developed a unique laminated tube called the "Mystik" for packaging its premium hair colour products. The Albea Group in collaboration with L'Oreal has developed an innovative laminated tube for its permanent hair colour product.
Oral Care end use segment to witness 3.6X growth in value over the forecast period
An increasing adoption of laminated tubes in oral care, in the form of packaging for toothpastes and mouth wash gels has catapulted the oral care segment by end use to the top position in terms of market share in the global laminated tubes market. The oral care segment will hold more than 45% market value share throughout the duration of the forecast period, witnessing an impressive rise of 120 basis points in market share in 2027 over 2017. The oral care segment is estimated to reach a market valuation of US$ 1,371.3 Mn by the end of 2027, up from US$ 385.9 Mn by 2017 end, registering a CAGR of 13.5% in terms of value during the forecast period. The oral care segment will create an incremental $ opportunity of US$ 985.5 Mn during the period of forecast.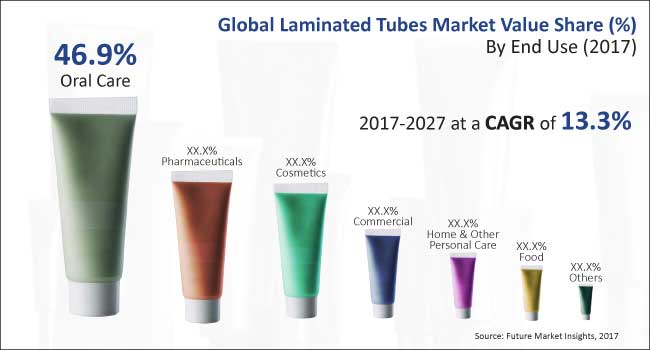 Regional insights on the adoption of laminated tubes across end use industries
The cosmetics and personal care market is surging ahead with superfast growth in the Latin America, APEJ, and MEA regions owing to increasing consumer demand for skin care and hair care products. The cosmetics segment in the Latin America laminated tubes market is estimated to touch a value of US$ 41.6 Mn by the end of 2027, exhibiting a CAGR of 12.2%. While in the APEJ laminated tubes market, the cosmetics segment will reach a market value of US$ 133.1 Mn by the end of 2027, recording a CAGR of 17.4% in terms of value over the forecast period.
Extensive primary and secondary market research to obtain relevant data points
Future Market Insights' research methodology is a strong combination of in-depth secondary research and extensive primary interviews with key industry stakeholders and domain experts to gather the necessary data and information pertaining to the specific market being researched; followed by a multi-layer validation of the gathered data to glean pertinent market insights capable of impacting critical business decisions. This exhaustive methodology has been followed during the study of the global laminated tubes market and the findings and insights have been presented in a systematic manner in a new report titled "Laminated Tubes Market: Global Industry Analysis 2012 – 2016 and Opportunity Assessment 2017 – 2027."
The secondary research adopted in this market study incorporates manufacturers' market overview; production trends and forecast of laminated tubes across various regions; historical and forecasted sales value and volume trends; product type comparison and performance criteria; end-use industry growth projections; regional average pricing trends; manufacturers' product portfolio; and market dynamics across key assessed geographies. Primary research focusses on the present and future market scenario in developed nations and emerging economies; drivers, restraints, challenges, trends, and opportunities; manufacturers' top business strategies; criteria for market segmentation; segmental value and volume split; and average product cost analysis. Data analysis comprises sales correlation of laminated tubes; macroeconomic factor analysis; historical trend analysis; and statistical analysis.
Leveraging key market sources to gather pertinent market data
In the drafting of this report, we have referred to authentic sources such as industry association publications, annual reports, publications, and presentations of key manufacturers of laminated tubes, and sources such as World Bank, trade data, and government websites. Extensive primary interviews with industry experts, manufacturers and suppliers of laminated tubes, and industry association members complete the data gathering process.
Market sizing and forecasting
This involves estimation of market volume in Mn units and market value in US$ Mn; regional average pricing of products to arrive at revenue estimates; and factor analysis and CAGR and Y-o-Y growth used to deduce market projections. Data reporting involves establishing qualitative and quantitative data and facts as well as market dynamics.
Cohesive report structure for seamless flow of information and insights
The report on the global laminated tubes market follows a systematic structure that enables report readers to grasp the nuances of the global market across the various segments and assessed regions in an easy-to-understand format. An executive summary that is essentially a snapshot of the global laminated tubes market precedes the market introduction, market outlook, and market viewpoint chapters. The next few sections provide detailed information on the global laminated tubes market analysis and forecast by region, product type, capacity, end use, and cap type. These sections present a historical value and volume analysis of the global laminated tubes market for the period 2012 – 2016 along with a detailed forecast for the period 2017 – 2027.
This is followed by an individual regional market analysis and forecast of the assessed geographies – focussing on the prominent countries within these regions and the different market segments. These regional forecasts indicate the regional pricing analysis (historical and current value and volume forecasts) and highlight the drivers, restraints, and trends likely to impact the specific regional markets for laminated tubes. Impact analysis of drivers and restraints, list of key regional market participants, and a competitor market presence intensity mapping conclude these sections.
The next and most important section of the report is based on the competitive landscape of the global laminated tubes market. This section provides a dashboard view of the top companies operating in the global laminated tubes market along with detailed company profiles including overview, financials, business strategies, and recent market developments. Information on the research methodology adopted and a list of assumptions and acronyms used throughout the publication conclude the report.
Global Laminated Tubes Market: Taxonomy
Product Type

Capacity

End Use

Cap Type

Region

Less than 50ml

50 ml to 100 ml

101 ml to 150 ml

Above 150 ml

Cosmetics

Hair Care

Skin Care

Others (Nail Care, Nail Polish, etc.)

Oral Care

Commercial

Sealants & Adhesives

Lubricants

Others (Speciality Grease and Pesticides)

Pharmaceuticals

Home & Other Personal Care

Laundry Gel

Toiletries & Hand Wash Gels

Others (Sealants, Adhesives, etc.)

Food

Others (Paints, Crayons and Shoe Polish)

Stand-up Cap

Nozzle Cap

Fez Cap

Flip Top Cap

Other Caps

North America

Latin America

Western Europe

Eastern Europe

Asia Pacific Excluding Japan (APEJ)

Japan

Middle East & Africa (MEA)
COVID -19 : Impact Analysis
Request the coronavirus impact analysis across industries and markets
Request Covid -19 Impact
CASE STUDIES
See how our work makes an impact.
At FMI, we design strategies that are adaptive, impactful, and implementable.