Microalgae Market Snapshot
According to Future Market Insights (FMI), the global shipment of microalgae will reach 63,864.60 DW tons by the end of 2021. The microalgae fertilizers segment will grow at 8.7% CAGR to reach sales valuation of US$ 9479 Thousand, while sales of microalgae in food and beverage segment will top US$ 99.623.30 Mn through 2021.
Parry Nutraceuticals, DIC Corporation, Roquette Frères, BASF SE, and Fuji Chemical Industries Co., among others are identified as top market players. Growing consumer awareness regarding health benefits of plant-derived proteins will push sales of microalgae through 2031.
Key Points Covered in Microalgae Market Study
Market estimates and forecast 2021-2031
Key drivers and restraints impacting market growth
Segment-wise, Country-wise, and Region-wise Analysis
Competition Mapping and Benchmarking
Brand share and Market Share Analysis
Key Product Innovations and Regulatory Climate
COVID-19 Impact on Microalgae Market And How To Navigate
Recommendation on Key Winning Strategies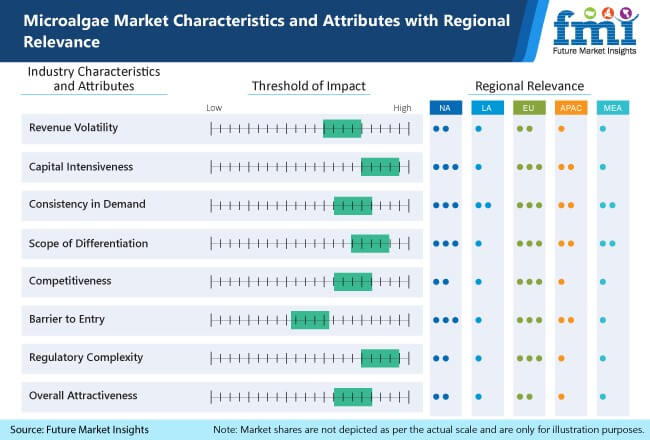 2016 – 2020 Microalgae Market Historic Sales Compared to 2021-2031 Forecast Outlook
Newly released e microalgae market analysis by Future Market Insights (FMI) has forecast the global demand for microalgae to total 63,864.60 DW tons by 2021. The Health and medical segment grew drastically to reach 46,125.00 DW Tons, while the microalgae in food and beverage were up to 7,651.00 DW Tons in the year of 2021.
Revenues generated in the food and beverage segment of the microalgae food market will totalUS$ 99.6 Mn in 2021. Growing awareness among consumers regarding various health benefits of microalgae products, coupled with the high demand for plant-derived proteins, will create opportunities for growth in the near future.
Microalgae also known as microphytes are planktons that are invisible to the human eye and are found in the sediment of freshwater and marine systems. These creatures are unicellular species that can exist alone, in chains, or groups. Their dimensions can vary from microns (m) to a hundred microns (m) depending upon the type of species.
Rising use of microalgae proteins and ingredients in production of nutraceutical, pharmaceutical, and aquaculture products along with growing initiatives towards standardization of microalgae cultivation process will become a key growth driver over the forecast period. Technological advancement aimed at faster and early detection of contaminants and development of new strains that can handle high salinity and improve energy efficiency will create opportunities for market growth.
New synergies between national and international levels while devising regulatory policies will be the key to microalgae market growth in the future.
What are the current developments in microalgae market?
Micro-algae such as spirulina and chlorella are directly used in dietary supplements without any special kind of processing. This domain is highly competitive owing to the presence of a large number of producers. Asia and North America currently lead the spirulina production while chlorella production is mostly done in warm climate of Asia. In recent years, chlorella is now produced in Klotze plant, Germany.
Synthesis of specific high-value components from micro-algae is gaining traction due to its specific advantages over their conventional alternatives. For instance, astaxanthin synthesized from dried Haematococcus Pluvialis is used in production of feed additives as it is an excellent pigment enhancer for fish. Astaxanthin is rich in antioxidants and restores ultraviolet radiation damage, thus used in production of food supplements.
Similarly, β-carotene synthesized from dunaliellasalina is used in production of food colorants and pro-vitamin A supplements. They are also claimed to possess anti-inflammatoryeffect. Phycocyanin is a protein complex derived from Arthrospira Porphyridium is being used in production of fluorescent markers.
New players are trying to enter the existing market through new product launches. For instance, Solazyme Roquette Neutraceuticals made a first-to-market innovation when it developed algalin flour lipid additives.
Sugar producer EID Parry (India) is looking to commercialize Eicosapentaenoic acid (EPA)/Docosahexaenoic acid (DHA) based dietary supplements and spirulina derived phycocyanin based food colorants. Seambiotic (Israel) has Nannochlorosis sp. derived EPA/DHA dietary supplements in advanced development phase, with the first batch expected to roll out in upcoming years.
Products such as fucoxanthin, proteins, β-glucan and phycoerithrin are in advanced stage of development and are expected to be commercialized over the forecast period. Bio-fuels, Lutein, anti-fungal biomass that can replace pesticides in food production and Phycobili proteins synthesized from blue green algae other than spirulina are in early stages of development and most of them have non-food related applications.
What is the Impact of the Safety Regulation on Microalgae Market?
Microalgae food products are classified under novel foods and food ingredients are subjected to food safety regulation just like any other food product. For instance, according to European community regulation on food safety (EC 178/2002) published in 2002 in the official journal of the European communities (1.2.2002 EN L 31/1), food products made from the whole microalgae like spirulina and chlorella or the items that contains micro-algae must comply to the same food safety regulations that are application to all food products.
These food safety regulations require the manufacturer to prove the safety of food products by prolonged period of consumption. If these conditions are not met, the product is not authorized to be sold in the European market without having performed a safety assessment by European Food Safety Authority (EFSA).
Product can be marketed only after it meets all the conditions set out in the Regulation on Novel Foods and Novel Food Ingredients (EC 258/97).Spirulina colorants are required to follow similar criteria even though spirulina is not considered as a novel food. For instance, spirulina's blue colorant is synthesized from the microalgae and thus, comers under the Novel Food Law.
The risk assessment tests and procedure performed before commercialization is long, tedious, and expensive. Growing initiatives to make these regulations more streamline and dynamic will boost the market growth in upcoming years.
Country-wise Insights
What is Driving Microalgae Market Growth in Japan?
Japan is expected to offer lucrative growth opportunities in microalgae market owing to high government and private investment towards production of biomass based energy system to tackle its vulnerable energy supply situation along with growing need to open new markets in food, feed and chemical industry.
Companies like ISUZU Motors Corporation, DENSO Corporation, and All Nippon Airways along with renowned research centers such as the University of Tsukuba are focusing on production of microalgal-based products .For instance, Euglena has introduced healthy foods, feeds and cosmetic products synthesized from microalgae.
Owing to its rocky terrain, Japan lacks the fossil fuels that are required for energy generation. Japan imports resources to meet more than 94% of its energy requirements. 40% of Japan's energy source comes from oil, which results in high CO2 emission leading to pollution, and global warming.
Strategic Energy Plan was proposed in 2015, according to which nuclear power would make up for nearly 20% of their total energy by the end of 2030. But due to Fukushima nuclear accident, the plant was shut down and Japan had to import even more energy resources.
To solve this energy crisis, a report titled "Roadmap for Establishing Supply Chain for Next-Generation Aviation Fuels ~ aiming to Commence Utilization by the 2020 Tokyo Olympics and Paralympics" was released in 2015. According to this report, a stable supply chain will require fuel production for next-generation aviation fuels by 2020.
The fuel will be produced using municipal waste, microalgae, non-edible biomass and woody biomass, and other materials. This formulated the roadmap for companies to adopt modern technologies and develop next-generation aviation fuels in Japan.
As per the roadmap, in 2015: Multiple raw materials were selected and simulations of next-generation fuel production process were performed using UOP technology.
In 2016: From the shortlisted raw materials, trials were conducted for producing aviation fuel from them. Basic designs and construction models were prepared for demonstration plants.
In 2017: Detailed designs for demonstration plants were prepared. The major challenge was effective management of project in such tight deadlines.
In 2018: Construction of demonstration plant took place and trials were conducted to check the operation of the plant.
In 2019: production of next generation aviation fuel took place and designing foundations were laid out for construction of commercial plants. During this period, they had to finalize the raw materials to ensure operational stability of plant, while reflecting and analyzing the results from the demonstration plant for further modifications.
In 2020: Prepare detailed and basic design for commercial plant and initiate its construction while increasing production capacity of demonstration plant by 3 to 5 times.
This project is aimed at designing step by step procedure from growth of microalgae to the production of next-generation fuel using microalgae oil. Increasing collaborations between companies to continue research on microalgae and mounting government pressure to diligently follow the defined timeline and roadmap will make a significant impact on the microalgae market growth over the forecast period.
Leading companies from the field of automotive and aviation industry are following the discussed roadmap to develop microalgae based aviation fuel and reduce carbon emission. ISUZU Motors is looking to apply microalgae products and technologies in automotive sector to increase CO2 absorption, while Euglena Corporation is working on researching, developing, and producing jet fuel from microalgal oil.
Japan is emphasizing towards solving its waste water treatment issues by employing microalgal products for purifying the water resources and makes it fit for human consumption. For example, University of Tsukuba is developing wastewater treatment facility in collaboration with Japanese government. These factors will drive the microalgae market growth in Japan through 2031.
Why is Innovation Key to Succeed in European Union?
European Union (EU) is investing in microalgae industry to support its strategy of generating renewable energy and slash its carbon footprint in upcoming decade. EU commission has associated itself with multiple projects directed towards developing bio-fuel production framework.
There are three major ongoing projects in EU to step up the biomass production and improve the bio-refining of oils and starch in late stages of bio-fuel production.
For instance, BIOFAT is an ongoing project that defines the value chain process from start-to-end of bio fuel production and extraction. It is aimed at optimizing algal growth, increase production of starch and excess oil, and enhance bio-refining process.
The testing is done in terms of checking energy efficiency, economic viability, and environmental sustainability. As sustainability is an important factor for bio-fuel synthesized from algae, high emphasis is placed on usage of marine strains of microalgae to limit the overuse of freshwater ones and cost effectiveness and low energy consumption while algae production and refining process.
A4F, S.A, Fotosintetica&MicrobiologicaS.r.l., Algosource Technologies are the official partners in BIOFAT project with A4F and S.A being the project coordinator.
Likewise, all-gas project is an algae cluster project which is aimed towards re-utilizing wastewater and other by-products released during bio-fuel production from microalgae in a cost effective eco-friendly framework. The key areas of focus in this project are production of carbon dioxide from the waste water, production of energy and reutilization of the nutrients.
At first wastewater is treated in oxygen deficient environment which assists in increasing biogas and CO2 production. The treated wastewater is then sent for algal biomass production and purification. The proliferated algae is removed and used for oil and starch extraction. The biomass is converted into methane, carbon dioxide, and minerals.
Similarly, a research program was initiated called "Algae Park" through which studies were conducted on microalgae and cyanobacteria processing, their value addition in biomass production process.
Complete supply chain is differentiated to obtain a clear idea on profitability and environmental factors. Through this research program, the obtained data is analyzed to study bioengineering features of the algal cultivation and refining. The next phase is technology development and then move on to a large-scale production where the beginning idea is implemented as a large-scale pilot scale production. This strategy will produce high quality, new and advanced products. The basic research and its applications are thus connected to the pilot scale production.
EU has started various support programmes to promote the development in the field of microalgae. One such initiative is "Horizon 2020 (H2020) programme". The funding is sourced by the organization either with their funds or through Japanese funding authorities.
The funds are circulated into various sectors like biological technology development, economy factors, bio-fuel, water recycling and other biological products according to their role in maintaining a circular economy.
Similarly in 2016, The European Committee for Standardization (CEN) drafted European standards in support of the implementation of Article 3 of Directive 2009/28/EC for algae and algae-based products or intermediates, to promote energy, bio-based materials and chemicals use from renewable sources. This standardization consisted of specifications for algae-based products and specifications for quality characterization of algal products to be used for feed and feed chains and pharmaceutical applications.
Increasing EU funding for R&D activities in microalgae industry along with adoption of standardization practices for production and use of microalgae based products and ingredients in wide range of industries will boost the market growth in EU.
How are Government Regulations Shaping Microalgae Market Growth in U.S.?
There are two laws that govern the sales of micro-algae based food and feed products in U.S. consumer market.
The Federal Food, Drug and Cosmetic Act (FD&C) introduced in 1938, which regulates all foods and food additives.
The Dietary Supplement Health and Education Act (DSHEA) introduced in 1994, which amended the FD&C Act to cover dietary ingredients and supplements.
The Food and Drugs Administration FDA regulates both acts. The FDA Center for Food Safety and Applied Nutrition (CFSAN) regulates food ingredients and ensure that those ingredients are safe and lawful for human consumption. The authorization of feed products falls under the FDA Center for Veterinary Medicine (CVM).
According to the above laws, intentionally added food additives is subjected to premarket review and must obtain approval by FDA. Only products that are generally recognized safe among the group of qualified experts (GRAS) are excused from these laws. Assessment of each ingredient is done on its individual merits. In case dried spirulina biomass is approved, it does not mean that an extract from spirulina biomass is automatically approved. In case chlorella is approved as a dietary supplement, it does not mean the oil from the same chlorella species is approved.
Domestic and foreign manufacturers and those who package label or hold dietary supplements in U.S. are required to follow guidelines issued by Dietary Supplement Current Good Manufacturing Practices (cGMPS) for quality control. The law is also applicable to testing, quality control, and dietary supplement distributors in the country.
Similarly, FDA report containing all serious adverse events associated with the use of the dietary supplement in the country must be submitted by all the manufacturer, packer, or distributor whose name appears on the label of a dietary supplement marketed in the U.S. The
FDA also keeps the oversight on product information, such as labeling, claims, package inserts, website information and accompanying literature. Such stringent policies will boost the demand for high quality microalgae products especially in food and beverage industry.
Category-wise Insights
Increasing Application of Microalgae in food and Beverages Sector
As per FMI, microalgae food and beverage market is all set to grow at 2.9% CAGR and surpass the sales valuation of US$ thousand 99,623.3 in the year 2021.Microalgae are used as a food additive in various food applications. Microalgae enhance the taste, texture, flavor, and aroma. They also have high nutritional value of food products.
The end-use application in food and beverage segment is classified into bakery and confectionery, meat, poultry, fish and eggs, sauces, soups and dressings, seasonings, snacks and cereal, dairy products, ice creams, food additives (ingredients), medical nutrition/ functional food/ health food, sports nutrition, energy drinks, baby food and others.
According to World Bread and Bakery Products study, consumption of bread and bakery products grew from 122,000 tonnes to 129,000 tonnes from 2007 to 2016.
Microalgae products are being introduced in bakery and confectionery because it improves the product's taste and quality and adds nutritional content to the food items. This factor is expected to propel the use of microalgae in food market over the assessment period.
Consumers are willing to pay high price for organic products and this has altered the dynamics of various markets. To gain and maintain their customer's trust, manufacturers are becoming more transparent about the ingredients and manufacturing processes they use. This trend of clean labels will increase sales of the microalgae food and beverages.
Governments are promoting the production of microalgae to create a viable source of revenue for the rural population. Countries like India, Angola, and Ghana are supporting their local spirulina sector and are constructing strong gateways for transportation of this super-food. For instance, the Government of India launched the "Balposhna scheme" in March 2016, to eradicate malnutrition from the region. Under this program, the government will provide 2gm of spirulina to 25,000 kids around multiple states for three months.
Microalgae have anti-oxidant, hypolipidemic, and anti-inflammatory properties. Antioxidants prevent the body from damage caused by harmful molecules (free radicals), thereby improves wellbeing.
Spirulina contains high levels of Vitamins A, C, and E, as well as Beta-carotene and a trace of Lutein Zeaxanthin, all of which are antioxidants that aid in the prevention of numerous diseases and illnesses. It lowers total cholesterol (LDL cholesterol) and triglycerides while increasing HDL cholesterol (good cholesterol).
Spirulina also has anti-cancer properties, lowers blood pressure, improves allergic rhinitis symptoms, aids in anemia reduction, and helps in controlling blood sugar level. Microalgae are found in preventing certain medical conditions like Alzheimer's disease, muscular degeneration, and rheumatoid arthritis. These health benefits of microalgae are likely to boost sales of microalgae food market.
Microalgae are finding application in the Cosmetic industry
Microalgae act as a gentle clarifying agent in shampoo are effective in removing residue of styling products, excess sebum, and many other impurities. Microalgae aids in the preventing of hair loss by lowering the irritation generated by bacterial infections on the scalp. Microalgae encourage hair development, giving it a lustrous sheen and a lot of volumes. Microalgae are high in vitamins, minerals, and trace elements, all of which help to strengthen and restore hair.
Microalgae contain high protein, which helps to strengthen hair roots and offer sustenance to the scalp. Chlorella is claimed to enhance the level of keratin, which is the main component of hair. It also contains sulphur, which accelerates the hair's growth phase, resulting in shinier, longer, and stronger hair.
Spirulina are high-protein algae that are used to add volume to hair and eliminate dry flakes. This plant brims with botanical treasures, can help in restoring balance to the scalp and hair, allowing it to return to its natural state. This is expected to promote the use of microalgae in hair care products.
As per the recent study by Future Market Insights, the microalgae cosmetic market is expected to expand at 4.2 % CAGR and hold US$ 50,599.60 thousand by the end of 2021.
Microalgae are used in the skincare business as well. They are used in skin repairing and are commonly found in healing and burn ointments. High cost of microalgae makes it difficult to use. However, even a small amount in skin products has shown strong skin-healing properties. Microalgae are also used in anti-ageing products as they assist in minimizing wrinkles. This will boost the market growth during the forecast period.
Microalgae protect eyes from oxidative stress and radiation. Chlorella, a type of microalgae, is beneficial in the prevention of eye problems. Zeaxanthin is a photo protective pigment found in plants and algae that has stronger antioxidant activity than other plant xanthophylls. Zeaxanthin, like lutein, provides protection and aids in the healing of the eyes.
Because of the benefits of microalgae, major manufacturers are working on developing microalgae eye products.
Fostering Use of Microalgae In The Health And Medical Sector
The microalgae health and medical market will expand at a compound annual growth rate of 5.8% over 2021 to 2031, with a market value of US$ 647,204.2 thousand in 2021, says FMI.
The Food and Drugs Administration (FDA) has approved the use of microalgae products in the pharmaceutical and nutraceutical industries. The demand for these products has surged after the regulatory approvals.
Microalgae is a highly nutritious and rich source of vitamins such as vitamin B12, A, B1, B6, C, B2 and E, as well as minerals such as calcium, potassium, magnesium, iodine, and iron. The above factors will allow the microalgae industry to flourish in health and medical segments in upcoming years.
Microalgae have antioxidant, anti-cancer and anti-inflammatory properties and are also found to combat atherosclerosis. Microalgae can also lower the cholesterol level, improve immunity, and lower the blood sugar levels. These properties will boost the adoption of microalgaein pharmaceutical industry over the forecasted period.
Apart from the above benefits, taking a daily supplement made from microalgae will help to alleviate menopausal symptoms like hot flashes, joint pain, moodiness, and bladder issues as they contain vitamin D3, lycopene, and citrus bioflavonoid. Rise in medicinal breakthroughs and R&D activities towards application of microalgae in treating infertility and other health ailments in men and women, will fuel the worldwide microalgae nutraceuticals market.
Spike in production of natural microalgae in the future can be attributed to the rising demand for natural food supplements and increasing consumer awareness towards the negative impacts of chemical solutions. Various institutions and laboratories that have studied natural algae have stated the importance of natural microalgae over synthetic microalgae.
For example, Creighton University agrees that natural microalgae are 20 times stronger than synthetic microalgae at removing free radicals. Brunswick Laboratories tests also revealed that natural microalgae thin were 65 times stronger than synthetic microalgae. Growing demand for natural health products will create a huge impact on the microalgae market over the projected period.
Propelling Use of Microalgae in the fertilizers Sector
The sales for microalgae in the fertilizers industry is expected to grow steadily, with a total valuation exceeding US$ 9479 Thousand in 2021, representing 7.7% year on year growth in 2021. According to FMI's evaluation, valuation of microalgae in the fertilizers segment is forecast to expand at an 8.7% CAGR from 2021 to 2031.
Ionic types of soil nutrients are better absorbed by plants. Plants only absorbs one-third to half of the nutrients provided, when inorganic fertilizers are used. Early research on different bio fertilizers has revealed that smaller fertilizer quantities resulted in more effective nutrient uptake and higher yield.Farmers are demanding bio fertilizers because they may obtain higher yields with less bio fertilizer, which will lower the production costs and will enhance crop quality. The use of bio fertilizers to improve nutrient uptake is propelling the microalgae industry.
Algal biotechnology has advanced significantly in the recent decade; the whole genome sequencing of some algae has been done, while others are currently in progress. Algal genetic modifications have been carried out in the context of their diverse applications, mainly as biofuels and bio fertilizers.
In the previous decade, cyanobacteria sulgal biotechnology has advanced significantly; the full genome sequencing of many algae has been done. A number of corporations and research organizations are investing in biotechnological breakthroughs in the use of algae as bio fertilizers. In the foreseeable future, advancement in biotechnology is anticipated to boost the microalgae market in fertilizers sector.
Demand For Microalgae in Pet Food Sector to lift sales of microalgae market.
According to FMI, the microalgae pet market valuation is estimated to reach US$ 22.2 Mn in 2021, representing a nearly 7% year on year growth rate. The total valuation is estimated to be US$ 35.5 million by 2031, expanding at a CAGR of 4.8 % from 2021 to 2031.
Microalgae can biosynthesize a variety of compounds with potential bio-pesticideproperties, making them viable biological agents for controlling soil and plant pathogens. In last decade, vegan and vegetarian diet have grown in popularity. Pet humanization is increasing and as a result a rising number of pet owners are focused on feeding healthy foods to their animals, promoting the use of microalgae pet food sector.
The desire for premium, high-quality pet food has boosted retail sales dramatically in the past ten years, with annual pet food spending increasing by 36% between 2010 and 2020, thus increasing the use of microalgae pet food products.
Microalgae have substantial amounts of vitamin A, vitamin C, vitamin E, as well as Beta-carotene, making them a vital element in pet food. Microalgae can help increase your pet's appetite while also strengthening their immune system. Microalgae are also found to lower pet mortality rates. Microalgae's positive characteristics in pet food are propelling the global microalgae pet food industry forward.
Suppertime is the cheeriest time for pets and each pet proprietor looks to give a nutritious feast containing great flavors to their pets. Key variables urging them to raise pets are social solace, security, organization, and the tasteful sense offered by pet creatures. An expanding number of pet proprietors are fueling the interest in pet food. Also, a few organizations are zeroing in on giving new flavors to their items.
A greater part of pet food contains wheat grains, corn, and soy which are mixed with fats to give it meatyflavor. In pet food, the utilization of regular fixingslike spirulina is expanding, as it gives flavor to the pet food and makes it appealing. Increasing interest in food enhancers and colorants in the pet food industry is valuable for the microalgae pet food market.
Spirulina is used in animal feed and pet food because animals and pets can easily digest it and do not develop allergies or medical concerns after eating it. Spirulina, which is high in protein, vitamins, and minerals, can improve the health of pets and aid in the treatment of a variety of medical conditions. The use of Spirulina as a portion of food for pets is creating a strong growth of the product and will help in the overall development of the food chain.
When the FDA approved the use of spirulina in feed and pet food products, demand for spirulina skyrocketed, and companies began developing a variety of spirulina-based products. As it contains a variety of vital nutrients and has been linked to a variety of health advantages, the demand for the creation of pet food products containing spirulina is at all time high.
The market demand for high-quality and premium animal feed has increased as a result of the humanization trend. According to Nielsen's 2020 consumer survey (a consumer insight firm), pet owners seem to be more concerned about the quality of food than the cost of animal feed.
Almost half of all pet owners in the U.S. have stated that they would give up their Netflix subscription to pay for premium pet food. Apart from that, 55% of French and American animal owners agreed to forego chocolate in exchange for high-quality pet food. These will boost the market growth in upcoming years.
Microalgae Cultivation
The notion that marine microalgae are capable of photosynthesis means they just need sun, water, and CO2 to synthesize the nutrients. This gives them the potential for carbon sequestration. Large expanses of these algae might be cultivated to produce a carbon sink; a tank that absorbs more carbon than it emits.This is comparable to establishing a recent grove of trees.
Microalgae, on the other hand are a very productive class as it can dual their mass every day, resulting in a growth rate up by 100 times than that of terrestrial plants. Using specialized growth chambers, marine microalgae could be produced on otherwise unproductive and desert soil.Because no food harvestsmay perhaps be full-grown in those areas, the issue of land rivalry is avoided. Furthermore, marine microalgae do not necessitate freshwater, which is a costly and rapidly diminishing resource. They prefer salt water, which is abundant.
Microalgae Protein
Plant-based proteins are at present one of the fundamental wellspring of protein for food and feed. Microalgae have emerged as a promising economical elective protein source. By the center of this century, green growth might represent 18-20% of protein sources in a more assorted market.
The use of microalgae as a source of bulk proteins is a relatively recent concept. Microalgae proteins may play a key role in meeting global protein needs as they have significant benefits over some other protein sources which are now in use. When compared to animal-based proteins, microalgae proteins require less land.
Whenever it comes to protein quality, chlorella and arthrospira contribute significantly, as both species have the best possible amino acids based on World Health Organization and United Nation guidelines for essential amino acid prerequisites in living beings.
Both species have amino acid compositions that are similar to other traditional protein sources like eggs and soybeans.Protein bioavailability from whole microalgae might be improved by using pre-treatments that disturb cell walls, which inhibit degradation. Thus, ongoing research and development is driving microalgae protein demand over forecast period.
Competitive Landscape
Companies operating in the microalgae market are aiming at expanding their product range in various segments especially pet food domain for which they are investing huge amount in research and development activities.
For example, Now Health Group Inc. developed a new natural pet supplement product called "NOW Pets" in May 2016 that focuses on dogs and cats and contains spirulina as a major ingredient.
Also, manufacturers are focusing on developing microalgae additives as consumers are gravitating toward natural and organic products and are becominghealth conscious. For example, AlgaTechnologies Ltd. introduced AstaPureEyeQ, a microencapsulated, soluble in water, 2% astaxanthin concentrate product in April 2019.
Various manufacturers are focused toward providing microalgae products at best possible pricing, due to their high demand among customers. Several businesses have executed integrated manufactureline to deliver cost-effective merchandises.
For instance, Pondicherry Spirulina Farms, an India-based spirulina producer is selling powder spirulina at a price as low as US$ 3.7-4.5 per Kg which is the lowest price for powder spirulina in the world. Global average of powder spirulina is US$ 6.5-12.5 per Kg
Scope of Report
Attribute

Details

Forecast Period

2021-2031

Historical Data Available for

2016-2020

Market Analysis

USD Million for Value

Key Regions Covered

North America, Latin America, Europe, East Asia, South Asia, Oceania, and the Middle East & Africa

Key Countries Covered

US, Canada, Brazil, Mexico, Chile, Peru, Germany, France, Italy, Spain, Russia, Poland, Benelux, Nordic, ASEAN Countries India, China, Japan, South Korea, Australia, New Zealand, GCC Countries, South Africa, North Africa, Central Africa.

Key Segments Covered

By Species Type, By Source, By End Use Application and By Region

Key Companies Profiled

Koninkliijke DSM NV
Roquette Frères
Sun chlorella
Cellana LLC
Fuji Chemical Industries Co., Ltd.
Corbion (TerraVia Holdings)
Yunnan Green-A-Bio-engineering Co Ltd
Buggypower
Algatec (Lusoamoreiras)
BASF SE
Parry Nutraceuticals
KDI Ingredients.
Sinoway Industrial Co., ltd.
INNOBIO Corporation Limited
Algatechnologies Ltd

Report Coverage

Market Forecast, Company Share Analysis, Competition Intelligence, DROT Analysis, Market Dynamics and Challenges, and Strategic Growth Initiatives

Customization & Pricing

Available upon Request
Key Questions Answered in the Report
How much will microalgae sales globally total in 2021?

The global microalgae market is estimated to reach sales of around 63,864.60 DW tonsin 2021. It can be termed as a high-value-high-volume oriented market.

What is the market share of top players in microalgae market?

Parry Nutraceuticals,DIC Corporation, Roquette Frères, BASF SE, Fuji Chemical Industries Co. Ltd, BGG (Beijing Gingko Group),Lonza Group AG, Chlorella Industry Co., LTD, Koninkliijke DSM NV, and Yunnan Green-A-Bio-engineering Co Ltdare the top market players.

What are the top countries driving microalgae sales?

Top countries in terms of sales of microalgae are U.S., Germany, France, U.K. and Japan.

Which countries are key producers of microalgae?

The U.S., Japan, Germany, and U.K. have been identified as the prominent production hubs of microalgae market.
Microalgae Market by Category
By Species Type:
Spirulina
Chlorella
Dunaliella
Haematococcus
Crypthecodinium
Schizochytrium
Euglena
Nannochloropsis
Phaedactylum
Others
By Source:
By End Use Application:
Food and Beverages Sector
Health and Medical Sector
Animal Feed Sector
Pet Food Sector
Cosmetics and Personal Care Sector
Fertilizers Sector
By Region:
North America
Latin America
Europe
East Asia
South Asia
Oceania
Middle East and Africa (MEA)
Need specific information?
Talk Show:
The Rise of Intelligent Packaging
Personalized, Connected and Sustainable
November 18, 2021
11:00-11:45 AM PST (USA & Canada)
This is a LIVE session