Demand for Microalgae in Food and Beverage Sector Snapshot
The demand for microalgae in the food and beverage sector is expected to reach a value of US$ 99,623.3 Thousand in 2021. As per Future Market Insights (FMI), the overall market value is expected to reach US$ 1, 32,531.2 Thousand by 2031, rising at a CAGR of 2.9% for 2021-31.
Increasing application of microalgae as food additives and awareness regarding their properties that help in enhancing taste, texture, flavour, aroma, and nutritional value are projected to bolster demand for microalgae in the food and beverage sector. FMI also projects functional food applications of microalgae to rise at a 7.2% CAGR through 2031.
Key Points Covered in Demand for Microalgae in Food and Beverage Sector Study
Market estimates and forecast 2015-2031
Key drivers and restraints impacting market growth
Segment-wise, Country-wise, and Region-wise Analysis
Competition Mapping and Benchmarking
Brand share and Market Share Analysis
Key Product Innovations and Regulatory Climate
COVID-19 Impact on Demand for Microalgae in Food and Beverage Sector and How to Navigate
Recommendation on Key Winning Strategies
2016-2020 Demand for Microalgae in Food and Beverage Sector Outlook in Comparison to 2021-2031 Growth Forecast
Consumer awareness regarding importance of healthy lifestyles and benefits nutritional foods is growing, making them lean towards high-quality and natural products. Their interest in quality of ingredients used in food items and desire for healthy, nutritious, flavorful, and innovative dietary options will encourage microalgae application in food and beverage items.
Future Market Insights projects the market to remain steady, exhibiting growth at 2.9% CAGR between 2021 and 2031 in comparison to the CAGR of 1.6% posted between 2016 and 2020.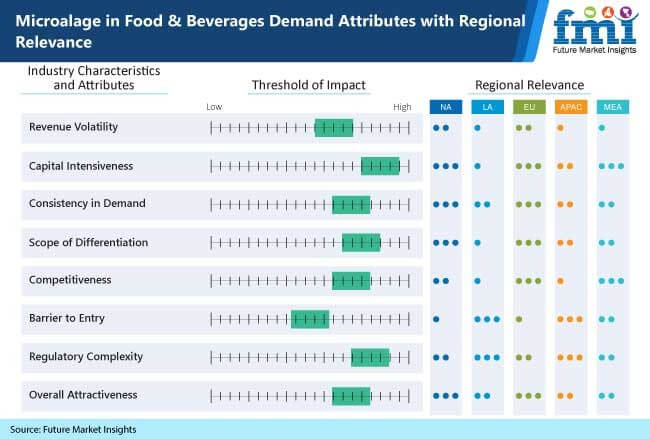 Bakery, dairy, and confectionery businesses need natural food components like spirulina to enhance flavor and make their products aesthetically appealing. These ingredients are often used to attract more customers and persuade them to buy their products.
Manufacturers are emphasizing the use of natural ingredients in order to appeal to health-conscious consumers. The use of microalgae is increasing among bakery, confectionery, and snacks manufacturers as it enhances the nutritional value of food products.
Food manufacturers are willing to pay premium prices for high quality, sustainable natural food components due to the growing number of health-conscious customers. Microalgae is therefore used extensively in bakery and confectionery products, as it improves their texture, color, flavor, and scent, in addition to improving their nutritional value.
Microalgae Gaining Traction in Food Sector as Super-food
Microalgae is rich in anti-oxidant, hypolipidemic, and anti-inflammatory properties, due to which its demand is expected to consistently rise in food, beverage and cosmetics industries. Antioxidants protect the body from damage caused by harmful molecules (free radicals) which improves the health of a person.
Spirulina is a rich source of Vitamin A, Vitamin C, and E, and Beta-carotene and Lutein Zeaxanthin, all of which are antioxidants that aid in the prevention of many diseases and medical conditions. Spirulina decreases total cholesterol (LDL cholesterol) and triglycerides while increasing HDL cholesterol (good cholesterol).
It also has anti-cancer properties, reduces blood pressure, and improves the symptoms of allergic rhinitis, helps in reducing anemia and helps in blood sugar control. Microalgae also helps in prevention of medical conditions such as Alzheimer's disease, macular degeneration and arthritis-related conditions which further drives the demand.
Competition among Manufacturers Restricting New Entrants in the Microalgae Market
Influx of new microalgae manufacturers around the world has made the microalgae market very competitive. Various brands have been introduced in the market with the goal of achieving big revenues and a quick return on investment.
In developed countries, the microalgae market is highly concentrated, with only a few large corporations controlling a significant portion of the market.
This has resulted in rivalry among businesses. Multinational corporations are investing to expand their footprint in countries such as China and India, which will drive market consolidation in these areas.
What is the Impact of COVID-19 on the Demand for Microalgae in the Food and Beverage Sector?
Health consequences of the COVID-19 pandemic are still being felt around the world. Though invisible to the naked eye, the virus's medical, societal, and economic consequences have been and will continue to be a major hindrance to human life.
In only one year, this menace has claimed the lives of nearly two million people around the world, and the mortality rate is expected to continue climbing. The potential of microalgae in limiting the spread of COVID-19 is being researched since algal chemicals have been tested to be effective in tackling viral spread.
Algal anti-inflammatory components have the ability to heal severe symptoms of COVID-19. As a result, the potential application of microalgae in the production of value-added goods might attenuate or hamper health concerns.
Country-wise Insights
Did FDA Approval of Spirulina Help in Driving Microalgae Sales in the U.S.?
According to FMI, North America is a dominant region in the global microalgae market and it is also expected to witness a lucrative growth rate over the forecast period. According to the latest study, the U.S. is estimated to account for more than 91.0% of the North American market in 2021.
In 2013, the FDA approved spirulina blue, a natural colour made from green-blue spirulina, which opened up a whole new market for spirulina products. Spirulina blue has been employed in a variety of food and beverage applications since then, including bakery and confectionery, snacks, cereals, meat, and dairy products, ice creams, and more.
Spirulina manufacturers who identified spirulina as a significant ingredient in food applications have access to regulatory approval. Spirulina is used to improve the colour, taste, and flavour of food. The FDA's approval of spirulina for use in food and beverages has aided the acceleration of the worldwide microalgae market, particularly in the U.S.
How are Government Initiatives Supporting the Production of Microalgae in India?
According to FMI, the demand for microalgae in the food and beverage sector of India is estimated to be valued at US$ 2,794.6 thousand in the year 2021. The Indian government is supportive of the local spirulina market and is creating a strong gateway for the development of this super-food that has the potential to revolutionize the direction of human nutrition.
The government has identified microalgae as an economical remedy to hunger and numerous inadequacies that arises from food security issues. India is home to nearly one out of every three malnourished children, necessitating immediate action to combat hunger.
In March 2016, the Karnataka state government launched Balposhna scheme for eradicating malnutrition for the region. Under this scheme, the government provided 2gm of Spirulina for 180 days to 25,000 children across the state.
Why is China Dominant in Asia Pacific?
According to FMI's analysis, China is estimated to account for more than 48% of the Asia Pacific share in the year 2021. For centuries, Asia Pacific countries have reaped the benefits of algae in dietary formulations.
In comparison to the West, customers are more aware of the potential of microalgae. Labor for cultivation is often less expensive and less regulated. China is interested in the microalgal-based industry because local players want to open their operations new markets for food, feed, nutraceuticals, and cosmetics, that are sustainable.
Focus on Product Safety to Continue Driving Sales in the U.K.
In Europe, the U.K. accounted for 13.6% of market share in 2021. Consumer interest in product quality and safety is one of the most important developments in developed economies, particularly in the United Kingdom. Consumers are interested in how suppliers of various raw materials utilized in food items are held accountable.
The considerable use of synthetic chemicals and pesticides in the agriculture industry in the U.K. has prompted a greater focus on the source of raw materials. Offering sustainably cultivated food components can assist microalgae market participants boost their brand image and grow their client base.
Category-wise Insights
Does the High Nutritional Value of Spirulina Support Demand?
The demand for spirulina is driven by its role as superfood with superior protein content of any naturally cultivated options. Spirulina is the highest protein-rich dietary source on the planet, with roughly 60 grammes of protein per 100 grammes of raw spirulina.
Spirulina is also high in vitamins, minerals, and other nutrients, making it an excellent diet. Vitamins A, B, C, E, and K, in addition to iron, calcium, manganese, magnesium, phosphorus, potassium, sodium, and zinc, are all found in spirulina.
Spirulina sales have surged in the last three years and is expected to account for over 41.3% in 2021.
Which is the Preferred Source of Microalgae?
Fresh water microalgae are estimated to account for more than 81.0% of the market share in 2021, which is expected to witness growth rate of CAGR 2.5% over the forecast period to reach a value of US$ 103,513.0 Thousand in 2031.
Why is Microalgae Application in Functional Rising?
Microalgae product manufacturers are launching application-specific products to cater to the changing demand of clients in terms of nutrition. Microalgae product manufacturers are concentrating on manufacturing probiotics for functional food products.
The demand for functional food products is increasing. Consequently, the demand for microalgae is expected to increase at a CAGR of 7.2%. Also, manufacturers are selling microalgae products to functional food manufacturers at a higher price through labelling claims on the ingredients. Thus, they are able to gain profits by targeting functional food manufacturers.
Competitive Landscape
Microalgae is beneficial for improving nutritional profiles of food products, besides enhancing their flavor, aroma, and appearance. Consumers are becoming cautious about the ingredients used in food and are showing clear preference for clean label food. This has encouraged the producers to focus on product launches.
For instance-
In March 2016, Naked Juice, a U.S. based beverage manufacturer and a subsidiary of PepsiCo, Inc. starts a juice smoothie made with Spirulina as a primary ingredient.
In November 2018, Allma launched microalage crispy snacks. The company launched rice cereal and chlorella blends in multiple sizes and flavors such as carrots, lemons and more.
Scope of Report
Attribute

Details

Forecast Period

2021-2031

Historical Data Available for

2016-2020

Market Analysis

USD Million for Value

Key Countries Covered

US, Canada, Germany, U.K., France, Italy, Spain, Russia, China, Japan, South Korea, India, Thailand, Malaysia, Indonesia, Australia, New Zealand, GCC Countries, Turkey, Northern Africa, and South Africa

Key Segments Covered

Species Type, Source, End Use Application, and Region

Key Companies Profiled

DIC Corporation
Koninkliijke DSM NV
Roquette Frères
Fuji Chemical Industries Co., Ltd.
Yunnan Green-A-Bio-engineering Co Ltd
Cyanotech Corporation
BASF SE
Parry Nutraceuticals
Beijing Gingko Group
KDI Ingredients
Sinoway Industrial Co., ltd.
INNOBIO Corporation Limited
Algaecan Biotech Ltd.
Algatechnologies Ltd.
Cardax, Inc.
Igene Biotechnology, Inc.
Fenchem Biotek Ltd.
AstaReal Inc.
Valensa International
Kunming Biogenic Co., Ltd.
Others

Report Coverage

Market Forecast, Company Share Analysis, Competition Intelligence, DROT Analysis, Market Dynamics and Challenges, and Strategic Growth Initiatives

Customization and Pricing

Available upon Request
Key Questions Answered in the Report
How much is the demand for microalgae in food and beverage sector worth?

The demand for microalgae in food and beverage sector is estimated to be worth over US$ 99,623.3 Thousand by 2021.

What is the demand outlook forecast for the demand for microalgae in food and beverage sector?

The global demand for microalgae in food and beverage sector is forecasted to surpass US$ 1, 32,531.2 Thousand by the end of 2031.

What was the last 5-year CAGR for the demand for microalgae in the food and beverage sector?

Between 2016 and 2020, the demand for microalgae in food and beverage sector grew at a 1.6% CAGR.

What is the share of top 5 players in the demand for microalgae in food and beverage sector?

DIC Corporation, Koninkliijke DSM NV, Roquette Frères, BASF SE, and Parry Nutraceuticals. are leading companies, accounting for 35-40% of the global market.

Who are the top 5 countries driving demand for microalgae in the food and beverage sector?

The U.S., Germany, the U.K., and China are the top countries reflecting consistently high demand.

What is the North America demand for microalgae in food and beverage sector outlook?

North America is a leading market which will register a 2.1% CAGR through 2031.

At what rate will the demand for microalgae in the food and beverage sector increase in Europe?

The demand for microalgae for the food and beverage sector of Europe is projected to grow at a 2.7% CAGR through the assessment period.

At what rate did the demand for microalgae in the food and beverage sector increased between 2020 and 2021?

The global demand for microalgae in the food and beverage sector rose by 2.5% from 2020 to 2021.

What are the key statistics of the demand for microalgae in food and beverage sector in South Korea and Japan?

South Korea and Japan account for 0.5% and 0.7% of the global demand for microalgae in the food and beverage sector in 2021.
Demand for Microalgae in Food and Beverage Sector by Category
By Species Type:
Spirulina
Chlorella
Dunaliella
Aphanizomenon
Haematococcus
Crypthecodinium
Schizochytrium
Euglena
Nannochloropsis
Nostoc
Phaedactylum
Others
By Source:
By End Use Application:
Bakery and Confectionery
Meat, Poultry, Fish, and Eggs
Sauces, Soups, and Dressings
Seasonings
Snacks and Cereal
Ice creams
Food additives (ingredients)
Medical Nutrition/ Functional Food/ Health Food
Others
By Region:
North America
Latin America
Europe
Asia Pacific
Middle East and Africa (MEA)
Need specific information?
Talk Show:
The Rise of Intelligent Packaging
Personalized, Connected and Sustainable
November 18, 2021
11:00-11:45 AM PST (USA & Canada)
This is a LIVE session