About the Report
Health awareness has been significantly increasing among consumers and this is fuelling the demand for low-fat food. Food producers are therefore focusing on creating new products that have the potential to mitigate or regulate weight gain. Consumers also have been making healthy food choices without compromising the taste and flavor. Emulsifiers help in maintaining the sensory characteristics of foods, in addition to reducing fat content. This function aids in making healthy food products that are tasty and low in fat content and it has allowed increasing consumer acceptance for emulsifiers.
The rising demand for packaged food and convenience food is driving the global food emulsifier market. Food emulsifiers are used to prevent microbial and bacterial spoilage in various processed and convenience food products, including snacks, processed meat and fish, and cakes. Demand for these food items is growing due to busy lifestyles and changing eating habits among consumers. Such factors will continue enabling growth in the market.
In its new study, ESOMAR-certified market research and consulting firm Future Market Insights (FMI) offers insights about key factors driving demand for food emulsifiers. The report tracks the global sales of food emulsifier in 20+ high-growth markets, along with analyzing the impact COVID-19 has had on the food and beverage industry in general, and food emulsifier in particular.
What is the Future Outlook for Food Emulsifiers Market in Comparison to Historical Pattern?
The food additives market has been evolving significantly owning to changing behavior pattern among consumers. Thanks to the increasing access to the internet, consumers are rendered conscientious regarding ingredients used in packaged and convenience food. They have more information about "what's not healthy" rather than "what makes a food healthy". Most consumers are moving away from artificial/synthetic food additives towards natural additives.
According to FMI's analysis, food emulsifier market sales have grown at 3.8% CAGR between 2016 and 2020.
Rising trend of sedentary lifestyle has partially contributed towards the increasing incidence of lifestyle diseases and chronic ailments. Increasing awareness regarding the consequences of unhealthy eating is prompting consumers to opt for trans-fat products. This, in turn, is compelling food manufacturers to increase the use of low-fat and low-calorie emulsifiers in their products. This will lead to increased consumption of low-fat emulsifier across food applications.
There would be an increase in consumption of plant based emulsifier due to a notion-cum-possibility that pandemics such as COVID-19 can be transmitted through animal sources. Moreover, the market will gain from the digitization of food safety protocols that will increase food safety visibility and reduce risk of disease contraction with real time monitoring. Considering these factors, FMI has forecast the global food emulsifier market to grow at 5.1% CAGR through 2031.
Why Are Emulsifiers Highly Sought-after in HoReCA?
Changing consumer preferences and tastes, evolving technology, rising costs, shortening product lifecycles and heftier domestic and overseas competition are some of the factors compelling manufacturers to focus on innovations. Restaurants and food manufacturers spend millions, coupled with months of efforts, to create new food products. For food manufacturers and restaurants, it is important to capitalize on food quality and taste to increase the sales of products. To maintain the quality and freshness that consumers expect, emulsifier is incorporated into formulas by a food manufacturer to improve the overall quality of food products. Increasing adoption of emulsifier in a wide variety of food application especially in bakery and confectionary sector has been creating impressive growth opportunities.
Considering that hotels and cafes have been significant contributors toward gross domestic product of economies, a rise in their number is indicative of increasing opportunities for the market. For instance, according to the China Chain Store & Franchise Association, the food and beverages sector in the country reached approximately US$595 billion in 2019, exhibiting a 7.8% increase over 2018. With growth trends picking up post extended lockdown due to COVID-19, the demand for emulsifiers is poised to surge in the coming years.
How is Expansion of Bakery Sector Fuelling Emulsifier Demand?
Total consumption of baked goods has been increasing since the last few years, both in terms of volume and value sales. A key factor behind surging demand is that consumers are looking for product quality. This is taken seriously by bakery producers. Two types of emulsifiers are used for bread production, namely dough strengthener and dough softener. Dough strengthening emulsifiers make the dough stronger, which is particularly necessary for the manufacturer of industrial bread, whereas dough softening emulsifiers are used in order to achieve a softer crumb structure and boost bread quality. Emulsifiers are used in biscuits to enhance the properties of the food.
For instance, emulsifiers are specifically used in low-fat biscuits to maintain both, good texture and eating properties. Also, cake batter is an emulsion, which contains bubbles from the air. Emulsifiers are being used to affect the bubble quantity and size, and to enhance aeration, leading to increased volume and enhanced crumb structure and tenderness. Considering applications of emulsifiers in baked goods, the rising number of bakeries around the world will aid the overall expansion of the market.
What are the Risk Factors to New Market Entrants?
Food emulsifiers are among trending ingredients that are increasingly used in various food products. Besides application in the food and beverages sector, the market has been gaining traction from pharmaceuticals, animal food, and dietary supplements industries. As a result the market showcases the presence of large number of established market players, which has been creating obstacles for the entry of new players.
What is the Regulatory Impact on Food Emulsifiers Sales?
As environmental sustainability and health consciousness are primary concerns among present-day consumers. Consequently, governments across the world are imposing more strict standards of food production, pushing manufacturers to either comply or pull out of the game. For instance, the US Food and Drug Administration (FDA) has licensed food emulsifiers and considers them considered safe. Some of the emulsifiers such as lecithin and polyglycerols help minimize trans-fats and gluten, and are labelled organic and non-GMO. Therefore, the use of food emulsifiers in baking products and confectionery products such as bread, ice cream, and cake amps will amplify growth registered worldwide.
Food emulsifier manufacturers have been riding on increasing demand from food industry. Their application to preserve the taste, freshness, safety, texture, and appearance of the processed foods has surged considerably in the recent past. This has brought food emulsifiers under scrutiny of various government and international organizations. As a result food emulsifiers are required to be approved by appropriate authorities and organizations must ensure strict limits on added amounts and types of emulsifiers in processed foods. Every emulsifier must be included in the ingredients listing on a package to ensure choice for the convenience-demanding consumers.
The Food Safety and Standard Authority of India (FSSAI), mandates food item manufacturers to include list of ingredients fairly on packaging. The U.S. Food and Drug Administration (FDA) also has specific guidelines with regards to food labelling, which requires proper disclosure of information on ingredients used. Presence of such stringent regulations will have profound impact on growth reported across the world.
Opportunities Abound in Food Emulsifier Industry
The rise in consumption of baked goods with growing confectionary sector, and increased urbanization creates ample opportunities in South Asian countries. Growing markets offer better potential for emulsifier manufacturers to address the dietary shifts of consumers towards high-value products catering to local needs and tastes. The growing market for convenience and processed food is backed by hectic lifestyles, deskbound jobs, increasing women workforce, and socio-cultural aspects, have contributed to reshaping consumers' eating habits. Companies are implementing robust go-to-market strategies including collaborations and partnerships, M&A and divestitures, and organic growth to expand their presence in these high growth region to gain an edge in the market.
Country-wise Insights
How Big is the Opportunity in US?
FMI has identified North America as one of the leading markets for food emulsifiers. Growth in the region is spearheaded by the U.S., which is expected to surpass US$ 1,278.6 Mn market value by 2031. One of the key factors fuelling the demand for emulsifiers in the U.S. is the rising prevalence of obesity. According to the Centers for Disease Control and Prevention (CDC), obesity prevalence in the country stood at 42.4% between 2017 and 2018.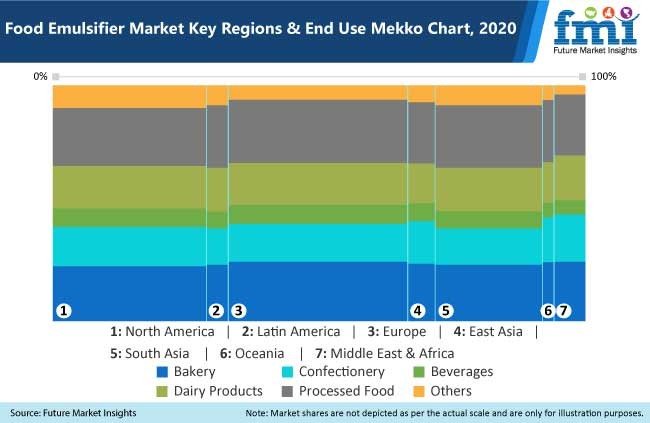 As a result of current health situation an increasing number of consumers in the U.S. will seek out healthy ingredients in food product. Their inclination towards labels such as "clean", "organic", and "GMO-free" is expected to increase, creating opportunities for food emulsifier producers.
What Supports Food Emulsifier Sales in the U.K.?
It was revealed in a recent survey by Ingredon that consumers across nine European countries, including those in the U.K., place more importance on ingredient lists of food products. Coupled with this, the rising focus on healthy living has emerged as one of the key drivers of food emulsifier market in the U.K. FMI has predicted the U.K. to remain one of the primary markets for emulsifier sales in Europe.
Germany Emerges as Key Pocket for Food Emulsifier Sales in Europe
The increasing focus towards healthy living has been a key driver of food emulsifier sales in Germany. Impressive growth registered by the country's food service sector will be of key importance for the market. According to the United States Department of Agriculture (USDA) Foreign Agricultural Service, the food service sector generated a turnover of roughly US$ 190 billion, accounting for 5.4% of Germany's GDP in 2016. Another study by USDA revealed that food culture in the country is gradually shifting in favor of vegan trend. As per the study, nearly 35% of people in Germany consider the availability of vegetarian and vegan food items as "very important". The changing behavior pattern among consumers is one of the key drivers of food emulsifier sales in Germany.
What Drives Food Emulsifier Sales in France?
The rising focus on healthy living will continue strengthening growth prospects in France. According to a French consumer survey (IFOP-Charal, October 2019), 25% of consumers in France are using scoring apps to decide about purchases. This trend among French consumers has been a key factor compelling players within the food sector to revisit strategies adopted. Food producers are more inclined towards including ingredients identified as safe by international organizations. This has been aiding the expansion of food emulsifiers market in France.
How big is the Opportunity for Food Emulsifier Producers in China?
Rising cases of chronic ailments have enabled health overtake flavor preferences in China. Thanks to growing awareness, an increasing number of consumers in China are opting for plant-based and clean label ingredients. There also is strong emphasis on reading the ingredient list, which is expected to bode well for the emulsifier producers. Also on account of the increasing prevalence of diabetes and obesity, more food producers will be seen including food emulsifiers as key ingredients into their products.
According to the World Health Organization (WHO), prevalence of diabetes among adults in the country increased reached 11.2% in 2017 from 9.7% in 2007. To counter the rising rate, China implemented various healthcare reforms. The government also undertook various initiatives for screening, managing, and preventing the spread of non-communicable diseases.
With the focus on health and wellness forecast to scale higher in the coming years, China will emerge as a lucrative market for food emulsifiers. Also the country's bustling HoReCa sector will support growth recorded.
Category Wise
Why is Mono & di-Glycerides of Fatty Acid More Preferred Product Type?
The mono & di-glycerides of fatty acids segment holds dominant share in the overall food emulsifier market which is attributable to their increase use in the food industry. These emulsifiers are used in bakery premixes, processed and convenience foods, margarines and shortenings, and frozen desserts. These emulsifiers are primarily used for emulsification, aeration, starch complexing, crystal modifier, wetting and dispersion agents, viscosity modifiers, and others.
Why is Fine Powder Form is Popular among Food Manufacturer?
Food manufacturer are preferring powder form over liquid as powder allows high flexibility with dosing and offers active nutrient delivery. In powder form, the absence of water prevents the occurrence of oxidative phenomena.
Which Nature of Food Emulsifiers is More Preferred?
While synthetic emulsifiers continue to lead the market, increasing focus on health and wellness is compelling manufacturers to shift to natural ingredients. FMI has forecast the natural segment to consistently rise at a higher pace through the forecast period.
Who is the Leading End User of Food Emulsifiers?
The use of food emulsifiers is highest in food processing and bakeries. Emulsifiers are considered multifunctional ingredients used in baking. They help in assisting blending and emulsification of ingredients during baking. Besides this, their key functions consist of interacting the component of flour with other ingredients in the mix and improving the properties of shortening. In food processing, emulsifiers are used to control crystallization and prevent stickiness and separation. Of these segments, processed food will currently lead the market as dominant end user.
Competitive Landscape
Global food emulsifier market is primarily characterized by high degree of fragmentation, as a result of the presence of a large number multinational, regional, and local players. These companies have been focusing on product launches and adopting various expansion strategies to gain competitive advantage.
In 2020, Ingredion Incorporated launched a new emulsifier based on chickpea broth that offers a clean label alternative to modify starch and other artificial emulsifiers.
In 2020, DuPont Nutrition and bioscience launches POWER Bake enzyme series preserves taste and quality of white bread and buns
In 2018, DSM announced the opening of a premix manufacturing plant dedicated to infant and maternal nutrition in Poland. The manufacturing facility is first of its kind and aims to provide efficient infant formula solutions to consumers.
Some of the leading companies operating in the market are:
Archer-Daniels-Midland Company
Koninklijke DSM N.V
Cargill Inc.
BASF SE
Ingredion Incorporated
Kerry Group Plc.
E.I Dupont De Numours and Company
Lonza Group AG.
Puratos Group
Wilmar International Limited
Naturex S.A.
Palsgaard A/S
Riken Vitamin Co., Ltd.
Stepan Company
CP Kelco
International Flavours & Fragrances
Tate & Lyle PLC
*The list is not exhaustive, and only for representational purposes. Full competitive intelligence with SWOT analysis available in the report.
Scope of the Report
Attribute

Details

Forecast Period

2021-2031

Historical Data Available for

2016-2020

Market Analysis

USD Million for Value and MT for Volume

North America, Latin America, Europe, South Asia, East Asia, Oceania and MEA

Key Countries Covered

US, Canada, Brazil, Mexico, Chile, Peru, Argentina, Rest of Latin America, Germany, France, Italy, Spain, U.K., BENELUX, Nordic, Russia, Poland, Rest of Europe, China, Japan, India, Thailand, Indonesia, Malaysia, Singapore, Rest of South Asia, Australia & New Zealand, GCC Countries, South Africa, Turkey, Iran, Israel, Rest of MEA.

Key Segments Covered

Product Type, Nature, Form, End-Use and Region

Key Companies Profiled

Archer-Daniels-Midland Company
Koninklijke DSM N.V
Cargill Inc.
BASF SE
Ingredion Incorporated
Kerry Group Plc.
E.I Dupont De Numours and Company
Lonza Group AG.
Puratos Group
Wilmar International Limited
Naturex S.A.
Palsgaard A/S
Riken Vitamin Co., Ltd.
Stepan Company
CP Kelco
International Flavours & Fragrances
Tate & Lyle PLC

Report Coverage

Market Forecast, brand share analysis, competition intelligence, DROT analysis, Market Dynamics and Challenges, Strategic Growth Initiatives

Customization & Pricing
Key Questions Answered in the Report
Q1. At what rate the demand for food emulsifier is expected to grow for the next 5 years?
The global food emulsifier market is estimated to grow by CAGR of 5.1% for the next 5 years.
Q2. Which form of food emulsifier is most used?
The fine powder form of food emulsifier is highly used and the segment is estimated to grow by 5.2% CAGR through 2031. Fine powder allows high flexibility with dosing and offers active nutrient delivery, which is why its application is higher in the food industry.
Q3. Which are some of the leading companies offering food emulsifier?
Some of the leading companies operating in food emulsifiers market are BASF SE, Ingredion Incorporated, Kerry Group Plc., E.I Dupont De Numours and Company, Lonza Group AG., Puratos Group.
Q4. Which is the most lucrative market for food emulsifiers?
The U.S. currently leads the global market for food emulsifiers. The increasing focus on healthy eating as a result of soaring prevalence of chronic ailments has been supporting overall expansion in the country.
Key Segments
Product Type
Lactic esters of fatty acids

Sodium stearoyl lactylate
Sodium behenoyl lactylate
Sodium isostearoyl lactylate
Sodium lauroyl lactylate

Lecithins
Mono & di-glycerides of fatty acid
Esters of monoglycerides of fatty acid
Polysorbates
Polyglycerol Esters
Polyglycerol Polyricinoleate
Others
Nature
Form
End-Use
Bakery
Confectionery
Beverages
Dairy Products
Processed Food
Others
Region
North America
Latin America
Europe
South Asia
East Asia
Oceania
MEA
Need specific information?
Talk Show:
The Rise of Intelligent Packaging
Personalized, Connected and Sustainable
November 18, 2021
11:00-11:45 AM PST (USA & Canada)
This is a LIVE session