About the Report
Mini cranes are intentionally built small and compact for lifting relatively light weight items. When lifting requirements are in a location with tight access, restricted space or obstructions, a mini crane is perfect for the job. Mini cranes are designed to go places where conventional or large cranes cannot reach, or their use is economically unreasonable.
The global market of mini cranes is anticipated to grow at an impressive rate during the forecast period. From 2021 to 2031. Increasing applications in various end-use industries such as, commercial and residential construction, Industrial management, railway depots, timber & marine, and material handling & logistics will drive sales through the forecast period. Mini cranes are further used in glass glazing, installation of glass facades for sophisticated architecture.
In ESOMAR-certified Market Research Company and consulting firm Future Market Insights (FMI) in its new study offers key insights and key factors driving the growth of the mini cranes market. The report tracks the global sales in more than 20 high-growth markets for mini cranes. Further, analyzing the impact of the COVID-19 Pandemic on the global market of mini cranes
Will Future Outlook for mini cranes Market be better in Comparison to Historical Sales?
Mini cranes market is estimated to grow by 2.2 times between 2021 and 2031. The market is expected to be primarily driven by the growing demand from construction activities, both commercial and residential, and civic infrastructural activities.
Mini cranes applications have considerably increased in the past few years, so has their production across the globe. Although mini cranes are niche products, substantial increase in demand is expected as a result of their ability to perform well in confined spaces and compact areas.
However, the pandemic crisis has impacted the growth of mini cranes market to a significant extent in the year 2020 owing to slight decrease in demand from various end use sectors. Delay in construction projects, lockdowns imposed in various countries, and low demand from manufacturing industries has adversely affected growth in 2020.
However, with the recovery of economy and industries, the mini cranes market is anticipated to grow with the incremental growth rate after the Covid-19 crisis. The mini cranes market is further projected to grow with a significant growth rate in the coming assessment period. According to FMI's analysis, mini cranes market is expected to grow at 6.0% CAGR in over the assessment period.
With growing investment in sophisticated infrastructure along with extensive use of in railway depots and ever growing end use industries, the mini cranes market is expected to witness a significant growth rate over the forecast period.
East Asia is expected to exhibit high demand for mini cranes during the assessment period due to increasing export and consumption among various industries. Increasing production will continue supporting growth, especially by Japan. The region is anticipated to produce more than one third of the global mini cranes by the end of forecast period. East Asia is also anticipated to witness a significant growth rate in the coming years owing to substantial development in the end use industries.
Key players are focusing on expanding their market footprint by collaborating with other players and partnering with end users. Key market participants are also focusing on development of innovative and advance product by significantly investing in R&D.
Increasing Rent/Leasing of Mini Cranes Inducing Growth
By ownership, rented services dominate the mini carne market. High initial investment and short term need from end users have been fuelling the demand for rent/lease services in the market. Market for mini cranes is anticipated to cross over two third share mark by the end of forecast period.
Rent/leasing can be best options for companies requiring mini cranes for particular period of time in regular intervals. From construction work to natural resource development, there are numerous applications of mini cranes. These machines can increase productivity by diminishing schedule time, manpower, and labor hours. Spurred by these factors, the demand for mini cranes will continue growing.
Application across Diverse Sectors Fuelling Demand
The increasing demand for mini cranes from several end-use industries, including construction, steel industry, oil & gas, and power generation among others is expected to drive the market. Dozens of businesses rely on mini cranes to perform heavy lifts in small and hard-to-get-to spaces. Their compact dimensions make them easy to function and move. As a result, they can often replace the need for much bigger cranes. Mini crawler cranes are often used in activities such as steel erection, glazing works, curtain wall installation, and others.
Country-wise Insights
What are the Prospects for Mini Cranes Sales in Japan?
Japan is anticipated to remain a key market for mini cranes market during the assessment period. Owing to the strong presence of several big players, Japan has emerged as one of the biggest exporters in the mini crane market.
Why is U.K. Considered an Attractive Market for Mini Cranes?
The U.K. is a developed economy, exhibiting the presence of well-established industries such as automotive, construction, in several manufacturing industries, heavy engineering, railway depots and others, which has resulted in the significant consumption and demand of mini cranes. The country also has strong rental market for mini cranes owing to regular and short term demand from end users.
How Big is Opportunity for Growth in the U.S.?
Presence of various industries has made the U.S. an ideal market for mini crane sales. Steel erection, manufacturing, construction, oil and gas, and other industries are expected to exhibit high demand for mini cranes. Strict emissions norms from state and federal organization have fueled the demand for environment safe options such as mini cranes and have kept this market on track in the forecast period.
Plans undertaken to strengthen infrastructure and the expansion of the construction sector will present attractive opportunities for growth. According to the U.S. Census Bureau, construction spending in the U.S. have moderately improved between March 2020 and March 2021. With government stimulus towards overall economic poised to surge, mini crane manufacturers will find attractive opportunities for growth.
What is the Market Projections for Australia?
Australia is anticipated to remain one of the fastest growing markets for mini cranes. While construction and industrial activities continue to flourish, manufacturers are increasingly becoming aware of benefits associated with mini crane in terms of efficient loading, unloading, maneuverability and goods transferring operations, without the intervention of additional equipment.
Moreover, the versatility and flexibility of mini cranes make it a preferred choice for industries such as construction, forestry, agriculture, oil and gas, manufacturing industry, transport and logistics, and waste management. These significantly growing end use industries is expected to boost the market of mini cranes in the coming years in Australia.
What is Demand Potential of mini cranes in UAE?
UAE is also anticipated to remain key country in the mini cranes market, owing to the strong construction activities and presence of oil & gas and steel industry. In past few years sales of mini cranes has increased in this country, partly due to growing popularity and awareness regarding mini cranes application. With fast growing construction activity in the region, mini crane market is set to flourish over the forecast period.
Construction sector is expected to flourish in the UAE, especially as the country gears for EXPO 2020. Government plans intended to make Dubai one of the smartest cities in the world will have positive impact on the construction and other sectors, subsequently creating opportunities for the expansion of the mini cranes market.
Category-wise Insights
Which Is The Top-Selling Mini Crane Type?
Spider cranes are expected to remain a top-selling type of mini cranes. The segment is anticipated to account for around half of the mini cranes market. Its ability to perform some of the most skilled lifting projects and various safety features such as outrigger interlocks that ensure stabilization of the chassis before any lifting operations can be carried out are aiding the increasing sales of spider cranes.
The safe load indicator is installed prevent the crane from lifting outside of its working envelope. Besides this, manufacturers offer various other features. Compact design of the spider crane means fewer measures will be needed to be put in place in preparation for the delivery of the crane itself. All these merits are pushing spider cranes sales.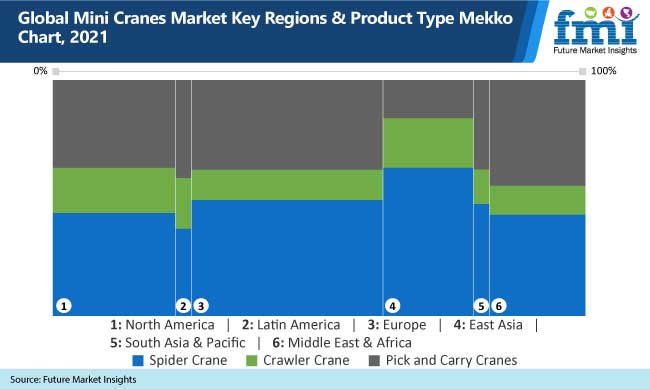 Which is the Key Segment in Terms of Operation?
Battery operated segment is anticipated to witness a significant growth rate in the global market for mini cranes. Increasing awareness about GHG emission and strict regulations from government and international organizations will benefit the tubular products of mini cranes. Other than this, increasing adoption of renewable energy sources will also boost the market's growth.
Who Is The Leading End User Of Mini Cranes?
The construction segment is anticipated to remain one of the leading end users of mini cranes. Within the industry mini cranes are required for construction material handling, for glass glazing and other activities. Expansion of construction activities, especially across emerging nations will pave the way for the sales of mini cranes.
Which is the Preferred Ownership Type and Lifting Capacity for Mini Cranes?
In terms of ownership, rented segment has shown increasing growth rate and is anticipated to account for over two-third of total shares in the mini crane market. End users are shifting towards rented type due to low investment. It is considered an ideal fit for requirement over a limited period of time. Industries often prefer hiring than buying mini cranes in order to keep a tab on their expenditure. 2.5 to 4.9 ton segment dominates in terms of capacity, accounting for over one-third of share in global mini crane market.
Competitive Landscape
Key Players are focusing on research and development activities to introduce new and innovative products and technologies. Some of the leading companies strategically partnering with regional dealers to expand their footprint in the market. Besides this, product launches remain a chief strategy adopted by the market players to gain competitive edge. For instance:
In September 2020, Palazzani Industrie, an Italian manufacturer, best known for their aerial work platforms, launched a wide range of mini crawler cranes with the RPG2900 as their first machine model.
In August 2020, Jekko, also an Italian mini crane manufacturer, launched a versatile, medium-sized mini crane - SPX650.
List of some of the key companies operating in the market includes:
Manitex Valla S.r.l.
Skyjack( Linamar)
R&B Engineering
Promax Access
Jekko s.r.l
MAEDA SEISHAKUSHO CO., LTD
BG Lift
Furukawa UNIC Corporation
*The list is not exhaustive, and only for representational purposes. Full competitive intelligence with SWOT analysis available in the report.
Scope of the Report
Attribute

Details

Forecast Period

2021-2031

Historical Data Available for

2016-2020

Market Analysis

USD Million for value and Units for Volume

Key Regions Covered

North America, Latin America, Europe, East Asia, South Asia & Pacific, Middle East & Africa

Key Countries Covered

US, Canada, Brazil, Mexico, Germany, U.K., France, Italy, Spain, Benelux, Russia, China, Japan, South Korea, India, ASEAN, Austalia, GCC Countries, Turkey, North Africa, South Africa

Key Segments Covered

By Material, By Type, By Application, By Formulation

Key Companies Profiled

Furukawa UNIC Corporation
Jekko s.r.l
Manitex Valla S.r.l.
MAEDA SEISHAKUSHO CO., LTD
BG Lift
R&B Engineering
Promax Access
Skyjack( Linamar)
Microcranes, Inc.
Hoeflon International B.V

Report Coverage

Market Forecast, brand share analysis, competition intelligence, DROT analysis, Market Dynamics and Challenges, Strategic Growth Initiatives

Customization & Pricing
Key Questions Answered in the Report
Which is the most lucrative market for mini cranes?

Europe leads the global mini crane market. Increasing production in Italy and other countries will drive growth in the region.

Which is top-selling mini crane type?

Spider cranes are likely to remain most sold types of mini crane. Thanks to their advance technologies and ability to work in small spaces, the demand for spider cranes will continue rising through the coming years.

Who is the leading end user of mini cranes?

Construction sector is expected to remain the key end user of mini cranes. Increasing application in residential and commercial construction projects will drive mini cranes sales.

Which is the preferred lifting capacity for mini cranes?

2.5 to 4.9 ton capacity is preferred mini cranes for applications in construction, glass glazing, automotive and transportation, and other industries.

Which country is likely to remain the top producer of mini cranes?

Japan is a leading manufacturer of mini cranes and will continue to dominate the market between 2021 and 2031.
Mini Cranes Market by category
By Lifting Capacity
Up to 1 ton
1 to 1.8 ton
2 to 2.4 ton
2.5 to 4.9 ton
5 to 10 ton
11 to 22 ton
By Type
Spider Crane
Crawler Crane
Pick and Carry Cranes
By Operation
Fuel Operated
Battery Operated
By End Use Sector
Industrial

Foundries
Power Plants
Others

Railway Depots
Construction

Residential & Commercial
Industrial
Civic Infrastructure

Facility Management
Marine
Timber & Lumber
Material Handling & Logistics
By Ownership
By Region
North America
Latin America
Europe
East Asia
South Asia & Pacific
MEA
Need specific information?