About the Report
The global mining lubricants market is expected to have a significant growth during the forecast period. Growing drilling, exploration activities and investment in the sector are expected to boost the growth of mining lubricants. As the trend towards utilizing automated lubricants system is increasing, attraction of customers is growing paving a way for the market boost. Recent developments in the sector include:
The companies are trying to go towards digitalisation. For example, Shell and IBM in June 2020 launched Oren, a global B2B Digital Mining Services marketplace platform. The companies aim to help mining companies find solutions for safety, sustainability, mine planning and operational efficiency. Oren aims to accelerate the mining industry by its digital methods which speed up the transformation of mining workflows and build in more operational resiliency.
In February 2020, Natural Resources Canada provided funding of 1.5$ million to natural heat exchange research project. The project between Mining Innovation, Rehabilitation and Applied Research Corporation and other organisations is based on using pre-existing fractured rock from historical operations as a heat exchanger, allowing in depth mining with reduced energy without any use of refrigerants. The project aims to reduce reduction in heating and cooling requirements allowing mining operations to be more profitable with reduced carbon footprints in Canada. The project is anticipated to reduce GHG emissions, improve energy efficiency and reduce land use impact.
Special lubricants for wind turbines by Kluber Lubrication are developed for high performance gear oils to accommodate high loads in wind turbine gears. It offers excellent antifoaming characteristics and protection against micropitting. These lubricants do not have additives except those that protect against micropitting, scuffing and white etching cracks. Viscosity of this lubricant remains constant due to its high shear stability. These special lubricants protect the wind turbines which get subjected to higher stresses because of conventional oil.
Mining Lubricants Outlook and Key Findings
The mining lubricants market is expected to grow at a CAGR of 3.3% through the forecast period (2020-2030)
The top 3 countries in the mining lubricants market collectively accounted for ~ 54% of the total share
Asia Pacific is expected to have a stronghold with the presence of key manufacturers of mining lubricants. Shell, for instance has its hegemony in all ASEAN-5 markets
Pandemic-induced tightening of operating costs driving demand for effective lubricants
Cost Savings to be Primary Growth Lever
Pegged to reach a value pool of US$ 2.15 Bn by the end of 2020, mining lubricants such as gear oil, hydraulic oil and grease lubricants are gathering immense traction owing to their ability to protect mining equipment in harsh weather conditions.
The mining lubricants sector has a lot of potential. This is evidenced by the estimated savings in terms of cost. Within regions such as North America, savings up to US$ 30 million can be accrued yearly with the proper utilization of mining lubricants.
Modern mining equipment such as rock drills and hydraulic shovels are humungous in order to keep up with the voluminous demand for ore, oil and other minerals. With advancing capabilities of mining equipment, it is imperative that companies enhance their engineering lubricant portfolio with specially engineered formulations to sustain efficacious working of these machines.
The benefits of using specialized engineering lubricants significantly outweigh the time and costs that come with large-scale machinery malfunctions. Lubricant products are helping machines maintain pumpability for longer periods of time thus
Water-Based Lubricant Additives Outperform Conventional Variants
The use of traditional lubricants made out of fossil oil comes with one glitch - it is finite and non-renewable. Further it is costly and has an indubitable impact on the environment. Therein lies the need for lubricants that are not only eco-friendlier but also safer and cleaner.
Recent innovations have bought to the fore new water-based lubricant additives that have no traces of oil. The introduction of submicron particles of Inorganic Tungsten Disulfide (IF- WS2) in a lubricant that is primarily water based has proven to outperform conventional oil variants.
It has also shown reduction rates in terms of lubricant disposal. This new, water –based additive has shown huge success in a range of industrial applications such as metalworking, mining and defence, air and space industries.
Mining Lubricants Market Applications – Correct Lubrication Selection can Aid in Total Cost of Ownership (TCO) Savings
The use of engine lubrication in the mining industry is very important to reduce downtime accruing to oil changes and component failures.
Tackling Soot Build-up - Build-up of soot in engines can lead to oil thickening of oil and wear and tear of engine components. With extended engine idle times, soot build-up is more. The challenge is more in underground mines or mines operating at higher altitudes. The use of mining lubricants can help to reduce accumulation of soot with increased performance
Prevention of corrosion – Combustion processes during mining operations leads to the emission of toxic gases and acids. Mining lubricants successfully counter these and prevent corrosion
Longevity of oil life – Oil aging is a common problem with oxidation, soot and thickening of oil. The right additive technology in mining lubricants such as the use of anti-oxidant additives can help enhance performance quotient of the lubricant
Control of oil viscosity – At low temperatures, oil needs to be thin enough to crank up the engine and lubricate engine parts. Once engine is running at full load, the oil needs to be thick enough to prevent engine wear abd tear. Thus the right lubricant can prevent metal-to metal friction during cold-starts, low temperatures and very high engine loads
In a recent survey 56% of mining companies agree that TCO costs have been considerable when they do not have a lubricant management policy in place for right selection of lubricants for their machines. On the other hand, the use of high performance lubes and greases reduces component failure of mining companies by as much as 80%, saving as much as US$ 190,000 per year.
How Mining Lubricants are making a Subtle Shift towards Environmental Sustainability
With revolutionary developments taking place in key sectors such as marine, aviation, automotive and industrial, lubricants have witnessed exponential demand growth. The negative fallout of this has been its adversarial impact on environment and the availability of renewable sources such as crude oil.
Thus arises the need for proper lubricant transportation, application, storage for protection of environment and habitat. Lubricants while prodigious in overcoming machinery challenges can contribute to environmental degradation if not properly handled.
Protection of the environment and preservation of petroleum resources can only be achieved with the focus on development of eco-friendly processes for used lubricating oils. In this regard, crankcase oils pose a greater threat as they make up more than 50% of all lubricating oils. Re-refining and recycling is an efficient way of managing oil that has been previously used.
With light-weighting of vehicles being the new norm, lubricants and engine oils with lighter viscosity are required to fulfil this demand. Therefore manufacturers of lubricants need to uphold manufacturing practices to develop lubricants that are high performing for increased vehicular and equipment longevity.
Mining Lubricants Regional Analysis- Prolific Opportunities for Manufacturers in Asia Pacific
Lubricants as an industry have rebounded extremely well after the 2008-2009 economic recession. One of the primary factors behind the rapid growth of lubricants can be attributed to Asia Pacific where high industrial and infrastructure activity is fuelling the demand for lubricants.
In the historical past Europe had maintained its hegemony in mining lubricants, capturing nearly 25%-30% of the global share and has declined to 15%-20% with North America showing a similar demand trend. Meanwhile growth has reigned supreme in the Asia Pacific where demand for mining lubricants overshadowed that of Europe and North America.
Within Asia Pacific industrial and mining lubricants represent the second largest market after automotive lubricants. The annual consumption towards these is likely to go up to 1 billion litres by 2020, up from 700-800 million litres in 2015. The region's high demand for lubricants can be attributed to its pro-business climate, availability of cheap and skilled labour and a key destination for foreign direct investments.
Presently, mining in Europe accounts for a relatively smaller share. However it does export a diversified portfolio of minerals. For instance, Germany is the largest miner of lignite and is also the largest supplier for mining equipment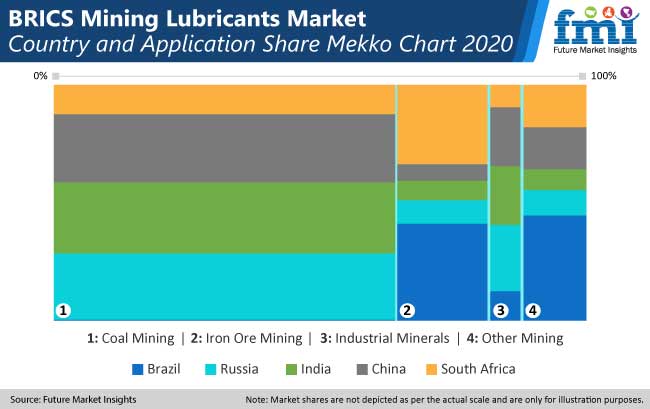 Mining Lubricants Market Manufacturers
The mining lubricants market is said to be moderately fragmented with the presence of a large number of players across the globe. Some of the major stakeholders are Exxon Mobil Corporation, Shell, Chevron Corporation, Total S.A, Kluber lubrication and Schaeffer Manufacturing Co.
Major key players are working in close collaboration with mining companies to devise strategies that help them to upgrade their lubricant management processes and save on costs. They are also focusing on multipurpose and high performance mining lubricants.
For instance Shell sent out its technical experts to conduct an audit on six BE395 shovels of Zhenzhua Zhungeer coal mine in China. It then replaced faulty injectors and adjusted existing injectors with the correct lubrication technology in accordance with OEM recommendations. This helped the mining company reduce its operating costs by US$ 113,000
Petro-Canada lubricants, a subsidiary of HollyFrontier launched GREASE-N-GO in 2019 which is enhances mining machinery performance and efficiency. The automatic lubricator is helping protect mining equipment and is helping in tangible cost savings for equipment operators.
Mining Lubricants – What's Next?
The mining lubricants sector is actively pursuing opportunities in the lubricants space that will help mining companies overcome odds and challenges in the near future. Future outlook of mining lubricants looks promising with the following aspects set to change the landscape:
Emission standards are only going to become stricter and so are lubricant regulations in keeping with newer engine designs and modern hardware
With technological advancements greases and lubes must also undergo a paradigm shift. Investments in innovation will pave way for a robust product portfolio that protects durability and extends ODIs
Sensor technology will help in real-time analytics of lube performance in critical mining equipment
Countries in Asia Pacific are incorporating bio-lubes for their mining engines. Over the last 5 years, countries such as Indonesia have nearly 20% of their lubricant portfolio as bio-lubes
Mining equipment is getting more complex and bigger. This means there will also be a significant amount of machine downtime. Equipment will work at higher loads and at higher temperatures. On the other side, oil sumps in mining engines will become smaller which means a lesser volume of lubricant should perform efficaciously.
Mining Lubricants Market: Taxonomy
Product Type
Source
Application
Coal Mining
Iron Ore Mining
Bauxite Mining
Precious Metal & Rare Earth Mineral Mining
Industrial Minerals Mining
Others
Region
North America
Latin America
Europe
East Asia
South Asia
Oceania
Middle East & Africa
Need specific information?