An Incisive, In-depth Analysis on the Smart Mining Market
This study offers a comprehensive, 360 degree analysis on the Smart Mining market, bringing to fore insights that can help stakeholders identify the opportunities as well as challenges. It tracks the global Smart Mining market across key regions, and offers in-depth commentary and accurate quantitative insights. The study also includes incisive competitive landscape analysis, and provides key recommendations to market players on winning imperatives and successful strategies.
Adoption of automated vehicles and technology will continue to gain traction in the mining industry, as operational efficiency and safety gain centre stage. During the forecast period 2015-2020, the global smart mining market is anticipated to increase at a compound annual growth rate (CAGR) of 14.5%, and rake in US$ 13 Bn in revenues. The key areas which are currently witnessing increasing automation include surface drilling technologies, simulator training, and machine guidance.
The key trends expected to shape up the adoption of smart technologies include,
Robust Adoption of Internet of Things (IoT)
Rapid advancement in technology will continue to influence mining operations. While a fully connected mining site may be still be a few years away, IoT is increasingly being adopted in mining equipment and vehicles. To increase operational efficiency and reduce downtime, miners are using advanced tools for predictive maintenance. The use of IoT in scheduling and predicting maintenance and repair tasks is expected to play a key role in its widespread adoption.
Investment in Simulation Technology
Simulation technology is gaining traction among miners owing to its proven benefits in responding to emergency situations. While the technology per se is highly efficient, shrinking budgets have resulted into limited adoption. However, the technology is poised to witness widespread adoption in the long run.
Growing Use of 3D Imaging
3D imaging is being widely used for exploration of mines, and this trend is expected to become stronger in the future. It is anticipated that adoption of this technology will grow on account of its growing use in planning and targeting of drill holes.
Implementation of Remote Monitoring Systems
Remote monitoring systems enable miners to collect data from the site in real-time and transmit it to the local centre in real time. A significant percentage of mining companies have successfully adopted remote monitoring systems in their operations. Implementation of remote monitoring systems is anticipated to witness an uptick in the near future.
Smart Mining Market: End-user Survey Analysis
FMI conducted an end-user survey with leading mining operators based in Middle East & Africa (MEA), ASEAN, Oceania, and BRIC. Some of the key findings of the survey include,
Over 88% respondents agreed to using smart mining technology solutions in both surface and underground mining
Smart mining will witness the highest adoption among miners in Oceania, followed by ASEAN
Nearly 31% respondents that did not use smart mining technology solutions currently planned to deploy these solutions in the next one year
Companies operating in both (surface & underground) mining types managed over 70% of logistics and production operations in-house
Survey results concluded that among all the mining operations, major volumes of the production process is managed in-house
(Complete findings of the survey are available in the report)
Smart Mining Market: Analysis and Forecast by Automated Equipment
Excavator machines and load haul dumps will witness the highest level of automation during the forecast period 2015-2020. Collectively, these two equipment segments are expected to account for 50% revenue share of the overall smart mining market in 2020.
Smart Mining Market: Automated Equipment Analysis (US$ Mn)

Equipment

2015

2020

CAGR

Driller & Breaker

928

XX

XX

LHD

1186

XX

XX

Mining Excavator

XX

XX

XX

Robotic Truck

XX

XX

XX

Others

XX

XX

XX
(Concealed figures available in the repor)
Smart Mining Market: Region-wise Analysis and Forecast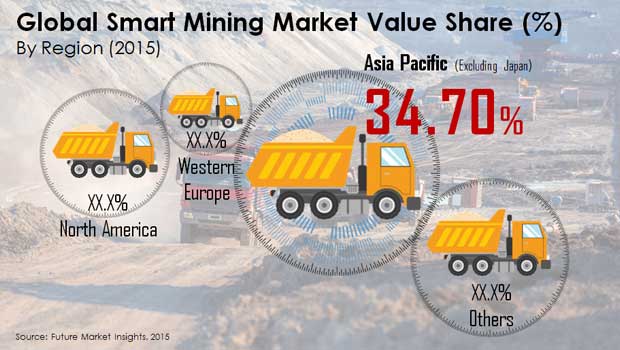 Asia Pacific excluding Japan (APEJ) will continue to remain the largest market for smart mining globally. North America and Western Europe will remain the other lucrative markets for smart mining equipment and services during the forecast period. APEJ accounted for nearly 35% revenue share of the market in 2015; by 2020, the revenue share is expected to reach 38.6%. US$ 1.63 billion worth of smart mining equipment and services were sold in North America in 2015. The North America smart mining market is anticipated to increase at a CAGR of over 12% through 2020 and rake in nearly US$ 3 billion in revenues.
Leading Players in Global Smart Mining Market
The leading players in the global smart mining market include Hitachi Construction Machinery Co. Ltd., ABB Ltd., Komatsu Ltd., Outotec Oyj, Copco, Caterpillar Inc., Atlas Joy Global Inc., Cisco Systems Inc., and Alcatel-Lucent. In addition to raising awareness among end-users, these players are investing in R&D to launch cutting-edge products and services in the market.
This Future Market Insights (FMI) report examines the 'Smart Mining market for the period 2015–2020. The primary objective of the report is to offer updates on the advancements in ICT and embedded systems that have given rise to a futuristic technology: the smart mining, which is significantly transforming mining operations.
Smart mining refers to the integrated Information and Communications technology (ICT) solutions for the entire supply chain of the mining industry, enabling efficient connectivity among supervisors, workers, and technicians to allow optimal production and recovery with least or no wastages at any level with safer and environmental friendly nature. Mining industry is shifting towards faster, safer and more perfect production techniques. Additionally, cost cutting strategy has provided competitive edge and encouraged organizations to adopt new technologies, which ensures improved operations and output both in quality and quality.
In the next section, FMI covers the Global Smart Mining market performance in terms of Global Smart Mining revenue split, since this is detrimental to growth of the Smart Mining market. This section additionally includes FMI's analyses of the key trends, drivers and restraints from the supply, demand and economy side, which are influencing the Global Smart Mining market. Impact analysis and latest technological trends opportunity assessment is included in the Global Smart Mining market report to better equip and arm clients with crystal clear decision-making insights.
The primary focus of the following sections to analyse the Global Smart Mining market by adoption among mining companies; the primary segment covered under the scope of the report are automated equipment and component uptake among mine operators. A detailed analysis has been provided for every level of segment and sub-segment in terms of Market Value Forecast.
As highlighted earlier, Global Smart Mining is an aggregation of automated equipment (including driller & breaker, load haul dump, mining excavator and other equipment) and component (including hardware, solution and service). All these sub-segments are included in this section to make the study more comprehensive.
The next section of the report highlights automated equipment and component adoption by geography. It provides a market outlook for 2015–2020 and sets the forecast within the context of the smart mining ecosystem, including automated equipment and component to build a complete picture at regional and country levels. This study discusses the key regional trends contributing to growth of the smart mining equipment and component market on a regional basis. Key regions/country assessed in this report include North America, Latin America, Western Europe, Eastern Europe, Asia-Pacific Excluding Japan (APEJ), Japan and Middle East & Africa (MEA).
All the above sections, by automated equipment, by component and by regions, evaluate the present scenario and the growth prospects of the Global Smart Mining market for the period 2015 –2020. We have considered 2013 as the base year and provide data for the trailing 12 months.
To calculate the Global Smart Mining Market Value Forecast, we have considered revenue generated from the sale of automated equipment and component (including hardware, solution and service availed). The forecast presented here assesses the total revenue by value across the Global Smart Mining market. In order to offer an accurate forecast, we started by sizing the current market, which forms the basis of how the Global Smart Mining market will develop in the future. Given the characteristics of the market, we triangulated the outcome of three different types of analyses, based on supply side, consumer spending and economic envelope. However, forecasting the market in terms of various automated equipment, component and region/country is more a matter of quantifying expectations and identifying opportunities rather than rationalising them after the forecast has been completed.
In addition, it is imperative to note that in an ever-fluctuating global economy, we not only conduct forecasts in terms of CAGR, but also analyse on the basis of key parameters such as year-on-year (Y-o-Y) growth to understand the predictability of the market and to identify the right opportunities across the Global Smart Mining market.
As previously highlighted, the Global Smart Mining market is split into a number of sub categories. All the Smart Mining sub-categories in terms of automated equipment, component and region/country analysed in terms of Basis Point Share (BPS) to understand individual segments' relative contributions to market growth. This detailed level of information is important for the identification of various key trends of the Global Smart Mining market.
Also, another key feature of this report is the analysis of all key Global Smart Mining market segments, sub-segments, regional/country adoption and verticals revenue forecast in terms of absolute dollar. This is traditionally overlooked while forecasting the market. However, absolute dollar opportunity is critical in assessing the level of opportunity that a provider can look to achieve, as well as to identify potential resources from a sales and delivery perspective in the Global Smart Mining market.
Furthermore, to understand key growth segments in terms of growth & adoption of automated equipment and component across regions/country, Future Market Insights developed the Global Smart Mining Market Attractiveness Index. The resulting index should help providers identify real market opportunities.
In the final section of the report, Global Smart Mining Market Competitive landscape is included to provide report audiences with a Dashboard view, based on categories of provider in the value chain, presence in automated equipment and component portfolio and key differentiators. Key categories of providers covered in the report are automated equipment and smart mining solution providers. This section is primarily designed to provide clients with an objective & detailed comparative assessment of key providers specific to a market segment in the Global Smart Mining market value chain. Report audiences can gain segment-specific vendor insights to identify and evaluate key competitors based on in-depth assessment of capabilities and success in the Global Smart Mining marketplace. Detailed profiles of the providers are also included in the scope of the report to evaluate their long-term and short-term strategies, key offerings and recent developments in the Global Smart Mining space. Key competitors covered are ABB Ltd., Atlas Copco, Caterpillar Inc., Hitachi Construction Machinery Co. Ltd., Joy Global Inc., Komatsu Ltd., Outotec Oyj, Cisco Systems Inc., and Alcatel-Lucent.
Key Segments Covered
By Automated Equipment

Driller & Breaker
Load Haul Dump
Mining Excavator
Robotic Truck
Other Automated Equipment

By Component

Hardware

Intelligent System
RFID Tag and Sensor
Other Hardware

Solution

Data & Operation Management Software
Analytics Solution
Connectivity Platform
Other Solution

Service

Engineering & Maintenance Service
Consulting Service
Product Training Service
Implementation & Integration Service
Key Regions/Countries Covered
North America
Latin America
Western Europe
Eastern Europe
APEJ
Japan
MEA
Key Companies
ABB Ltd.
Atlas Copco
Caterpillar Inc.
Hitachi Construction Machinery Co. Ltd.
Joy Global Inc.
Komatsu Ltd.
Outotec Oyj
Cisco Systems Inc.
Alcatel-Lucent
COVID -19 : Impact Analysis
Request the coronavirus impact analysis across industries and markets
Request Covid -19 Impact
CASE STUDIES
See how our work makes an impact.
At FMI, we design strategies that are adaptive, impactful, and implementable.