Processed Beef Market Value to Surpass US$ 227 Bn in 2029
Exhibiting an impressive CAGR of ~9%, the global processed beef market will surpass US$ 227 Bn mark by 2029. This FMI study reveals that the market will grow at a steady pace during 2019 – 2029. Processed beef is a type of beef product in which a series of operations and processes are performed to prolong their shelf life, improve characteristics, such as, flavor, outer appearance, and taste and reduce the time or efforts spent in performing culinary procedures on them before consumption. Changes in consumers' dietary preferences with changing lifestyle and growing demand for processed food and resource-intensive animal products are reflected into the growth of the processed beef market. The increasing consumption of ready-to eat food and ready-to cook products is helping the processed beef market witness growth at an accelerated pace.
Frequently asked questions about global Processed Beef market
Which buyer types segment witnesses highest growth opportunities?
The household and residential buyers accounts for the maximum share in the processed beef market. The breakfast habits of consumers are growing rapidly across the world due to which the demand for processed beef is increasing from household and residential buyers.
What is the critical trend influencing strategies adopted by manufacturers of processed beef?
Technological Innovation will be the most critical trend influencing production decisions of manufacturers. Owing to the consumer demand shift towards safe food products, there have been continuous innovation in food technologies related to biotechnologies and nanotechnologies, which enhances the quality of the food products. Manufacturers are adopting these technologies, which further eases the required process to produce processed beef.
What is the degree of competition in the processed beef market?
In developing region processed beef is still at an introductory phase, therefore, more promotions and advertisements are required to spread awareness about its health benefits. The consumption of processed beef is increasing rapidly due to its unique flavors, shelf life and nutritional properties. The demand for organic processed beef is increasing rapidly from health-conscious consumers.
Which region will lead the global sales of processed beef?
North America remains the largest shareholder in the processed beef market. However, Asia Pacific is expected to show higher growth.
Household & Residential Buyers Accounts for About 58% Share
Rising awareness about the benefits associated with processed beef products is increasing its sales among household and residential buyers. Household and residential buyers prefer processed beef as it has better taste, flavor, appearance as well as shelf life as compared to unprocessed beef. In developed regions such as North America and Europe, consumers have started opting for fresh processed meat products, including processed beef over other breakfast options such as pancakes and cereals due to their changing taste palates and willingness to try new products. The health-conscious consumers prefer natural, organic and nutritional products due to which the sale of organic processed beef is increasing rapidly by the consumers.
Developing Nations Offer Lucrative Growth Opportunities
Developed regional markets such as North America and Europe collectively account for around 51% of the global processed beef market revenues. These developed regions will show minor decline in share held by them. Meanwhile, developing countries such as China and India will show the lucrative opportunities for enterprises operating in the processed beef market. China and India are anticipated to contribute significantly to the growth of global meat and processed beef industry due to the increasing per capita income of consumers in these nations and the prevailing healthy eating trends. Packaged format of processed beef products is considered to be hygienic and of high quality as they are sold by well- established companies, such as the WH Group in China and Godrej Tyson Foods Ltd in India. In response to growing consumer demand for more fresh and healthy processed beef products, these manufacturers have shifted their focus from shelf-stable processed beef to chilled & frozen processed beef.
Rising Demand for Frozen Beef Paves Avenues for Topical Innovations
The frozen foods trend has taken off, predominantly driven by the trend of food traceability by the new-age consumers. Consumers across various regions are envisioned to invest highly in frozen food owing to the convenience factor associated with it. Swift advancements associated with freezing techniques to extend the lifespan of processed beef products without compromising on quality is pushing the sales of frozen beef in the processed beef market. These emerging consumer preferences are likely to encourage manufacturers in processed beef market to come up with interesting innovations in terms of appearance, taste, packaging and flavors, to spur the adoption of frozen beef products.
Chilled Processed Beef holds leading revenue share
Frozen Processed Beef to showcase noteworthy CAGR
Conventional holds leading revenue share
Organic to showcase noteworthy CAGR
Household & Residential holds leading revenue share
HoReCa to showcase noteworthy CAGR
Supermarkets/ Hypermarkets holds leading revenue share
Internet Retailing to showcase noteworthy CAGR
How Growth will Unfold
Strong natural, health and sustainability credentials form the basis of innovation and new product development in global food and beverages. Products made from healthier ingredients, labelled to demonstrate assurances of minimal processing or demonstrative health benefits from natural ingredients appeal to consumers, specifically to higher income and ageing consumers in developed markets. Innovation is coming from a range of start-ups and established companies around the globe in response to this trend. Manufactures in the processed beef market are concentrating on producing innovative and unique products which will attract the consumers. The manufactures are launching various processed beef products with unique flavors, forms, taste and nutritional benefits. The demand for chilled and frozen processed beef is increasing globally. The availability of the processed beef products is increasing through modern trade and online retailing.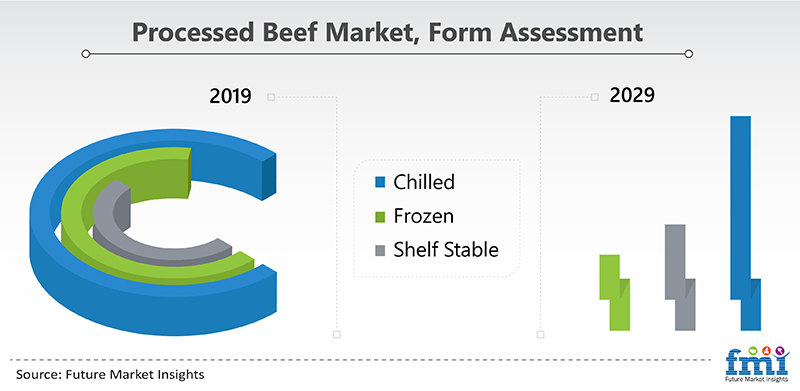 * This data is only a representation. Actual data may vary and will be available in report.
Click Here To Know How The Growth Will Unfold
Custom Market Research Services
FMI offers custom market research services that help clients to get information on their business scenario required where syndicated solutions are not enough.
Overview
Processed Beef Market: Global Industry Analysis 2014-2018 & Opportunity Assessment 2019-2029
A recent market study published by Future Market Insights on the processed beef market offers global industry analysis for 2014-2018 & opportunity assessment for 2019–2029. The study offers a comprehensive assessment of the most important market dynamics. After conducting a thorough research on the historical, as well as current growth parameters, the growth prospects of the market are obtained with maximum precision.
Processed Beef Market Taxonomy
Form
Chilled
Frozen
Shelf-Stable
Application
Food Processor & Manufacturers
HoReCa Sector
Household and Residential Buyers
Sales Channel
Traditional Grocery Stores
Supermarket/Hypermarket
Internet Retailing
Convenience Store
Discounters
Other Sales Channel
Region
Global
North America
Latin America
Europe
Asia Pacific
Oceania
Middle East & Africa
Japan
How the research was conducted?
Primary Research
C - Level Executives
Marketing Directors
Sales Heads
Production Managers
Distributors Heads
Sales Executives
Product Manufacturers
Distributors
Traders
Industry Experts
End Users
Current Market Dynamics and Challenges
Market Characteristics
Market Performance and Growth Quadrants
Competition Structure and Market Structure
Strategic Growth Initiatives
Near-term and Long-term Market Growth Prospects
Market Segment Splits and Authenticity
Opinions on Market Projections and Validity Of Assumptions
Secondary Research
Industry Publications

Industrial Week
Industrial Product Review
Industrial Magazine

Industry Associations

Dieticians Association
Food and Agriculture Organization

Company Press Releases
Annual Reports and Investor Presentations
Research Papers
Government Websites and Publications
Trade Websites
Primary Interview Splits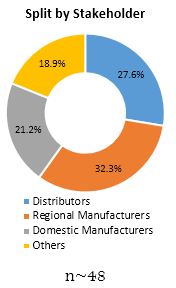 To Learn More About our Comprehensive Perspective on Processed Beef Market,
Get in touch
COVID -19 : Impact Analysis
Request the coronavirus impact analysis across industries and markets
Request Covid -19 Impact
CASE STUDIES
See how our work makes an impact.
At FMI, we design strategies that are adaptive, impactful, and implementable.