An Incisive, In-depth Analysis on the Rfid Printers Market
This study offers a comprehensive, 360 degree analysis on the Rfid Printers market, bringing to fore insights that can help stakeholders identify the opportunities as well as challenges. It tracks the global Rfid Printers market across key regions, and offers in-depth commentary and accurate quantitative insights. The study also includes incisive competitive landscape analysis, and provides key recommendations to market players on winning imperatives and successful strategies.
Industrial RFID printers expected to gather maximum attractiveness and hold the highest market share in the foreseen future
The major application of RFID labels/tags is in the retail industry as it enhances the supply chain management and inventory management of a retailer. But as the adoption of RFID tags has increased, it has paved its way in other industries such as manufacturing, transportation and logistics, healthcare, and warehouse management. Among the three key segments based on the product type, the industrial RFID printer is the most preferred owing to its high volume RFID tag generation ability.
According to the research report, the industrial RFID is expected to lead with a market value of over US$ 2,200 Mn by the end of 2028, and growing at an exceptional rate of 8.4% during the forecast period. The advantages associated with RFID technology, is witnessed to help RFID tags being increasingly adopted in various industries, especially in healthcare, transportation and logistics, and manufacturing.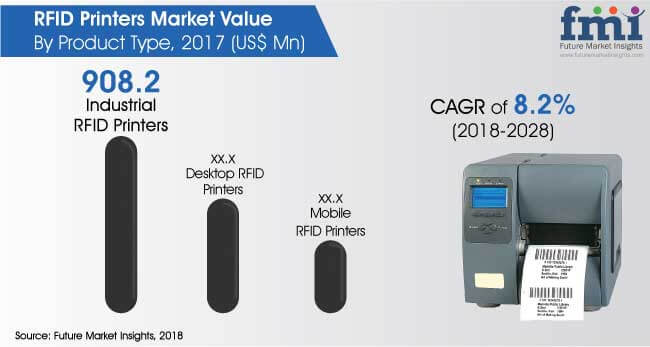 Easy availability of RFID printers due to improved supply chain triggers the growth of global market
RFID tags store detailed information (up to 2 KB) related to the product on which it is tagged. The prices and details of the products with RFID tags are automatically recorded when the customer approaches the counter, without scanning each product separately, which saves time. Moreover, it allows cost tally in one scan, which saves time of user as well as product retailer. These advantages have encouraged retail and manufacturing companies to adopt RFID technology for tagging their products. This has also resulted in easy availability and improved supply chain of RFID printers, giving rise to the global RFID printers market. The penetration of RFID technology has also given birth to free trade agreements between some countries in the Latin America and the U.S., Europe, and countries in APAC. Several companies in Mexico and South America are international suppliers of low-cost manufactured goods and fresh food products. Hence, these companies are focused on adopting low cost technologies to improve efficiency, traceability, and safety of such products.
RFID printers market to face limitations due to high cost and intense competition from barcode market
Penetration of RFID technology is increasing in Latin America owing to free trade agreements between some countries in the region and the U.S., Europe, and countries in APAC. Several companies in Mexico and South America are international suppliers of low-cost manufactured goods and fresh food products. Hence, these companies are focused on adopting low cost technologies to improve efficiency, traceability, and safety of such products. Amid the concerns regarding high costs, there is also a rise in competition from barcode printers market. The barcode printing is also an established business. The low cost of barcode printers acts as a counter to the advantages associated with the RFID printers and, thereby witnesses an increased adoption, when compared to the latter. In addition to this, introduction of image barcode is creating a competitive scenario for the adoption of RFID printers.
Players in the industrial automation and equipment industry continue to face an environment that remains hyper-competitive. Evolution in end-user demand is influencing players in the industrial automation and equipment landscape to optimize their manufacturing process. Sluggishness in the oil & gas industry, muted growth in automotive sales, and stagnancy in the agriculture sector have posed challenges to players in the recent past. With the increase in oil rigs and natural gas projects being quoted, various companies are making reinvestments, to either cater requirement of preventative maintenance or for generating a better ROI. Investing in infrastructure development remains a top priority for the industrial automation and equipment companies, with improvements in energy- and operational-0efficiency gaining center stage.
The development of streamlined 2-3 layer automation systems helped the industry in lowering maintenance costs and enhancing performance. The trend towards simplification of 5 layer system model, which the automation industry has been focusing on over the years, is witnessing acceleration. Innovation in development of controllers, sensors and intelligent devices has meant that today's computing processes are more effective. Continuous advances are witnessed in the progressive integration of information technology (IT) and operational technology (OT), along with the evolution of business systems for handling real-time transaction processing. Building blocks are being offered by innovators, designed specifically for accomplishing the aim of 'connected enterprise'. New intelligent nodes, operating at the network edge for improving efficiency and performance of manufacturing processes, are offered by rapid propagation of technologies & concepts associated with Internet of Things (IoT).
A major challenge encountered by the global industrial automation and equipment industry is absence of multi-vendor application portability. Innovation is stifled without open ecosystems offering portable applications to vendor platforms. On account of this, non-traditional suppliers have embarked on launching next-generation products that are embedded with IoT software.
Research Methodology
FMI utilizes robust methodology and approach to arrive at market size and related projections. The research methodology for this report is based on 3 dimensional model. We conduct about 45-60 min duration detailed interviews with product manufacturers; apart from this we also collect market feedback from industry experts. To validate this data, we interact with senior panel members having more than 10 years of experience in relevant field. The panel members help in validating the findings and fill the gaps if any. In addition, we leverage on our existing pool of information, paid database and other valid information sources available in public domain. Usually industry interactions extend to more than 50+ interviews from market participants across the value chain.
Data Collection
FMI collects data from secondary sources including company annual reports, association publications, industry presentations, white papers, and company press releases apart from these we leverage over paid database subscriptions and industry magazines to collect market information and developments in exhaustive manner. After being done with desk research, detailed questionnaire and discussion guide is formulated to initiate primary research with key industry personnel; the discussion aims at collecting key insights, growth perspectives, prevalent market trends and quantitative insights including market size and competition developments. Both of these research approaches help us in arriving at base year numbers and market hypothesis.
Data Validation
In this phase, FMI validates the data using macro and micro economic factors. For instance, growth in electricity consumption, industry value added, other industry factors, economic performance, growth of top players and sector performance is closely studied to arrive at precise estimates and refine anomalies if any.
Standard Report Structure
Executive Summary

Market Definition

Macro-economic analysis

Parent Market Analysis

Market Overview

Forecast Factors

Segmental Analysis and Forecast

Regional Analysis

Competition Analysis
Market Taxonomy
By Product Type

By Printing Type

By Industry

By Region

Desktop RFID Printers

Industrial RFID Printers

Mobile RFID Printers

Direct Thermal

Thermal Transfer

Manufacturing

Transportation

Retail

Healthcare

Others

North America

Latin America

Western Europe

Eastern Europe

China

Japan

South East Asia & Pacific

Middle East and Africa
COVID -19 : Impact Analysis
Request the coronavirus impact analysis across industries and markets
Request Covid -19 Impact
CASE STUDIES
See how our work makes an impact.
At FMI, we design strategies that are adaptive, impactful, and implementable.