RFID Printers Market By Product Type (Desktop RFID Printers, Industrial RFID Printers, Mobile RFID Printers), Printing Type (Direct Thermal, Thermal Transfer), Industry (Manufacturing, Transportation, Retail, Healthcare) & Region - Forecast to 2022 - 2028
RFID Printers Market - Analysis, Outlook, Growth, Trends, Forecasts
December 2021

REP-GB-6623

266 pages
RFID Printers Market Overview
[266 pages Report] As per a research done by Future Market Research (FMI), the RFID printers market size is expected to grow from US$ 1,745.4 Mn in 2022 to US$ 2,654.4 Mn by 2028, at a Compound Annual Growth Rate (CAGR) of 7.2% during the forecast period. The RFID printers market accounted for almost 3% market share of global printers market.
The global RFID printers market is expected to show significant growth in coming years owing to factors such as increasing adoption of desktop RFID printers, industrial RFID printers, and mobile RFID printers for different printing applications such as barcodes, smart labels, smart tags, and other labelling applications.
| | |
| --- | --- |
| 2022 Market Value | US$ 1,745.4 Mn |
| 2028 Market Value | US$ 2,654.4 Mn |
| CAGR% (2022-2028) | 7.2% |
| Share of Top 5 Market Players | 25% |
Consumption Analysis of RFID Printers from 2013-2021 Vs Market Outlook for 2022-2028
The global RFID Printers market has grown at the rate of 7.2% over 2013-2021, owing to rising need for smart label printing for applications in inventory management and warehouse management, during the forecast period.
RFID printers are the printers which add specific digital functionality to images by embedding RFID labels into different types of print formats. In many cases, RFID technology can be integrated with a barcode printer for enabling a user to use both RFID and barcode technology to interpret the result.
Industrial RFID printers are expected to witness highest market share by product type segment and it registers the 83.5% market share of total RFID printers market. Future Market Insights identifies North America, followed by Western Europe region, as the leading market.
Expansion in North America is supported by the region's developed infrastructure and the large presence of developed industry like manufacturing, logistic, and transportation, driving the growth for RFID printers market.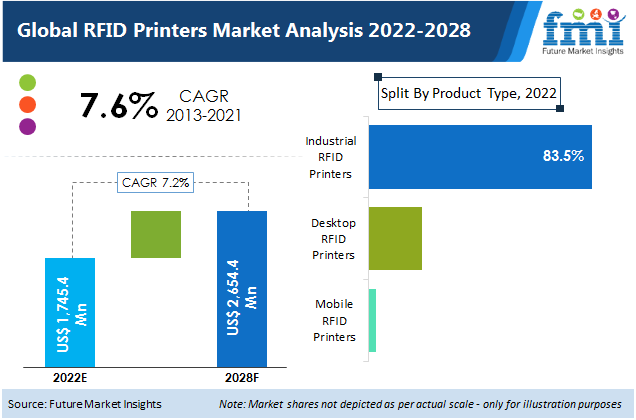 How Manufacturing & Transportation Industry Augments the Growth for the RFID Printers market?
RFID printers helps to write the data to RFID chips in smart labels with the help of RF encoder. RFID printers can add a barcode, print label, and graphics or any other information needs to the label. In recent years, the adoption of direct thermal printing and RFID technology in manufacturing and warehousing facilities has been increased.
RFID technology uses data capture and automatic identification which allows automatic collection of data and identify items to enter data electronically into computer systems. Also, demand for RFID tags has been increased in manufacturing and transportation sector for the purpose of managing, tracking, and optimising the assets, further driving the RFID printers market growth.
Country-wise insights
How will Sales of US RFID Printers Shape up?
Currently, the U.S. market anticipate for the largest consumption of RFID printers in North America region, and is expected to grow at the rate of 6.8% CAGR by 2028. U.S. witness significant growth in RFID Printers services owing to major technological advancements in transportation, retail, manufacturing, logistics, hospitality, healthcare industries in the country.
U.S. witness strong presence of not only key market players such as Honeywell International, ebra Technologies, and Avery Dennison Corporation but also SMEs such as Primera Technology, Star Micronics, Wasp Barcode Technologies, and many more. Thus presence of such key vendors across the country is set to witness higher growth for the RFID printers market, over the forecasted period.
Why is China a Prominent Region for RFID Printers Market in Coming Years?
China market accounts for the largest consumption of RFID printers in APAC region currently, and market size is expected reach 1.6X over 2022-28. China RFID printers market anticipates to grow at the rate of 9% CAGR over forecasted time period.
China witnesses significant development in RFID technology due to support, rules and regulation of Chinese government. China witness large projects such as subway & passports ticket applications and national identification cards. Thus to get such projects, supplier must need applications with advanced technologies. It uses High Frequency (HF) RFID systems that uses most of RFID systems or RFID technology in China. Therefore, adoption of RFID technology by key suppliers in China is ultimately driving the growth for the RFID printers market in China.
Why is U.K. RFID Printers Market Growing at Steady rate?
The U.K. market is set to report the largest consumption of RFID Printers in Europe region, and market size is expected reach 1.5X by 2028. Moreover, the U.K. RFID printers market is expected to grow around 7.2% CAGR over forecasted time period.
U.K. has been forecast to register higher growth rate for RFID Printers owing to factors such as rising digital transformation, integration of RFID technology with IoT, rising need of efficient supply chain management. Thus, rising adoption of RFID printing technology like direct thermal and thermal transfer market across the country is expected to drive the demand for the RFID printers in U.K.
Category-wise Insights
Why is Demand for Industrial RFID Printers Segment Rising?
Industrial RFID printers segment by product type segment will dominate the RFID printers market, and expected to reach 2.5X of the 2022 market, over the forecasted time period.
The demand for the industrial RFID printers segment is increasing owing to factors such as increasing need of enhanced inventory management and efficiency, rising adoption of smart labels and tags across manufacturing sector. Moreover, the adoption of retail commerce has also increased which results in rising adoption of RFID tags. This as a result drives the demand for Industrial RFID printers globally, across multiple asset-intensive industries.
Why does Thermal Transfer Segment Exhibit High Demand for RFID Printers Market?
On the basis of printing technology, the thermal transfer segment is estimated be a dominating segment. The market size of thermal transfer segment is expected to expand almost 1.3X of year 2022. The thermal transfer segment is set to register the growth at the rate of CAGR 7.7% over forecasted period.
In thermal transfer, ink technology is used by melting a portion of the ribbon and apply to the tag. Thermal Transfer RFID printers are used for high-volume printing applications such as food packaging and shipping labels. Thus rising adoption of thermal transfer technology in RFID printers is expected to fuel the RFID printers market growth in coming years.
Why is Demand Rising in the Retail Segment in RFID Printers market?
The demand for the retail segment by industry will dominate the RFID printers, and expected to grow at highest CAGR around 7.8%. Moreover, the manufacturing segment is anticipated to create an absolute dollar opportunity of US$ 294.2 Mn over 2022-28.
Retail industry is large, diverse, and one of the most prominent industry. RFID printers are used in retail industry for applications such as gaining inventory visibility, garment tagging applications, and retrieving information about in-store activities. Also the demand of the RFID printers to get higher in recent years to maintain the data tracking inventories with the help of barcodes and RFID tags. Thus adoption of barcodes and RFID tags in retail industry is expected to drive the demand for the retail segment in the RFID printers market.
Competitive landscape
Many key RFID Printers manufacturers are inclined at investing heavily in product innovation and feature enhancement practices to uncover increased applications of RFID Printers. With the use of printing technology, players are also focusing on ensuring safety, quality, and customer satisfaction for captivating an increased customer base.
In February 2018, Honeywell launched new cloud-based safety suite software and specialized electronic tags. The RFID tags able to scanned directly into Honeywell Safety Suite software tracked for usage, maintenance and training. It helps company to develop its RFID printers offering.
In April 2017, Avery Dennison announced partnership with Target. This partnership helps company in deployment of RFID technology to more than 1,600 stores that maximizes inventory availability and deliver an enhanced guest experience.
RFID Printers Market Report Scope
Attribute

Details

Market value in 2021

US$ 1,596.4 Mn

Market CAGR 2013 to 2021

7.6%

Share of top 5 players

Around 25%

Forecast Period

2022-2028

Historical Data Available

2013-2021

Market Analysis

USD Million for Value

Key regions covered

North America, Latin America, Western Europe, Eastern Europe, China, Japan, South Asia Pacific, and Middle East & Africa

Key countries covered

US, Canada, Germany, U.K., France, Italy, sprain, Russia, China, Japan, South Korea, India, Thailand, Malaysia, Indonesia, Australia, New Zealand, GCC countries, Turkey, Northern Africa, and South Africa

Key market segments covered

Product Type
Printing Type
Industry
Region

Key companies profiled

Honeywell International
Toshiba Tec Corporation
Lexmark
Godex International
Printronix Inc.

Report coverage

Market forecast, company share analysis, competition intelligence, DROT analysis, market dynamics and challenges, and strategic growth initiatives

Customization & pricing

Available upon request
World's Most Profilic Intelligence Engine
Get Access To The World's Largest Market Research Database.
Sign Up Now
RFID Printers Market Survey by Category
By Solution:
By Product Type
Desktop RFID Printers
Industrial RFID Printers
Mobile RFID Printers
By Printing Type:
Direct Thermal RFID Printing
Thermal Transfer RFID Printing
By Industry:
Manufacturing
Transportation
Retail
Healthcare
Others
Region:
North America
Latin America
Western Europe
Eastern Europe
China
Japan
South Asia & Pacific
Middle East & Africa
Key Questions Answered in the Report
How much is the global RFID Printers market valued at?
The global RFID Printers market is valued at over US$ 1,596.4 Mn in 2021.
What is driving demand for RFID Printers market?
The factors such as increasing penetration smart labels, smart tags across sectors such as retail, hospitals, warehousing, transportation and others.
At what CAGR did demand for RFID Printers increase over the historic years?
From 2013 to 2021, demand for RFID Printers increased at a CAGR of 7.6%.
What will be the demand outlook for RFID Printers through 2028?
Sales of RFID Printers is projected to increase at 7.2% CAGR and be valued at over US$ 2,654.4 Mn by 2028.
Which are the top 5 countries driving most of the demand for RFID Printers?
The U.K., U.S., India, China, and Germany are major demand countries for RFID printers.
Need specific information?
Our Clients