An Incisive, In-depth Analysis on the Rfid Readers Market
This study offers a comprehensive, 360 degree analysis on the Rfid Readers market, bringing to fore insights that can help stakeholders identify the opportunities as well as challenges. It tracks the global Rfid Readers market across key regions, and offers in-depth commentary and accurate quantitative insights. The study also includes incisive competitive landscape analysis, and provides key recommendations to market players on winning imperatives and successful strategies.
The growing use of cloud-based applications in several sectors such as logistics and retail is expected to create opportunities for the manufacturers of RFID readers to integrate both the technologies. RFID has applications in sectors such as manufacturing, logistics, healthcare, and retail, among others. Hence, deployment and management of data recorded in these tags becomes difficult. Thus, integration of cloud-based applications with RFID readers can aid in providing centralised management without increasing deployment cost. These RFID readers for cloud based networks will have a huge demand during the forecast period and will offer potential opportunities for manufacturers of RFID readers.
North America to stay at the vanguard of development
North America is anticipated to lead the global RFID readers market in the long run due to high deployment in the automotive sector. RFID enabled system for truck, bus, trailer and passenger vehicle makes tire inspection procedures easy, fast, precise, and facilitates instant reporting. The benefits are life cycle management, multiple uses, no paper or manual errors and improved inspection of the vehicle tyre. For instance, Michelin Americas truck Tires which is a division of Michelin North America, Inc. and manufacturer of vehicle tires added RFID technology to Michelin commercial truck tires. The addition of RFID to tires provides benefits such as road safety, self-inspections, and shows in depth tire summary including critical analysis of tire health.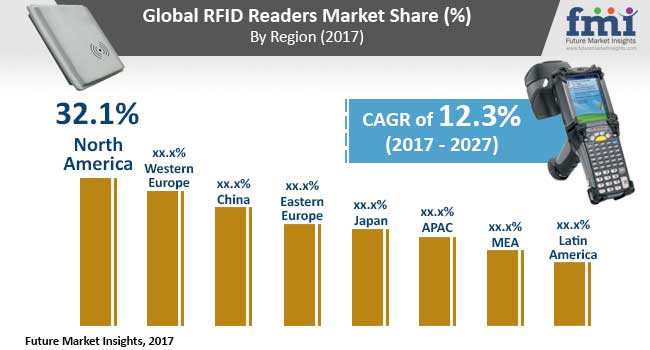 Western Europe trailing North America closely
The growing retail sector in the Western European countries is expected to push the market towards growth in this region. Retail sector is witnessing a huge growth in Western Europe. The growing retail sector is anticipated to witness a high demand for RFID technology because of its features like simplified supply chain management, inventory management and security concerns. Handheld RFID readers have high demand in this region. In April 2017, The Target Corporation, which is a chain of discount retail stores partnered with Avery Dennison, which is a global leader in Radio Frequency Identification (RFID)-enabled solutions for using the RFID in its 1,600 stores to maximize inventory availability in store.
The growing deployment of RFID technology in the healthcare sector as well as the aerospace and automotive industries is expected to bode well for the growth of the market in the coming years. The integration of Big Data and IoT platforms in RFID solutions and the rising demand for smart campus and colleges in the region is further triggering the growth of the market in the region.
Eastern Europe to buckle up in the game
The deployment of RFID readers is increasing substantially owing to the rising clinical research safety concerns in the regions. Eastern Europe countries have high concerns on clinical research in hospitals and institutes safety and improving supply chain operations. RFID tags and readers are used to monitor the quality and quantity of medicine and storage conditions such as temperature and moisture of environment. The clinical research organisations in Eastern Europe are focusing more on R&D initiatives to develop new technologically driven pharmaceuticals. For example, the practice of implementing RFID technology in the Russian pharmaceutical industry was proposed by Russia's president, Vladimir Putin in 2015.
Global Information & Communication Technologies (ICT) Sector Outlook
The global digital ecosystem has been continuously evolving over the last few years. The worldwide ICT sector has witnessed some key disruptions of late and governments of various economies are devising and implementing smart and inclusive regulations to govern sector penetration and facilitate technology connectivity to all parts of the world. Even as the world of technology prepares for a massive revolution with unimaginable advancements powered by machine intelligence, here are some of the key drifts presently trending the global ICT sector:
Mobile as the new internet accessibility engine: Currently, about three-fourths of internet usage is through mobile phones, with an increasing usage witnessed in low-income and middle-income countries. Yet, over half the world's population is bereft of mobile broadband internet services. Mobile data providers have accepted this challenge and are targeting niche, unpenetrated markets with high-speed connectivity offerings to increase their customer base.

Cloud computing to shoot beyond the sky: Cloud is a potent catalyst in all technological advances of the 21st century. Cloud is transforming the way enterprises handle big data, and ICT companies are looking to deploy new mechanisms and tools to "speak to data" and acquire the relevant information capable of impacting cross sector business growth.

Swifter integration of networks and technologies: ICT will continue to disrupt industries and with an increasing shift in focus towards cross-functional platforms that integrate networks, devices, and technologies, a structured integration of communication applications and protocols is fueling new service offerings.

An app-led technology universe: If mobile is at the heart of the ICT revolution, mobile apps are the arteries that pump in the necessary innovation for survival. The rise of start-ups offering a plethora of mobile apps is set to revolutionize the entire paradigm of the global ICT sector.

Cyber readiness is the norm: A rapid digitalization has also upped the risk of cybercrimes and cyber-attacks. Mobile companies are working to build secure ICT servers and networks and cyber readiness is of paramount importance today while introducing new products and services in the global market.
Research Methodology
FMI utilizes robust methodology and approach to arrive at market size and related projections. The research methodology for this report is based on 3 dimensional model. We conduct about 45-60 min duration detailed interviews with product manufacturers; apart from this we also collect market feedback from industry experts. To validate this data, we interact with senior panel members having more than 10 years of experience in relevant field. The panel members help in validating the findings and fill the gaps if any. In addition, we leverage on our existing pool of information, paid database and other valid information sources available in public domain. Usually industry interactions extend to more than 50+ interviews from market participants across the value chain.
Data Collection
FMI collects data from secondary sources including company annual reports, association publications, industry presentations, white papers, and company press releases apart from these we leverage over paid database subscriptions and industry magazines to collect market information and developments in exhaustive manner. After being done with desk research, detailed questionnaire and discussion guide is formulated to initiate primary research with key industry personnel; the discussion aims at collecting key insights, growth perspectives, prevalent market trends and quantitative insights including market size and competition developments. Both of these research approaches help us in arriving at base year numbers and market hypothesis.
Data Validation
In this phase, FMI validates the data using macro and micro economic factors. For instance, growth in electricity consumption, industry value added, other industry factors, economic performance, growth of top players and sector performance is closely studied to arrive at precise estimates and refine anomalies if any.
Data Analysis and Projection
Data analysis and projections were made based on proprietary research frameworks and statistical analysis, which was further validated from industry participants. These frameworks include Y-o-Y growth projections, macro-economic factor performance, market attractiveness analysis, key financial ratios, and others.
For public companies we capture the data from company website, annual reports, investor presentations, and paid databases. While for privately held companies, we try to gather information from the paid databases (like Factiva) and based on the information we gather from databases we estimate revenue for the companies. In addition, the team tries to establish primary contact with the companies in order to validate the assumptions or to gather quality inputs.
Standard Report Structure
Executive Summary
Market Definition
Macro-economic analysis
Parent Market Analysis
Market Overview
Forecast Factors
Segmental Analysis and Forecast
Regional Analysis
Competition Analysis
Market Taxonomy
The global market for RFID readers has been segmented on the following basis:
Types

Frequency

Communication

Industry

Region

Fixed RFID Readers

Integrated RFID Readers

Non-Integrated RFID Readers

Handheld RFID Readers

Low Frequency (125 kHz, 134.2 kHz)

High Frequency (13.56 MHz)

Ultra High Frequency (865- 928 MHz)

Wi-Fi

Ethernet

Others (Bluetooth)

Logistics and

Transportation

Aerospace and

Defense

Automotive

Retail

Agriculture

Healthcare

Government

North America

Latin America

Western Europe

Eastern Europe

MEA

Asia Pacific

China

Japan
Report Methodology
The report on RFID readers has been well researched by the analyst. The analyst has taken into consideration the number of RFID IC, RFID shipments, and RFID tags. The approximate number of RFID readers used can be gauged keeping in mind the number of RFID tags sold.
COVID -19 : Impact Analysis
Request the coronavirus impact analysis across industries and markets
Request Covid -19 Impact
CASE STUDIES
See how our work makes an impact.
At FMI, we design strategies that are adaptive, impactful, and implementable.