Rx-to-OTC Switches Market Snapshot
Rx-to-OTC switches sales value is estimated to total US$ 35 Bn in 2021, according to a Future Market Insights (FMI) study. Exhibiting 5.3% CAGR, the overall Rx-to-OTC switches market size is likely to surpass US$ 58 Bn by 2031.
Despite a period of tepid sales, growth will recover at a year on year rate of 5.2% in 2021. The demand for allergy and respiratory drugs is expected to increase at an accelerated pace in the coming decade. As per FMI analysis, allergy and respiratory drugs segment will account for 26.7% of the Rx-to-OTC switches market in 2021.
Key Points Covered in Rx-to-OTC Switches Market Study
Market estimates and forecast 2016-2031
Key drivers and restraints impacting market growth
Segment-wise, Country-wise, and Region-wise Analysis
Competition Mapping and Benchmarking
Brand share and Market Share Analysis
Key Product Innovations and Regulatory Climate
COVID-19 Impact on Rx-to-OTC Switches Market and How to Navigate
Recommendation on Key Winning Strategies
2016-2020 Rx-to-OTC Switches Market Outlook Compared to 2021-2031 Forecast
According to Future Market Insights (FMI), the sales of Rx-to-OTC switched products have grown at a 1.5% CAGR between 2016 and 2020. Rx-to-OTC switch products are the transition of proven prescription drugs to nonprescription, over-the-counter (OTC) status. It is a strict and highly regulated process that allows consumers to gain OTC access to a growing range of medicines for treating common diseases like headache, cold and flu, and cough, among others.
Rx to OTC switch is gaining popularity as one of the best ways to provide cost-effective, first-line treatment for common illnesses like cough, cold, flu, and headache. Many patients do not have time to visit the doctors or the physicians they mainly prefer quick access to OTC medicines.
As OTC products are widely available in pharmacies, the delayed physician supervision has lowered the demand for prescription drugs to treat common diseases. Considerably, the rising demand for OTC over prescription products has led many pharmaceutical companies to assume that the switches would contribute significantly to OTC revenue growth in the near future.
Key markets such as the U.S., India, and China, have significant untapped potential for the expansion of Rx-to-OTC switches market. Growth in research and development (R&D) capabilities to meet the global demand for OTC medicines over the prescription will aid the expansion of the market. Small and large pharmaceutical companies are focusing on the Rx to OTC switch owing to the rising OTC demand over prescription drugs.
Various safety studies are undertaken to comply with Food and Drug Administration (FDA) requirements, which are intended to improve efficacy and safety of drug available over the counter. These regulations will also help in preventing misuse and abuse of OTC drugs.
After a long period of drought in the year 2018 and 2019, in 2020 FDA approved three Rx-to-OTC switch produts including Pataday Twice Daily Relief (ophthalmic solution/drops), Voltaren Arthritis Pain (topical gel), and Pataday Once Daily Relief (ophthalmic solution/drops) for OTC use. Such approvals will continue aiding growth in the market.
Future Market Insights forecasts the global Rx-to-OTC switches market to rise at 5.3 % CAGR between 2021 and 2031.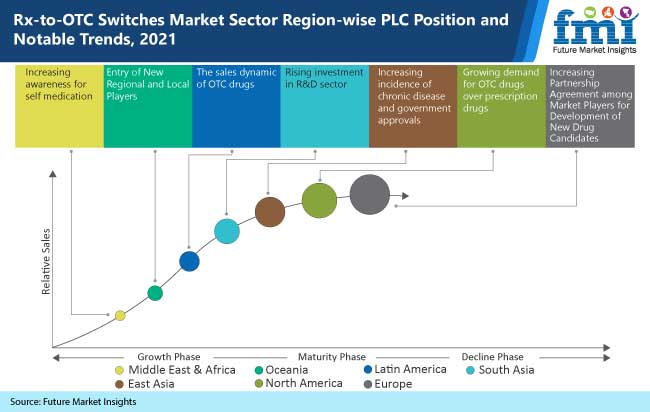 What are the Leading Opportunities for Market Growth?
Patient compatibility and safety for self-medication are key concerns among pharmaceutical companies. Manufacturers are focusing on patient centricity to ensure long-term success by offering safety and high potential products that will attract consumers. They are exploring opportunities for manufacturers in the market.
The past decade has witnessed a decline in Rx-to-OTC switches with only one switch, including 2010, 2011, and 2015 and zero switches in the year 2018 and 2019. While in 2020 there was increase in the switches owing to the growing demand for OTC products which is expected to continue in 2021.
How will Regulations on Healthcare Sector Impact Rx-to-OTC Switches?
The regulatory burden associated with multiple clearance procedures under FDA's scientific decisions to a nimble "administrative order" process within agencies, speeding up decisions considerably, is key to requisite infrastructure.
OTC products should demonstrate an adequate safety and efficacy profile to meet the FDA's approval standards. Evidence of safety, correct diagnosis, and treatment of medical conditions with minimal professional supervision makes the approval process complicated.
This creates hesitatance among pharmaceutical companies to invest in the switch market, impeding the growth of the Rx-to-OTC switches market.
For instance, Mevacor® (a cholesterol-lowering statin drug) and Pravachol®(a statin medication), both failed to obtain approval for an Rx-to-OTC switch due to the FDA's conclusion that patients' perceptions of their disease and the monitoring necessary for successful disease management were not adequately understood and demonstrated.
Additionally, The COVID-19 pandemic caused a shift in behaviours relating to both prescription and OTC medicines owing to the ease of drug use habits and availability. Although OTC drugs are less potent than other substances, they still pose a risk of addiction. Lack of awareness can cause incorrect self-diagnosis, complications, and associated adverse effects.
What is the Impact of the COVID-19 Crisis on Rx-to-OTC Switches Sales?
The OTC consumer health sector has been a key focus of pharmaceutical companies recently, especially after the pandemic arrived in 2020. In 2020, numerous prescription (Rx) medicines switched to OTC status. These include pharmaceutical companies such as GlaxoSmithKline plc, Alcon Laboratories Inc. and some Asian pharmaceutical companies including Lupin and Cipla.
After a long period of wait, FDA approved the Rx-to-OTC switch of 3 prescription products. With the Covid-19 pandemic intensifying, it is expected that the focus on OTC products will continue to strengthen because visits to doctors are restricted.
Consequently, the sales of Rx to OTC switch products was seen to increase in 2020. There was a positive impact on market growth which is expected to drive sales across the forecast period as well.
Country-wise Insights
How Lucrative is the Opportunity for Manufacturers in the U.S?
The U.S. holds over 75% share of the Rx-to-OTC switches market in North America. In the U.S., the research collaboration and approvals for prescription switched drugs are key to market developments.
Based on recent switches, the FDA seems to follow a more conservative path in approving traditional types of OTC products used for self-limiting, acute, non-life-threatening conditions with readily recognizable symptoms that consumers can identify. However, the FDA tends to approve products for preventing chronic conditions like asthma or heart disease.
Moreover, after a long period of decline in approvals, in 2020, FDA approved the Rx-to-OTC switch of three prescription drugs. However, expansion strategies implemented by pharmaceutical companies seeking approval is progress towards providing consumers access to an effective treatment.
For instance, In February 2020, GSK received FDA approval for Voltaren Arthritis Pain as an OTC product to temporarily relieve arthritis pain, which is commercially available in the U.S.
What are the Favorable Policies Driving Growth of Rx-to-OTC Switches in the U.K.?
The U.K. market will account for over 33% of the Europe market through the assessment period ending in 2031. The U.K. Pharmacy Minister Earl Howe has continually stressed that considering the patient's demand for access of ease of availability, medicines without a prescription is a priority for the British government.
Outside the regulatory systems of the EU, the MHRA is focusing on exploring different pathways to Rx-to-OTC switches.Currently, the UK government is focusing on reviewing plans for all opioid-containing medicines sold in the country to carry on-pack addiction warnings which is manipulating the demand for OTC products.
What are the Key Factors Enabling Growth in Germany?
The Germany market will exhibit a 5.0% CAGR throughout the forecast period. Regulatory guidelines are relatively strict in Germany. As a result, achieving drug approvals for Rx-OTC switch assistance is a complex procedure in the country. Germany is the second leading market in Europe due to the presence of leading manufacturers enhancing the R&D capabilities.
For instance, Merck Co. Ltd. A German-based pharmaceutical company invested around €18 million at its site in Tempe, Arizona located U.S. This investment would provide flexibility to invest in its production facilities and strengthen its R&D capabilities in its global network.
What is the Scope of growth of Rx-to-OTC Switches Sales in the India Market?
The Indian market accounted for more than 33% of the sales registered in the South Asia region in 2021. India ranks as the 11th largest OTC drug market globally and is counted amongst one of the most lucrative markets globally. Indian pharma companies have a significant edge over their counterparts, influenced by the consumer's needs.
The Indian pharma companies are shifting their focus to a less-explored market, i.e. OTC drugs to reduce dependency on other countries for APIs and raw materials. Recent developments have given rise to new buying trends. Consumer preference towards Made in India tagged drugs are expected to flourish in the post-pandemic era.
Thus increasing disposable income along with a shift in consumer attitude toward the cost-effectiveness- in self-medication has significantly propelled the demand for Rx-to-OTC switches in the country.
What are the Factors Driving Revenue Generation in the China market?
The market for Rx-to-OTC switches in China is exhibiting 8.0% CAGR and is expected to account for more than 45% of the East Asia market throughout the projection period. Large emerging markets, especially in China have a great opportunity in expansion towards Rx-to-OTC switches.
As China has no market exclusivity for R&D capacity of Rx-to-OTC switches, any leading pharmaceutical company can manufacture and commercialize in the region once the switch sponsor has received approval from the SFDA.
Category-wise Insights
How are Allergy and Respiratory Drugs Contributing to Revenue?
Allergy and respiratory drugs have a higher potential for growth in the coming years. The segment is likely to grow with a high CAGR of 5.7% in the coming decade. Antihistamines are the first approved Rx-to-OTC switched drugs that have the potential to treat lifestyle-based ailments and has gained popularity in the market. For example, OTC antihistamine eye drops relieve red itchy eyes, while nasal sprays can be used to treat the symptoms of seasonal or year-round allergies.
What is the Scope of Growth for Retail Pharmacies in the Market?
Retail pharmacies are currently leading the market, with significant growth in the Rx-to-OTC Switches market with a 5.1% CAGR in the forecast period. Retail pharmacies have made possible the availability of OTC drugs to treat numerous ailments without healthcare professional in high stocks and cost-effective prices. Pharmacists played a vital role in controlling the number of medications being dispensed as OTC drugs.
Competitive Landscape
Participants in the Rx-to-OTC switches market are primarily aiming for strategic collaborations and R&D investments to consolidate growth in a competitive and fragmented market. With this, pharmaceutical companies are also engaged in expanding their global and regional presence through acquisitions, expansions, product launches and improvement of distribution channels to penetrate the new regional markets.
For Instance, In April 2021, Pfizer Inc. acquired Amplyx Pharmaceuticals, Inc., a privately-held pharmaceutical company.
In June 2021, FDA approved Rx-to-OTC switch for Astepro allergy nasal spray, which will be liableble at mass retail locations across the U.S.
In January 2021, Viagra will be available to consumers in Ireland via OTC channels following a successful switch procedure, with a simple pharmacist consultation.
Scope of the Report
Attribute

Details

Forecast Period

2021-2031

Historical Data Available for

2016-2020

Market Analysis

USD Million for Value in Million

Key Countries Covered

US, Canada, U.K., Germany, Italy, France, Spain, Benelux, Russia, India, Thailand, Malaysia, Indonesia, China, Japan, South Korea, Australia, New Zealand, GCC Countries, Turkey, South Africa and North Africa

Key Segments Covered

Drug Category, Distribution Channel, and Region

Key Companies Profiled

GlaxoSmithKline plc.
Astrazeneca, Merck KGaA
Johnson & Johnson
Bayer AG
Sanofi
Boehringer Ingelheim Consumer Healthcare
Bausch and Lomb (A Subsidiary of Bausch Health)
Galderma SA
Alcon
Arbor Pharmaceuticals

Report Coverage

Market Forecast, Competition Intelligence, DROT Analysis, Market Dynamics and Challenges, Strategic Growth Initiatives

Customization & Pricing

Available upon Request
Key Questions Answered in the Report
How much is the Rx-to-OTC switches market worth?

The Rx-to-OTC switches market will be worth US$ 35 Bn in the year 2021 and is expected to reach US$ 58 Bn by 2031 owing to growing demand for OTC over prescribed drugs.

What will be the sales forecast of the Rx-to-OTC switches market?

Response: The Rx-to-OTC switches market is estimated to grow at a CAGR of 5.3% during the forecast period with an estimated Rx-to-OTC switched products revenue accounting more than US$ 58 Bn in 2031.

What was the last 5-year CAGR in the Rx-to-OTC switches market?

Historically, the market has grown at a CAGR of 1.5% in the last 5 years, between 2016 and 2020.

What are the key trends of the Rx-to-OTC switches market?

Altering the dosage form of the prescribed drugs to extend its life-cycle, offering patient centric products with increased customization, higher approval for the modified products to treat new indications, and adoption of strategic agreements by key market leaders are some of the key trends adopted by the manufacturers.

What is driving the demand in the Rx-to-OTC switches market?

Growing preference for OTC drugs over prescribed drugs, rising demand for accessible and varied treatment options, are some of the driving factors that has bolstered the demand in the market.

What is the market share of the top 3 players in the Rx-to-OTC switches market?

The cumulative market share of top 3 players including GlaxoSmithKline Plc, Sanofi, and Johnson & Johnson constitute over 46% of the overall market.

What are the top 5 countries driving demand in the RX-to-OTC switches market?

The U.S., U.K., Germany, China, and India are the top 5 countries that are driving the demand for Rx-to-OTC switches market.

What is the North America Rx-to-OTC Switches market outlook?

North America holds more than 26% revenue share in the overall Rx-to-OTC switches market in 2021. Rising approvals and presence of key players in the market are driving the demand for Rx-to-OTC switches in the region.

At what rate is the Rx-to-OTC Switches Market expected to register growth in Europe?

The Europe market is set to exhibit a CAGR of 4.7% during the forecast period.

Which countries are key producers in the Rx-to-OTC switches market?

The U.S., India, Germany, U.K. and China are some of the key producers in the Rx-to-OTC switches market.

Which are the key exporters of the Rx-to-OTC switches market?

GlaxoSmithKline Plc., Sanofi, Johnson & Johnson, Pfizer Inc., AstraZeneca, Merck KGaA , and Bayer AG are some of the key exporters of the Rx-to-OTC switches market.

What are the key Rx-to-OTC switches market statistics in South Korea and Japan?

Japan has emerged as a key market, exhibiting growth at 6.7% during the forecast period. South Korea will account for 16.8% of the East Asia Rx-to-OTC switches market in 2021.
World's Most Profilic Intelligence Engine
Get Access To The World's Largest Market Research Database. Ngage with a revolutionary intelligence engine that scale and pricing that flexes as per your needs
Sign Up Now
Rx to OTC Switch Market by Category
Drug Category
Allergy and Respiratory
Fungal Infections & Other Infections
Overactive Bladder
Oral Contraceptives
Gastrointestinal Drugs
Hair Loss Treatments
Smoking Cessation
Analgesic, Inflammation And Pain Management
Others (Lice, Acne, Weight Loss, And Laxative)
Distribution Channel
Retail Pharmacies
Hospital Pharmacies
Drug Stores
Online Pharmacies
Region
North America
Latin America
Europe
East Asia
South Asia
Oceania
The Middle East and Africa (MEA)
Need specific information?