Safety Sensors and Switches Market: Key Research Findings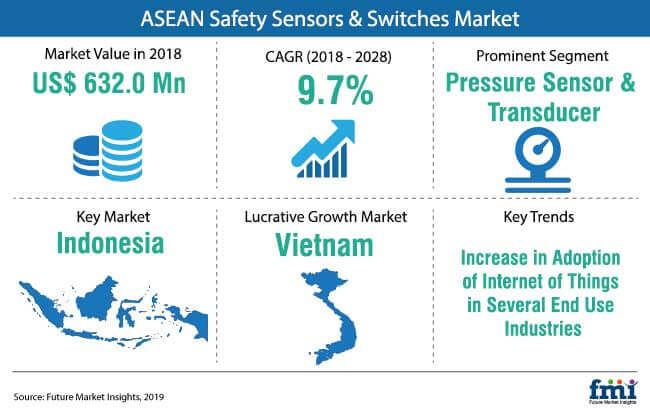 ASEAN safety sensors and switches market size in 2018 - US$ 632.0 Mn
The safety sensors and switches market is expected to observe a significant growth rate of 9.7% by value, over 2018-2028.
Government initiatives playing a vital role -

Governments of ASEAN countries have come together to implement sensor technologies to safeguard their houses, offices, and factories. This is due to the rise in accidents caused by fire or any other thing, which has cost a lot of lives and infrastructure.
Industrial regulatory systems for medium and small companies, such as the Occupational Safety and Health Management Systems (OSHMS), under which companies have to follow set standers of safety in industries, are projected to drive the market of safety sensors and switches in ASEAN countries.

From a country-level perspective, Indonesia is projected to hold a relatively prominent share in the ASEAN safety sensors and switches market.
In terms of growth opportunities in the safety sensors and switches market of ASEAN countries, Vietnam and the Philippines, with the growing demand for workplace safety and security from the commercial and industrial sectors, are projected to generate high demand for safety sensors and switches.
By category, the pressure sensor and transducer is expected to be a lucrative market segment, with a value share of reportedly more than 40%.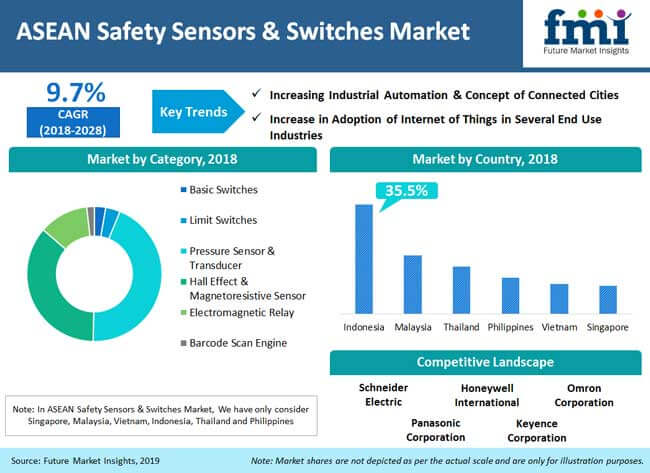 Top 3 Factors Shaping the Safety Sensors and Switches Market
Increasing Regulations for Providing Safety at Work
Governments in developing countries such as the Philippines, Malaysia, and Vietnam, in the ASEAN region, are focusing on ensuring safety at the work environment for employees. These governments are enforcing laws for the generation and maintenance of a safe environment at workplaces, especially at factories that involve machines.
Growing Rate of Factory Automation
Rising demand has compelled manufacturers to optimize their production through automation. Factory automation has been seen to rise significantly in various ASEAN countries. This has been a driver for the market of safety sensors and switches, since the process of automating in a factory involves safety standards levied by governments in the ASEAN region.
Along with this, automated factories result into better yield, and thus, generate better revenues, as this cuts down on labor wages and operates economically at a constant pace. This is expected to lay a strong base for the significant growth of the safety sensors and switches market in ASEAN countries.
Industry 4.0 - A New Growth Potential for Manufacturers
Under Industry 4.0, which is the fourth industrial revolution, the idea is to automate factories in such a way that production goes on even without any kind of human intervention. The sensors and autonomous robotics technology in industries is expected to be implemented globally by the end of 2025. This has given rise to a good opportunity for the safety sensors and switches market, as it would be impossible to monitor robots without them.
ASEAN Safety Sensors and Switches Market Structure Analysis
The ASEAN safety sensors and switches market is a fragmented landscape, wherein, tier-1 companies hold around 30-40% revenue share.
Some of the safety sensors and switches market players have also shown keen interest in expanding their geographical presence in emerging countries such as Vietnam and the Philippines.
As a differentiating strategy, safety sensors and switches market participants are focusing on cost reduction and the development of new, more efficient, and more reliable safety sensors and switches.
Key suppliers of safety sensors and switches are also focusing on retaining the existing customer base by considering parameters such as accuracy and operational life as key R&D areas.
New product launches are also trending in ASEAN's safety sensors and switches market. WIKA, in H2 of 2018, announced expansion of the product portfolio with the launch of a precision pressure sensor.
Smart Technologies Generate the Need for Smarter Safety Sensors and Switches
Sensor technologies are becoming an imperative element in new and existing Internet of Things (IoT) technologies implemented in various applications in industrial, commercial, as well as residential sectors. Increasing importance of safety in the 'Artificially Intelligent' environment in smart and connected cities in ASEAN countries will only increase with time. Consequently, the adoption of automation technologies will become an exponential function, making safety sensors and switches an inevitable need in the tech-era.
Market is Set to Grow 3.5X Between 2018 and 2028
ASEAN countries are among the fastest growing economies in the world and becoming the face of technological and digital transformations. Safety concerns among consumers as well as governing bodies with the implementation of automation technologies will continue to boost adoption of safety sensors and limit switches in the region. Moreover, stringent safety policies established by governing bodies will bolster the installation of new as well as retrofit safety sensors and switches in technologically connected spaces.
Safety Sensors and Switches Adoption Surges with Indonesia's Industrial Competitiveness
Indonesia will remain the most lucrative region for manufacturers, accounting for the largest revenue share of the ASEAN safety sensors and switches market. The government has adopted the new 'Making Indonesia 4.0' strategy, which highlights the potential of modern manufacturing technologies in various industrial sectors. With the ongoing infrastructural developments and industrial growth in the country, the demand for safety sensors and switches in Indonesia will only grow stronger in the coming years.
The Broader Perspective
Leveraging technological advancements to launch innovative and efficient safety sensors and switches to retain customers is proving to be a winning strategy for leading players in the market. Manufacturers are targeting industrial players and governing bodies to capitalize on increasing adoption of connecting technologies in government projects and manufacturing environments.
A mounting number of new businesses and start-ups entering the market in ASEAN countries will compete on cost-effective yet high-tech features of pressure sensors and magnetoresistive sensor to gain an edge in the market.
How Growth will Unfold
The technology outburst in the manufacturing industry in ASEAN countries makes industrial sector a lucrative business segment for safety sensors and switch manufacturers. End-users in the manufacturing incorporating next-generation technologies, such as Industry 4.0, human-machine interface, robots, and sensor technologies, which is creating enormous sales potential for safety sensors and switches in the industrial.
Leading manufacturers will shift their focus on introducing next-generation safety sensors and switches to suit the dynamic needs of the tech-driven industrial end-users in ASEAN countries.
Key Segment
By Category
Basic Switches
Limit Switches
Pressure Sensors and Transducers
Hall-Effect and Magneto resistive sensors
Electro-magnetic relays
Barcode Scan Engines
By Installation
By Country
Malaysia
Singapore
Indonesia
Thailand
Vietnam
Philippines
By End Use
Industrial

Automotive
Power Generation
Mining & Metal
Food & Beverage
Packaging
Pharmaceutical
Commercial

Office
Defence & Government Establishments
Hotels & Hospitals
Airports & Stations
Others (Private/ Academic Institutes, Commercial Shopping Complexes)
Residential
Need specific information?