ASEAN Automotive Aftermarket Market Outlook & Key Findings
The ASEAN automotive aftermarket market is expected to click US$ 19.4 Bn in 2020
Manufacturers to reap substantial revenues from automotive aftermarket parts through 2030
Passenger cars continues to account for greater demand for automotive aftermarket services over the decade ahead
Malaysia, Indonesia, and Thailand to collectively capture over 80% of overall market value
ASEAN Automotive Aftermarket Market Analysis – Increasing Average Vehicle Age to Augur Well for Market Growth
Technology and material used for automotive production have improved significantly in ASEAN countries in the recent past, which in turn, have improved the average operational life of vehicles. Recent estimates suggest that the number of on-road vehicles with age between 5-8 years in Thailand were nearly 6 million in 2016. Moreover, the number of vehicles that are at least 12 years old is anticipated to surge by 15% over the coming five years in the ASEAN region.
Going forward, reliability of automobiles has enhanced significantly over the last decade. Customers are increasingly keeping old vehicles as their secondary automobile rather than scraping or reselling. As a result, vehicle age is improving, thus, spurring the demand for automotive replacement parts, maintenance, and repair.
ASEAN Automotive Aftermarket Market Trends – Matrix LED Headlamps for Safer Night Driving
As autonomous driving technology progresses, meeting safety regulations continues to become more complicated for automotive OEMs. At the same time, car safety is a strong market differentiator that can manage greater profit margin. Owing to the trend that efficient safety aspects will ultimately be required on every vehicle, the earlier OEMs introduce safety features, the longer they can create value from them.
Software-enabled matrix LED headlamps are among the non-obvious innovations to convey data to drivers. Individual control of LEDs allows vehicles to adjust the headlights dynamically as per the driving situation and surrounding. Case in point, glare to the approaching cars can be warded off via beamforming and by splitting the light vertically. Moreover, the headlamps can be guided to follow the road - adaptive front-lighting system (AFS) - and spot the objects in the way.
With software-enabled matrix LED headlamps, automotive OEMs are able to substantially improve drivers' awareness regarding potential environmental mishaps. Simultaneously, these headlamps improve the visibility of vehicles and their intentions to nearby drivers, intuitively and seamlessly. The final outcome is a safer and more effective drive – win-win situation for everyone.
Automotive aftermarket suppliers in ASEAN must drive push innovation in existing headlamps in order to equip them with such cutting-edge features – making it a standard approach. This will ultimately boost the market value of these suppliers in the immediate future.
Market Players to Go Online
With the COVID-19 pandemic raging across the ASEAN region, market players are accelerating their shift towards online sales channels. E-commerce platforms are redefining the bar for how market players will engage with their customers and suppliers. Customers are gradually turning to online purchase of parts, owing to ease of availability, and cost effectiveness, as well as they can access the complete product portfolio of accessories, parts, and services.
While new entrants are already maintaining their supremacy in online automotive aftermarket sales and services, wholesalers and OEMs are swiftly following their footsteps. Main parts that are sold online include wiper blades, tires, filters, and brake pads. Further, online sales channels are enabling customers to seek new launches in the market.
Rising Influx of International Visitors to Offer Potential Growth Avenue
Diverse range of travel options and recreational activities in the ASEAN region has made it a top tourist destination. The region attracted 133.1 million international tourists in 2019, of which, about 40% comprised of intra-ASEAN tourists. The rise in tourist visitors is attributable to the rise of low-cost airline tickets and an open-air agreement between associated members countries.
Using public transportation at times becomes time-consuming and does not provide end-to-end ride. Car rental services such as Hertz Asia, and AVIS are gaining huge traction among tourists as they offer round-the clock convenient services. Surging on-fleet rental cars is translating into increased demand for on-demand aftermarket services. Market players are moving aggressively and creating comprehensive strategies to capture the opportunity and maintain their positive trend.
While the number of international visitors in ASEAN region were increasing at a healthy pace, however, the number dropped significantly due to the onset of COVID-19 pandemic in January 2020.
Vietnam registered a mere 3.7 million international tourists (down by 50% compared to 2019) during the first five months of 2020, while the number of local travelers also declined to 16 million (down by 58.5%). In addition, the overall revenue of the country's tourism sector slashed by 47.4% to US$ 6.5 Bn.
Moving ahead, the air passenger industry in Malaysia is expected to witness a 39% drop in demand – about 25.49 million passengers, states the International Air Transport Association (IATA).
The IATA has revealed that Malaysia's airline industry is slammed with a projected RM 14.4 Bn (US$ 3.38 Bn) loss in revenue, impacting nearly 169,700 jobs. Moreover, airports in Malaysia witnessed a confounding 97.8% reduction in passenger traffic movements in May 2020 as compared to the same month last year.
Such repercussions due to the COVID-19 pandemic on the aviation and tourism industries in ASEAN countries are bringing the regional automotive aftermarket market to economic uncertainties.
To gradually recover from this situation, governments in ASEAN countries are investing in support programs and marketing campaigns to bolster intra-ASEAN tourism. With subsequent ease in travel restrictions and social distancing norms, the domestic tourism is poised to see positive growth, which, in turn, is expected to offer a ray of hope for the ASEAN automotive aftermarket market players.
ASEAN Automotive Aftermarket Market Regional Analysis – Opportunities Abound in Indonesia and Thailand
Among the ASEAN countries, Indonesia will remain at driver's seat in the automotive aftermarket market over the following decade. Passenger vehicles (PV) contribute to a major chunk – over 60% - of overall automotive aftermarket services in Indonesia. Moreover, sales of PVs in the country pegged roughly 799, 000 in 2019, up by nearly 1.5X over the past decade.
Thailand follows Indonesia in terms of revenue share in the ASEAN automotive aftermarket market. The number of warranty cars in Thailand is likely to rise, given large inventory established by the increasing sales of automobiles in 2012 under the First Car Scheme policy (2012-2013). While Bangkok represents the most worthwhile market for independent automotive aftermarket services, demand from North-eastern regions is poised to increase in the near term.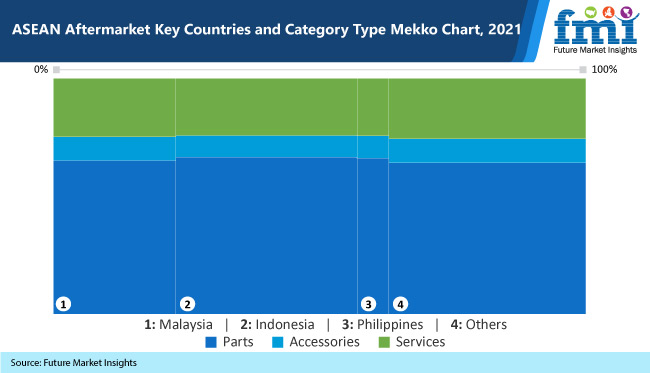 Moreover, recent surveys conducted in Thailand reveal that used car dealership owners are partnering with finance firms to offer loans, which is working in favor of Thailand automotive aftermarket market. Furthermore, there are over 5,000 independent repair shops in Thailand, 65-70% of which offer repair and maintenance services for parts such as tires, and batteries.
The automotive aftermarket market in Malaysia is experiencing a meteoric growth, and is expected to click US$ 10 Bn towards the end of projection period. About 9 out 10 automotive aftermarket service providers serve PVs in the country. Total automobile sales in Malaysia in 2019 rose by about 1% over 2018, of which PVs led the pack with a rise 3.2%.
Navigating the automotive aftermarket industry from the staggering growth the ASEAN countries have been experiencing over the long haul is difficult. The ASEAN countries are increasingly giving cutthroat competition to each other to put forth investments and tax rebates for the automotive aftermarket market in respective countries. This will pave way for better growth opportunities for foreign shareholders that are looking to enter the ASEAN market.
The major competition for foreign shareholders is between Thailand and Indonesia, who are both striving to attract shareholders with their potential to emerge as the regions' automotive manufacturing base. Both the countries have issued tax cuts and other concessions to lure foreign investments, majorly Japanese and, Chinese investors.
ASEAN Automotive Aftermarket Suppliers – Service Providers Race to Capture the Value at Stake
Majority of automotive aftermarket repair shops in ASEAN do not deliver an entire range of maintenance and repair services. As such, store owners are following a competitive tactic of offering specialist services, or scaling up the number of services they are offering. In addition, small-scale vendors are entering into collaborations with fleet operators and leasing companies to deliver top-notch maintenance and replacement services at competitive prices.
Leading players in ASEAN automotive aftermarket market are investing in capacity expansions, product launches, and acquisitions, some of which include,
Aisin Seiki Co. Ltd., in December 2019, declared to set up Kyushu Development Center Hakata Laboratory for artificial intelligence (AI) technologies in Fukuoka City, Japan, with the aim to strengthen its AI infrastructure.
Hella KGaA Hueck & Co., in November 2019, rolled out its product solutions for better safety and visibility at Solutrans International Transport Trade Fair.
In October 2019, Continental AG, acquired CRP Industries' automotive aftermarket business.
Apart from that, OEMs and authorized dealers are putting greater emphasis on leveraging their potential and delivering tech-forward services such as remote vehicle diagnostics in a bid to gain competitive edge in the ASEAN automotive aftermarket market. The technology allows fleet owners to monitor on-board system failure earlier and optimize vehicle maintenance schedules accordingly.
ASEAN Automotive Aftermarket Future Outlook – Mobility Technology to Carve the Way Ahead
Mobility technology is a vast emerging industry in ASEAN, with ride hailing companies such as Indonesia-based GoJek, and Singapore-based Grab, as well as Malaysia-based car-sharing platform Moovby making headways. The development incorporates plethora of technologies and business framework, targeted to various market requirements. The common ground is that all these technologies involve novel ways of allowing goods or customers to be moved around in automobiles.
In ASEAN countries, various biggest cities are investing in tech-forward mobility technologies to help them fetch business, make financial progress, and fix two existing challenges - congestion and pollution.
The automotive aftermarket in ASEAN is a business-to-business (B2B) play. As more cars hit the roads for ride hailing, car-sharing, and trucking, the result is an increasing demand for swift, cost-effective automotive aftermarket services. Service providers, in turn, require proactive deliveries of supplies and parts.
The bigger picture is that of an environment that requires supply chains to be streamlined and integrated with on-demand services. This is creating swarms of meaningful business opportunities for emerging players in automotive aftermarket market to deal with crucial or all the elements of the picture.
ASEAN Automotive Aftermarket Segmentation
To understand and assess opportunities in the ASEAN automotive aftermarket, we have divided the report into three sections based on market segmentation as under:
By Category
Parts

Tires
Batteries
Filters
StartersandAlternators
Lighting
Exhaustcomponents
Sparkplugs
Lubricants
Collisionbody
Wear and Tear Parts

Accessories
Services

General automotive repair
Automotive transmission and others
By Vehicle Type
Passenger cars
Commercial Vehicle
By Country
Malaysia
Indonesia
Philippines
Vietnam
Singapore
Thailand
Rest of ASEAN
Need specific information?
Talk Show:
The Rise of Intelligent Packaging
Personalized, Connected and Sustainable
November 18, 2021
11:00-11:45 AM PST (USA & Canada)
This is a LIVE session