Spark Plug Market Snapshot
As per recently updated report by Future Market Insights, the spark plug market will register positive growth with the overall valuation forecast to surpass US$ 3.20 Bn in 2021. The market's worth will increase at a compound annual growth rate (CAGR) of 4.5% between 2021 and 2031.
Increasing automotive production and export will make Europe the epicenter of spark plug market. Spurred by this, the Europe spark plug worth is projected to expand at a CAGR of 4% during the forecast period.
Global sales are expected to rise in 2021 after a period tepid growth rate in 202, with shipments reaching nearly 620 million units in 2021. Overall, FMI presents a positive growth outlook for the market.
Key Points Covered in Spark Plug Market Study
Market estimates and forecast 2021 – 2031
Key drivers and restrains impacting market growth
Segment-wise, Country-wise, and Region-wise Analysis
Competitive Mapping and Benchmarking
Brand share and Market Share Analysis
Key Product Innovations and Regulatory Climate
COVID-19 Impact On Spark plug Market
Recommendation on Key Winning Strategies
2016 – 2020 Spark plug Market Outlook in Comparison to 2021 – 2031 Forecast
Growing international pressure towards reducing carbon emission will create novel opportunities for spark plug market expansion. According to FMI, the market is forecast to grow a CAGR of 4.50% between 2021 and 2031.
The growth trend will remain positive in response to increasing demand for passenger vehicles in developing nations. The rising production and sales of gasoline engines for multiple applications will amp up growth for the market.
Spark plugs are an integral part of automotive ignition system. It is specifically designed to spark the combustion mixture inside the engine cylinder. The air fuel mixture is ignited by spark plug at optimal pressure within the closed chamber.
Market players are investing towards developing spark plugs which offers long life and better electrical energy conductivity. With launching of next gen engines, the demand for high performance spark plug will increase in upcoming years.
According to research conducted by American Physical Society, introducing plasma in the vicinity of region where ignition of the flame takes place will produce catalyst leading to improved and complete combustion of fuel.
A new trend can be observed among spark plug manufacturers with replacing ignition spark with plasma especially for luxury automotive segments.
Companies like Pulstar Spark Plugs, are exploring methods to utilize the potential of plasma-assisted combustion to cater the demand for optimal engine performance. Such innovations will fuel the market demand.
How Is Technological Advancement Complementing Spark Plug Sales?
Implementation of stringent environmental regulation and emission norms to reduce the carbon foot print and curb the global warming led to the development of modern gasoline engines capable of giving high mileage and low emission without compromising the performance.
These next engines are compact which require special type of ignition system leading to innovation in spark plug technology. Market players are experimenting with various materials and making design modifications to meet the requirements.
The development of long and thin spark plugs that can be attached in a small headspace of engine will drive the spark plug market demand. Launching of iridium spark plugs which has higher life, provides superior combustion and can work in corrosive environment during marine application will further accelerate the market demand.
Modern engines work on elevated gas pressure where electric spark plugs are not that effective. The use of plasma assisted spark plugs in such special conditions will enhance efficiency.
With demand for modern spark plug consistently rising, rapid development will boost the spark plug market growth.
Is Introduction Of Electric Car Hindering Spark Plug Market Growth?
As per the International Energy Agency, around 3 million new electric cars were registered globally in the year 2020. In U.S. electric vehicle registration has tripled from 2016 with 1.8 million total registrations till 2020.
As there is no application of spark plug in electric vehicles and e-bikes, a slump in spark plug market demand can be expected in upcoming years. Constant fluctuation in fuel prices and increasing awareness towards reducing air pollution will promote the adoption of electric vehicles which will directly hinder the spark plug market demand.
As per the data released by U.S. Department of energy, plug-in electric vehicles are anticipated to grow at a healthy pace in upcoming years as government is providing tax incentives to promote the adoption of electric vehicles.
Increased development in EV design, sustainable economic recovery and rapid advancement in charging infrastructure is promoting the sales of electric vehicles which in turn is hampering the spark plug market growth.
Country-wise Analysis
How Is Introduction Of Electric Car Affecting The Spark Plug Market In U.S.?
U.S. is expected to continue its dominance in global automotive market throughout the assessment period. According to SelectUSA, 17.2 million light commercial vehicles were sold in U.S. in 2018, making 2018 the fourth straight year when sales surpassed 17 million units.
U.S. offers the world's second-largest market for vehicle sales and production. Growing vehicle production and consistently high sales of automobiles will fuel the spark plug market growth throughout the upcoming decade.
Many leading automotive manufacturers have set-up their engine and transmission plants in U.S. They also promote research and development of spark plugs and other engine equipments by providing heavy investments in R&D facilities.
As per the report from Auto Alliance, around US$ 18 Bn is spend on research and development work in the U.S. This is expected to reflect positively on the U.S. market, providing conducive environment for the spark plug market growth.
How Will Spark Plug Market Growth Unfold In China?
According to a report published by China Association of Automobile Manufacturers (CAAM), around 1.64 million units of passenger and 482,000 units of commercial vehicles including light and heavy commercial vehicles were sold in the May 2021.
Thriving passenger vehicles segment will increase the demand for spark plugs to be used in gasoline engines. Rapid development and modernization of automotive industry in China will create novel market growth opportunities.
As per China Association of Automobile Manufacturers, around 217,000 new energy vehicles were sold in China in May 2021. Soaring popularity of new energy vehicles and extensive research and development towards manufacturing more efficient engines will promote the spark plug market growth.
As per the data released by the China Association of Automobile Manufacturers, around 117,000 passenger cars and 34,000 commercial vehicles were exported from China in April 2021.
Increase in export of automotive vehicles from the country will positively influence the spark plug market growth.
The government of China is promoting the adoption of new-energy vehicles (NEVs) with the mission to reduce high emissions from petrol as well as gas engines. This is create new avenues for spark plug market growth in upcoming years.
What Are The Factors Driving Spark Plug Demand In The U.K.?
According to the report published by the Society of Motor Manufacturers and Trader, U.K., in 2020, around 1.055 million cars were exported from U.K. to more than 150 countries in the year 2019.
Increasing export of luxury cars and rising production of automobiles will boost the production of spark plugs. Implementation of new emission norms and high demand for British made engines for heavy commercial vehicles will accelerate the spark plug market growth.
Presence of global automotive leaders, increasing production of EURO-VI buses and trucks, and increasing consumer spending on hybrid vehicles will be presenting conducive environment for the growth of spark plug sales.
How Is Increasing Automotive Demand Driving Spark Plug Market Growth In India?
According to National Investment Promotion and Facilitation Agency, India is offering promising growth opportunities as it is anticipated to emerge as the world's third-largest passenger vehicle market by the end of 2021.
The report also noted that, India's annual automotive production grew by 6.26% CAGR in 2018-2019.
Rapid production of passenger vehicles and increasing per capita income of Indian population will bode well for the spark plug market growth in India.
Increasing research and development towards developing new gasoline engines in India to curb fuel consumption and produce vehicles in compliance with emission norms will create novel growth opportunities in Indian market during the forecast period.
Allowance of 100% foreign direct investment by Indian government especially for automatic vehicles market segment will further accelerate the spark plug market demand in India.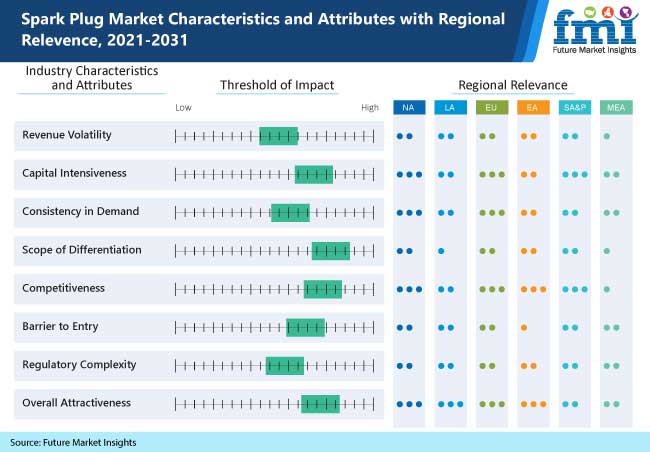 Category-wise Insights
Why Is Automotive Spark Plug Gaining Popularity?
Automotive spark plug is expected to register exceptional growth owing to strict government emission norms and increasing demand for fuel efficient vehicles.
Rising private investments in manufacturing sector and growing economy in developing nations will boost the automotive sales directly influencing automotive spark plug market growth.
Which Product Type Will Exhibit More Demand?
Cold spark plugs are expected to grow substantially during the forecast period as the cold spark plugs firing end takes time to heat and provides faster rate of heat transfer as compared to other types of spark plugs. Increasing demand for 4-stroke gasoline engine across the world is expected to drive the cold spark plugs demand even further.
Why is Iridium Type Spark Plug Gaining Traction?
An increase in demand for iridium spark plug is anticipated especially from marine sector as iridium spark plug facilitates optimum power and combustion leading to improved engine performance. It also has longevity similar to platinum spark plugs and thus used in new launched automotives. Increasing production of automobiles will drive the iridium spark plug market growth.
What Opportunities Are Prevalent In Sales Channel Segment?
Growing consumer preference towards vehicles with reliable ignition system working in extreme conditions is causing OEMs to develop advance spark plugs which are highly efficient and are compact in size. High demand for modern spark plugs will boost the market sales in upcoming years.
Competitive Landscape
According to Future Market Insights, the spark plug market players are heavily investing in R&D activities to expand their product portfolio along with adopting inorganic marketing strategies such as mergers, joint ventures, and acquisition to gain a competitive edge.
For instance, Spark plug market leader Valeo SA joined forces with Capgemini as a attempt to design and develop modern connected mobility solutions. Valeo SA aims at broadening their product range to establish a stronghold in the spark plugs market space.
Denso Corporation emphasizes on investing in research and development programs to launch new products in the market. The company offers diverse product portfolio of platinum as well as iridium spark plugs.
Leading spark plug manufacturers as profiled by FMI include:
This list is indicative - full details about prominent spark plug manufacturers is available upon request
Spark plug Market – Report Scope
| | |
| --- | --- |
| Attribute | Details |
| Forecast Period | 2021 – 2031 |
| Historical Data Available for | 2017 – 2027 |
| Market Analysis | US$ Mn for Value & Units for Volume |
| Key Countries Covered | U.S., Canada, Brazil, Mexico, Argentina, Rest of Latin America, EU-5, BENELUX (Belgium, Netherlands, Luxembourg), NORDIC (Denmark, Finland, Iceland, Norway, Sweden), Rest of Western Europe, Poland, Russia, Rest of Eastern Europe, China, India, Japan, GCC Countries, South Africa, Israel, Turkey, Iran, Rest of Middle East & Africa, Australia, New Zealand, South Korea, the Philippines, Malaysia, and Thailand |
| Key Segments Covered | Sales Channel, Material Type, End use, Product Type, Region |
| Report Coverage | Market Overview, Market Background, Market Forecast, Segmental Analysis, Regional Profiling and Competition Analysis |
| Customization & Pricing | Available upon Request |
Key Questions Answered in the Report
What is spark plug market size?

Driven by increasing demand for rapid combustion and effective fuel consumption solutions, the spark plug market size is forecast to reach US$ 3.2 Bn in 2021

At what rate did the spark plug market expand in the last five years?

Between 2016 and 2020, the spark plug sales grew at a 0.20% CAGR. The market growth was hampered due closure of production facilities amid COVID-19 outbreak in 2020.

What are the key trends shaping the spark plug market?

There is increasing focus on reducing carbon emission across the globe. Companies are currently focusing on incorporating iridium spark plugs to facilitate complete combustion of fuel. Besides this, focus on increasing replacement intervals for spark plugs is expected to bode well for the spark plug market.

What are the key factors driving spark plug market demand?

Increasing per capita income of middle class population and the resultant demand for passenger cars will remain the chief growth driver. The market also will gain from implementation of new emission norms to reduce pollution.

What is the North America spark plug market outlook?

Demand registered in North America will continue rising, backed increasing sales and production in the U.S. and Canada. The North America market is anticipated to expand at 3.50% CAGR during the forecast period.

Who are the leading companies in spark plug market?

NGK Spark Plug Co., Ltd., Robert Bosch, Denso Corp., Tenneco Inc., and Valeo Are the top companies operating in the market.

What is the cumulative share of top companies in spark plug market?

Top players account for nearly 70% of the spark plug market in 2021.

At what rate will spark plug sales increase in Europe?

Spark plug sales will increase at 4% CAGR in Europe, backed by rising demand in the U.K., Germany, and other countries.

Which are the top five countries driving spark plug market demand?

Leading countries driving demand in the spark plug market are the U.S., U.K., China, India, and Japan

What are the key statistics for spark plug market in Japan and South Korea?

In 2021, Japan and South Korea will collectively hold 11% share in the global spark plug market.
Key Segments Covered in Spark plug Market Study
By Sales Channel:
By Material Type:
Iridium
Platinum
Nickel
Others
By End Use:
Automotive

Two Wheelers
Passenger Cars
LCV
HCV

Marine
Aerospace
Industrial
By Product Type:
Hot Spark Plug
Cold Spark Plug
By Region:
North America
Latin America
Western Europe
Eastern Europe
South East Asia & Pacific
China
India
Middle East and Africa
Japan
Need specific information?
Talk Show:
The Rise of Intelligent Packaging
Personalized, Connected and Sustainable
November 18, 2021
11:00-11:45 AM PST (USA & Canada)
This is a LIVE session