Cost-Effective Offerings by Local Players Exerting Pressure on Profit Margins of Multinational Spark Plug Manufacturers
Rising competition from local companies represents one of the longstanding challenges faced by international companies in the global spark plugs market. Local spark plug manufacturers have a profound influence across the regional markets, resulting in price competitiveness and subsequent narrowing of profit margins.
The aforementioned can be gauged from the fact that key companies in the spark plugs market, such as Valeo S.A., are facing intense competition from the local players in China. To counter the onslaught, leading players in the spark plugs market are increasingly investing in research & development activities, as a part of their key differential strategy, to offer new and innovative spark plugs.
Trend of Engine Downsizing Leading to Design Modifications of Spark Plugs
New-age gasoline engines are being crafted in line with the idea of low fuel consumption, allied to lower emission rates and an enhanced driving experience. In line with this, the engine downsizing trend is mainstreaming in the automotive industry and is translating into new demands from automotive ignition systems, with spark plugs being no exception.
Manufacturers in the spark plugs market are attempting to meet these requirements with the help of design modifications and selection of ideal materials. For instance, key companies in the spark plugs market are offering long and thin spark plugs, in a bid to comply with the reduced size of head spaces in engines, for easy installation of spark plugs.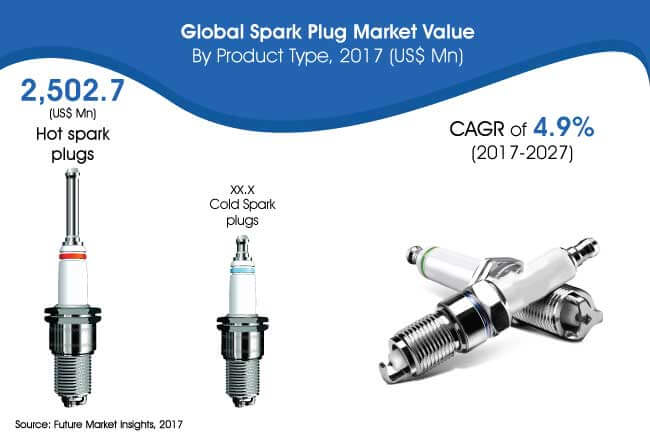 Harnessing the Potential of Plasma for Spark Plugs: A Precursor to Growth
The advent of new-age engines have necessitated development of new varieties of spark plugs. Though modern engines are gaining significant momentum by virtue of their enhanced efficiency, ignition is apparent as a major challenge. As the gas pressure and temperature attributes are higher in the case of modern day engines, conventional electric spark plugs would not fit in the bill.
According to American Physical Society, a leading organization of physicists, introducing plasma to the reaction — close to or at the location where ignition of the flame takes place — leads to production of new chemical species that catalyzes combustion. Replacement of ignition spark with plasma, optically recognized by a pink-purple flicker, is pervading as a major trend in the manufacturing spectrum of spark plugs. Key companies in the spark plugs market, such as Pulstar Spark Plugs, are harnessing the potential of plasma-assisted combustion to serve the end-user demand for optimal engine performance.
E-bike as the Future of Urban Mobility Revolution: An Impediment to Growth
Vehicle emission standards and sustainable practices across the globe are translating into a massive gravitation toward electric bikes. The European Commission (EU) focuses on encouraging investments in re-charging infrastructure and specific EU standard for electric vehicles recharging interface, as stated in the plan named "CARS 2020: Action Plan for a competitive and sustainable automotive industry in Europe".
Moreover, frequent fluctuations in fuel prices have compelled consumers, primarily across developed countries in regions of Europe and North America, to choose for electric car models, such as battery electric vehicles (BEV) and plug-in hybrid electric vehicles (PHEV). As spark plugs find no application in electric vehicles, this wide-spread adoption might pose considerable threats for the growth of spark plugs market in the near future.
Competitive Landscape Developments
Valeo SA, a leading player in the spark plugs market, collaborated with Capgemini in order to develop advanced connected mobility solutions. The company focuses on diversifying its product portfolio to attain strong presence in the spark plugs market space.
Denso Corporation, a key player operating in the spark plugs market, offers a wide-range of Platinum as well as Iridium spark plugs. This company operating in the spark plugs market has a strong focus on research and development investments in a bid to introduce novel products in the spark plugs market space.
Weichai Power Co., Ltd., a prominent player in the spark plugs market, sells under the brand 'Zhuzhou Torch Spark Plug Co.,Ltd. (ZTSP)' and offers a wide-range of spark plugs for use in motorcycle and small gasoline engines
Market Segmentation
The global research report on spark plugs market includes an in-depth analysis on each segment of the market.
Sales Channel
Material Type
Iridium
Platinum
Nickel
Others
End Use
Automotive

Two Wheelers
Passenger Cars
LCV
HCV

Marine
Aerospace
Industrial
Product Type
Hot Spark Plug
Cold Spark Plug
Region
North America
Latin America
Western Europe
Eastern Europe
South East Asia & Pacific
China
India
Middle East and Africa
Japan
Need specific information?