Silicon Anode Battery Market by Capacity (Below 1500 mAh, Between 1500-2500 mAh, Above 2500 mAh), Application (Consumer Electronics, Automotive, Industrial, Grid & Renewable Energy) & Region - Forecast to 2021 - 2031
Silicone Anode Battery Market - Analysis, Outlook, Growth, Trends, Forecasts
March 2021

REP-GB-2134

200 pages
About the Report
Silicon anode batteries are widely used in energy storage, high density applications, power grids, consumer electronics, and the future mobility-electric vehicles and aircraft. Several developments in battery technologies, including the silicon anode battery, have enhanced the capability to meet consumer's ever changing demand at varying scales.
In comparison to a graphite anode, a silicon anode offers various competitive benefits. A silicon anode battery offers higher energy densities and more theoretical capacity than conventional anodes. They are used in applications which require fast charging, preferred for applications requiring more duration between two charging cycles and better compatibility with lithium ions. Silicon anode battery is a sustainable product since it is environment friendly and it can be recycled. These batteries are seen as potential candidates for powering equipment and devices in future.
In its study, ESOMAR-certified market research and consulting firm Future Market Insights (FMI), offers insights about key factors driving demand in the Global Silicon Anode Battery market. The report tracks the sales of Silicon Anode Battery in high-growth markets, along with the analyzing the impact COVID-19 had on the aircraft industry in general, and Silicon Anode Battery in particular.
How Historical Sales of Silicone Battery Anode Compares to Future Outlook?
Product innovations, patent filings, technical developments, and research and battery testing have been assisting various silicon anode battery manufacturers to establish a stronghold amid competition. Aim at gaining competitive advantage is also a reason why significant share of investment focuses on improving battery compatibility, its performance, and its output.
According to FMI's analysis, silicon anode battery will grow at 21.5% CAGR between 2021 and 2031.
The impact of the COVID-19 pandemic has been unprecedented on a global scale. The consequences have been wide reaching, particularly for automotive batteries. Globally, the automotive industry experienced a sharp decline in 2020. Arguably, the challenge for silicon anode manufacturers is unprecedented. The industry is still in its formative stages. Since COVID-19, there have been some observable signs of slowing down. The overseas market development, remote working trends, unavailability of raw materials, and dependency on outsourcing, were some of the key trends during pandemic.
Advancements in Battery Technology to Propel Growth
Battery technologies are important for delivering advanced performances in a wide range of applications including electric vehicles, consumer electronics, renewable energy, and industrial machinery. As battery applications are growing, it has become a top priority for key players to build their positions in the market and this has ushered in various developments.
A vast number of next-generation technologies are under development, which has capability to serve large potential markets. Designers are keen on experimenting with different types of negative battery materials, which will act a better substitute to graphite anodes. Various anode chemistries are in action, such as silicon lithium or silicon graphite. These developments will fuel demand for silicon anode batteries.
How are Partnerships among Manufacturers Providing Stimulus to Silicon Anode Battery Sales?
The key players in the Silicon Anode Battery market are actively engaged in various forms of partnerships ranging from partnering with battery suppliers, chemical manufacturers, material suppliers, technical service providers, public associations or even automotive OEMs. These partnerships are creating new avenues for product development, its market positioning, improving the product value, its lifecycle, and easy deployment into the market. They are providing a stimulus in the Silicon Anode Battery market.
How is Research & Development Enabling Growth?
Some of the leading companies are investing in research and development activities to gain competitive advantage. Product development strategies and product positioning are adopted by suppliers to establish a stronger foothold in the market. They are partnering with technical service providers to gain technical expertise in the field. With companies around the world increasingly focusing on research initiatives, expansion is on the card.
Country-wise Insights
How big is the Opportunity in U.S.?
The U.S. is home to some of the prominent market players such as Amprius Inc and Enevate Corporation. Among them, the latter company is aggressively engaged in patent filings and product development. In 2020, the company reached a major milestone of more than 300 patents issued and in process. Moreover, in U.S., U.S. Department of Energy (DOE) Small Business Innovation Research (SBIR) is also pushing forward silicon anode market participants. U.S. has the highest value share in the global market and it is expected to dominate the market in the forecast period.
What are Prospects for Expansion of Silicon Anode Battery Market in China?
In China, many American and European automotive battery manufacturers as well as key players of silicon anode batteries have set up manufacturing units. China is home to one of the largest pools of consumers in the world. With manufacturing activities consistently gaining pace in tandem with the demand for state-of-the-art technology, China presents a conducive environment for the overall expansion of the market.
Enabling growth within China also is the presence of several leading players. For instance, Amprius Inc's subsidiary company, Amprius (Wuxi) Co., Ltd. is based in China.
What is Market Potential for Silicon Anode Battery in Germany?
Germany has emerged as a hotspot for silicon anode batteries. Some of the battery manufacturers have partnered with leading chemical companies from Germany. These partnerships aim to provide a collaborative effort towards driving profitable solutions while simultaneously serving market needs.
For instance, Nexeon Ltd and Wacker AG have partnered to work together on the silicon anode batteries.
The country is likely to generate profitable business in the forecast period. It has a very high market potential considering supply-side development.
What is The Market Scenario of Silicon Anode Batteries in Brazil?
Brazil will soon join the ranks of countries producing batteries for electric mobility. Foreign investments from automotive OEMs, for setting manufacturing facilities, in the country, has propelled the automotive battery demand. More than four JVs have recently been established in Brazil.
How Lucrative Is The Market For Silicon Anode Batteries in Japan?
The market in Japan has been gaining from developments in lithium ion batteries. The Japan Advanced Institute of Science and Technology is innovating different ways to stabilize the capacity of silicon anodes, for electric cars and renewable energy. Also, several U.S. silicon anode battery startups are partnering with Japanese battery suppliers and upgrading their product capabilities.
For instance, Advano partnered with Mitsui, a Japanese battery materials company which is a supplier for top Japanese OEMs, in September. This is expected to bode well for the market in Japan.
Segment-wise Insights
Silicon Anode Batteries: Low capacity or High capacity?
Silicon anode batteries are used in various types of electric vehicles and for grid and renewable energy storage applications. They have high capacity more than 2500 mAh. They also find usage in modern smart phones and laptops. These batteries are expected to witness high demand in the upcoming years, as sales of electric vehicles and high energy density applications are expected to surge.
Which is the Key Application of Silicon Anode Batteries?
Given the ongoing scenario, a large number of energy storage applications require batteries such as silicon anode batteries because they are viable as backup storage options when solar and wind options run out. Due to their unique ability to quickly absorb, hold, and then reinject electricity, battery storage systems are emerging as one of the potential solutions to increase system flexibility.
Batteries, unlike traditional storage systems such as pumped hydro storage, have the advantage of geographical and sizing flexibility, allowing them to be deployed closer to the location where additional flexibility is required and easily scaled.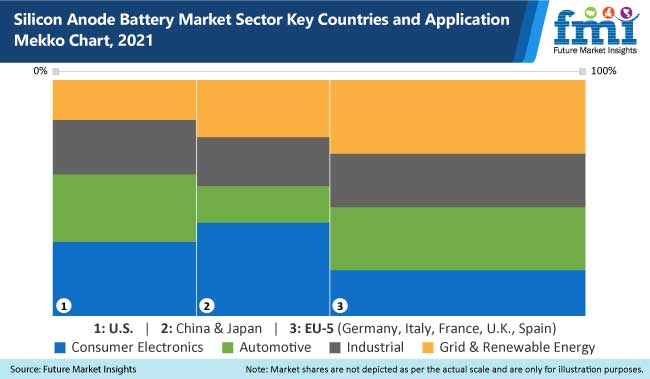 Competitive Landscape
The silicon anode battery market is a highly competitive market. The market is characterized by the presence of a large number of new entrants who are aggressively involved in building their brand name. The key participants currently driving the market, hold less than one fourth of the market value share.
Some of the leading companies operating in the market are focusing on capacity expansion. For instance, in 2019, CLB Americas announced the launch of new advanced silicon anode & binder material package aimed at high energy lithium ion batteries.
Some of the leading companies operating in the market are:
Enovix Corporation
Nanograf Corp
Boston Power Inc
XG Sciences Inc
Eocell Inc
Nanotek Instruments Inc
*The list is not exhaustive, and only for representational purposes. Full competitive intelligence with SWOT analysis available in the report.
Scope of the Report
Attribute

Details

Forecast Period

2021-2031

Historical Data Available for

2016-2020

Market Analysis

USD Million for value and MWh for Volume

Key Regions Covered

North America, Latin America, Europe, East Asia, South Asia-Pacific and Middle East & Africa

Key Countries Covered

US, Canada, Germany, U.K., Italy, Spain, Russia, China, Japan, South Korea, India, ASEAN countries, Australia, Turkey, Brazil

Key Segments Covered

Capacity, Application and Region

Key Companies Profiled

Amprius Inc
Nexeon Ltd
Enovix Corporation
Enevate Corporation
Nanograf Corp
Sila Nanotechnologies Inc
Boston Power Inc
XG Sciences Inc
Eocell Inc
Nanotek Instruments Inc
Zenlabs Energy Inc

Report Coverage

Market Forecast, brand share analysis, competition intelligence, DROT analysis, Market Dynamics and Challenges, Strategic Growth Initiatives

Customization & Pricing
World's Most Profilic Intelligence Engine
Get Access To The World's Largest Market Research Database.
Sign Up Now
Silicon Anode Battery Market by Segments
Capacity
Below 1500 mAh
Between 1500-2500 mAh
Above 2500 mAh
Application
Consumer Electronics

Smart Phones
Laptops
Tablets
MP4 Players
Digital Players
Other Microelectronic devices

Automotive

Plug in Hybrid Electric Vehicles
Hybrid Electric Vehicle
Electric Vehicle
Electric Bicycle

Industrial
Grid & Renewable Energy
Region
North America
Latin America
Europe
East Asia
South Asia-Pacific
Middle East & Africa
Key Questions Answered in the Report
Which is the most lucrative market for Silicon Anode Battery?
The U.S. currently leads the silicon anode battery market. It is expected to remain the dominant market within North America through the next decade.
Which Is The Top-Selling Type of Silicon Anode Battery in terms of Capacity?
Based on capacity, above 2500 mAh in the silicon anode batteries are the most valued as they find applications in emerging technologies like electric vehicle batteries, grid storage, and consumer electronics applications like laptops.
Which Region is Exhibiting High Demand for Silicon Anode Battery?
North America is expected to register a healthy CAGR over the forecast period. Currently, the Silicon Anode Battery market in Asia-Pacific accounts for nearly 40% of the global market.
Which are some of the leading companies in the Silicon Anode Battery Market?
Some of the leading companies in the Silicon Anode Battery market are Amprius Inc, Nexeon Ltd, Enevate Corp and Exion Corp.
Who is the key end user of Silicon Anode Battery?
Automotive industry has been exhibiting high demand for silicon anode battery. Demand is expected to rise further as applications increase in electronic vehicle manufacturing.
Need specific information?
Our Clients