An Incisive, In-depth Analysis on the Southeast Asia Pet Care Market
This study offers a comprehensive, 360 degree analysis on the Southeast Asia Pet Care market, bringing to fore insights that can help stakeholders identify the opportunities as well as challenges. It tracks the global Southeast Asia Pet Care market across key regions, and offers in-depth commentary and accurate quantitative insights. The study also includes incisive competitive landscape analysis, and provides key recommendations to market players on winning imperatives and successful strategies.
Pet care is an activity which includes providing comfort and benefit to pets and catering to all their needs. Pet care includes vaccination, food, luxury items like beds, glasses, clothes and different products to maintain hygiene, consulting vet for health check-up, and spending time with them. Pets could be various type of animals or birds such as dog, cat, fish, mammals etc. Rise in Per Capita GDP and changing consumer attitude towards pets has brought a considerable shift among people towards pet health and wellness.
The Southeast Asia pet care market is estimated at US$ 952 million in 2014 and expected to reach 1,412.7 million by 2020, reflecting a CAGR of 6.8% during forecast period.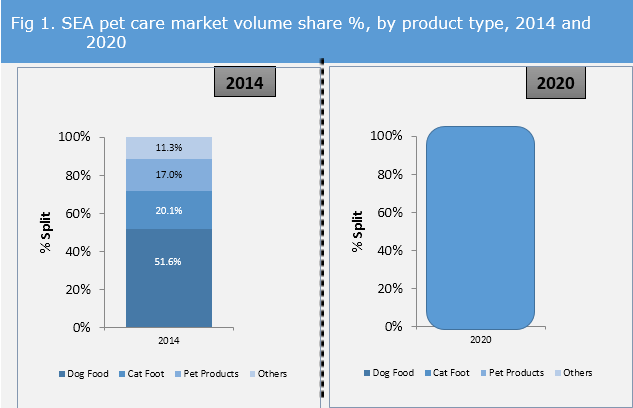 Dog food was valued US$ 491.8 million in 2014 with 51.6% market share. It is expected to lose its market share by 30 BPS but maintain its top position through the forecast period. Cat food is the second largest segment in terms of revenue and will maintain its dominance during the forecast period, owing to new product development in this category. Pet products is likely to exhibit highest CAGR of 7.1% during 2015-2020 with rising y-o-y growth through the forecast period.
The SEA Pet care market is also segmented on the basis of channel which includes supermarket, veterinary clinic, pet shop and others. Supermarket is the largest channel which account for 36.3% market share in 2014 and likely to continue the same momentum in 2020. Despite being the smallest market, other channel is expected to witness highest CAGR of 7.3% during the forecast period.
The key categories of SEA pet care market are economy, mid-priced and premium products. Mid-Price was the largest category in 2014 which accounted for US$ 547.2million and is anticipated to expand at a CAGR of 6.5% from 2014-2020. Despite being the smallest market, premium products accounted for US$ 265.0 million in 2014 and it is likely to expand at the highest CAGR of 7.2% during the forecast period.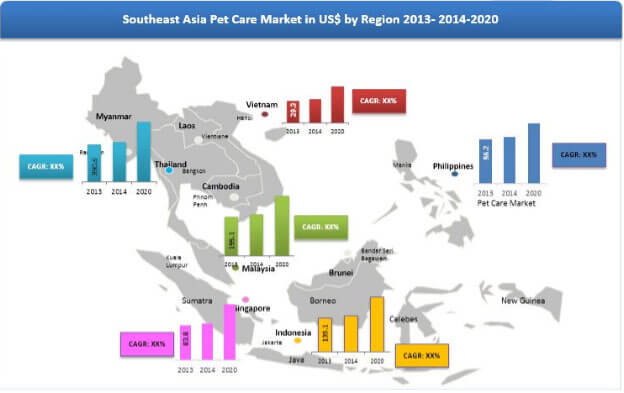 Geographically, the market is segmented into six countries namely Thailand, Malaysia, Indonesia, Singapore, Philippines and Vietnam. Thailand, Malaysia and Indonesia together constituted more than 80% of the market share in 2014. Currently, Thailand is the largest market in terms of size with 43.6% market share and is expected to dominate through the forecast period. However, Philippines is anticipate to emerge as the most vibrant market in terms of CAGR followed by Vietnam.
Changing consumer lifestyle and increasing disposable income in Southeast Asian countries is driving increasing acceptance for pets, not only among the high-income group, but also the middle-income group. Furthermore, rising demands from pet owners for more nutritious, healthy and organic foods for their pets and growth of the pet humanization and increasing adoption of private label brands in countries such as Thailand, Singapore, Indonesia and Malaysia are major factors driving the SEA pet care market.
Some of the market leaders in the SEA pet care market are Mars Inc., Nestle Purina, Zoetis, Merck & Co., among others. The strategic intent of the participants is to build their presence in emerging markets and meet the needs of more customers and pets around the world.
The SEA (Thailand, Malaysia, Indonesia, Singapore, Philippines, and Vietnam) pet care market is expected to witness significant growth, by registering a robust growth of nearly 6.8% by 2020. Increasing concern towards pet's health and demand for luxury products is an equivalent contributor to the total Southeast Asia Pet Care Market growth. Dog food, Cat food, product variants at affordable prices are among the prominent factors driving the demand for pet care market across Southeast Asia. Also, an influx of new products in veterinary services specifically for dogs and cats by key players such as Merck Animal Health is expected to bolster the market growth thereby increasing competitiveness in the market. Geographically, Thailand represents a huge market potential followed by Malaysia wherein Philippines and Vietnam have vast potential for pet care market growth and development.
In this study, we analyze the Southeast Asia Pet Care Market during 2014-2020. We focus on:
Market Value Forecast, 2013-2020

Distribution Channel as a key focus due to increasing product penetration

Key drivers and developments in Pet Care

Key Trends and Developments of Pet Food, Pet Care Products and others

Key Drivers and developments in particular countries such as Thailand, Malaysia, Indonesia, Singapore, Philippines and Vietnam
Key Geographies/ Countries Covered
Thailand, Malaysia, Indonesia, Singapore, Philippines and Vietnam
Other Key Topics
Hypermarkets & Supermarkets, Pet Shop, Veterinary Clinic, Economy products, Mid-Price Product and Premium Products
Examples of key Companies Covered
Zoetis, Merck Animal Health, Mars Pet care., Affinity Pet Care S.A., Nestle Purina Pet Care, Qian Hu Corporation, Central ProteinaprimaTbk PT, Hill's Pet Nutrition Inc., Thai Union Frozen Products PCL, Universal Robina Corporation
COVID -19 : Impact Analysis
Request the coronavirus impact analysis across industries and markets
Request Covid -19 Impact
CASE STUDIES
See how our work makes an impact.
At FMI, we design strategies that are adaptive, impactful, and implementable.