Asia Pacific Tomato Seed Oil Market Snapshot
The Asia Pacific tomato seed oil market revenue totaled US$ 52.8 Mn in 2021, according to Future Market Insights (FMI). Exhibiting robust growth at 7.3% CAGR, the tomato seed oil market is expected to reach US$ 106.4 Mn by 2031.
In emerging economies such as China, India, and Japan, demand for personal care & cosmetic goods, anti-aging cosmetics, and anti-wrinkle serum is increasing. This has in turn fuelled the demand for tomato seed oil as a key ingredient used in various skin care products.
As per FMI, application within the cosmetics industry will continue surging through the course of the forecast period. The cosmetics industry is likely to dominate the market, accounting for 64% of total demand registered in the market through 2031.
Key Points Covered in Asia Pacific Tomato Seed Oil Market Study
Market estimates and forecast 2016-2031
Key drivers and restraints impacting market growth
Segment-wise, Country-wise Analysis
Competition Mapping and Benchmarking
Brand share and Market Share Analysis
Key Product Innovations and Regulatory Climate
COVID-19 Impact on Tomato seed oil Market and How to Navigate
Recommendation on Key Winning Strategies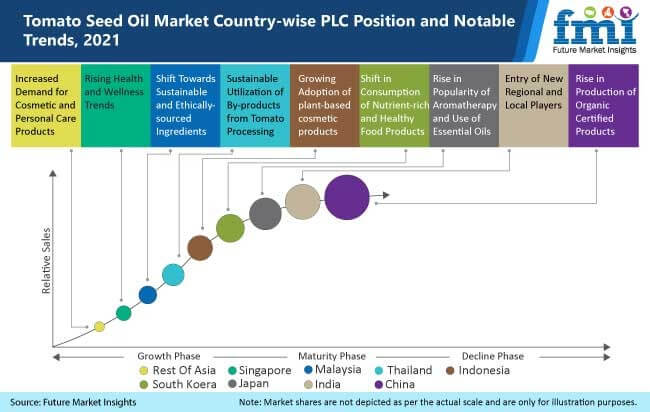 2016-2020 Asia Pacific Tomato Seed Oil Market Outlook in Comparison To 2021-2031 Growth Forecast
Demand for tomato seed grew at healthy 5.9% CAGR between 2016 and 2020. With increasing application of tomato seed oil in diverse industries such as food & beverages and cosmetics, sales are set to surge at over 7.3% CAGR during the forecast period (2021-2031).
Driven by the rising demand for organic personal care and skin care products, tomato seed oil sales within Asia Pacific will consistently rise. Tomato seed oil has emerged as a vital ingredient used in the cosmetic industry is widely used in the production of lotions, body butters, and other moisturizing creams.
Tomato seed oil has non-greasy texture and it is easily permeable into the skin. This makes it an ideal ingredient for skin care products.
As it has several anti-ageing benefits and is rich with anti-oxidants, tomato seed oil has emerged as a key ingredient used in anti-aging and anti-wrinkle creams. This plant based oil also is used in soaps and other toiletries.
Tomato seed oil is easily available and it is cost-effective and organic. FMI predicts impressive growth in sales of cold pressed tomato seed oil. Besides application in the cosmetics industry, sales as key component of personal wellness products and dietary supplements will drive sales of cold press tomato oil seed in the near future.
How is Focus towards Organic Ingredients Affecting Tomato Seed Oil Sales?
Organic products are carving niche in food and cosmetic industries. Their impressive nutrition profile and health benefits have put organic ingredients at the top of the chart. This trend will continue as consumers showcase higher inclination for products containing ingredients that are not cultivated using pesticides or chemicals.
Considering this, the sales of organic tomato seed oil are expected to surge, thanks to its high nutrient content. This trend will have a long-term positive impact on the market, despite the ongoing debate concerning whether or not its nutritional quality outpaces that of regular tomato seed oil. As consumers turn to clean labels and exhibit higher demand for transparency of the ingredient list, sales of organic tomato seed oil will pick up.
However, a sizeable portion of shopper still prefer regular tomato seed oil in their daily intake or as ingredient in their cosmetics. Hence, to meet the demand for both forms, manufacturers are investing in organic and clean-label tomato seed oil in addition to the conventional ones.
Will the Tomato Seed Oil Sales Increase with E-Commerce Penetration?
The advent of e-commerce and digital platforms has transformed commercial activities. Key manufacturers are extensively focusing on upscaling their digital marketing capabilities to keep pace with dynamic consumer preference.
Collaboration with e-commerce industry giants such as Amazon, Alibaba, and others has helped manufacturers to bridge the gap between consumers and them even amid the ongoing pandemic. Hence, key players are forming alliances with distributors to strengthen their supply network.
Through online platforms, manufacturers can provide good service to their customers directly. They are also using digital promotional activities to expand their online presence and increase their sales.
Hence, top tomato seed oil producers are focusing on expanding their digital and e-commerce presence to increase capitalize on existing opportunities.
How Is The Tomato Seed Oil Penetration In Pharmaceutical And Food Service Segment?
Tomato seed oil businesses have yet to penetrate into the pharmaceutical and food service markets. While tomato seed oil has numerous advantages and can be used as an ingredient in a variety of products. Despite widespread concerns about rising costs and government controls, the pharmaceutical industry is likely to grow dramatically over the next few decades. The sector's breadth and expansion will continue to be pushed by significant innovations and technological advancements.
Additionally shifting demographics, increasing preferences for brand products, a modernization of the retail sector, and greater consumer acceptance of processed foods will all contribute to the food segment's growth, hence tomato seed oil manufacturers can leverage the growth of these industries to boost sales.
How will Tomato Seed Oil Market Gain from Overhaul of Diet Culture in the Coming Decade?
Many people have lost faith in costly diets and dodgy supplements that promise big results but don't deliver. Individuals are expected to seek a more balanced view of health in the coming years, making restriction diets and weight loss programs less popular.
To encourage healthy eating, tomato seed oil, which is a rich source of various nutrients and vitamins, can be used in food preparations and meals. Manufacturers can promote tomato seed oil as a sustainable and natural ingredient for healthy food products as consumers seek out companies that offer sustainable and cost-effective food items.
Limited Shelf Life of Tomato Seed Oil Might Stunt Growth
The shelf life of tomato seed oil is determined by how it is stored. When exposed to oxygen, it can go rancid. Tomato seed oil must be stored with extreme care. Unfavorable temperature, sunlight, and air exposure can shorten the oil's shelf life.
It is hence, advised to store tomato seed oils in small glass bottles to extend its longevity without affecting its properties. This can prove challenging for manufacturers and exporters who may require to store excess products produced.
Surge in Demand for Essential Oils Enabling Growth in the Market
Tomato seed oil is classified as a carrier oil since it can be used as a base ingredient for essential oils. It assists in the dilution of concentrated essential oils so that they can be applied directly on the face and body.
It increases the absorption and overall functionality of essential oils as well. Consumers consider essential oils to be a safe and holistic alternative to allopathic skin care products. Tomato seed oil blends well with grapefruit oil, dill oil, ginger, basil and orange essential oil.
Aromatherapy, which uses both essential oils and carrier oils, is gaining popularity in the healthcare industry. It is regarded as an alternative to medical treatment for skin illnesses, gastrointestinal issues, colds, coughs, anxiety, and pain relief. The rising preference for essential oils, steered by the popularity of aromatherapy, is set to result in increase in tomato seed oil sales.
Country-wise Insights
How Big is the Opportunity in China?
According to FMI, China is projected to lead the East Asia tomato seed oil market, accounting for 22.9% of the total sales through 2031.
Increasing application of tomato seed oil in anti-ageing creams and skin treatments are accelerating its sales. Consumers in China show greater inclination for application in anti-ageing creams. Its application in skin treatments also is on the rise since tomato seed oil reduces the appearance of wrinkles and other age indicators, preserving beautiful skin.
Tomato seed oil's multifaceted applications in skin care, hair care, and cosmetics are projected to increase its demand in China.
How is Demand for Essential Oil Affecting Growth In South Korea?
The rising demand for essential oil in South Korea will act as a chief growth driver. According to the report, South Korea tomato seed oil market is expected to be valued at US$ 11.1 Mn in year 2021.
South Korea is projected to hold significant market share for tomato seed oil. Demand for essential oils specifically in the cosmetic, dietary, and pharmaceutical industries will propel the growth of tomato seed oil sales in the country.
What are the Factors Driving Tomato Seed Oil Demand in Japan?
Japan is one of the largest technology-driven countries across the globe. By 2031, it is expected to account for more than 11.6% of tomato seed oil consumption within Asia Pacific. Backed by the extensive adoption of dietary supplements, the demand for tomato seed oil is expected to rise in Japan.
As Japan offers easy access to latest technologies, manufacturers of tomato seed oil are eyeing the market to establish their production pipelines. Availability of several operations units such as filtrating, drying, squeezing and grinding which are used in the process of extracting tomato seed oil is expected to create growth opportunities for Japan market.
Will Indonesia Emerge as a Potential Tomato Seed Oil Market?
Indonesia is expected to account for over 11.0% of the total market share in 2021, according to Future Market Insights.
Rising health concerns and high prevalence of obesity, diabetes, and cardiovascular diseases in the country have increased the consumption of plant-based products. With growing adoption of organic products in food and cosmetics industries in Indonesia, sales of tomato seed oil are expected to increase.
How will the Tomato Seed Oil Market in India Expand?
In 2021, India is projected to account for over 16.6% market share in Asia Pacific. With growing trend for veganism and rising adoption of organic products, demand for tomato seed oil will surge.
On the back of this, India's tomato seed oil market is expected to grow at an impressive CAGR of 10.5% between 2021 and 2031.
Since India's market are price-sensitive, it is quite difficult for companies to penetrate this country. Hence, recognizing the untapped potential in the market new and existing producers of tomato seed oil are penetrating the market by reducing the prices of their products and highlighting the health benefits.
Category-wise Insights
Unrefined Tomato Seed Oil Form to Remain Highly Sought-After
In terms of form, unrefined tomato seed oil will dominate the market, accounting 76.6% of market share in 2021. Owing to rising demand for healthier and natural oil, unrefined form of tomato seed oil is the most preferred.
Unrefined oils are extracted which helps them to stay in the most natural state. Due to its better quality of flavour, nutrition, and aroma, coupled with less quantity of chemicals, unrefined oil is preferred over refined oils.
Why is Conventional Tomato Seed Oil Preferred over Organic?
Based on nature, conventional segment holds a dominant share of more than 78.8%, exhibiting growth at 7.3% CAGR over the forecast period. While demand for organic tomato seed oil will surge at 9.0% CAGR, conventional tomato seed oil outpaces it in terms of market share.
However, with rising trend for organic products, the segment is expected to witness substantial growth during the forecast period.
Which is the Preferred Distribution Channel for Tomato Seed Oil?
Indirect sales are projected to account for 75% of market share through 2031. Increasing penetration of e-commerce platforms have boosted the growth of online retailers. As per Future Market Insights, the online retailer segment is expected to register highest growth at 10.1% CAGR.
Indirect sales segment will exhibit impressive growth at 8.5%CAGR which include several distribution channels such as grocery retailers, hypermarket/supermarket, convenience stores wholesalers, food and drink speciality, health and wellness stores, and online retailers.
What is the Chief Application of Tomato Seed Oil?
In terms of application, cosmetic industry will account for over 59.9% market share in 2021 followed by food & beverage industry, which held a market share of 14.9% in 2021. When applied to the skin, tomato seed oil has a variety of qualities that make it a popular cosmetic product.
Tomato seed oil moisturizes and improves skin suppleness while also reducing wrinkles, dryness, and creases. Tomato seed oil is also a great addition to bath, body, skin, and baby care products, as it provides excellent skin protection while also stabilizing and improving anti-oxidant activity.
Which is the Preferred Packaging Type for Tomato Seed Oil?
In terms of packaging type, bottle segment is projected to hold largest share, capturing 53.7% of the market share in 2031. Heat, light, oxygen, and moisture can all have an impact on the oil's expiration date. Because sunlight can hasten the expiration of oils, it is advised that they be stored in bottles. Essential oils can endure a long time if they are stored properly. Because product compatibility is dependent on the container's ability to withstand oil, bottle packaging is the most popular option.
Competitive Landscape
Manufacturers in the global tomato seed oil market are focused on strengthening their digital presence to expand their customer base, they are also heavily investing in research and development activities to develop cost-effective technology to meet the surging requirement.
For instance
Botanic Innovations, based in USA stated that its tomato seed oil is manufactured using NatureFresh Cold-pressed system, which has helped increase the sustainability profile of the product and reduce carbon footprints associated with its production. Several tomato seed oil businesses are predicted to transition to 100 percent natural, ethically sourced, and eco-friendly product offerings during the next decade
Scope of Report
Attribute

Details

Forecast Period

2021-2031

Historical Data Available for

2016-2020

Market Analysis

USD Million for Value

Key Regions Covered

Asia Pacific

Key Countries Covered

China, Japan, South Korea, India, Thailand, Indonesia, Malaysia, Singapore, Rest Of Asia

Key Segments Covered

Form, Nature, Distribution Channel, End Use Application Packaging And Countries

Key Companies Profiled

AG Industries
AGS Organics
O&3
Kazima Perfumers (est.2010)
SVA Organics
Haekels
EOC (Essential Oils Company)
Natural Sourcing LLC
Escentials of Australia
Sheiling Laboratories
PRZ Herbals Care
Rakesh Sandal Industries
Others

Report Coverage

Market Forecast, Company Share Analysis, Competition Intelligence, DROT Analysis, Market Dynamics and Challenges, and Strategic Growth Initiatives

Customization & Pricing

Available upon Request
Key Questions Answered in Report:
What is the current valuation of tomato seed oil market?

The tomato seed oil market is expected to surpass a valuation of US$ 52.8 Mn by 2021 end.

At what rate did the tomato seed oil market expand in the last five years?

Between 2016 and 2020, the tomato seed oil sales grew at 5.8% CAGR.

What are the key trends shaping the tomato seed oil market?

Factors driving the demand for tomato seed oil include increasing use of tomato seed oil in cosmetics and food & beverage industry, growing trend for plant-based and organic products, and increasing demand for essential oils.

What is the Demand Outlook for the tomato seed oil Market?

Tomato seed oil market will register prolific growth at a CAGR of 7% between 2021 and 2031.

What is the cumulative share of top companies in tomato seed oil market?

Top five companies covered nearly 75% of the overall tomato seed oil market in 2021.

At what rate will tomato seed oil sales increase in Japan and South Korea?

Tomato seed oil sales will increase at 6.2% CAGR and 8.7% CAGR in Japan and South Korea respectively.

Which are the top five countries driving tomato seed oil market demand?

Leading countries driving demand in the tomato seed oil market are China, South Korea, Indonesia, India, and Japan.

What are the key statistics for CBD oil market in South Korea?

In 2021, South Korea holds around 0.8% market share in the East Asia CBD oil market.

Which Is Highest-Grossing Country in the Asia Pacific Tomato Seed Oil Market?
In 2021, China is estimated to account for more than 27.0%, registering its dominance in the tomato seed oil market.
Tomato Seed Oil Market by Category
By Form:
By Nature:
By Distribution Channel:
Direct sales
Indirect Sales

Grocery Retailers
Hypermarket/Supermarket
Convenience Stores
Wholesalers
Food and drink Specialty
Health and Wellness Stores
Online Retailer
Other Retail Format
By End-Use:
Food Service
Food and Beverages

Bakery
Confectionary
Dressing and Condiments
Sauces and Spreads
Ready Meals
Beverage Processing
Others

Cosmetic Industry

Skin Care
Lip Care
Hair Care
Cosmetic
Aromatherapy

Industrial
Animal Feed
Dietary Supplements
By Packaging:
Aseptic
Pouches
Bottles
Jerry Cans
Tin Plate Containers
By Countries:
China
Japan
South Korea
India
Thailand
Indonesia
Malaysia
Singapore
Rest Of Asia
Need specific information?
Talk Show:
The Rise of Intelligent Packaging
Personalized, Connected and Sustainable
November 18, 2021
11:00-11:45 AM PST (USA & Canada)
This is a LIVE session