Market Outlook
Asian sea bass, often known as a Barramundi, thrive in difficult habitats, unscrupulously migrating and reproducing. Manufacturers have identified a lucrative opportunity in the production of Asian sea bass as many countries are encouraging production for enhancing food security index. An increasing number of producers are using high end technologies, which has led to the increase in the number of commercial-medium sized farms.
According to the Food and Agriculture Organization (FAO), the manufacturing of finfishes is projected to grow by 7.5% over the next decade. This is expected to bode well for the market. Recently, developing countries such as India are exhibiting increasing consumption of Asian sea bass. This can also be attributed to the rising awareness regarding the many health benefits of high protein and omega 3 fatty acids in Asian sea bass.
In its new study, ESOMAR-certified market research and consulting firm Future Market Insights (FMI) offers insights about key factors driving demand for Asian sea bass. The report tracks the global sales of Asian sea bass in 20+ high-growth markets, along with analyzing the impact COVID-19 has had on the food and beverage industry in general, and Asian sea bass in particular.
How the Historical and Future Outlook for Asian Sea Bass Market Match Up?
Asian sea bass is native to the Eastern Countries and Australia, and was first imported to India from Thailand in 1952. The commercialization of the market has brought in numerous developments for the production of large quantity and high quality Asian sea bass.
Different countries are issuing various guidelines for responsible farming of Asian sea bass, to ensure no environmental adversity is been created while farming. Currently over 91 Asian sea bass processing plants and 92 Asian sea bass farms are Best Aquaculture Practices (BAP) Certified, from which over 75% of farms are from China. According to FMI's analysis, Asian sea bass sales have grown at 4.1% CAGR between 2016 and 2020.
Nowadays, the fish food sector has become more dynamic and heterogeneous. However, in more progressive economies, fish processing specialized predominantly in high-value processed and fresh products and ready and/or portion controlled, even-quality meals. Moreover, in many developing countries, fish handling has been outgrowing traditional methods to more innovative significance-adding procedures such as cooking, breeding and specific quick-freezing.
With increasing growth in fish consumption in Asian countries, particularly in Southeast Asia and eastern countries excluding Japan the focus on aquaculture has greatly surged. Coupled with this, increased international fish trade is also one of the key factors driving Asian sea bass market. FMI has projected the global Asian sea bass market to grow at 5.5% CAGR through 2031.
How Blue Growth Initiative is helping Asian Sea Bass Market to grow?
The expanding aquaculture and fisheries sector is threatened by depleting fish wealth. To safeguard the biosecurity and challenges posed by rising incidence of animal diseases several initiatives are undertaken by producers and policy-makers alike.
For instance FAO's Blue Growth Initiative was integrated to manage aquatic resources while protecting the ecosystem. These initiatives also encompassed families and communities whose livelihoods are dependent on aquaculture and fisheries. Blue growth initiatives focuses on employment and livelihood, sound fisheries management to protect ecology, and food security and nutrition.
The implementation of favorable regulations such as these will continue enabling growth in the market.
How is Demand for Essential Micronutrients Affecting Asian Sea Bass Sales?
As a valuable addition for nutritious and diversified diets, fish adds to food safety in numerous regions of the world. Moreover, fish is highly nutritious as it provides high value of protein, and an important source of minerals and fatty acids. Additionally, the dietary impact of fish remains as an added benefit in terms of animal proteins, which is measured as an essential constituent in some densely populated countries where proteins intake level total may be low. Hence, the increasing demand from both developed and developing countries has helped the Asian sea bass market to grow rapidly.
How Will Rapid Productivity in Aquaculture Affect Asian Sea Bass Market?
The increasing trend of breeding technology in aquaculture is driving the Asian sea bass market globally. Moreover, technologies such as biotechnology and genetic modification also hold great potential to improve the quantity and quality of fish cultivated in aquaculture. Additionally, biotechnology holds the prospective to boost reproduction and the early developmental success of cultured organisms. Technological advancements are expected to prove crucial for growth of the market.
Country-wise Insights
How Big is the Opportunity in Indonesia for Asian Sea Bass market?
Developing countries such as Indonesia are anticipated to exhibit considerable growth. The aquaculture industry in Indonesia is adopting novel technology and production process to improve productivity and to overcome resource constraints. Asian sea bass market players in Indonesia have started acquiring Internet-of-Things (IoT) solutions and are striving to develop a robust R&D ecosystem to address the technology gaps.
Asian Sea Basses Have Become Common in Malaysia Fish Market
The rising demand for Asian sea bass fillets in Asian countries is creating high growth opportunities. Rising willingness to spend on good quality food will continue enabling growth in Malaysia. Asian sea bass is easy to farm and is considered an economic alternative for consumers willing to adapt seafood as a part of the regular diet.
How is Increasing Technological Affecting China Market?
China has one of the leading aquaculture industries in the world. According to IFFO, the Marine Ingredients Organization, the total sea bass output in China stood at 156,000 tons in 2018. Fujian Province, Guangdong Province (Zhuhai and Zhanjiang), Guangxi Province, Shandong Province, and Zhejiang Province are among key farming areas.
Manufacturers in China are striving for vertical integration to ensure quality standards are achieved at every stage of the supply chain. The country is also striving to achieve the maximum level of sustainability to strengthen its market position.
What Lucrative are Prospects for Australia Market?
Australia is the hot spot for Asian sea bass in the global market, in terms of both productions and consumption. The region is equipped with high end technology for Asian sea bass aquaculture. The country is extensively developing its infrastructure for Asian sea bass production by providing training to the workers, building capacity, and more to further strengthen its market position.
Australia and African countries are partnering for Asian sea bass production for the development of the industry by joint research projects. The country exports its products at a much cheaper rate than other countries such as China.
What is Driving the U.S. Market for Asian Sea Bass?
The United States is anticipated to register rapid growth in the consumption of Asian sea bass. Increasing demand for packaged food and inclusion of Asian sea bass dishes on the menu are primary factors enabling growth in the U.S. Regional consumers are specifically concerned about the labels for instance, non-GMO, organic, eco-friendly, and many more, which is a key trend followed by players in the U.S. market for Asian sea bass, as them at avoiding potential risk of adverse effect.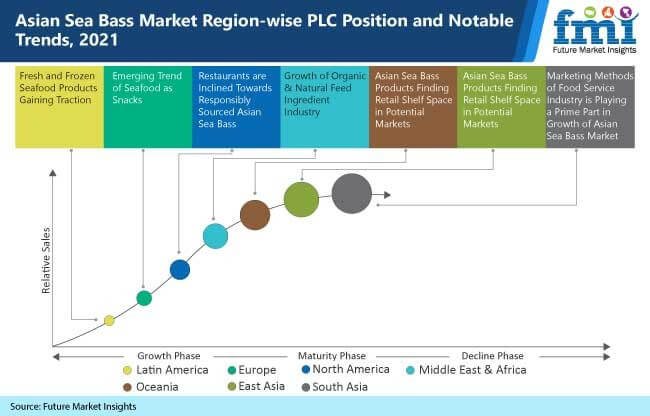 Category-wise Insights
Which is the Preferred Source for Asian Sea Bass?
The farmed segment holds the largest share in the Asian sea bass market. The implementation of cage culture technologies and deep sea farming have been aiding Asian sea bass farming in both freshwater and brakish water, hence the demand for farmed Asian sea bass is increasing globally.
Why is the Top-selling Form of Asian Sea Bass?
Due to the rising demand for packaged food and the food with greater shelf life, the fillet form of Asian sea bass is in great demand. Asian sea bass is traded globally in various countries in form of fillet due to convenient storage with extended shelf life.
Which is the Preferred Sales Channel for Asian Sea Bass?
Online retail channels are anticipated to emerge as preferred sales channels. They are considered very convenient. Besides this, online channels offer greater transparency in terms of choice of products and price comparisons. However, discount stores and specialty food stores are also growing at a considerable rate.
Competitive Landscape
Key manufacturers in the Asian sea bass market are heavily investing in the research & development of improved Asian sea bass. Research & development is done with the aim of finding the appropriate farming practices to ascertain better yield with improved nutrients quantities. With changing climatic conditions, preservation of fingerlings for a long time is very essential so as to assure better fillet quality and quantity for worldwide export. Hence, research & development in the Asian sea bass market is essential.
Producers and processors are functioning together more narrowly to improve the product mix, achieve improved yields and react to progressing safety and quality requirements in introducing countries as well as consumers' sustainability concerns. In addition, the outsourcing of processing activities to other countries and regions is common, although its extent depends on the species, product form, cost of labor and transportation.
For instance, scientists at Temasek Life Sciences and Singapore Food Agency have been successful in producing a new breed of Asian sea bass that is easy for rearing. Besides this, they are adopting various expansion strategies.
For instance, Allergo Aqua, which is a start-up, partnered with a Singapore based farm - Barramundi Asia to improve its capacity for the production of high quality bass.
Some of the leading companies operating in the Asian sea bass market are:
Viet Asia Foods (VAFCO)
MainStream Aquaculture
A.O.Kingdom.
NGHI SON AQUATIC PRODUCT EXIM CO., LTD
Oceanpick
Barramundi Asia
Allegro Aqua
Mattes Seafood
Ocean Treasure
*The list is not exhaustive, and only for representational purposes. Full competitive intelligence with SWOT analysis available in the report.
Scope of the Report
Attribute

Details

Forecast Period

2021-2031

Historical Data Available for

2016-2020

Market Analysis

USD Million for Value and MT for Volume

Key Regions Covered

North America, Latin America, Europe, East Asia, South Asia, Oceania, MEA

Key Countries Covered

US, Canada, Brazil, Mexico, Rest of Latin America, Germany, Italy, France, U.K., Spain, BENELUX, Nordic, Russia, Poland, Rest of Europe, Japan, China, South Korea, India, Thailand, Indonesia, Malaysia, Singapore, Rest of South Asia, Australia, New Zealand, GCC Countries, South Africa, Rest of MEA

Key Segments Covered

Source, Form, Sales Channel, and Region

Key Companies Profiled

Amacore B.V.
Viet Asia Foods (VAFCO)
MainStream Aquaculture
Shwe Yamone Manufacturing Co., Ltd.
A.O.Kingdom.
NGHI SON AQUATIC PRODUCT EXIM CO., LTD
Oceanpick
Barramundi Asia
Allegro Aqua
Mattes Seafood
Ocean Treasure

Report Coverage

Market Forecast, brand share analysis, competition intelligence, Drivers, Restraints, Opportunities and Threats analysis, Key factors, Market Dynamics and Challenges, Strategic Growth Initiatives

Customization & Pricing
Key Questions Answered in Asian sea bass Report
At what rate is the demand for Asian sea bass is expected to grow?

The global Asian sea bass market is estimated to grow at CAGR of 5.0% over the next 5 years.

Which is the preferred Asian sea bass form?

Asian sea basses are more preferred in fillet form owing to increasing demand for extended shelf-life and ease of storage and handling.

Which are the leading companies in the Asian sea bass market?

Some of the leading companies operating in the market are Amacore B.V., Viet Asia Foods (VAFCO), MainStream Aquaculture, Shwe Yamone Manufacturing Co., Ltd., A.O.Kingdom., NGHI SON AQUATIC PRODUCT EXIM CO., LTD, Oceanpick, Barramundi Asia, Allegro Aqua, Mattes Seafood, Ocean Treasure among others.

Which is the Preferred Source of Asian Sea Bass?

Asian sea bass is primarily farmed in freshwater and brakishwater.
Asian sea bass Market by Category
By Source
Farmed Asian Sea Bass

Freshwater Asian Sea Bass
Brakishwater Asian Sea Bass

Wild Asian Sea Bass
By Form
Whole Asian Sea Bass
Headed and Gutted Asian Sea Bass
Fillet Asian Sea Bass
Frozen Asian Sea Bass
By Sales Channel
Direct Sales-B2B
Food Service
Retail Sales

Modern Trade
Convenience Store
Specialty Food Stores
Wholesale Store
Discount Stores
Online Retail
Other Retail Platform
By Region
North America
Latin America
Europe
East Asia
South Asia
Oceania
Middle East & Africa
Need specific information?
Talk Show:
The Rise of Intelligent Packaging
Personalized, Connected and Sustainable
November 18, 2021
11:00-11:45 AM PST (USA & Canada)
This is a LIVE session