Conventional Sea Breams Hold Nearly 75% Market Share
By the end of 2019, nearly 3/4th of sea bream market revenues were accounted by conventional sea breams. However, the demand growth for organic sea breams is growing at a healthy pace owing to benefits such as low fat content, low liver lipid content, and high hepatosomatic index, over their conventional counterparts.
The demand growth is further driven by the accelerating shift towards organic products and the study emphasizes notable spike in organic sea bream revenues in 2023.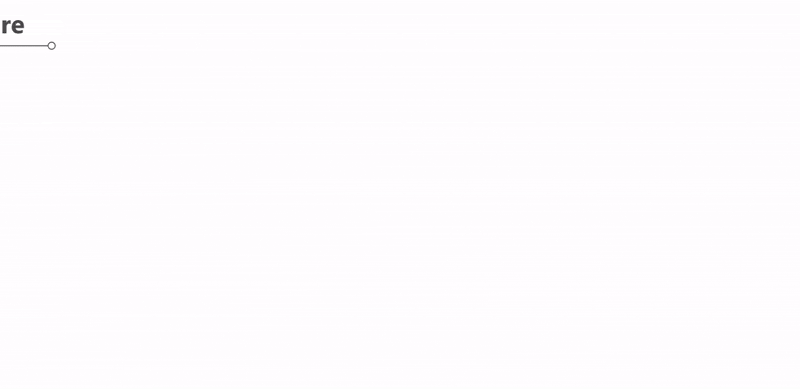 North America to Surpass Europe
Rising awareness about the health benefits of consuming sea breams including, red breams, and black breams, is responsible for Europe's hegemony in the global sea bream market. Significant expansion of veganism and escalating per capita fish consumption in countries - Norway, and Spain - will remain the primary drivers to Europe's market that currently accounts for over a third revenue share. However, towards the end of the forecast period, the North American market is expected to surpass the market in Europe owing to surging consumption of seafood as snacks. Further, the market in South Asia & Pacific and Latin America is offering opportunistic growth potential due to less regulation interference in the aquaculture farming.
Leveraging E-Retail Channels for Bigger Margins
Witnessing the burgeoning e-retail ecosystem, manufacturers are distributing their offerings via established e-retailing platforms such as Alibaba, and Amazon. Despite a relatively lower revenue generation, fast-paced development of integrated e-retailing platforms and logistics, improvements in the online buying experience for consumers, and a wider range of online payment systems, are expected to boost the growth of the global sea breams market in the coming years.
How Growth will Unfold
Sea bream's worth about US$ 221 Mn were consumed by foodservice sector in 2018, which accounts for over a third revenue share of the sea bream market. While maximum revenues will be generated via the foodservice providers, food processing industry is also anticipated to emerge as a predominant consumer of sea breams in the near future. Further, this report reveals lucrative sales opportunities through the animal and pet food industry.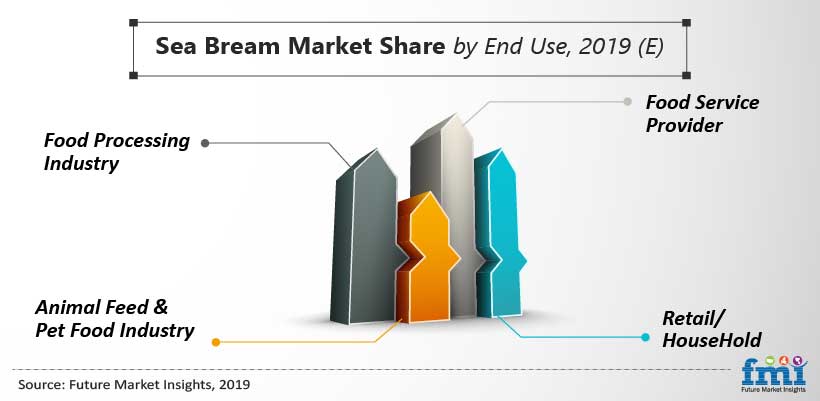 FREQUENTLY ASKED QUESTIONS ABOUT GLOBAL SEA BREAM MARKET
Which factor predominantly assists the increase in sea bream consumption?
Manufacturers are witnessing higher demand for sea bream compared to other sea food products. Whether for preparing seafood at home or while placing order in restaurants, people are opting for sea bream against other sea foods. This factor is particularly assisting the growth of global sea bream market.
Which form of sea bream will record the highest sales in the next five years?
The processed form of sea bream will continue witnessing impressive growth and hold the leading market share. Rising number of working professionals and the increasing demand for processed food because of its convenience will aid the growth of this segment.
What is future prospect for white bream?
In the current scenario, gilt-head bream holds the major share in the sea bream market. However, it is forecast that in the following years, white bream from the sea bream market will show higher growth compared to other types of sea bream due to its rising demand on account of its different health benefits.
Which application area will offer the most lucrative growth opportunities for sea bream market?
Sea bream market earns major share of revenue from the foodservice industry due to seam bream's increasing applications in various food products. Sea bream is less costly than other sea foods, which pushes its use in the foodservice industry. Growth of animal feed and pet food industries would also support market growth.
How does the regional scenario of sea bream market look like?
The global sea bream market is highly organized in developed regions such as Europe and North America. However, the market is developing steadily in developing regions such as Latin America, East Asia, and South Asia. Europe however is currently the leading shareholder in global sea bream market.
Will declining price of gilt-head bream affect the future trajectory of the sea bream market?
Yes, the price of gilt-head bream has remained relatively stagnant as compared to other sea bream types such as white bream and pandora bream. However, sales will get significantly influenced by the production of 'gilt-head bream' in the Europe sea bream market.
SEA BREAM MARKET TAXONOMY
The global Sea Bream market is segmented in detail to cover every aspect of the market and present complete market intelligence to readers.
Nature
Product
Red Bream (Red Porgy)
Gilt-head Bream
Black Bream
Pandora Bream
White Bream
Others
Application
End-Use
B2B
B2C

Store-Based Retailing

Hypermarket/Supermarket
Fish Mongers
Local Market
Others

Online Retailing
Region
North America
Latin America
Europe
East Asia
South Asia
Oceania
Middle East and Africa
Need specific information?