Textile chemicals Market Snapshot
The textile chemicals market will register a year-on-year (YoY) growth at 3%CAGR, surpassing a valuation of US$ 22,126.3 Mn in 2021. According to Future Market Insights, overall textile chemicals sales are set to rise at 5.40% CAGR during the forecast period of 2021 and 2031.
China, Germany, and Japan will emerge as key producers and exporters of textile chemicals market. Soaring demand for non-toxic chemicals that reduce water consumption in textile production will bolster growth in the market, enabling it reach 3110 kilo tons (KT) by 2031-end.
Key Points Covered in Textile Chemicals Market Study
Market estimates and forecast 2021-2031
Key drivers and restraints impacting market growth
Segment-wise, Country-wise, and Region-wise Analysis
Competition Mapping and Benchmarking
Brand share and Market Share Analysis
Key Product Innovations and Regulatory Climate
COVID-19 Impact on Textile Chemicals Market and How to Navigate
Recommendation on Key Winning Strategies
Textile Chemicals Market Historic Sales for 2016-2020 Compared to 2021-2031 Forecast Outlook
Demand for textile chemicals has been increasing significantly, as leading manufacturers are collaborating with apparel industry market players for revenue generation. As sustainability concerns gain precedence, textile chemical manufacturers will focus on adopting sustainable chemical management to enable less consumption of water and energy.
Thanks to the ever-expanding textile and apparel industry, the adoption of textile chemicals have burgeoned in the last couple of years. As per FMI's analysis, the textile chemicals market recorded a year-on-year (Y-o-Y) growth of 3% during 2020-21.
Increasing demand for textile chemicals across China, India, and Japan within apparel industry hase bolstered the growth. Increasing export-import textile chemicals supply chain across the globe will also aid the demand.
Demand for textile chemicals is not limited to apparel industry alone, as textile chemicals are extensively used in floor covering and home furnishings. Burgeoning demand of textile chemicals from construction and medical industry will also propel the growth.
With extensive use of textile chemicals within diverse end-use sectors while developing eco-friendly chemicals, it is anticipated that the market will register a steady growth at 5.40% CAGR during 2021 and 2031.
As per Future Market Insights, the textile chemicals market reached a valuation of US$ 22,126.3 Mn, while registering a shipment of 1978 kilo tons textile chemicals in 2021.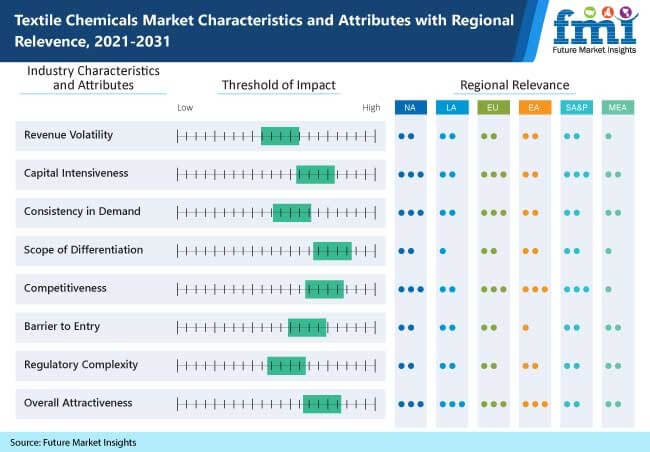 How will Research and Development Affecting Textile Chemicals Sales?
Key players are increasing research & development (R&D) initiatives to develop microbes through proper finishing processes that are capable of manufacturing high performance-renewable dye, catering the demand from apparel manufacturing industry.
Cost-effectiveness of the synthetic biology method has encouraged companies to fabricate colorful dyes in the most environmental-friendly manner. Reduced water consumption with finer-quality textiles have improved the demand for eco-friendly chemicals.
Hence, sustainable chemical management is being actively adopted by manufacturers in the apparel industry. For instance, 7 leading companies have come together to launch Sustainable Chemistry for the Textile Industry, will help retailers and manufacturers to attain the highest levels of sustainability.
Archroma, CHT Group, Huntsman, Kyung-In Synthetic Corporation (KISCO), Pulcra Chemicals, Rudolf Group and Tanatex Chemicals are the leading manufacturers which have made substantial investments in sustainable solutions in recent years.
Such initiatives and investments for sustainable approach are expected to widen the growth opportunities for the textile chemicals manufacturers.
Focus on Sustainability Improving Textile Chemicals Demand
Stringent regulations imposed on using hazardous chemicals in the clothing and apparel industry have triggered various sustainability as well as health concerns. Couple of years back, Greenpeace's Detox Campaign was organized which exposed the links between textile manufacturing facilities using toxic chemicals.
Since then, key manufacturers have adopted sustainable ways to use non-toxic chemicals while curbing the wastage of water. Manufacturers in textile chemicals market are adopting the usage of non-aqueous dyeing of cotton textiles.
For health safety & in adherence to eco-friendly policy, textile manufacturers are adopting sustainable approaches through chemical management.
Demand for eco-friendly chemicals which reduces the water and energy consumption in textile processing and manufacturing have burgeoned.
With increased focus on environment protection in adherence to the government norms, manufacturers are likely to register incremental opportunities within the apparel industry.
Country-wise Insights
How is Textile Chemicals Market Expanding in the U.S.?
The textile chemicals market is poised to accrue significant gains across the U.S. According to National Council of Textile Organization, the U.S. textile and apparel shipments reached US$ 64.4 billion in 2020.
With the U.S. being second largest exporter of textile industry in the world, the exports were recorded around US$ 25.4 billion in 2020. The U.S. textile and apparel supply chain exported to more than 200 countries, with U.S. supplying textiles of more than 8,000 different textile products to the U.S. military.
As such, the adoption of textile chemicals have burgeoned exponentially within the country, amplifying the demand of textile chemicals market.
As per FMI's analysis, the U.S. is anticipated to lead the North America's textile chemicals market, witnessing steady growth over the forecast period.
How will the Demand for Textile Chemicals will Rise in Japan?
Growing demand for sustainable and non-toxic fabrics across Japan have led the manufacturers to increase research & development activities for eco-friendly solutions. Manufacturers are adopting non-aqueous dyeing of cotton textiles to curb the wastage of water.
For health & environment benefits, manufacturers are adopting responsible manufacturing approaches through sustainable chemical management. With that, increasing demand for textile & apparels have provided an impetus to the market growth.
In 2020, the U.S. imported around US$ 1.7 million textiles from Japan while exporting the textiles across the globe totalling US$ 640 billion in 2020, as per Annual International Trade Statistics.
Rapid growth of textile & apparel industry have driven the textile chemical manufacturers to form alliance with apparel industry key players for lucrative revenue generation. Thus, with growing adoption of textile chemicals, the textile chemicals market across Japan will likely register positive growth.
Why are Manufacturers Eyeing China's Textile Chemicals Market?
China is expected to emerge as a highly lucrative market for textile chemicals, attributed to its pinnacle position in textile & apparel industry. China will cement its dominance across East Asia's textile chemicals market, registering growth at over 10.6% CAGR.
China is the largest clothing exporter across the world as it has one of the largest textile & apparel industry. Recent estimates from General Administration of Customs of China suggest that China's textile and apparel exports accounted US$ 291.22 Bn in January 2020, increasing 9.5% over 2019.
With the increasing production and import-export, China's textile & apparel industry is on the boom. Increasing investment as well as the government support is aiding the expansion of China's textile industry.
Cheaper electricity rates, lower cotton prices and transportation subsidies are aiding the growth of textile industry. With the onslaught of COVID-19, production of PPE kits and masks gave an exponential boost to the textile industry.
As of May 2020, China accounted for 60% of mask production across the globe as per Global PPE demand & supply report. Increase in the production of mask internationally & domestically, enhanced the adoption of textile chemicals significantly.
Based on the aforementioned factors, textile chemicals manufacturers are finding lucrative growth opportunities across the country.
How is Expansion of Apparel Industry Fostering the Textile Chemicals Sales across India?
With rising government initiatives for green chemicals and robust expansion of textile & apparel industry, the India's textile chemical industry is slated to witness staggering growth over the forecast period.
Increasing government focus and favorable policies is aiding the growth of apparel & textile industry. In Union Budget 2020-2021, Indian government have allocated US$ 109.01 million for Amended Technology Upgradation Fund Scheme (A-TUFS).
Increasing demand for textile and apparels across the country will bolster the adoption of textile chemicals, improving demand. Demand for apparel have increased with growing consumer preference for foreign textile brands.
India's textile industry is anticipated to reach around US$ 223 Bn by 2021, states Indian Brand Equity Foundation (IBEF), employing over 45-60 million people. Indian textile and apparel industry is one of the largest contributor to the export with around 13.5% of total export, reaching US$ 42.44 Bn.
Hence, textile brand manufacturers including Raymond Limited, Vardhman Group, and Aditya Birla Fashion & Retail are increasing the adoption of textile chemicals catering the demand.
With ever-expanding apparel industry, India is expected to be a hotpot for the textile chemicals manufacturers.
India's textile chemicals market sales are set to proliferate at 11% CAGR during the forecast period, opines Future Market Insights.
Category-wise Insights
Will Textile Auxiliaries Segment Outpace Textile Colorants Segment?
Based on the product type, textile auxiliaries and textile colorants segments are evenly poised in the global textile chemicals market. Textile auxiliaries are specifically used in the process of fabric manufacturing.
Demand for specific functional finishes for textiles and apparels have led to the demand of textile auxiliaries, propelling segment growth. During the assessment period, demand for textile auxiliaries is expected to witness faster growth as compared to textile colorants.
Textile auxiliaries will maintain its leading position with an impressive growth at nearly 10% CAGR, while textile colorants will lag behind by 1% during the forecast period.
Why Finishing Process is Acquiring Popularity among Textile Manufacturers?
By process, the finishing process segment is projected to experience faster growth than that of pre-treatment, dyeing and other segments. Chemical finishing process, also known as beautification process, is highly versatile and have various finishing process for different type of fabrics.
The compatibility and durability fabrics get with the finishing process can result in desirable product suitable for laundering as well as dry cleaning. Various chemical finishing process such as anti-soil finish, parchmentising, and wrinkle-free finish are widely in demand.
Textile manufacturers prefer anti-microbial, water repellants and other finishing process catering the demand for highly quality fabric. Such factors are providing stimulus to the segment demand.
Backed by the soaring demand for textile and apparels with specific functional finishes, the segment is slated to register stellar growth at 10.6% CAGR through 2021.
How will Application in Apparels Affecting Textile Chemicals Manufacturers?
By application, textile chemicals for apparels is likely to account for the largest revenue over the forecast period. Rising disposable income and increasing population has led to a spike in consumption of apparel, especially casualwear and sportswear.
This, in turn, have created a robust demand for textile chemicals in apparel segment. Future Market Insights projects, the apparel segment is slated to register a healthy growth at nearly 8.8% CAGR over the forecast period.
Soaring demand for foreign textiles brands, especially in low-to middle-income countries, such as India, China and Bangladesh, have amplified the export & import of textile chemicals. Demand for apparel have increased with the digitization and penetration of social media sites, aiding the sales of garments across the globe.
Apparel manufacturers across the globe, especially in India, Bangladesh and China, are witnessing robust growth backed by the burgeoning consumer demand. Expansion of apparel industry have bolstered the demand of textile chemicals.
However, COVID-19 had a huge impact on the apparel industry, as the offline fashion retail sales declined in the first quarter of 2020. Disruption in manufacturing activities and global shutdowns created domino effect of revenue losses.
Manufacturers' reliance on digital platforms and online retail sources have provided a much needed boost for the recovery.
Overall, the demand for textile chemical is likely to augment over the coming years, thanks to the recommencement of the industry and burgeoning demand from apparel's segment.
Competitive Landscape
Rising demand for eco-friendly chemicals and focus on water preservation have led the market players to emphasize on channelizing their efforts towards ensuring sustainability.
With the demand for sustainable solutions, key players are developing innovative products catering the need.
With the market being fragmented, top key players are dominating the textile chemicals market, contributing nearly 1/4th of global market share.
Due to this fragmented nature, new product launches and customized product offering have emerged as a key strategy to maintain the position in the industry.
Inorganic growth strategies such as collaborations and partnerships with top companies will translate into incremental opportunities for key players. For instance:
In May 2021, Cosmo Specialty Chemicals Pvt. Ltd., leading industry player, announced the development of eco-friendly 'Microenz BS' sourced alkaline pectatelyase, to reduce the water wastage.
Huntsman Textile Effects and Phong Phu International (PPJ), in April 2020, announced a strategic partnership agreement that promotes PPJ's growth across Asia, specifically in Vietnam, for the manufacturing of sustainable and high performance textiles for leading brands and retailers.
On 20th January 2020, another leading player, Bozezetto Group, joined forces with Asutex, renowned manufacturers of chemical products in Spain, to create a new leader in the specialty textile chemicals industry.
Scope of Report
Attribute

Details

Forecast Period

2021-2031

Historical Data Available for

2016-2020

Market Analysis

USD Million for Value and Kilo Tons for Volume

Key Countries Covered

US, Canada, Germany, U.K., France, Italy, Spain, Russia, China, Japan, South Korea, India, Thailand, Malaysia, Indonesia, Australia, New Zealand, GCC Countries, Turkey, Northern Africa, and South Africa

Key Segments Covered

Product Type, Application, Process Type, and Region

Key Companies Profiled

Kemira
Solvay
Archroma Management LLC
Lonsen
CHT Group
DyStar Group
Dow DuPont
Tanatex Chemicals
Others

Report Coverage

Market Forecast, Company Share Analysis, Competition Intelligence, DROT Analysis, Market Dynamics and Challenges, and Strategic Growth Initiatives

Customization & Pricing

Available upon Request
Key Questions Answered in the Report
What is the current textile chemicals market value?

The textile chemicals market is expected to exceed US$ 22,126.3 Mn in 2021

At what rate did the textile chemicals market grow between 2016 and 2020?

The textile chemicals market projected a sluggish growth, registering a CAGR at 1% between 2016 and 2020.

What are the key trends driving textile chemicals sales?

Development of non-toxic chemicals and chemicals that curbs the water consumption in textile production and processing are the factors driving sales.

Who are the leading players of textile chemicals?

Evonik, Kemira, Huntsman Corporation, Solvay, Archroma, Lonsen and CHT Group are the players leading textile chemicals market.

What is the market share of leading players in textile chemicals market?

Prominent players in textile chemicals market, collectively, contributes for around 20% to 25% of global market share.

What will be the demand outlook for North America Textile chemicals market?

North America's textile chemicals market sales are set to grow at 4.80% during 2021 and 2031.

At what rate will textile chemicals demand rise in Europe?

The sales for Textile chemicals are set to rise at an impressive rate of 5.20% across Europe between 2021 and 2031.

Which are the top countries driving the textile chemicals market demand?

Top countries in terms of textile chemicals sales are China, Japan, the U.S., India and Germany.

What is the current market share of Japan and South Korea in the global textile chemicals market?

Japan and South Korea will account for around 10% to 12% of global textile chemicals market share in 2021.
Textile Chemicals Market by Category
By Product Type:
Textile Auxiliaries
Textile Colorants
By Process Type:
Pre-Treatment
Dyeing
Finishing
Others
By Application:
Apparels
Home Furnishings
Others
By Region:
North America
Latin America
Eastern Europe
Western Europe
Asia Pacific excluding Japan
Japan
Middle East and Africa (MEA)
Need specific information?