An Incisive, In-depth Analysis on the Textile Colourant Market
This study offers a comprehensive, 360 degree analysis on the Textile Colourant market, bringing to fore insights that can help stakeholders identify the opportunities as well as challenges. It tracks the global Textile Colourant market across key regions, and offers in-depth commentary and accurate quantitative insights. The study also includes incisive competitive landscape analysis, and provides key recommendations to market players on winning imperatives and successful strategies.
COVID -19 : Impact Analysis
Request the coronavirus impact analysis across industries and markets
Request Covid -19 Impact
Apparel segment by application is expected to remain dominant in the global textile colourant market over the forecast period
Value share of the apparel segment is expected to increase significantly over the forecast period, owing to a rising demand for apparel across the globe. The segment accounted for more than 45% value share in 2016 and is expected to reach a market valuation slightly in excess of 50% by the end of the forecast period, with a gain of 120 basis points in 2026 as compared to 2016. This segment is expected to exhibit a CAGR of 5.0% over the forecast period. The automotive application segment was valued at more than US$ 500 Mn in 2016 and is expected to increase at a CAGR of 4.4% over the forecast period to reach more than US$ 750 Mn by the end of 2026. The household segment by application in the global textile colourant market is expected to create absolute $ opportunity of more than US$ 70 Mn in 2017 over 2016 and incremental $ opportunity of close to US$ 1,000 Mn between 2015 and 2026. In terms of value, the household segment is expected to increase 1.7X by 2026 end. In terms of volume, the accessories segment is expected to expand at a relatively low CAGR over the forecast period, attributed to less demand for textiles in the accessories industry.
Home furnishing market will have a fairly high influence on the global textile colourant market
Textiles are used in home furniture such as drapery, carpet, and other furniture. An increasing demand for home furnishing leads to increasing demand for textiles in the market. This, in turn, results in increasing demand for textile colourant, thereby boosting the growth of the global textile colourant market. The automotive industry is likely to have a moderate impact on the textile colourant market. In regions such as Europe and North America, use of technical textile materials is mandatory for automotive components such as air-bags and seat belts. Markets such as India and China along with Japan are expected to play an important role in driving demand for Mobiltech textiles. This, in turn, is fuelling the textile colourant market growth across the globe. The apparel market will have a moderate impact on the global textile colourant market.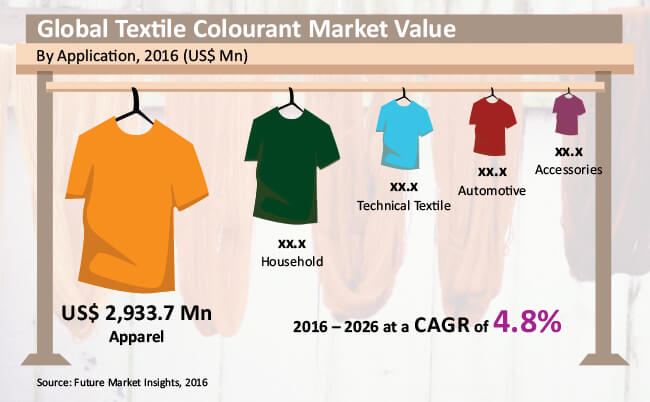 Rapid rate of industrialisation is expected to boost demand in the global textile colourant market during the forecast period
Textile colourants have a wide application in industries such as apparel, automotive, furniture, etc. These industries are growing at a significant growth rate particularly in developing economies, and demand for textile colourant in these countries is on the rise. This factor is driving the global textile colourant market. Industrial application is one of the largest segments in the technical textile market and its growth is directly linked with that of industrial production. This is expected to increase demand for various products under the Indutech textile segment such as textile auxiliary and textile colourant. The textile chemicals market is a key driving factor for the textile colourant market. Textile chemicals are a class of specialty chemicals that are used in various processes involved in textile and fabric processing.
Further, increasing consumer spending on sports and functional apparel is anticipated to witness significant growth in the near future. This in turn is expected to lead to increasing demand for textile colourant in the global market. Rapid rate of technological advancements is also likely to result in increasing demand in the global textile colourant market during the forecast period. The introduction of differentiated chemical offerings and chemicals for customer specific applications by major players in the textile chemicals industry has resulted in a higher profit margin for the manufacturers.
For a deep understanding of the global textile colourant market, it is necessary to take a 3600 view of the textile colourant manufacturing process. Manufacturing of textile colourant needs different types of carries depending on the nature of the dye. There are nine steps in the manufacturing process of textile colourant, as clearly explained in a new report on the global textile colourant market by Future Market Insights titled "Textile Colourant Market: Global Industry Analysis and Opportunity Assessment, 2016–2026.
Raw Material Receiving and Weighing: Raw material includes dye, dyestuffs, and other carrier chemicals for stabilising the dye with the receptor fibre

Sublimation: Sublimation dye is a popular variety of dye that has printing applications. These dyes typically range from a variety of dyes including reactive, acid, pigment, disperse, direct and vat

Freezing: Dyes are usually unstable with high temperature, concentrate is usually collected at a temperature below its melting point called as freezing technique

Decantation: Decantation is the process of removing a layer of liquid for the separation of mixtures, usually one from which a precipitate has settled. The purpose is to remove undesired liquid from the precipitate and to produce a clean decant

Precipitation: Precipitation is one of the techniques of separating solid particles from the liquid solution

Distillation: Distillation is a process in which component or substances from a liquid mixture are separated by selective condensation and evaporation

Crystallisation: The process in which a solid substance is formed with the atoms or molecules in a highly organised structure known as a crystal

Filtration: Filtration is a simple process of separating suspended solid matter from a liquid

Evaporation and Solvent Extraction: Evaporation, size reduction, size separation, and drying process is done after filtration to develop the textile colourant
The analysts of Future Market Insights have observed that global textile colourant market players are focussing on enhancing their geographical presence by establishing new production plants and research and development centres in different geographical locations across the globe. Companies are also collaborating with peers, suppliers, end-use industries, and with others members of the supply chain for forward and backward integration in the global textile colourant market. According to our analysts, the textile industry in developing regions has witnessed rapid growth due to low labour costs and adequate infrastructure. This has increased demand for textile colourants in regions such as Middle East and Africa and Asia Pacific Excluding Japan. In addition, emergence of new segments such as technical textiles in the textile industry have led to a rise in demand for textile colourants.
Market Segmentation
By Application

By Dye Type

By Product Form

By Fibre Type

By Region

Apparel

Household

Technical Textiles

Automotive

Accessories

Reactive Dye

Acid Dye

Direct Dye

Disperse Dye

Basic Dye

Powder

Granules

Paste

Liquid

Wool

Nylon

Cotton

Polyester

Acrylic

Acetate

Rayon

North America

Latin America

Western Europe

Eastern Europe

APEJ

MEA

Japan
Research Methodology
Yearly change in inflation rate has not been considered while forecasting market numbers. Top-down approach has been used to assess market numbers for each product category, while bottom-up approach has been used to counter validate the market estimations. Macro-economic indicators such as GDP and textile industry growth have been considered. Product-wise weighted Average Selling Price (ASP) has been considered to deduce market values. Market volume is inferred through in-depth secondary research and validated from industry experts through primary interviews. Each interview is thoroughly analysed and average market volume is deduced and reconfirmed prior to incorporating in the report. The market value of the global textile colourant market is thus calculated from the data derived from the average selling price and market volume.
For the 10-year forecast of the global textile colourant market, various macro-economic factors and changing trends have been observed, giving an idea about the future of the market. Other important factors considered to arrive at market forecast are the size of the current market, inputs from the supply side and the demand side and other dynamics shaping the scenario of the market. In the compilation of the report, the forecasts are conducted in terms of CAGR, while other important criteria such as year-on-year growth and absolute dollar opportunity have also been incorporated presenting the client with crystal clear insights and future opportunities likely to emerge in the global textile colourant market.
Harish Tiwari
Global Head - Business Development
Akshay Godge
Client Partner - Global Business Development
CASE STUDIES
See how our work makes an impact.
At FMI, we design strategies that are adaptive, impactful, and implementable.