Textile Flooring Market - Key Research Findings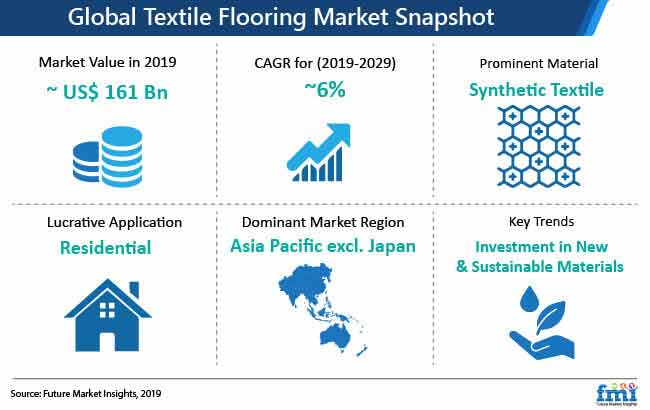 The global textile flooring market size was valued at ~US$ 150 Bn in 2018.
The textile flooring market is expected to grow at a CAGR of ~6% during the forecast period of 2019-2029.
Increasing demand for textile flooring from commercial spaces, public infrastructure spaces, as well as institutional and hospitality sectors all across the globe is expected to drive the textile flooring market growth.
Textile flooring is facing competition from vinyl flooring in few residential and commercial applications, acting as a minor restraint to the market.
North America and APEJ are expected to account for over half of the revenue share in the textile flooring industry by the end of 2029.

North America and APEJ, due to increasing residential, commercial, and other industrial activities, are expected to be prominent regional markets of textile flooring.

Carpet is expected to remain one of the prominent product in the textile flooring market throughout the forecast period. Sales of carpet is anticipated to account for ~80% share in the textile flooring market over the forecast period.

Flooring carpets are preferred for their multiple applications in residential and commercial spaces. Preference towards carpets for flooring has increased over the last few years, as they act as pseudo flooring and come in various designs and textures.
Key Factors Shaping the Textile Flooring Market
Rising Investments in Infrastructural Developments

Over the past few years, consumption of textile and furnishing goods for homes has witnessed consistent growth. This can be attributed to factors such as growing consumer spending on renovation, rising investments in infrastructure, as well as rising demand from Asian countries such as India, China, South Korea, and Indonesia. In North America, particularly in the U.S., the residential sector is currently in a recovery mode, which is generating high demand for textile floorings.

Moreover, the global textile flooring market is expected to benefit from a large population of consumers seeking high-quality products. In addition, rising consumer confidence, increasing disposable incomes, and growing demand for luxury flooring options in the view of booming residential and commercial sectors are major factors contributing to the growth of the textile flooring market.

Increased Demand from End-Use Industries

Increasing commercial and public infrastructure spaces as well as growing institutional and hospitality sectors in regions such as Asia Pacific, are expected to drive the demand for carpet flooring in the coming years. Increasing popularity of 'artificial grass' (artificial turf) on outdoor lawns and sports fields is expected to further drive sales of plant fibre-based carpets and rugs in the near future, thereby complementing the growth of the textile flooring market.

Sports authorities are also favouring textile flooring as turf/ground layers for its more cushioned effect for the safety of the athletes and sports persons, which is also expected to propel the market growth. Healthcare sector also requires specific flooring, for instance heat resistant, anti-allergenic and sound-proof flooring systems. Rapid innovations in the automotive industry (OEM and aftermarket segments) to enhance in-car ambience is also resulting in increased demand for textile flooring.

Key Market Participants Prioritizing Expansion

Leading companies are taking the route of organic growth which, focuses on expansion plans to enhance production capacities and improve operations to fulfil the growing demand for textile flooring. Key manufacturers are targeted towards expanding their footprints in developing economies in Asia Pacific and Latin America, to make the most of the growing market of textile flooring through investments, strategic alliances, or acquisitions of local enterprises.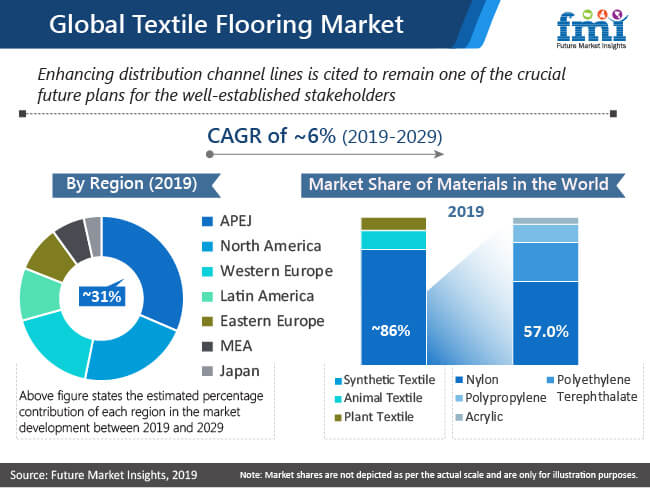 Textile Flooring Market Structure Analysis
The textile flooring market shows a high level of fragmentation, where majority of the key players maintain strategic focus on the development of long-term partnerships and joint ventures, as well as expansions to target a firmer global footprint.
The textile flooring market has been dynamically competitive, which remains a key factor for its high growing market value.
Leading textile flooring market players are currently prioritizing innovations and capacity expansions to resonate with the increasing end-use activities.
Innovations and improvements in products are expected to be one of the leading strategies to get a step ahead of the competition.
For a sharper and long-term global foothold in the textile flooring market, manufacturers have to focus more on inorganic growth strategies such as mergers and acquisitions and joint ventures.
Key Segment
By Material Type
Synthetic Textiles

Polypropylene
PET
Acrylic
Nylon

Animal Textiles
Plant Textiles
By Product Type
By Technology
By Application
Residential
Commercial
Others (Industrial, etc.)
By Region
North America
Latin America
Western Europe
Eastern Europe
APEJ
Japan
MEA
Need specific information?
Talk Show:
The Rise of Intelligent Packaging
Personalized, Connected and Sustainable
November 18, 2021
11:00-11:45 AM PST (USA & Canada)
This is a LIVE session