Storage as a Service Market Outlook & Key Findings
Global Storage as a Service (STaaS) market expected to surge at a whopping CAGR of 16.4% between 2020 and 2030
Demand for STaaS will see an explosion as a third of companies' IT budget is for cloud services
Storage as a Service to be the backbone of companies as cloud computing becomes mainstream with 90% business opting for better solutions
Government and IT & telecom to remain leading segments with respective CAGR of 14% and 16.5% throughout at forecast period
SME's to invest in STaaS as going remote will bring in tremendous value in business operations in the long run
Bring-Your-Own-Device to define a new era for business operations in post-pandemic world, fueling STaaS market
Indispensable Role of IT Across Verticals to Propel Storage as a Service Market
Technology disruptions such as artificial intelligence, cloud computing, machine learning, and blockchain have made the learning curve sharper for businesses in recent years. Fast-paced speed of digitization across of government agencies and private sector has created a huge need for storage of information and data that is generated on daily basis.
Ease of data storage solutions are challenging the way enterprise operate and offer new consumer experiences. Industry leaders are integrating offerings with new storage solutions to ameliorate product offerings and services.
This has strengthened the case for Storage as a Service as businesses around the world find themselves in an increasingly complex network with rising tides of data. STaaS has become a critical component to streamlining operations, bringing in operational efficiency across verticals.
This has shed light on manifold benefits of STaaS as a response to the growing need for cost-effective, efficient, and resilient storage services to reduce the operational burden of storage and cost of traditional IT applications. By eliminating the actual, physical storage space, STaaS considerably optimizes the cost of final product or service and offers a more comprehensive system with an excellent backup plan in case of calamities that can cause irreversible damage.
Simplified method of digital asset management across complex operations of a business has been the underlying current of growing interest in STaaS by end users, especially SMEs.
BFSI Emerges as a Bullish Segment as Data Volumes Show Unprecedented Growth
The evolution of digital technologies in BFSI sector is creating potential opportunities for Storage as a Service applications. Digitalization via digital wallets, mobile banking, and chatbot support has created data explosion, which needs immediate sorting, storing, and managing to make the most of the technological developments.
Future Market Insights predicts that the BFSI segment is expected to create an incremental opportunity of around US$ 20 Bn for the Storage as a Service market during the forecast period. This whopping figure will be attributable to the entry of UPI, eWallets, and multiple fintech companies in the emerging economies.
The overnight demonetization in India, for instance, created a boom of data. This coaxed BFSI sector and associated service providing industries to secure state-of-art STaaS solutions for ensuring fast, reliable and scalable data infrastructure to offer its customers frictionless backend processes.
The demand to manage hyper-scale data to eliminate the costs of providing IT services or cloud services is expected to up the adoption of STaaS in the sector.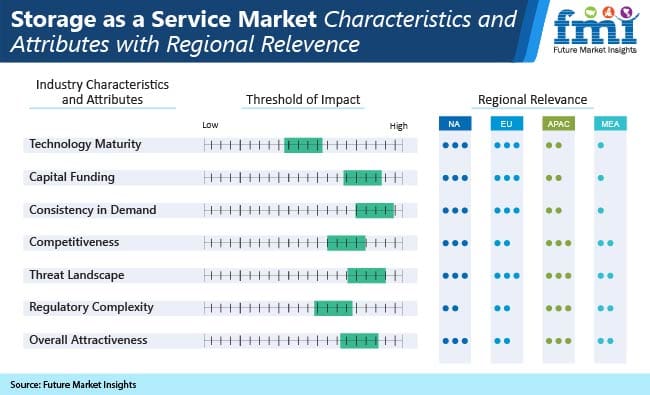 North America has a fairly mature market for STaaS as the region has been an early adopter of this technology across various verticals. However, Asia Pacific, Europe, and the Middle East and Africa will show a remarkable scope for deployment of STaaS as growing amount of data, increasing regulations regarding the data retention, and increasing focus on business continuity and disaster recovery will prompt migration to cloud storage.
Storage as a Service is one of the fastest growing cloud application as business operations are shifting to remote work ethic. This consistency of demand has welcomed sizeable capital funding in this market across most regions.
In past few years, various enterprises are turning to STaaS solutions to fulfill the need for flexibility and scalability in data centric world, pushing companies to improve their services.
Future Market Insights predicts that the consistent demand for IT and cloud infrastructure solutions among the enterprises will boost the Storage as a Service market to grow 4.6x its current market value during the forecast period.
Small & Medium Enterprises to Offer Big Opportunities to STaaS Market
The adoption of Storage as a Service solution is on a steady rise among small and medium sized enterprises as most of these companies lack the budget to implement and maintain their own storage infrastructure. Moreover, businesses are using Storage as a Service solution to mitigate risks involved in disaster recovery and to enhance business continuity and availability.
According to the Future Market Insights, SME enterprises segment is set to increase around 5x and expected witness a growth rate of around 17% during the forecast period between 2020 and 2030.
Storage as a Service Market Tests Positive for Growth with COVID-19
The first half of 2020 has represented a mass experiment in remote working, truly testing the potential of cloud computing amidst a pandemic. The COVID-19 outbreak is expected to bring the greater investments in technology-based infrastructure, which is projected to create potential growth opportunities for Storage as a Service market in coming months.
Unparalleled growth in cloud computing applications are expected to witness a rise in demand for data storage and management that is generated via electronic communication and other business collaboration tools. Employers are expected to invest in excellent storage, which is integral to every virtual desktop infrastructure (VDI) to keep up the productivity.
In the light of these factors, the Storage as a Service market is expected to witness a spike in growth in the coming 2-3 years. From 2014-2019, the Storage as a Service market registered a CAGR of around 15% and analysts project that the market will exhibit a CAGR of 17% between 2021 and 2022.
The need for cost-effective and resilient storage solutions to overcome the challenges of traditional scale-up storage appliances is expected to drive the growth of STaaS market in the post COVID-19 world as well.
Storage as a Service Market: Regional Analysis
The rapid economic growth and increasing investments for digitalizing IT infrastructure in the countries of South Asia & Pacific is playing an important role in development of STaaS market in South Asia and Pacific. Adoption of digital payments, even in rural areas and cloud computing in the IT services, which forms the strengthens the backbone of Indian economy have fuelling this regional market.
The surge in e-commerce in this region is also accountable for investors looking at expanding their operations in this part of the world. With next-gen Internet technologies paving the way with zero downtime, low latency, and seamless connectivity, cloud computing will emerge as a strong business opportunity, promoting growth of STaaS.
As of 2019, North America and Europe held a leading share in the global STaaS market, amounting to 3/5th of the total global value. The strong growth in cloud computing applications and rising demand for cloud-based business continuity tools in countries such as the U.S., the U.K., Germany, and France are expected to support this trend in the coming years as well.
Storage as a Service: Storage as a Service Solution Providers
Continuous focus on collaborative partnerships to develop and innovate digital capabilities and to leverage new business models has become a key strategy of Storage as a Service solution providers. Moreover, the rising scope of applications related to Storage as a Service and a competitive market have resulted in solution differentiation and expansion strategy by the vendors to gain a competitive edge and strengthen their market presence specifically to the desired industry market. For this, product innovation and development activities has been a mainstay in the Storage as a Service market.
Key Players in the Storage as a Service Market are:
Hitachi Vantara
Zadara Storage
Cloudian
Quantum Corporation
AWS
IBM Corporation
Microsoft
HPE
Google
AT&T
Dell Technologies
Rackspace Inc.
*The list is not exhaustive, and only for representational purposes. Full competitive analysis available in the report
STaaS Solutions to Ease Heavy Workload for Cloud Solutions in the Future
Cloud computing has been around for approximately two decades but its potential is being tested as remote working has become unavoidable for the global economy. Furthermore, huge wave of digitalization and transformation from legacy systems to newer technologies as led to large-scale adoption of storing digital data.
As these trends continue to define the future of business, education, finance, and healthcare operations, STaaS solutions will see an astounding demand. Its sheer cost benefits and ease in maintaining documentation and transactions is expected to make it a part of every business in the near future. STaaS is projected to create a disruption by breaking down IT expenditures, simplifying storage management, and reducing capital expenditures.
Storage as a Service Market: Segmentation
Service Type
Cloud NAS
Cloud SAN
Cloud Backup
Cloud Archiving
Enterprise Size
Small & Medium Enterprises
Large Enterprises
Industry
Media & Entertainment
Government
Healthcare
IT & Telecom
Manufacturing
Education
Others
Region
North America
Latin America
Europe
East Asia
South Asia Pacific
Middle East & Africa
Need specific information?