This Urea Strippers market study offers a comprehensive analysis of the business models, key strategies, and respective market shares of some of the most prominent players in this landscape. Along with an in-depth commentary on the key influencing factors, market statistics in terms of revenues, segment-wise data, region-wise data, and country-wise data are offered in the full study. This study is one of the most comprehensive documentation that captures all the facets of the evolving Urea Strippers market.
Market Outlook
Stripping is one of the most effective methods for heat recovery and reuse in the process. This concept offers significant advantages for recycling owing to its basic design and easy monitoring. In the recycling process of urea plant, factors such as, flow scheme; number of process equipment required, amount of water recycled in carbamate solution and; overall plant efficiency play a vital role. In a urea plant, a urea stripper's function is to decompose carbamate into ammonia and, carbon dioxide from urea solution leaving the reactor. The urea stripper operates under full system pressure and is configured in a way so that it provides maximum gas-liquid contact.
Market Growth Analysis
Disclaimer: This data is only a representation. Actual data may vary and will be available in the report.
Need granular data and specific insights that are hard to get?
style="box-sizing: border-box; margin: 0px 0px 10px; color: rgb(51, 51, 51); font-family: "Helvetica Neue", Helvetica, Arial, sans-serif; font-size: 14px;"> Chemical process industry generates demand for urea strippers as there is an extensive use of urea in end use applications like, agriculture, chemical industry, automobile systems, laboratory uses, medical uses and, other uses. The urea strippers market is highly competitive and includes both, large capacity manufacturers that provide services globally, as well as small & medium-sized manufacturers that have a more limited portfolio and offer services at a regional level. The urea strippers are constructed with materials which can withstand severe conditions thereby minimizing maintenance, expanding the life of the equipment and optimizing the plant operation conditions.
Reasons for Covering this Title
The market for urea is growing rapidly worldwide owing to its extensive use as a fertilizer and considerate use in other non-fertilizer applications such as in, urea-formaldehyde resins, melamine formaldehyde resins, and livestock feed among others. Urea is anticipated to be a locally driven market as it is mostly consumed in the countries where it is manufactured. The capacity expansion and supply demand scenario is anticipated to showcase the growth of urea strippers market.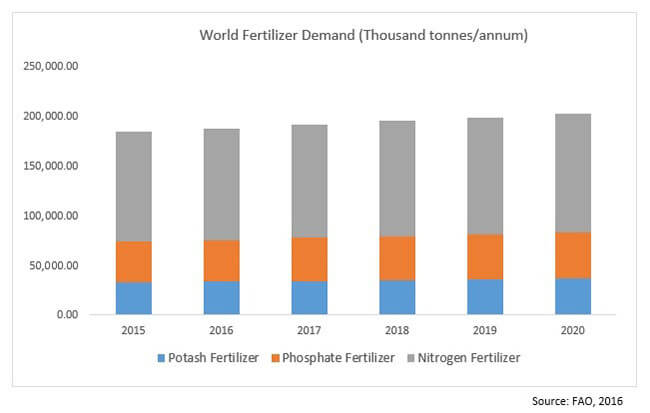 Global Urea Strippers: Market Segmentation
Global Urea Strippers Market: Key Players
Examples of some of the key players operating in the global Urea Strippers market are Saipem S.p.A., Stamicarbon, TOYO India, Urea Casale, ALFA LAVAL, NIIK, thyssenkrupp, LARSEN & TOUBRO LIMITED, FLOWTRONIX, Isgec Heavy Engineering Ltd, Kay Iron Works (Jorian) Private Limited, FEECO International, Inc. among others
Opportunities for Market Participants
World fertilizer production will continue to expand in the coming years. As a result, demand for urea strippers will grow at a significant pace so as to comply with the chemical process production and delivery assets safety guidelines listed by the concerned authorities. The agricultural fertilizer industry is poised for continuous growth. With the growing world population, a continuous demand is placed on fertilizer to boost the yields of crops, which in turn creates opportunities for the urea strippers market, globally.
Brief Approach to Research
FMI will follow a modelling-based approach and triangulation methodology to estimate data covered in this report. A detailed market understanding and assessment of the nature, product type and end uses of the product segments covered in the study is followed by carrying out a demand-side approach to estimate the sales of target product segments, which is then cross-referenced with a supply-side assessment of value generated over a pre-defined period. The statistics and data are collected at a regional level and consolidated and synthesized at a global level to estimate the overall market sizes.
Key Data Points Covered in the Report
The research report presents a comprehensive assessment of the market and contains thoughtful insights, facts, historical data, and statistically supported and industry-validated market data. It also contains projections using a suitable set of assumptions and methodologies. The research report provides analysis and information according to market segments such as geographies, application, and industry.
The report is a compilation of first-hand information, qualitative and quantitative assessment by industry analysts, inputs from industry experts and industry participants across the value chain. The report provides in-depth analysis of parent market trends, macro-economic indicators and governing factors along with market attractiveness as per segments. The report also maps the qualitative impact of various market factors on market segments and geographies.
NOTE - All statements of fact, opinion, or analysis expressed in reports are those of the respective analysts. They do not necessarily reflect formal positions or views of Future Market Insights.
Unique Requirements? Customize this Report
Customize by Region, Country, Application, Product, & other segments
Integrate our Insights with your Existing Data
Determine the scope of the study to suit your requirements
Gain Insights on Key Urea Strippers Market Impacting Forces
Know the Winning Strategies of Market Leaders
Get Deep-Dive Analysis on Each Segment
Identify the Sources that will Drive Top-Line Revenue
According, to International Fertilizer Industry Association (IFA), nearly, 60 new urea units came into stream between 2014 and 2018, of which 25 were located in China. Beyond 2016, all new urea capacity worldwide is anticipated to be located outside China, thereby, confirming the expansion of capacity to other countries. Global urea capacity would increase by 41 Mt between 2013 and 2018, to 245 Mt. This corresponds to a CAGR of 3%. East Asia is anticipated to contribute 36% of the net capacity increase, followed by Africa with 22% share and North America with 13% share. Global urea supply is estimated at 182 Mt in 2013, 188 Mt in 2014 and 216 Mt in 2018, growing at a projected average annual rate of 4% over 2013.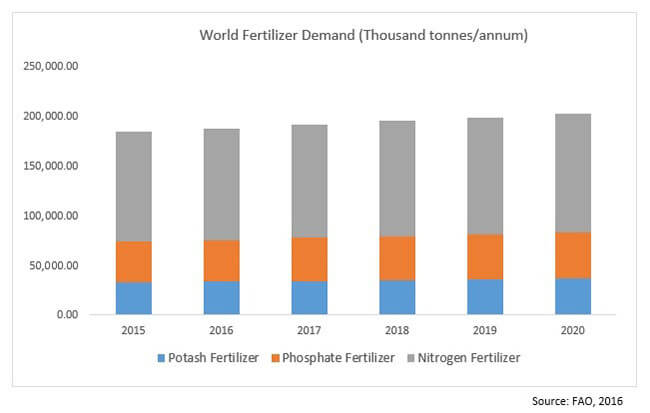 On the basis of material of construction, the global Urea Strippers market has been segmented as:
Duplex stainless steel (SAFUREX)
Stainless steel
316L-UG
25Cr-22Ni-2Mo
Zirconium
Titanium
On the basis of capacity, the global Urea Strippers market has been segmented as:
<1000 MTPD
1000 – 1500 MTPD
1500 – 3500 MTPD
>3500 MTPD
Key Developments
In February 2018, Stamicarbon,

an innovation and licensed company of Maire Technimont Group, signed an agreement to construct green field urea melt plant of Brunei Fertilizer Industries SDB BDH, which is going to be located at Sungai Liang Industrial Park, Brunei Darussalam. The fertilizer complex will consist of urea plant with capacity 3900 MTPD

In March 2018

,

Toyo Engineering Corp.

announced that it has received a contract for constructing large scale fertilizer complex in Gorakhpur, Uttar Pradesh, India. The fertilizer complex will consist of urea plant with capacity 2200 MTPD
Some of the key data points covered in our report include:
An overview of the urea strippers market, including background and evolution
Macroeconomic factors affecting the urea strippers market and its potential
Market dynamics, such as drivers, challenges and trends
Detailed value chain analysis of the urea strippers market
Cost structure of the products and segments covered in the global urea strippers market
In-depth pricing analysis, by key product segments, regions and by major urea strippers market participants
Analysis of supply and demand, such as top product producing and consuming geographies, product imports/exports, exchange of services and overall trade scenario in the global urea strippers market
Analysis of the global urea strippers market structure, including a tier-wise categorization of key urea strippers market participants
Competitive landscape of the market, including detailed profiles of the top players in the urea strippers market
The report covers exhaust analysis on:
Market Segments
Market Dynamics
Market Size
Supply & Demand
Current Trends/Issues/Challenges
Competition & Companies involved
Technology
Value Chain
Regional analysis includes:
North America (U.S., Canada)
Latin America (Mexico. Brazil)
Western Europe (Germany, Italy, France, U.K, Spain)
Eastern Europe (Poland, Russia)
Asia Pacific (China, India, ASEAN, Australia & New Zealand)
Japan
Middle East and Africa (GCC Countries, S. Africa, Northern Africa)
Report Highlights:
Detailed overview of parent market
Changing market dynamics in the industry
In-depth market segmentation
Historical, current, and projected market size in terms of volume and value
Recent industry trends and developments
Competitive landscape
Strategies of key players and products offered
Potential and niche segments, geographical regions exhibiting promising growth
A neutral perspective on market performance
Must-have information for market players to sustain and enhance their market footprint
Frequently Asked Questions
---
What research methodology is used to develop the Urea Strippers Market report?
FMI utilizes three branched methods to derive market measurements used to compile any report study (data derivation, triangulation and validation).
These approaches include accumulating data from both primary and secondary sources
Primary research involves interviews with industry operators and FMI's network of contacts spanning the world's value chain of the Urea Strippers Market. This is supported by a comprehensive literature analysis of information gathered through secondary sources
Analysis of several middle market stakeholders for country-wise data
What else does FMI offer apart from Urea Strippers Market report?
In addition to up-to-date market figures and customized of the Urea Strippers Market, FMI offer consulting services to help businesses within industry navigate challenges and take well-informed decisions amidst the breakneck competition.
How do you define competitors based on market structure? What aspects about a competitor are included in the company profile section?
Most of the competitors are segregated according to their market share in 'Tier' wise statures.
Global market participants are scrutinized and global competition metrics are included with numerous competitor profiles referring to their business background and go-to market strategies.
Harish Tiwari
Global Head - Business Development