Service Bureau Market By Services (Document Scanning, Photocopying), End User (Government, Education, BFSI, Healthcare, Law Firms) & Region - Forecast to 2017 - 2027
Service Bureau Market - Analysis, Outlook, Growth, Trends, Forecasts
November 2017

REP-GB-5509

239 pages
Increasing usage of document scanning and photocopying services among small and large business enterprises boosting revenue growth of the global service bureau market
The global service bureau market is witnessing significant growth due to the emergence of customised IT and managed services across the globe. The worldwide IT service market is increasing significantly year on year. Worldwide spending on IT services is steadily increasing due to the rising adoption of supporting services across businesses owing to the implementation of software to reduce the time spent on managerial tasks.
The emergence of cloud computing is providing lucrative opportunities to key players operating in the global service bureau market. Cloud has become a very popular medium of delivery of value-added IT enabled business services. Customers and end-users access the IT service catalogue through self-service portals, using and paying for only those services they need. IT organisations of enterprises are adopting cloud based models to ensure cost-efficient and effective business delivery.
Service bureaus across the globe have started providing cloud based solutions to users such as scanning documents and providing access to the scanned files on cloud to enable users to access these files from anywhere. The increasing usage of cloud given its inherent benefit of cost efficiency is creating opportunities for service bureau companies to implement cloud based services.
North America to lead the global service bureau market in terms of value share
Of all the regional service bureau markets, North America is anticipated to be the largest, with an estimated market revenue to the tune of about US$ 33 Bn by the end of the forecast period in 2027. The North America service bureau market is estimated to witness a CAGR of 8.0% in terms of value during the forecast period. An increasing digitalisation of documents across North America is the main factor driving regional market revenue growth.
Western Europe is the second largest market with market revenue projected at around US$ 16 Bn by the end of 2027. The APEJ service bureau market stands at third place with an estimated revenue of about US$ 13 Bn by 2027 end. APEJ is a major market for service bureaus owing to the rapid adoption of such solutions for business automation processes across the region.
The APEJ market is expected to register high Y-o-Y growth rates throughout the forecast period. In terms of value, this market is anticipated to expand at a CAGR of 7.1% during the forecast period.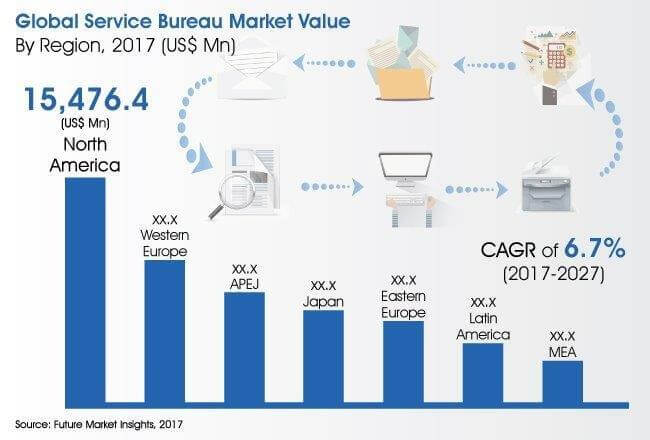 Key developments trending the regional service bureau markets
Increasing trend of electronic record management in North America: Most of the companies in the U.S. and Canada are working towards the adoption of digital technologies to face stiff competition in the growing market. This has increased the need of supporting service providers who can help in converting documents into the electronic form and provide other daily needed services such as photocopying and scanning at a competitive pricing.
An increasing number of small and medium enterprises in Western Europe: With the increasing benefits provided by the government, many people have started their own businesses such as service bureaus in Western Europe. The setup cost for setting up service bureaus is less and requires less time and a limited budget, which is another factor due to which many people have started their own service bureau companies in this region.
The increasing cost of small services such as printing, scanning and other services has also enforced companies to take help from service bureaus to work for them. This is another reason why many service bureaus have been started in this region.
Increasing digitalisation across the APEJ: A large number of countries across the APEJ region are developing at a rapid pace owing to the rapid industrialisation across the region coupled with a mass digitalisation of business and allied processes. Countries such as India and China are undergoing digitalisation in all aspects of business. Governments of these countries are introducing more technological applications in the daily routine operation. Normal people are also deploying more technology based applications in their daily routines.
This factor is resulting in the rapid popularity and application of digital technologies across enterprises. This has increased the need of service bureaus for helping organisations in converting their documents into digital files in a speedy and cost-efficient manner.
World's Most Profilic Intelligence Engine
Get Access To The World's Largest Market Research Database.
Sign Up Now
Market Taxonomy
By Services
Document Scanning
Photocopying
Others (Printing & Fax)
By End User
Government
Education
BFSI
Healthcare
Law Firms
Others (Retail & Telecommunication)
By Region
North America
Latin America
Western Europe
Eastern Europe
APEJ
Japan
MEA
Need specific information?
Our Clients