Foodservice equipment (FSE) is the equipment used for handling or processing food, right from peeling to grinding, cooling to roasting, etc., for commercial purposes. Various types of foodservice equipment are used in the foodservice industry, such as food preparation equipment, drink preparations equipment, cooking equipment, heating and holding equipment, refrigerators, and chillers.
The global foodservice equipment market is anticipated to witness significant revenue growth over the forecast period. Rapid changes in lifestyles have led to a shift in consumer preference from full service restaurants to quick service restaurants. As a result, domestic and international companies are making major investments in quick service restaurants. The sales of foodservice equipment are expected to increase at a rapid pace, owing to the high expenditure on food and related items. However, the high cost price of foodservice equipment is a prime challenge for foodservice operators, as these account for a major share of the total capital cost for new foodservice outlets. Foodservice equipment needs to be tailored according to requirements and available space in food retail stores. This, in turn, significantly increases the costs associated with foodservice equipment. Full service restaurants are expected to dominate the foodservice equipment market over the forecast period. However, the rapidly growing number of quick service restaurants is creating high growth opportunities for the foodservice equipment market. Foodservice equipment manufacturers will be benefited from the food industry market scenario, as consumer awareness is increasing regarding the associated health problems due to high fat consumption. The explosion in popularity of low fat foods has forced food companies and manufacturers to expand their foodservice equipment product ranges to keep up with consumer demand, and also foodservice equipment suppliers to develop new technologies for food manufacturers.
Factors Influencing the Global Foodservice Equipment Market Growth
Restaurant owners are increasingly incorporating innovative foodservice equipment in order to cater to the ever-growing consumer demand. A new trend in the foodservice equipment market is the use of energy-efficient, advanced technology equipment in restaurant kitchens.
One of the most popular trends in the foodservice industry today is grab-and-go or takeaway food. Consumers are increasingly preferring foodservice equipment to add convenience to cope with a fast-paced lifestyle. This alternative over conventional restaurants offers a higher and faster food accessibility level. A growing trend of takeaway food among consumers in developed as well as developing countries is foreseen to strengthen the foodservice equipment market in fast-casual restaurant settings. Serving the generation Z consumers is the new challenge for the foodservice equipment industry; using customised foodservice equipment is a growing trend in the foodservice equipment market. Moreover, free Wi-Fi, online food ordering facility, digital menu boards and tables, and many more technological additions are being incorporated in the foodservice equipment market.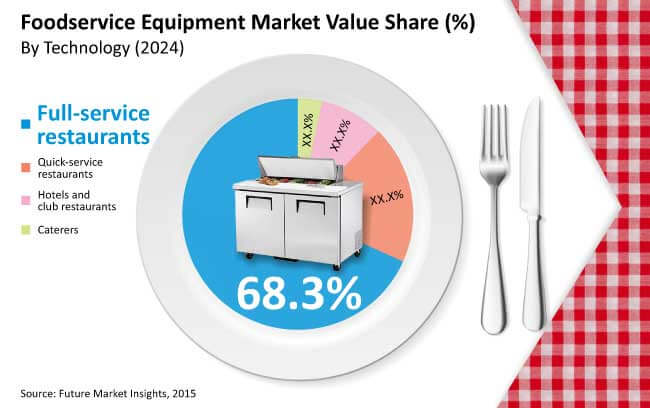 Dover Applying Different Strategies to Enhance Market Penetration in the U.S.
In February 2015, Dover Corporation set up a new manufacturing unit in Conyers, Georgia, U.S. The company also acquired Gala Industries, a service provider in plastic pelletizing, and launched a new gasket for freezers and coolers that provides an improved sealing effect to the foodservice equipment
AB Electrolux Acquired a Dish Washer Manufacturer in the High Growth Chinese Market
In February 2015, AB Electrolux acquired Chinese-based dish washer manufacturing company Shanghai Veetsan Commercial Machinery Co. Ltd.
Rational AG Incorporating Digital Solutions to the Products
In March 2016, Rational AG launched a new iPhone and iPad application that enables a remote control monitoring option for foodservice equipment located at its self-cooking centre.
Acquisitions - Key Strategy for Middleby Corporation in the Market
In February 2015, Middleby Corporation acquired Marsal & Sons, Inc. and Marel's U.K.-based high speed slicing business unit. Also, in September 2015, the company acquired AG Arange Master Group plc, a manufacturer of residential foodservice equipment, including ranges, ovens, and refrigeration.
Companies are focusing on technological advancements to meet with future customer requirement and to comply with global competence. Foodservice equipment such as grills, fryers, and ovens are being integrated with high-tech functionality to automate the entire process. Foodservice equipment companies are expanding existing facilities and also building new facilities in order to expand business and penetrate into new markets. Also, foodservice equipment companies are setting up showrooms in various countries to showcase their latest products and increase consumer awareness about foodservice equipment usage. Foodservice equipment manufacturers are focusing on offering highly customized products and expansion of their product portfolios in order to maintain a competitive advantage and experience sustainable growth. Companies are launching energy-efficient, compact, high-performance products in various applications ranging from household to commercial use. There is an attractive opportunity for foodservice equipment manufacturers in Asia Pacific, as food expenditure is rising at a rapid pace, with new opportunities in the region also increasing at a rapid pace. MEA, Latin America, and Eastern Europe will also offer attractive opportunities for market players in the foodservice equipment marketplace. There is a price variation between foodservice equipment offered by Chinese-based manufacturers and major international players. Chinese-based foodservice manufacturers have gained high traction in Asia Pacific, which is expected to be the next growth engine for the foodservice equipment market. As a differentiating strategy, major international foodservice equipment market players are focusing on offering innovative products equipped with high-tech functionalities.
Global Foodservice Equipment Market Segmentation and Forecasts
On the basis of foodservice equipment product, the X-Band foodservice equipment segment is expected to dominate the global foodservice equipment market during the forecast period. During this period, the X-Band foodservice equipment segment is projected to grow at a leading CAGR as compared to the other product type segments.
By foodservice equipment application, the merchants segment is the dominating segment with respect to foodservice equipment sales value share. However, the military naval segment is also catching steam and growing at a fast pace.
By foodservice equipment product type, the cooking equipment and baking equipment segments are expected to continue to gain the highest traction, followed by the dishwashers segment. Food manufacturers have introduced various types of low fat products, and buyers have displayed a positive response towards these products. The explosion in popularity of low-fat foods has forced food companies and manufacturers to expand their product ranges to keep up with the consumer demand for fat-free eatables, and also low fat stripping system suppliers to develop new technologies for food manufacturers. Foodservice equipment manufacturers are coming up with designs that also serve as a transfer conveyor during normal operations. Foodservice equipment manufacturers are looking towards huge markets by targeting food & beverage companies present in the low-fat products segment, as a significant share of the world's population is putting on a lot of weight.
Overall, the global foodservice equipment market is expected to grow at a CAGR of 5.2% in terms of value by the end of the forecast period.
Market Participants in the Global Foodservice Equipment Market
There has been a surge in foodservice equipment industry consolidation over the last five years. The ongoing foodservice equipment market consolidation is primarily attributed to the increasing demand for organizational efficiency, product innovation, and market expansion, especially in the developing regions of Asia Pacific and Latin America. Major foodservice equipment market participants involved in the production and sales of foodservice equipment include Electrolux, Libbey Inc., Tupperware Brands Corporation, Fujimak Corporation, Duke Manufacturing Co. Inc., Cambro Manufacturing Company, Inc., Vollrath Co., Hoshizaki Electric Co., Ltd., Dover Corporation, and Rational AG. However, the three most prominent players include Manitowoc Foodservice Inc, Middleby Corporation, and Ali S.p.A, Hobart Corporation.