Polyurea Coatings Market: Key Research Findings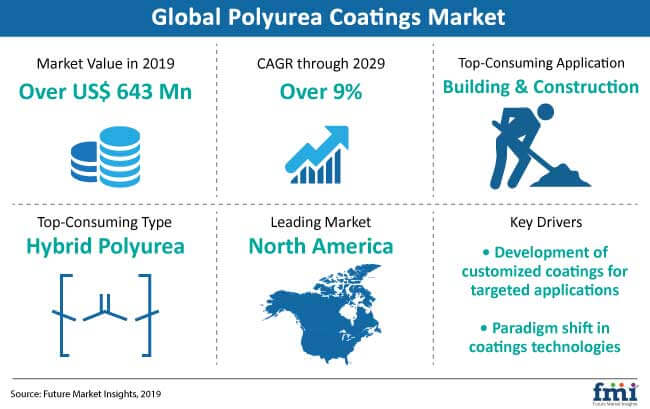 Global polyuria coatings market size estimated in 2019 – Approximately US$ 643 Mn

Prominently driven by the building and construction industry's growth, the market for polyuria coatings is likely to observe robust revenue growth, at an estimated 9% CAGR during 2019-2029.

In terms of consumption, East Asia and South Asia are anticipated to register high value and volume growth in the polyurea coatings market over the forecast period.

Increasing building & construction activities in countries such as China and India, along with rapid industrialization, are the driving factors for the growth of the polyurea coatings market. Moreover, low labor cost and shifting trend towards the adoption of advanced coating technologies in these regions will positively influence the polyurea coatings market.

The markets in North America and Europe are estimated to register healthy growth in the polyurea coatings market over the forecast period.

Despite the slowdown in automotive production, the predominance of industrial activities will ensure the healthy growth of the polyurea coatings market in these regions. Also, steady growth in building & construction activities will have a positive impact on the market.

Increasing Concerns Towards the Risks Associated with VOC Content Coatings

Polyurea coatings offer certain benefits over other coating systems due to their zero VOC emissions and recyclability, which makes them a preferred choice because of their eco-friendly properties. Most coating materials are known to emit volatile organic compounds (VOCs) during and after application. VOC emissions are harmful for humans, and can cause respiratory complications. Therefore, increased environmental awareness is expected to drive the demand for polyurea coatings.
Key Factors Impacting Polyurea Coatings Market Growth
Superiority of polyurea coatings over other industrial coatings

In comparison with epoxy and polyurethane coatings, polyurea coatings have highly superior and advanced characteristic properties.
Compared to epoxy coatings, polyurea coatings have higher moisture-resistance, UV-resistance, abrasion-resistance, chemical-resistance, and more durability, along with high temperature-resistance.
In comparison with polyurethane, polyurea coatings have higher chemical-resistance, durability, and moisture-resistance.
Polyurea coatings have significantly lesser curing time in comparison, owing to their advanced characteristics. As such, polyurea coatings are expected to witness a substantial rise in demand.

Increasing building & construction activities propelling market growth

Rapid population growth and increasing urbanization are pushing the growth of the building and construction industry, both, in developing and developed countries.
Increasing construction of residential as well as non-residential buildings is also boosting the demand for construction chemicals and materials.
Increasing construction activities are expected to drive the market for polyurea coatings during the forecast period.
Polyurea Coatings Market Structure Analysis
Top companies operating in the global polyurea coatings market include Sherwin-Williams Company, PPG Industries, Inc., Teknos Group, BASF SE, DowDuPont Inc., Huntsman Corporation, Covestro AG, Pidilite Industries Ltd., and Versaflex Incorporated, amongst others.
These players are trying to expand and grow in the polyurea coatings market through strategic steps of development. This report on the polyurea coatings market is designed to provide relevant information regarding these players, and also about the key strategies that they have adopted.
Polyurea Coatings: A Shift Toward Advanced & Protective Coatings
Polyurea coatings have emerged as new staple in the coatings industry, in light of their application versatility and superiority over their conventional counterparts. The shift toward advanced and protective and performance coatings, which are water-borne, two-component systems, owing to their excellent waterproofing attributes, has significantly complemented adoption of polyurea coatings.
Polyurea Coatings Market to Grow 2.5X by 2029
Polyurea coatings are gaining fast traction, with sales buoyed by resurgent growth in construction activities ensued by the urbanisation trend. Polyurea coatings are deprived of VOC emissions, and enable complete recyclability, making them a sustainable, green alternative to their counterparts such as polyurethane resin paints and coatings, thereby driving demand.
Emerging Economies – Second Wave of Growth
North America and Europe remain most attractive markets for polyurea coatings. However, opportunities in developing economies are imminent, with the rise in construction and infrastructure development activities. The polyurea coatings landscape is considerably fuelled by the product developments in South Asia and East Asia. Growing adoption of regulations on VOC emissions in these markets are further adding to opportunities for the polyurea coatings manufacturers.
The Broader Perspective
Stakeholders are significantly eyeing opportunities in untapped markets, even as focusing on investments for improved production efficiency. Leading players are putting efforts on enhancing their brand recognition, while exploring new revenue opportunities. Customised product development and mergers & acquisitions are key strategies of stakeholders, with the aim of extending their services to end-users.
How Growth will Unfold
North America remains the leading market, underpinned by growing stringency in environmental regulations and shift to high-solid coatings. East & South Asia present lucrative opportunities for polyurea coatings market, upheld by the recent surge in adoption of eco-friendly alternative.
World's Most Profilic Intelligence Engine
Get Access To The World's Largest Market Research Database. Ngage with a revolutionary intelligence engine that scale and pricing that flexes as per your needs
Sign Up Now
POLYUREA COATINGS MARKET TAXONOMY
The global polyurea coatings market is segmented in detail to cover every aspect of the market, and present a complete market intelligence approach in front of the reader.
By Type
Pure Polyurea
Hybrid Polyurea
By Isocynate Type
By Application
Building & Construction

Roofs
Walls
Floors
Bridges
Others

Industrial

Pipes
Tanks & Containment
Equipment & Machinery

Automotive & Transportation
Others
Region
North America
Latin America
Europe
South Asia
East Asia
Oceania
Middle East & Africa
Need specific information?