Coil Coatings Market - Key Research Findings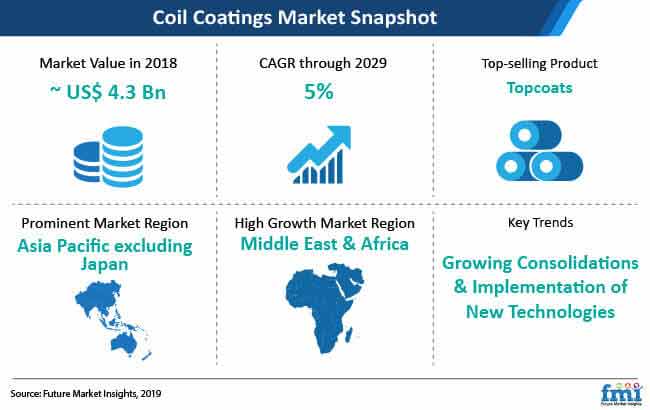 The global coil coatings market size in 2018 was valued at ~US$ 4.3 Bn.
The coil coatings market is expected to grow at a CAGR of ~5% during the forecast period of 2019-2029.
Continuous demand for domestic appliances is driving the sales of coil coatings.
Collectively, APEJ and North America, are expected to account for ~60% of the revenue shares in the coil coatings market by the end of 2029.

APEJ (Asia Pacific Excl. Japan) is estimated to be the key revenue generator for coil coatings market, owing to the positive growth in end-use industries, such as construction, transportation, metal, furniture, and others.

The construction industry is expected to remain a prominent end-use area to invest in, for coil coatings market players.

Growing use of coil coatings in consumer durable goods including refrigerators and washing machines is likely to result in increased market share in the years ahead.
Key Factors Shaping the Coil Coatings Market
Continuous Environmental and Commercial Progress

The coil coatings market is estimated to experience considerable growth in the coming years, particularly in the construction sector. A major number of participants in building projects are very responsive to the implementation of pre-coated claddings. To architects, they offer an opportunity to play with new colours, shapes, and harmonies to utilize.

The formulators of paints and coatings have made tremendous efforts to investigate paints and coatings based on materials that are less dangerous to the environment and human health. As such, pre-coated steel and aluminium can be recycled with fewer amount of losses.

Aforementioned points have contributed significantly to the growth of the coil coatings market in the recent past, and the trend is expected to continue over the next decade.

Growing Demand for Polyester Material

Polyester coil coatings are expected to account for significant sales in the year 2019 and improve by 120 BPS till 2029. Utilization of polyester is rising worldwide, owing to the material's excellent properties, including good chemical resistance, good formability, and the ability to withstand harsh weather, thereby protecting both interiors and exteriors of buildings.

Globally, the consumption of polyester was pegged at around 650 KT in 2019, and is expected to reach more than 1000 KT by the end of 2029. Polyester coil coatings will continue to influence the growth strategies, while the demand for materials such as epoxy and acrylic is expected to grow at moderate rate in the global coil coatings market during the forecast period.

Rapid Expansion of Construction Industry

Key players in the coil coatings market are targeted towards capitalizing on rapid expanding construction industry, especially in developing economies. Coil coatings find significant application in pre-coated metal or products, which are utilized in roofing and wall cladding of buildings. Growing application of coil coatings in the construction industry is likely to account for high market share in 2019, and improve by significant BPS by end of 2029. Globally, the consumption of coil coatings in construction sector is set to reach and ~950 KT in 2029, up from ~ 600 KT in 2019.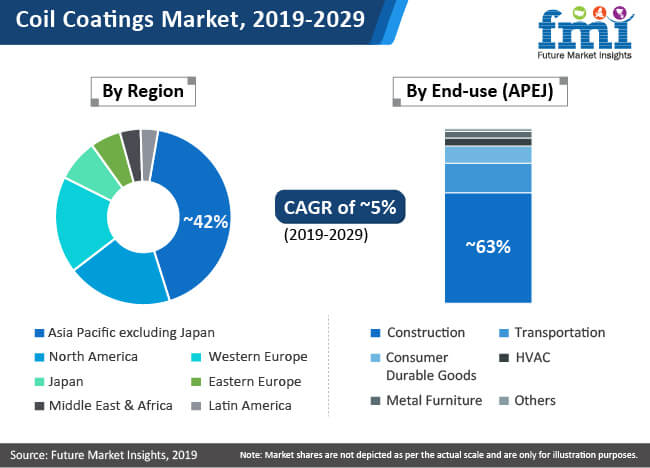 Coil Coatings Market Structure Analysis
The global coil coatings market shows high level of consolidation, with leading players accounting for ~60% share in the overall market. This is mainly attributed to the fact that the major players are availed with equipment and improved technology for the production of advanced coil coatings. On the other hand, local or small and medium-sized players have limited focus on the expansion of production facilities and global reach. Such players target the local customer base, and have prominent presence in the regional coil coatings market.
Portfolio extension is also identified to remain one of the key developmental strategies adopted by manufacturers of coil coatings.
Key Segment
Material Type
Polyester
Epoxy
PVC
Plastisols
Acrylic
Polyurethane
PVDF
Silicone
Product Type
Topcoats
Primers
Backing Coats
Others
End-Use
Construction
Transportation
Consumer Durable Goods

Refrigerators
Washing Machine
Ovens & Toasters
Air Conditioners
Others

HVAC
Metal Furniture
Others
Application
Region
North America
Latin America
Western Europe
Eastern Europe
APEJ
MEA
Japan
Need specific information?