An Incisive, In-depth Analysis on the Functional Coil Coatings Market
This study offers a comprehensive, 360 degree analysis on the Functional Coil Coatings market, bringing to fore insights that can help stakeholders identify the opportunities as well as challenges. It tracks the global Functional Coil Coatings market across key regions, and offers in-depth commentary and accurate quantitative insights. The study also includes incisive competitive landscape analysis, and provides key recommendations to market players on winning imperatives and successful strategies.
Topcoats and primers to reflect same adoption rates in the global functional coil coatings market during the forecast period
The functional coil coating process is a chemical pre-treatment of the metal surface on either one side or both the sides. It is a special type of coil coating and includes various products that are used for functional coil coatings like topcoats, primers, backing coats and others. Among these products, topcoats are estimated to have significant market share, as they are largely used for functional coil coating process. Topcoats are also termed as finishing coats. For applying topcoats, the strip of the coil is passed through the roller coater machine. The topcoats are generally applied on both the sides. Topcoats are generally made of polyester, SMP (silicone modified polyester), polyurethane, PVDF, plastisols and PVC etc.. According to the market forecast, topcoats segment in the product type category is expected to reach a market value of over US$ 260 Mn by the end of 2027. Topcoats is in strong competition with primers which is projected to grow at same CAGRs as topcoats. Both attractive products of global functional coatings market, i.e. topcoats and primers are expected to grow at the rate of 5% during the forecast period. By Application, aluminum segment is projected to witness prominent growth.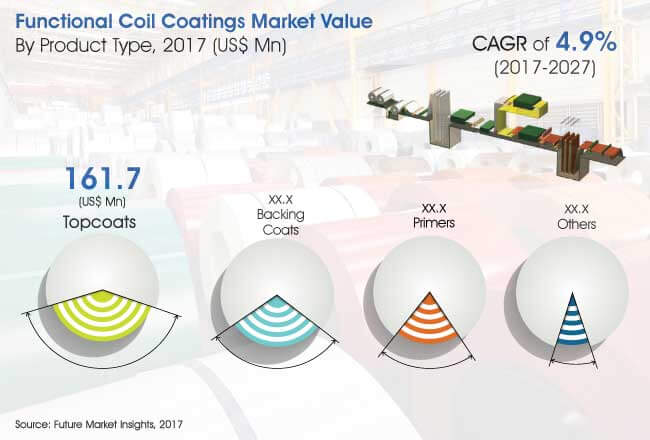 A new trend shows development of eco-friendly products in the global functional coil coatings market
Earlier, crude-oil based solvents formed a key component of paints and coatings. However, solvent-based paints and coatings are said to release relatively higher amounts of VOCs as compared to other bio-based alternatives. VOC is hazardous to the environment as it reacts with nitrogen to form ozone, thereby contributing to ozone depletion. This has even made various environmental regulatory bodies, such as the European Environment Agency (EEA) and The Environment Protection Agency, to set VOC content limits for various coatings in the market. Lately, coating manufacturers are focusing on the development of eco-friendly or green-product offerings that employ bio-based resins. The European coil coatings industry is one of the largest worldwide and has innovated strongly throughout the last decade to create a technology for high performance products. The trend for 'green' philosophy of coil coating technology is growing, especially in Europe. Coil coatings are being developed to meet the needs of customers while also reducing the emission of volatile organic compounds.
Water based coating is expected to assist the global functional coil coating products, in order to put a hold on VOC emissions
Strict environmental regulations have increased the demand for water based coatings. Strict regulations related to VOC emission has compelled coating manufacturers to go green and adopt sustainability as their agenda. Manufacturers are spending heavily on research aimed at developing new and innovative products to be offered at a reduced cost while adhering to regulatory guidelines. This shift towards water based coatings have also increased the application areas such as electricity and power industry driving the demand for water based coating in the region. Water-based coatings reduce volatile organic compound emissions (VOC) by 80% as compared to solvent-based coatings and offer enhanced performance. The increase in demand for water based coatings triggers the overall functional coil coatings market. However the market may face a few restrictions in its growth like high prices of the raw materials used in the coatings market.
The comprehensive research report assists the reader in devising and implementing key strategies with a view to gain stability in the global functional coil coatings market with changing dynamics and also gain an edge over the competition. The research report includes vital forecast projections of ten years down the line which can give a realistic picture of the global functional coil coatings market.
The research report includes a holistic approach
Research report on functional coil coatings market includes a global perspective. Important regions across the globe are covered and the trends, developments, drivers, restraints and challenges impacting the growth of the market across these important geographies are studied. This delivers a 3600 perspective to the reader which can assist him/her in gaining intelligence on various regional markets for functional coil coatings. Various revenue pockets can be identified with the help of this research study and regions with high potential can be known. Moreover, the global analysis is carried out without biasness which delivers the much needed value addition to the reader.
Unique research methodology implemented
Future Market Insights implements a one of a kind research process to garner key insights of the market. This research methodology has two main arms, namely, primary research and extensive secondary research. Secondary research is used to gain a clear market understanding based on which the entire market is segmented and major players are identified. At the same time, primary research is carried out in parallel to the secondary research, with respect to the region, distribution channel, and product type. Several primary interviews with opinion leaders, key market observers and experts are conducted during which each data point gathered in the secondary research is cross verified. Moreover, the data and statistics obtained from one primary interview are again verified in the second and this process continues till the completion of the final research study. These multiple validation and verification funnels ensure high accuracy of the researched data thus giving a real perspective to the reader.
Market Taxonomy
Material Type

Application

Product Type

Technology

End Use

Region

Polyester

Epoxy

PVC/Vinyl

Plastisols

Acrylic

Polyurethane

PVDF

Steel Coating

Aluminum Coating

Topcoats

Primers

Backing Coats

Others

Liquid Coating

Water Borne

Solvent Based

Powder Coating

Transportation

Consumer Appliances

HVAC

North America

Western Europe

Asia Pacific Excl. Japan

Latin America

Eastern Europe

Middle East and Africa

Japan
Competitive assessment is vital to understand market growth path
This research report covers an in-depth competitive landscape in which key players are profiled. Various manufacturers involved in the functional coil coatings are assessed. Their key financials, general company overview, weighted SWOT analysis, key developments, innovations, geographical spread and strategies are studies and have been skilfully crafted in this comprehensive research report. This can support the reader in making informed decisions and slate key strategies. The pulse of the market is revealed in this section which can help the reader in implementing key tactics to gain competitive advantage.
Such an in-depth, comprehensive research study delivers the much needed value addition, with unbiased statistical analysis and key recommendations which can be used to plan future expansions and improve current position in the market in a particular region. Just a click away, the reader can gain intelligence on key companies and entire market segmentation across regions. All the data and insights are skilfully crafted and presented in a systematic order for reader's convenience.
COVID -19 : Impact Analysis
Request the coronavirus impact analysis across industries and markets
Request Covid -19 Impact
CASE STUDIES
See how our work makes an impact.
At FMI, we design strategies that are adaptive, impactful, and implementable.