Functional Films Market Product Type (Optical film, Coating film, Adhesive film, Conductive film, Reflection Films), End-Use Industry (Automotive, Food & Medical Packaging, Renewable, Printing & Packaging) & Region – Forecast 2021 – 2031
Functional Films Market - Analysis, Outlook, Growth, Trends, Forecasts
April 2021

REP-GB-603

150 pages
Functional Films Market Overview
[150 Pages Report] Functional films market is poised to reach US$ 47.17 Mn by 2031. The demand for both optical and coating films is considerably high. Of these, coatings films are expected to emerge dominant, exhibiting 8.7% CAGR over the forecast period
Rising demand from diverse end users have multiplied the consumption of plastic and metal films. The functional films market is consequently impacted in response to the surging demand from various industries and is expected to surpass US$ 47.2 Bn by 2031. The easy availability of raw materials and economic processing costs will continue favoring growth of the market.
In its new study, ESOMAR-certified market research and consulting firm Future Market Insights (FMI) offers insights about key factors fueling the demand for Functional Films. The report tracks the global sales of Functional Films in 20+ high-growth markets, along with analyzing the impact COVID-19 has had on the manufacturing and retail industry in general.
What are the Historical and Future Prospects for Functional Films Market?
Product differentiation offered by key players is the result of several developments, testing and research being carried out over the years. There has been a consistent demand from the packaging sector, comprising food packaging and medical packaging. With the onset of urbanization and population growth, the demand for films will grow and drive sales of functional films.
New generations of green organic films and coatings are consistently under development to meet the requirements for the food packaging, anti-corrosion, and biomedical applications. In recent years, much more attention has been directed towards materialization and commercialization of the newly synthesized high-performance environmentally friendly films and coatings made of bio-resource polymers.
The impact of the COVID-19 pandemic has been unprecedented on a global scale. The consequences have been far reaching, particularly for film manufacturers as the procurement chain was disturbed. Globally, the polymer industry experienced a sharp decline in 2020. Arguably, the challenge for manufacturers was to maintain the production in tight demand with restrained economic activities.
Since COVID-19, there have been some observable signs of slowing down. The overseas market development, remote working trends, unavailability of raw materials, and dependency on outsourcing, were some of the key trends during pandemic. With recovery in emerging markets and relaxation in manufacturing activities, the outlook for functional films market is positive. FMI expects global functional films market to grow at 7.2% CAGR through 2031.
How is Expansion of Packaging Industry Impacting Growth?
Over the past few decades, a rapid increase in both the production and consumption of biaxially oriented polypropylene (BOPP) films, which are used in packaging, is registered. In 2014, BOPP global demand reached 7.97 million tons and in 2015 rose to 11 million tons. BOPP films are used extensively in the packaging industry.
Their use is expected to increase as producers within the packaging industry aimed for optimizing the use of conventional non-biodegradable petroleum-based plastic packaging materials. This shift in preference is a result of increasing focus on sustainability.
In recent years, the continued expansion of BOPP production capacity has resulted in a high demand across various industries, which is positively impacting the functional films market.
Are Strategic Tie-ups Providing Stimulus to Functional Films Manufacturers?
Some of the key market participants are establishing partnerships and collaborating with allied industry players such as polymer manufacturers, laminators, equipment specialists, and technical service providers. These partnerships are aimed at gaining access to specific technologies without making capital investments individually. These collaborative efforts also aim to develop product with shared technical expertise, provide value added solutions and meet demands of market economically and steadily.
How Are Advent of Novel Technologies Affecting Functional Films Sales?
Suppliers are developing and expanding their capacities. The quest to protect products and extend product shelf-life is translating into a need for better barrier protection from aromas, moisture or even mineral oil migration. This has led to the development of sophisticated packaging systems. With the adoption of flexible packaging continuing to grow around the world, manufacturers are developing new structures and compositions to suit the ever-more demands in increasingly sophisticated ways.
Functional Films Market Country-wise Insights
How big is the Opportunity in the U.S.?
The presence of some of the established market players has been driving growth in the U.S. The country is a pioneer in the development of functional films required for various advanced applications. Within the U.S. market, coating films and optical films have emerged dominant.
Growth registered in these segments is backed by the presence of some of the leading players from the chemical sector. Raw material suppliers are actively working with these film chemistries for applications in agriculture films and industrial films.
For instance, BASF's Ultrason application for thin films, can be used as a protective layer and electrical insulation for the automotive, and electrics and electronics (E&E) industries.
How is the Functional Films Market Faring in China?
Within China, suppliers in the plastics industry are major drivers of the functional films market. Online activity, online sales, large consumption base and proximity to emerging economies have led to major growth in Chinese market for functional films. China constitutes more than half of the thin-film capacity in the world and there is large activity in this country for thin films and industrial films.
What is market potential for Functional Films in Germany?
Countries in Europe such as Germany, are considered hotspots for functional films. Some of the film manufacturers have partnered with leading chemical companies from Germany. These partnerships are aimed towards a collaborative effort towards driving profitable solutions while simultaneously serving market needs. The country is likely to generate profitable business in the forecast period. It has a very high market potential considering supply-side development.
What is the Scope for Expansion of Functional Films Market in U.K.?
The U.K. being in close proximity to other Europe markets gets benefits of capacity expansions and facility developments for functional film manufacturers.
For instance, Coveris installed two new extrusion lines at its Cheshire-based facility in U.K. to support the company's Pack Positive sustainable growth strategy.
Pack Positive is responsible for the manufacture of more than 40,000 tons of PE film annually, and the new machines will create an additional capacity of 5,000 tons of recycle-ready mono-polymer films for the food and manufacturing sector.
How Lucrative Is The Market For Functional Films in Japan?
Japan is one of the industrialized economies squarely driving the market growth. A large number of fragmented functional film market is based in Japan. It is also home to major growth contributors such as Panasonic Corp and Toppan Printing Ltd. Various expansion strategies undertaken by the leading players in the region is aiding the overall expansion of the market.
For instance, in Oct 2020, Panasonic Commercializes an Anti-Glare Type Anti-Reflection Film for Automotive Displays. The film boasts excellent weather ability conforming to the DIN (Deutsche Industrie Norm) Standards and high infrared transmittance.
In Feb 2021, Tokyo-based Toppan Printing developed a fire extinguishing film that responds to heat by emitting aerosol particles. The new film is targeted toward manufacturers of batteries and electrical appliances.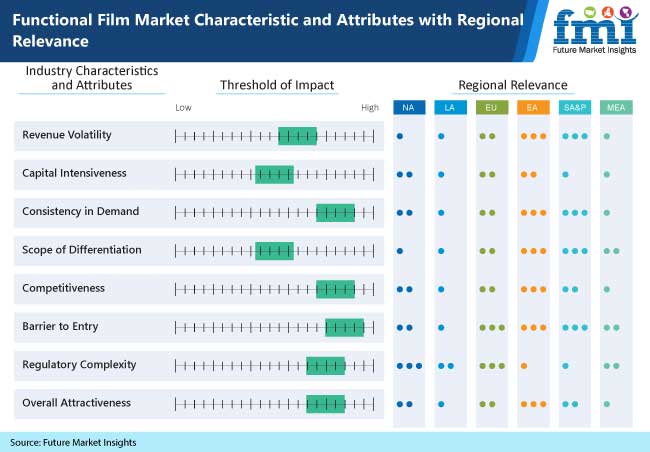 Functional Films Market Segment-wise Insights
Which Functional Films Type is currently under the Spotlight?
Functional films are used in various types of industrial applications and have distributed usage but the consumption of optical films is higher than other product types. Dominance of this films' type is sealed because they can change the transmission characteristics of light, including the projection, absorption, scattering, polarization and phase change of light. Holographic films, polarizing films and diffusion films, used in electronics, automotive and other display applications. These films are expected to fuel in more demand in the upcoming years, with developments in ADAS technology and electronics industries.
Is there Room for Usage of Functional Films in the Renewable Industry?
In the current industry scenario, a large number of photovoltaic (PV) applications require films which play a vital role in the PV system. They are easy substitutes for large silicon wafers. Films in solar applications are also viable candidate for blocking sunrays and reducing intensity of sunlight. Due to their unique ability to absorb, deflect and create barrier layers, their usage is rising in solar systems.
Functional Films Market Competitive Landscape
Some of the leadng players profiled in FMI's functional films market include 3M, Dai Nippon Printing Co. Ltd, Toray industries Inc, SABIC, Covestro AG and Saint Gobain Films.
The functional films market is a highly competitive one, characterized by the presence of global petrochemical and chemical manufacturers and key players who are actively involved in the printing and packaging sector.
Some players are adopting backward integration, directly purchasing petrochemicals and manufacturing films from scratch. The market is also driven by regional players and new entrants who are aggressively involved to build their brand name. The Tier-1 players hold approximately half the global value share. Drive for product positioning and collaboration are some of the common behavioral trends in the global market.
Some of the leading companies operating in the market are:
Toppan Printing Co. Ltd
Dai Nippon Printing Co Ltd
Toyo Ink SC Holdings Co Ltd
Toray Industries Inc
SABIC
Covestro Ag
Mondi Plc
Innovia Films
Dupont Films
Saint Gobain
Polifilm Gmbh
*The list is not exhaustive, and only for representational purposes. Full competitive intelligence with SWOT analysis available in the report.
Scope of the Report
Attribute

Details

Forecast Period

2021-2031

Historical Data Available for

2016-2020

Market Analysis

USD Million for value

Key Regions Covered

North America, Latin America, Europe, East Asia, South Asia-Pacific and Middle East & Africa

Key Countries Covered

US, Canada, Germany, U.K., Italy, Spain, Russia, China, Japan, South Korea, India, ASEAN countries, Australia, Turkey, Brazil

Key Segments Covered

Product Type, End-use Industry and Region

Key Companies Profiled

Toppan Printing Co. Ltd
3M
Dai Nippon Printing Co Ltd
Toyo Ink SC Holdings Co Ltd
Gunze Ltd
Toray Industries Inc
SABIC
Panasonic Corporation
Covestro Ag
Mondi Plc
Innovia Films
Dupont Films
Saint Gobain
Polifilm Gmbh

Report Coverage

Market Forecast, brand share analysis, competition intelligence, DROT analysis, Market Dynamics and Challenges, Strategic Growth Initiatives

Customization & Pricing
World's Most Profilic Intelligence Engine
Get Access To The World's Largest Market Research Database.
Sign Up Now
Functional Films Market by Segments
Product Type
Optical film
Coating film
Adhesive film
Conductive film
Reflection Films
End-use Industry
Automotive
Food & Medical Packaging
Renewable
Printing & Packaging
Other Industrial
Region
North America
Latin America
Europe
East Asia
South Asia-Pacific
Middle East & Africa
Key Questions Answered in the Report
Which is the Most Lucrative Market for Functional Films?
The U.S. currently leads the global functional films market. The presence of several leading players
Which Type of Functional Films are in High Demand?
Optical films, in the functional films market is the most valued as they have diverse display applications in emerging technologies like automotive, electronics and solar cells.
Which Regional Functional Films Market is expected to Showcase High CAGR?
East Asia is expected to register a healthy CAGR over the forecast period. Currently, the functional films market in East Asia accounts for nearly 40% of the global market.
Which Are Some Of The Leading Companies In The Functional Films Market?
Some of the leading companies in the Functional Films market are 3M, Dai Nippon Printing Co. Ltd, Toray industries Inc, SABIC, Covestro AG and Saint Gobain Films.
Who is the Leading End User of Functional Films?
The printing and packaging sector is driving the sales of functional films. Recent developments in PET films and flexible packaging applications will continue driving sales in the sector.
Need specific information?
Our Clients