KEY GROWTH INFLUENCERS - VISCOSITY INDEX IMPROVERS MARKET
Rising Demand for High-quality Lubricants
The consumption of viscosity index improvers is directly proportional to the production of lubricants. The lubricants industry is expected to grow at a higher rate as dynamics of lubrication technology are advancing at an increased intensity as a result of industrial growth. Technological advancements and shifting focus towards higher fuel economy are driving the demand for lubricants from the automotive industry.
Emerging economies such as India, China, and Indonesia are driving the growth of the manufacturing sector, thus, bolstering demand for industrial lubricants. Stringent environmental as well as governmental regulatory standards are propelling the demand for high-quality lubricants.
For instance, in India, deterioration in air quality has resulted in tightening of emissions limits, which is further driving the demand for high–performance lubricants. Thus, the growing demand for high-quality lubricants is directly as well as indirectly positively influencing the growth of the viscosity index improvers market.
Increasing Consumption of Engine Oils
Engine oil is the most widely used automotive lubricant across the globe, as it is used to lubricate internal combustion engines. Initially, only monograde engine oils, which operate only in a particular temperature range, were classified under SAE Viscosity Grades. However, the usage of viscosity index improvers has enabled the development of multi-grade engine oils that show reduced temperature dependency.
According to the recent ILSAC passenger car motor oil specification G5, viscosity index improvers are crucial as they reduce temperature dependency. Viscosity affects a number of important factors, including energy consumption, wear, and tolerance to contamination. Thus, the increasing demand for high-performance engine oils is anticipated to drive the demand for viscosity index improvers during the forecast period.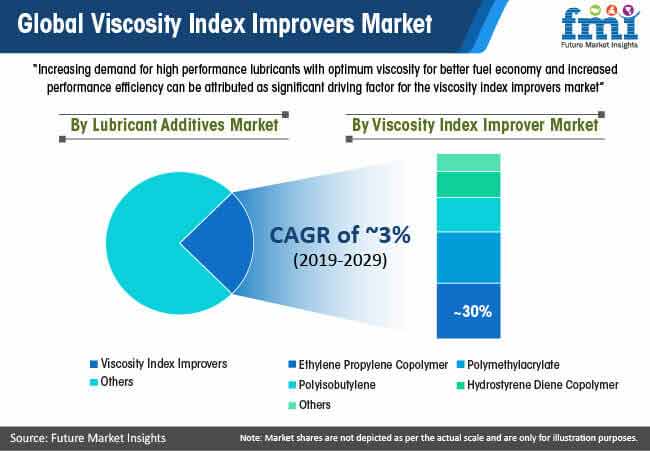 Expanding Two-wheeler Fleet
Road infrastructure in developing and under-developed regions is still in a primitive stage as compared to developed countries. To fulfill their need for mobility and overcome high selling prices and tax rates of four wheelers, consumers opt for motorcycles, subsequently bolstering demand for two-wheeler lubricants. Today, two-wheeler engines require more quantity of high-quality engine oils as compared to four wheelers, and the oils used in two-wheelers break down more easily at high temperatures.
Furthermore, the fleet of two wheelers has increased considerably. It is estimated that by 2020-end, nearly 60 Mn units of two wheelers will be sold across the world. This is anticipated to create lucrative growth opportunities for market players in the viscosity index improvers market.
VISCOSITY INDEX IMPROVERS MARKET STRUCTURE ANALYSIS
The viscosity index improvers market is moderately consolidated with prominent players accounting for significant market shares.
Most of the leading market players are emphasizing on strengthening their market foothold through strategic establishment of joint ventures with local or regional players. Most of the market players are channelizing their efforts on continuous product innovation to meet the changing market needs.

For instance, to increase its market presence in China, Infenium International Limited formed a joint venture with SINOPEC, a prominent global as well as regional player, under the name Shanghai High-Lube Additives Co. Ltd.

Most of the market players are investing on the expansion of their R&D centers and facilities to accelerate product innovation. Through process R&D and product innovation in advanced manufacturing, players have improved their response time for customized solution requirements.

Recently, Chevron Oronite Company LLC introduced a new product PARATONE® 8935E, an enhanced ethylene olefin co-polymer (OCP), designed for passenger car motor oil applications.

Some of the prominent players in the viscosity index improvers market are Lanxess AG, The Lubrizol Corporation, Evonik Industries AG, Afton Chemical Corporation, Chevron Oronite LLC, and Infenium International Limited.
OCP and PMA Continue to Witness Significant Traction
Poly methyl acrylate (PMA) and ethylene propylene copolymer (OCP) will remain the preferred product choices, accounting for a collective revenue share of over 3/5th of global market value. While the former would maintain its hegemony throughout the period of projection, the latter is set to exhibit a significant growth rate.
North America Leading the Way, East Asian Market Buckling
North America continues to lead the viscosity index improvers market, whereas East Asia and South Asia are likely to be showcasing rapid CAGRs over 2019 – 2029. Sales of viscosity index improvers in the U.S. alone will cross US$ 1 Bn mark by the end of forecast period. On the other hand, market in China and India is reflecting worthwhile prospects owing to the blooming automotive industry. Leading manufacturers of viscosity index improvers are also eyeing windows of opportunity in ASEAN countries, as they represent a thriving automotive aftermarket.
R&D a Must for Regulatory Compliance
Raw materials such as monomers and copolymers used in the production of viscosity index improvers are extracted from refinery operations and petrochemical feedstock. Volatility in crude oil prices is restraining the production of petrochemical feedstock, resulting in high costs of these raw materials. Volatility in pricing of starting materials is leading to reduced profit margins for players in the market.
Various environmental organizations, including the U.S. EPA (Environmental Protection Agency) have instituted regulations regarding reduced usage of lubricant and lubricant additives. Manufacturers thus maintain their focus on R&D so as to develop viscosity index improvers in compliance with regulatory framework.
How Growth will Unfold
Although viscosity index improvers continue to find maximum application in automotive lubricants, their adoption for vehicle lubrication purposes will eventually face a gradual decline during the latter half of the forecast period. This potential slowdown could be attributed to the advent of electric vehicles (EVs). However, the expansion of industrial space and increasing frequency of re-lubrication activities warrant that the demand for viscosity index improvers for high-performance industrial lubrication applications will sustain in the long run.
VISCOSITY INDEX IMPROVERS MARKET TAXONOMY
The global viscosity index improvers market is classified in detail to cover every single aspect of the market and deliver complete market intelligence to the reader.
Product
Polymethacrylate (PMA)
Ethylene Propylene Copolymer (OCP)
Hydrostyrene Diene Copolymer (HSD)
Polyisobutylene (PIB)
Others
Application
Vehicle Lubricants
Industrial Lubricants
Transmission Fluids
Region
North America
Latin America
Europe
South Asia
East Asia
Oceania
Middle East and Africa
Emerging Countries
Need specific information?
Talk Show:
The Rise of Intelligent Packaging
Personalized, Connected and Sustainable
November 18, 2021
11:00-11:45 AM PST (USA & Canada)
This is a LIVE session