Cold Flow Improvers Market Introduction
All paraffinic minerals having oil as a base stock may contain small amounts of waxy materials, which become visible as the temperature lowers. The temperature at which these crystals can be observed is known as 'cloud point'. At lower temperatures, these crystals form a three-dimensional network that solidifies the entire fluid. The minimum temperature at which an oil is in its fluid state is known as 'pour point'.
Cold flow improvers are lubricant additives or polymers manufactured to control wax formation in pipelines and process units. Thus, they are extensively used in end-use industries dealing with lubricants and the oil & gas sector.
High pour point crudes may result in severe problems, such as:
Blockage of pipelines
Formation of wax, resulting in fouling of process lines
Solidification in storage tanks
The global cold flow improvers market is estimated to be valued at US$ 980.8 Mn by 2018 end and is expected to reach US$ 1,544 Mn by the end of 2027, while expanding at a CAGR of 5.2% over the forecast period. The global cold flow improvers market is anticipated to represent an incremental opportunity worth US$ 563.18 Mn between 2018 and 2027.
Growth in the Global Automotive Industry to Fuel Demand for Cold Flow Improvers
Automotive sales has been gaining traction, post the global slowdown. The demand for automobiles in the market is largely driven by growth in industrialization and urbanization and economic growth across the globe. This, in turn, has been accelerating the demand for cold flow improvers for application in lubricant additives so as to enhance to ability of the lubricant to withstand low temperatures in European and American countries.
Increasing disposable income among the masses has been compelling investors to significantly invest in the automotive industry. The ever-increasing demand for vehicles has prompted automobile manufacturers to improve production output so as to accommodate growth. This has been positively influencing the sales of lubricant additives in the global automotive market and subsequently, that of cold flow improvers.
Growth in total automotive production, which increased from 95.6 Mn units in 2016 to 96.2 Mn units in 2017, proves that the demand for automobiles is increasing year on year in the global market
Market for Cold Flow Improvers to Grow as Bio-Based Lubricants Drive the Momentum for Capacity Expansion
More recently, lubricant manufacturers have been focusing on using raw materials such as vegetable oils or bio-based oils so as to significantly reduce their environment footprint. This has been translating into reduced performance penalty at a competitive cost, which has been encouraging industrial lubricant manufacturers to increase their production capacity to cater to the rising customer demand.
This particular factor will drive the market growth of cold flow improvers in the near future. Further, this factor has also reduced the dependence on petroleum-based raw materials, which are highly susceptible to crude oil price fluctuations.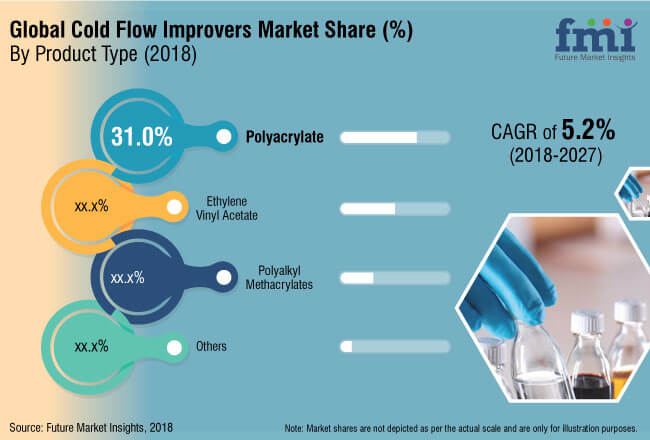 Efforts to Diversify Applications of Correct Cold Flow Improvers Trending the Global Market
There are no universal cold flow improvers. Cold flow improvers have to be tailor-made in accordance with the base oil. Applications that are similar in nature may also require different cold flow improvers, depending upon the product specification. In the event that the right pour point depressant has not been selected, the low-temperature viscosity eventually increases to subsequently restrict the oil from protecting the engine at critical conditions, such as during cold startups.
The performance package, base stocks and the viscosity index improvers being used collectively dictate the selection of the right pour point depressant. When blending plants manufacture extensive ranges of lubricants, the selection of the right pour point depressant becomes yet tougher.
For instance, in 2006, a hurricane disrupted the supply of oil in the United States, owing to which many oil makers found alternatives for base oils in order to avoid or minimize disruptions in production. These new base oils are anticipated to require different cold flow improvers
Key Players
Some of the players reported in this study on the global cold flow improvers market include BASF SE, Clariant AG, Evonik Industries AG., AkzoNobel N.V., Baker Hughes Inc., Afton Chemical, Bell Performance, Inc., The Lubrizol Corporation, Chevron Corporation, Infineum International Limited and Ecolab. Moreover, manufacturers of cold flow improvers have been channelizing efforts towards strengthening their distributor and retailer network and are focusing on specific regions. This is expected to positively impact the cold flow improvers market in the near future.
Cold Flow Improvers Market Segmentation
Product Type
Polyacrylate
Polyalkyl Methacrylates
Polyalkyl Methacrylates
Ethylene Vinyl Acetate
Others
By End Use
Automotive
Aerospace
Industrial
Region
North America
Latin America
Europe
China
APAC
Middle East and Africa
Need specific information?