VCI Packaging Market – Key Research Findings
According to Future Market Insights' recent market report titled "VCI Packaging Market: Global Industry Analysis 2014-2018 and Opportunity Assessment 2019-2029", increasing demand for VCI packaging products from the primary industry is expected to propel the growth of the VCI packaging market during the forecast period. The global VCI packaging market was valued at ~US$ 600 Mn in 2018, and is projected to grow at a CAGR of ~6% during the forecast period, 2019-2029.
Key Factors Shaping the VCI Packaging Market
Cross-Border Trade & Export of Metal Products
According to ITC (International Trade Center), the global export of steel & iron was valued at ~US$ 420 billion in 2018. By analyzing the historic trade activities, the iron & steel export is projected to expand at a CAGR of ~2% during 2019-2023. The rising export of steel & iron parts and components is anticipated to create the need for adequate shipping & warehousing resources. Globally, ~US$ 10 Bn of corrosion occurs in export shipments.
The corrosion during shipments can be minimized by using proper VCI export packaging. The trade standards for packaging are also playing a vital role in the designing of VCI export packaging.
Product Development Strategy to Acquire New Customers
Expansion in shipping & logistics activities of metal products is generating a need for advanced anti-corrosion products. Manufacturers are opting for product development strategy to stand superior in the market competition. Consumers' specific demand for metal packaging is attributed to be the primary factor in product development.
The leading companies from VCI packaging are manufacturing bio-based packaging products to minimize the usage of plastic products without hampering the anti-corrosion function.
Moreover, companies are focusing on offering all VCI products rather than providing only one particular product. They are trying to increase the product life & durability in VCI packaging. In addition to these, companies are significantly working to reduce the impact of VCI on health.
Bio-Based VCI Packaging for Food Service Manufacturers
The VCI packaging market is shifting towards bio-based or biodegradable VCI packaging. In recent years, manufacturers seem to design biodegradable products by considering intolerance for plastic in industrial packaging.
The leading key players in the VCI packaging market such as Cortec Corporation, Green Packaging, Inc., Zerust (NTIC), and Daubert Cromwell are enhancing their VCI packaging with eco-friendly products. The bio-based VCI packaging is a direct food contact approved packaging, which is a beneficial metal packaging option for food machinery manufacturers.
VCI Packaging Market: Regional Analysis
The East Asia region is estimated to be a prominent in the VCI packaging market, owing to its high export of metal products and bourgeoning manufacturing sector. The high volume production & export of primary metal & parts from China to the world is anticipated to be a key driver for the high growth of the VCI packaging market in China.
The top five countries include China, United States, India, Germany, and France. They are estimated to share half of the global VCI packaging market in 2019. Biodegradable VCI packaging is likely to witness growth in demand due to increased intolerance for plastic use in Europe and North America.
VCI Packaging Market: Trends
The VCI packaging manufacturers are developing their business through constant product development, geographical expansion, and acquisition. Some examples of the step taken by key players to enhance the market position are as follows:
In June 2019, Cortec Corporation developed CorShield® VpCI®-146 Paper, which offers two-sided protection and greater flexibility.
In March 2019, Daubert Cromwell, Inc. introduced new corrosion inhibitor VCI bubble bags to protect the metal parts.
In January 2019,Transcendia Inc. acquired IME (Industrial Mecano), the manufacturer of anti-corrosion active and protective packaging solutions. In April 2017, the company also acquired Marshall Plastic Film, the manufacturer of anti-corrosion films.
In 2018, Armor Protective Packaging introduced new FOUNDRY Film™ to protect metals exposed to severe hot and humid conditions.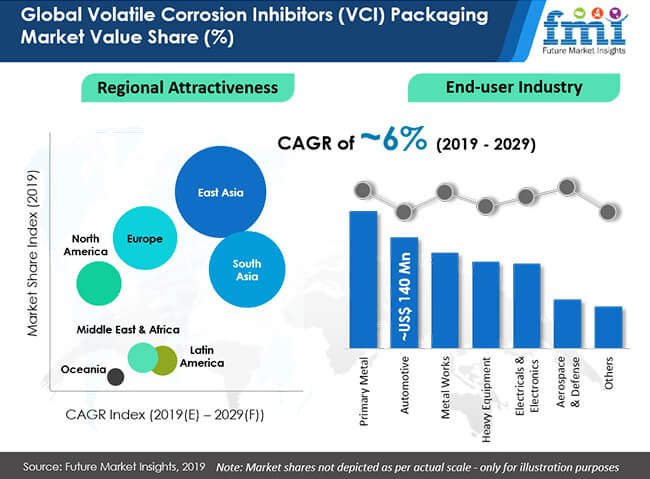 VCI Packaging: Structure Analysis
The global VCI packaging market is characterized by the presence of numerous established players, which accounts for significant market share. Tier 1 includes market leaders with a market share of ~4%. Market leaders are characterized by strong product portfolio & geographical presence.
Prominent companies in tier 1 include Cortec Corporation, Northern Technologies International Corporation, Aicello Corporation, and Transcendia Inc. Tier 2 players are marked by strong presence overseas and high growth potential. Tier 3 players are characterized by the majority of the company's presence limited to the domestic market only.
VCI Packaging - Offering Viable Solution to Metal Corrosion
In a view of changing economies of production and distribution, global manufacturing sphere has been undergoing a radical upheaval, and is no longer simply making physical products. Amid the rise of disruptive technologies and the fourth industrial revolution, steel and metal manufacturers in particular, are presented with huge opportunities to transform their operation model and improve efficiency.
This has further led to realignment of their strategies to respond to new demands and technology trends of today as well as to prepare for challenges to come. Significant growth in the demand for metals from numerous end users has created a need for effective packaging formats to maintain the quality of metal and prevent from corrosion.
Anti-corrosion packaging or volatile corrosion inhibitor (VCI) packaging is an upcoming trend, especially in the manufacturing sector, to address the corrosive nature of ferrous and non-ferrous metal products. In recent years, the global export scenario of iron, steel, and other metals has been thriving, on the account of increasing adoption in automotive, aerospace, and processing industries.
However, shipment of metals is exposed to humidity, salinity, and temperature conditions – corrosion accelerating agents, thereby potentially raising the demand for VCI packaging.
Gains Upheld through Retention of Electrical and Mechanical Properties
Corrosion, the deterioration of a material due to electrochemical attack from its environment, not only destroy the quality of industrial tools and equipment but also create a huge disruption in a company's growing product revenue. As the cost of corrosion amounts to over US$ 2.5 trillion, today, a number of industries are rigorously adopting corrosion management strategy.
The result is likely to lead to increasing demand for VCI packaging which protects both accessible and inaccessible metal surfaces, produces no residue, and has no effect upon the electrical and mechanical properties of the product. In addition to inhibiting any corrosive reactions, including galvanic corrosion which occurs in electrical and mechanical hardware products, VCI packaging ensure protection from abrasion and shock damage, as the VCI molecules penetrate into any grooves, and cavities of the products, thereby increasing the scope of protection.
As compared to VCI films, paper and foam, VCI bags continue to account for major share of the manufacturers' bottom lines with robust demand from aerospace & defense and heavy equipment machinery sectors.
Tapping the Opportunities in Steel Exporting Countries
East Asia continues offer greater opportunities for VCI packaging market players due to emergence of China and Japan as the world's largest exporters of steel. Increasing exports of steel has been generating the need for adequate shipping and warehouse resources, subsequently leading to surge in demand for VCI packaging.
In January 2019, India replaced Japan as the second largest producing country, compelling stakeholders to view the country from target market perspective. Demand for VCI packaging is also based on country-level situations of end-use industries. To that end, market consolidation in European countries will remain key to gaining competitive edge, primarily due to presence of highly developed automotive manufacturing industry in the region.
Does the Future Lie in 'Biodegradable' VCI Packaging?
Mounting concerns of environmental issues and ever-rising global sustainability drive have brought various changes in number of industries, and VCI packaging space is no exception. In order to meet sustainability goals, stakeholders are entering into joint venture and collaborations for the extension of product line as well as the development of bio-based VCI packaging.
Such factors played an important role in Cortec Corporation's decision to launch new biodegradable, corrosion inhibiting film – Eco-Corr Film® in June 2019. The company has long been a leader in environmentally responsible VCI packaging solutions, and the innovative film contains the company's proprietary VpCI technology, which helps reduce carbon footprint and fulfill 'no landfill' initiatives.
Such strategic moves are likely to influence other stakeholders to follow suit and invest in bio-based materials and eco-friendly technologies. Acquisition of companies operating in the manufacturing of protective packaging solutions also remains a key focus area of VCI packaging market players to maintain an innovation supremacy.
How Growth Will Unfold
VCI packaging is quickly becoming an important trend in the marketplace. A number of key players are on the journey of exploring advanced green technologies that will not help improve environmental conditions but also provide customers with innovative and cost-effective packaging solutions. In recent years, the ubiquity of smartphones and other consumer electronics across the globe has further resulted in increasing application scope of VCI packaging.
As a response to newer demands, market vendors are leveraging 'intercept' technology which ensure a robust and more secure protection against corrosion and damage due to electrostatic discharge during transport and storage. Such technology works differently from conventional VCI packaging solution, which reacts and bonds with corrosive gases to create a neutralized atmosphere for protecting the product without off-gassing.
World's Most Profilic Intelligence Engine
Get Access To The World's Largest Market Research Database. Ngage with a revolutionary intelligence engine that scale and pricing that flexes as per your needs
Sign Up Now
Key Segment
Product
VCI Paper
VCI Films
VCI Bags
Foam
Others (Emitters, Desiccants, Etc.)
Material
Paper
Polyethylene
Others (Bio-based Plastics)
End-user Industry
Aerospace & Defense
Primary Metal
Electricals & Electronics
Automotive
Heavy Equipment
Metal Works
Others (Building & Constructions, Oil & Gas, Etc.)
Region
North America
Latin America
Europe
South Asia
East Asia
MEA
Oceania
Need specific information?