Yacht Charter Market By Yacht Type (Sailing Yacht (Sloop, Schooner, Catamaran, Ketch), Motor Yacht (Displacement Type, Semi-Displacement, Planing, Catamaran, Trimaran), Size (Small, Medium, Large), Consumer Type (Corporate, Retail) & Region - Forecast to 2021 - 2031
Yacht Charter Market - Analysis, Outlook, Growth, Trends, Forecasts
May 2021

REP-GB-543

300 pages
Yacht Charter Market - About the Report
[300 Pages Report] The yacht charter market is experiencing a significant growth. Increasing interest in recreational activities such as sailing and increase in spending on tourism are expected to encourage growth in the market. Furthermore, advance booking methods that allow customers to book yachts while also booking plane tickets are expected to boost growth.
In its latest version of the study, ESOMAR-certified market research and consulting firm Future Market Insights (FMI) offers insights about key factors driving demand for yacht charter market. The report tracks the global demand for yacht charter market in 20+ high-growth markets, along with analysing the impact COVID-19 has had on global sales.
How Does Historical and Future Outlook for Yacht Charter Compare?
A yacht charter is a simple and inexpensive way to spend a long vacation with family and friends without actually owning any yacht. Availability of a wide range of yacht charter options appeal to younger generations in order to make their activities more enjoyable; thus, driving the demand for yacht charter in the industry.
Some of the most significant factors driving the growth of the global yacht charter market include an increase in the number of advertising programs promoting yachts, technological advancements, the emergence of many online yacht service providers, and an increase in the number of yachts available for hire.
Spurred by these factors, the market is poised to exhibit 5.4% between 2021 and 2031. Growth will continue as demand for recreational activities increases, especially with the expansion of the tourism sector.
Is Growing Interest in Marine Tourism a Chief Growth Driver?
The yacht charter market is expected to be driven by rising customer income and increasing interest in marine tourism and leisure activities such as sailing. Since the last few years, recreational boating has grown in popularity, paving the way for expansion of businesses in yacht charter services.
Water sports are a huge source of revenue for the marine recreation and entertainment industry. Sailing, windsurfing, boating, water scooter rides, parasailing, and jet skiing are among the activities available along the coast, and their popularity is growing. Such services are now available at the majority of seaside tourist resorts and hotels.
An increasing number of vacationers are seeking out recreational activities to enjoy with family and friends. Considering this, corporate programs, government programs, and initiatives adopted to promote marine tourism is expected to boost the yacht charter market.
For instance, the Indian government is enhancing infrastructure and services to support port city excursions and domestic tourism with aim of promoting cruise tourism and increase sea arrivals.
How is Consumer Preference for Large and Medium Yachts Boosting Sales?
Consumers nowadays choose unique vacation destinations that cater to their diverse travel needs and interests. Consumers, especially millennials, are looking for unique and personalised ways to enjoy exceptional travel experiences by using yacht charters. Retail customers, in particular, prefer to explore exotic destinations in large groups because it is less expensive than chartering for a person or couple.
Furthermore, a growing number of high-net-worth individuals who choose to charter large luxury yachts are promoting this trend. As a result, a number of yacht charter companies are expanding their fleets of large and medium yachts to meet the demand and strengthen their market positions. Apart from this some events such as destination weddings, pre-wedding photo shoots, and family get-togethers are even boosting the yacht chartering.
Technological Advancements Are Attracting Millennial to Yacht Charter
Consumer preferences are evolving as a result of rapid technological advancements. With their standard of living improving, they expect revolutionary and smart technologies in the yacht charter. As a result, the companies are investing in innovative technologies to expand their portfolio in order to accommodate the needs of customers. Artificial Intelligence (AI), electrification, wearable technology, and other major technological advancements are making their presence felt in the market.
On luxury yachts, intelligent solutions such as security and access controls, home theatres, and temperature control systems are becoming more popular. With the aid of technological advancements, voyagers are able to seamlessly link their on-board and off-shore lives. These advances in yacht charter are attracting millennials, who are regarded as one of the most influential generations and who place a high value on smart technologies.
How are Promotional Events a Growth Opportunity for the Market?
Boat shows provide dealers and businesses with a unique opportunity to make significant sales and expand their brand's market reach. As a result, yacht manufacturers are putting a lot of effort into exhibiting their new yachts at various boat shows around the world in order to increase their exposure among potential customers and in the industry.
As a result, the market for yacht charters is expanding. There are some benefits to booking yacht charters at a boat show over booking online. Special deals are often available at shows that are not available at other times. Companies are now more likely to bargain over rates or offer discounts in order to close a deal.
Yachts are the ultimate example of luxury, with helipads, swimming pools, steam rooms, hot tubs etc. In addition, the major operating players in this industry are pursuing acquisition and development strategies in order to expand their foreign footprint which will create an opportunity for the yacht charter companies to expand their business.
What is the impact of COVID-19 on the Yacht Charter Market?
Companies operating in the market encountered various obstacles as a consequence of the pandemic outbreak. The outbreak of novel corona virus resulted in numerous operational challenges for players. Besides the supply sides, the impact of COVID-19 was also felt on the demand front. Many regional governments imposed restrictions to curb the spread of virus. Such move on the part of authorities discouraged participation in outdoor recreational activities. Thus a decline in participation in outdoor recreation directly impacted the growth of Yacht Charter posing numerous challenges in front of existing players.
Country-wise Insights
Growing Consumers Interest in Recreation Activities Driving Growth in the U.S.
Customers in the U.S. prefer to visit charter destinations in large groups. This is primarily to avail group discounts offered by various yacht charter companies and also to reduce individual spending by sharing expenses among the group. In the U.S., consumers are more inclined towards yachts that provide comfort rather than performance. Moreover, as most consumers in the region are tech savvy, yacht charter companies focus on providing customers with yachts equipped with the latest technology.
For instance, the Mooring Company offers Moorings 5800 catamaran – an air-conditioned yacht with iPod AUX connections and Apple TV. Such offering in the yacht charter attracts the consumers in order to opt for the yacht charters.
Will Thailand's Demand for Yacht Charters Continue to Grow?
Thailand has become one of the world's most popular destinations for a yacht charter vacation in recent years, and for good reason as travellers from around the world yearn for exploring beautiful sights around the country.
From the impressive limestone rock formations of Phang Nga Bay and Krabi to the beautiful white sand beaches and crystal clear seas of the Phi-Phi Islands for some breath-taking scuba diving, Thailand has been consistently registering high demand for recreational activities among vacationers.
Such amazing destinations are attracting tourists from across the globe and encouraging them to spend their vacations with the family and friends. This also is expected to fuel the demand for yacht charter in Thailand.
How are Government Initiatives boosting the demand of Yacht Charter in Indonesia?
Indonesia, the world's largest archipelago, is regarded as the ideal destination for discerning yachtsmen seeking an exotic, diverse, and exclusive charter holiday. In order to improve tourism in the archipelago, the Indonesian government is working on a proposal to reduce the import tax on yachts.
A superyacht agency is working with the Indonesian government to try and encourage more superyachts to visit the country. Asia Pacific Superyachts (APS), which is responsible for around 70 to 75% of the yachts visiting the country, is advising the government on policy developments to help make Indonesia more accessible.
What Strategies will the Players use to Support Yacht Charters in Dubai?
Dubai is the most popular charter destination in the MEA. Harbours around the country are being developed in order to cater to the growing number of consumers visiting the charter destination. In light of the increasing spending and tourist's destinations the companies are adopting certain promotional strategies in order to increase their business.
For instance, the International Dubai Boat Show which is conducted every year since 2008 showcasing various yachts for charters. Players also are implementing certain advanced technologies in yacht charters to gain traction.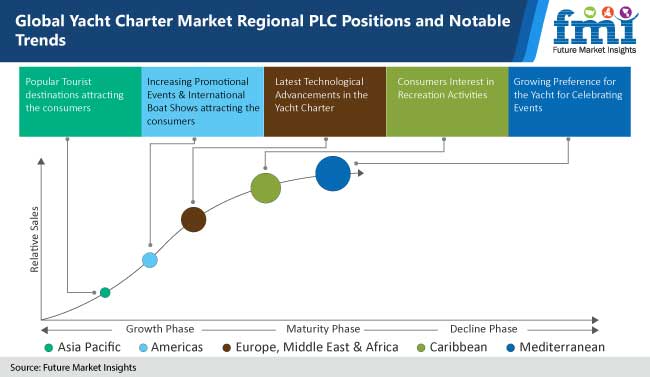 Category-Wise Insights
How is Motor Yacht Faring within the Yacht Charter Market?
In terms product type, motor yacht holds a notable share in the market. Motor yachts have many advantages, including increased speed, strength, and the ability to travel more distance in less time. In addition, motor yachts can be sailed in shallow water, allowing customers to cruise the entire coastline as well as small shallow creeks. Furthermore, the growing popularity of sporting events and tournaments such as boating creates a high demand for motor yachts on the market.
Will Large Yacht Charters Drive the Market sales?
As per the analysis, in terms of size, type large yacht type is likely to dominate over the forecast period with a share of 51.5% in the market. This is because, these yachts can be used for both personal as well as recreational purposes. The easy availability with affordable prices and low maintenance charges, and excellent anchoring capabilities in shallow waters help the larger yacht charters to smoothly dive in the water.
Will Retail Consumer Exhibit More Demand for Yacht Charter?
There is an increase in the demand for rental yacht charters due to increasing inclination towards luxury cruising for travel purpose and organizing family events. The new tourist destinations that offer beautiful scenery have been encouraging wealthy and ultra-rich people around the world to discover the new destinations.
Competitive Landscape
Some of the prominent players in global yacht charter market include NORTHROP & JOHNSON, Yachtico Inc., Sailogy S.A., Sweet Escape Yacht Charters, ARGO NAUTICAL LIMITED, Burgess, Sunseeker , Royal Yacht International, Ionian Catamarans and IYC, Mooring Company, Zizooboats GmbH.
The players have opportunities to generate sales and improve their position in the yacht charter market by implementing advanced technologies. They also are exploring opportunities across emerging nations.
Online service providers in the yacht charter market are launching intuitively designed online boaters' community to garner maximum attraction for yacht vacations. This acts as a social network for boaters, and provides them tips on various fronts such as useful landmarks, resources, and restaurants & bars.
Similarly, online yacht charter service providers regularly update travel & leisure blogs, where yacht enthusiasts can find essential information on topics such as top yachting destinations, top beaches, safety tips, and answers to FAQs.
All of such efforts and initiatives on the part of players operating is likely to further fuel industry growth during the forecast period.
Some of the leading companies operating in the market are:
NORTHROP & JOHNSON
Yachtico Inc.
Sailogy S.A.
Boatbookings (Enitiative.biz, Ltd.)
Princess Yacht Charter
Burgess
Barrington Hall Yacht Charters
Royal Yacht International
IYC
Mooring Company
Zizooboats GmbH
*The list is not exhaustive, and only for representational purposes. Full competitive intelligence with SWOT analysis available in the report.
Scope of the Report
Attribute

Details

Forecast Period

2021-2031

Historical Data Available for

2016-2020

Market Analysis

USD Million for value

Key Regions Covered

Caribbean, Mediterranean, Americas, APAC, and Rest of EMEA.

Key Countries Covered

Sweden, Poland, UK, Austria, Netherlands, South Africa, GCC Countries, Thailand, Indonesia, Malaysia, Australia, Maldives, Bahamas, Florida, Mexico, pain, France, Greece, Turkey, Croatia, BVI, St. Martin, Grenada, Cuba.

Key Segments Covered

Yacht Type, Size, Consumer Type and Region.

Key Companies Profiled

NORTHROP & JOHNSON
Yachtico Inc.
Sailogy S.A.
Boatbookings (Enitiative.biz, Ltd.)
Princess Yacht Charter
Burgess
Barrington Hall Yacht Charters
Royal Yacht International
Ionian Catamarans
IYC
Mooring Company
Zizooboats GmbH

Report Coverage

Market Forecast, brand share analysis, competition intelligence, DROT analysis, Market Dynamics and Challenges, Strategic Growth Initiatives

Customization & Pricing
World's Most Profilic Intelligence Engine
Get Access To The World's Largest Market Research Database.
Sign Up Now
Yacht Charter Market by Category
Yacht Type
Sailing Yacht

Sloop
Schooner
Catamaran
Ketch

Motor Yacht

Displacement Type
Semi-Displacement
Planing
Catamaran
Trimaran
Size
Small (up to 30m)
Medium (30m-50m)
Large (over 50m)
Consumer Type
Corporate
Retail

Individual
Family/Group
Couple
Region
Rest of EMEA
APAC
Americas
Mediterranean
Caribbean
Key Questions Answered in the Report
What is the Yacht Charter market size?
The global yacht charter market is expected to register a CAGR of 5.4% during the forecast period 2021-2031. As per Future Market Insights, the global yacht charter market valuation will reach US$ 13.28 Bn in 2021.
Which is the most lucrative market for yacht charter?
Thailand exhibits considerably high demand for yacht charter. It is expected to account for a share of 38.9% of sales within Asia Pacific.
Which are some of the lucrative markets for yacht charter?
As per FMI, countries such as Thailand, Indonesia, Malaysia, Australia, Maldives, Bahamas, Florida, Mexico, Spain, France, Greece, Turkey and others are expected to register high demand for yacht charter
Which are some of the leading companies in the Yacht Charter market?
Some of the leading companies in yacht charter market are Northrop & Johnson, Yachtico Inc., Sailogy S.A., Sweet Escape Yacht Charters, Princess Yacht Charter, Burgess, Royal Yacht International, Ionian Catamarans, IYC, Mooring Company, Zizooboats GmbH and among others.
Need specific information?
Our Clients