Sailing Yachts Hold Dominance with 63.4% share
Sailing yachts is expected to hold about 63.4% of the market revenue due to rise in demand for eco-friendly yachts among yacht enthusiasts as they are getting aware of the adverse effects yachting can have on the environment. Fuel pollution is one of the harmful by-products in the modern era, and a considerable amount of this comes from yachting industry. Therefore, sailing yachts uses a small amount of fuel as comparison to motor yachts. In addition, sailing yachts are less expensive and can go much further distances than motor yachts. The new luxury yacht provides toruists a pesronalized beach experience for enhancing the luxury appeal of the yachts. Luxury yachts have inbuilt casinos that magnify the lesiure experience of a tourist.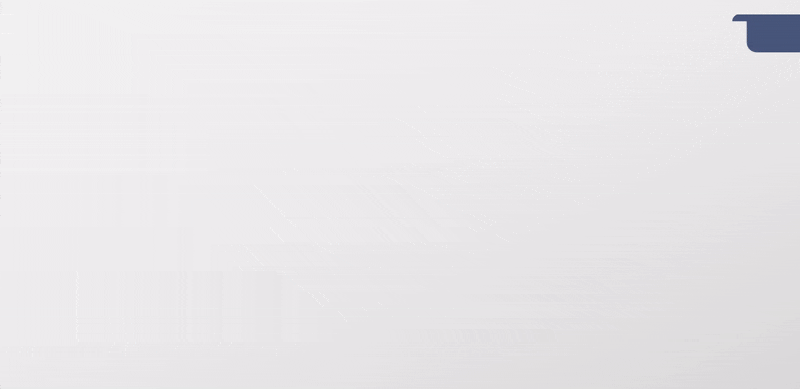 Mediterranean to Dominate Global Yacht Charter Market
In the global yacht charter market, the Mediterranean accounted for a maximum share of around 41.2 % in terms of value in 2018. This was attributable to a larger number of consumers across the globe that are hiring more yacht charters from the Western and Eastern Mediterranean regions. Additionally, the Mediterranean is the largest sea touching Africa, Europe, and Asia continents, and is the most popular for cruises and sailing. There are 6,000 Greek islands in Mediterranean but people live in around 227 of them. Most of the popular destinations in Mediterranean include Croatia, Greece, and Turkey. The thriving tourism industry boosts the demand for yacht charter in this region.
Introduction of 'Boaters' Community and Travel Blogs to Boost Market Growth
Online service providers in the yacht charter market are launching intuitively designed online boaters' community to garner maximum attraction towards yacht vacations. This acts as a social network for boaters, and provides them tips on various fronts such as useful landmarks, resources, and restaurants & bars. Similarly, online yacht charter service providers regularly update travel & leisure blogs, where yacht enthusiasts can find essential information on topics such as top yachting destinations, top beaches, safety tips, and answers to FAQs.
For instance, in 2015, Collaborative Boating Inc. launched TidalWavez - a mobile application for the boater community - to connect boaters with each other and help them share must-know information and other relevant tips. Such strategies adopted by service providers are expected to bode well for the global market.
How Growth will Unfold
Nowadays consumers, mainly millennials, seek customized and differential options to enjoy exceptional travel experiences through using yacht charters. Retail consumers, specifically opt for exploration of exotic destinations in large groups as it is cost effective as compared to individual and couple chartering. Therefore, various yacht charter companies are expanding their fleet of large and medium yachts to cater to this growing demand and improve their market positions.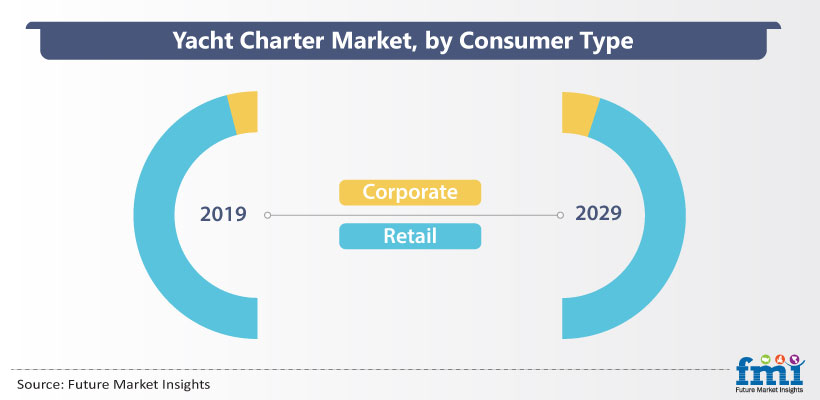 FREQUENTLY ASKED QUESTIONS ABOUT YACHT CHARTER MARKET
How will the yacht charter market be critical in the future?
The yacht charter market is expected to register a significant CAGR during the forecast period, owing to rise in number of younger customers, who want to experience sailing holidays, booking yachts. Nowadays, consumers are spending more on outdoor recreational and leisure activities that encourage physical activity and healthy lifestyle choices.
Which will be the preferred yacht size in the foreseeable future?
In terms of size, large yacht segment is expected to witness robust growth during the forecast period of 2019-2029, attributable to the rise in demand for superyachts among young consumers for hosting various events and parties
What type of yacht is expected to be the most preferred?
In 2019, motor yacht was the most preferred type and held the highest share in terms of value in the global yacht charter market. This segment is also expected to register the highest CAGR during the forecast period.
What will be the future trend in the yacht charter market?
Robust demand for short-team yacht charters along with growing popularity of exploring remote locations among millennials is anticipated to change the landscape of the yacht charter market.
Which region is expected to be the most lucrative market for yacht charter providers?
The Caribbean is expected to register the highest CAGR during the forecast period, attributable to consumer preference for exploration of exotic and remote Caribbean islands.
YACHT CHARTER MARKET TAXONOMY
The global yacht charter market is segmented in detail to cover every aspect of the market and present complete market intelligence to readers.
Size
Small (<30M)
Medium (30-50M)
Large (>50M)
Yacht Type
Sailing Yacht

Sloop
Schooner
Catamaran
Ketch

Motor Yacht

Displacement Type
Semi-Displacement
Planing
Catamaran
Trimaran
Consumer Type
Corporate
Retail

Individual
Family/Group
Couple
Region
Caribbean
Mediterranean
Americas
APAC
Rest of EMEA
Need specific information?