Plant-based Food: A Revolution in the Making or a Passing Fad?
Jul 13, 2022 | Food and Beverage |
What are Plant Based Foods?
In recent times, baseline expectations of the consumers around the world from the products they consume have risen dramatically. The need to have clean, simple and sustainable food ingredients is increasing owing to the heightened consumer awareness. The concept of wellness has led to an increased demand for plant based food, making it a top notch solution for all the consumers seeking sustainable meat based alternatives.
Physicians Committee for Responsible Medicine describes a plant-based diet as a diet consisting of exclusively plant foods, including fruit, vegetables, grains, and legumes, and avoids meat, dairy, and eggs. Plant-based foods are full of fiber, rich in vitamins and minerals, free of cholesterol, and low in calories and saturated fat. Eating a variety of these foods provides all the protein, calcium, and other essential nutrients your body needs.
The growth of the plant-based diet is strongly reflected in the double-digit growth in number of searches for vegan, plant based and cruelty free products, and in the swift pace of sales among clean ingredients. According to a white paper published by Future Market Insights on Growth Opportunities in Vegan and Plant Based food Market, "As the world increasingly moves towards a more sustainable diet, the scope for plant based food market is increasing exponentially." This global shift is here to stay owing to an increasing number of millennials shifting away from consuming animal products and normalizing plant-based eating.
Who is the Target Consumer Base for Plant Based Food Products?
Currently, nearly 70% of global consumers opine that environmental health and how their choices influence the planet, are among the primary reasons why they would want to try plant based foods. It is therefore easy to see why plant based foods are set to become mainstream across all continents. Furthermore, today, almost 1/3rd of all Americans have reduced their meat and dairy consumption, and consider themselves flexitarians.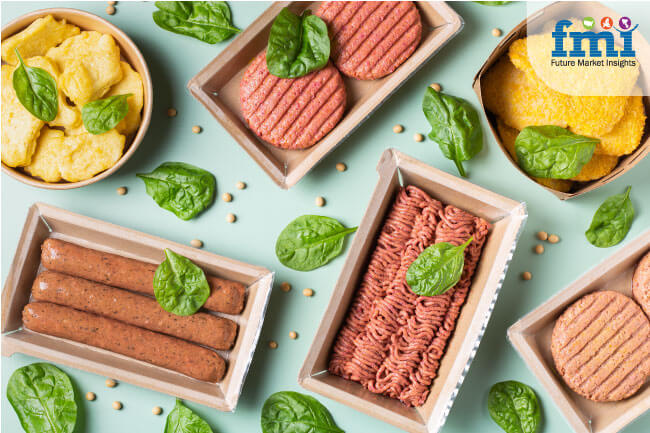 Target consumer base for all the key players are consumers who are increasingly facing incidence of chronic lifestyle disorders and sensitivity to animal protein. Furthermore, as people grow more aware of animal health and the prevention of cruelty to animals in the food industry, there is a trend in public preference for plant-based food items all over the world.
According to a research published by National Center for Biotechnology Information, "recent evidence from large prospective US and European cohort studies and from meta-analyses of epidemiological studies indicates that the long-term consumption of increasing amounts of red meat and particularly of processed meat is associated with an increased risk of total mortality, cardiovascular disease, colorectal cancer and type 2 diabetes, in both men and women."
This has, therefore, led to the formation of a new and trending group of consumers known as flexitarians. Flexitarians are one group of people who deliberately aim to reduce animal products from their diets. Studies suggest that consumers adopting flexitarian diets is only set to increase, with the overall consumer base expected to grow by 44% over the next half-a-decade- reinforcing the fact that plant based is the next big food revolution. Therefore, flexitarians are turning out to be a major group of target audience in both established and emerging markets! Going by specific age groups, at least 17% of consumers aged 17-24 identify as flexitarians, with the number increasing to 20% with the 45-54 demographic group. This number further rises to 25% among people aged 65 or older.
Download Future Market Insights Plant Based Food White Paper in collaboration with Plant Based Food Industry Association (PBFIA) https://event.futuremarketinsights.com/thought-leadership/whitepaper-the-plant-based-revolution
What are the Key Categories in the Plant Based Food Market?
Under this fast expanding industry, manufacturers invest a whole lot of thought into developing novel plant based food market. From plant based milk to beef, plant based markets for various products are projected to see a boom in the future.Additionally novel innovations which might not be classified under plant based, such as cultured meat is also fast picking up as meat alternatives.
Valued at US$ 5.6 Billion in FY 2021, the global market for the plant-based meat industry is likely to surpass US$ 34 Billion by 2030, experiencing an incline of over 22% in terms of value CAGR. With immense investment opportunities presenting themselves with each passing day, these figures are quite realizable. Moreover, rising inclination towards veganism coupled with the risk factors associated with different types of meat and meat based products are catalysing the market growth worldwide.
Globally prospects for plant-based beef are expected to surge massively. As of 2021, the category accounted for over 2/5th of the global market share, and is expected to sustain its dominance, with its share increasing over the next 10 years.
This is followed by plant-based chicken, at 30.7% market share in 2021. However, its share is likely to diminish as it reaches maturity and other categories picking up. Plant-based pork and plant-based fish are likely to see strong sustained growth over the years. Although meat substitutes together make less than 5% of their conventional counterparts, the market is growing 4-7 times as fast as the traditional market. This increases the growth opportunity for the new players as well as existing players.
Statistics report that more than 75% of American consumers say they are more likely to eat dessert when they want to treat or reward themselves and 60% say they order dessert because they are feeling "happy." However, the increasing shift towards plant based diets has not stopped the consumers from satisfying their sweet tooth. Plant based ice creams have emerged as a perfect way to meet the consumers' cravings.
Shift in the consumer buying behavior is increasing the consumption of fruit bars, non-dairy desserts, keto ice cream cakes have contributed in spiking the sales of plant-based ice creams. Driven by surging focus on veganism, newly released data by Future Market Insights projects the plant-based ice cream sales to rise consistently at 9.3% CAGR through 2031.
Most athletes or people with a physically active lifestyle claim to have become stronger almost immediately after switching to a plant based diet, and feel even better after turning vegan. Furthermore, rapidly evolving lifestyles and growing demand for convenience food items are likely to boost the growth rate of plant-based proteins that can be incorporated in healthy packaged and processed foods.
Another promising category is plant based milk, which is expected to surge at a CAGR of 8.8% to reach US$ 30.79 Billion by 2031. As of 2021, the market was valued at US$ 13.24 Billion. Amongst all regions, India is expected to be a major growth hotspot, accounting for 16% of global sales. Among consumers who consumed plant-based foods in India, 60% of them consumed plant-based milk, majorly comprising of soy or almond flavors.
Furthermore, rapidly evolving lifestyles and growing demand for convenience food items are likely to boost the growth rate of the plant-based proteins that can be incorporated in healthy packaged and processed foods. market.
Who are the Top Plant-Based Food Companies?
As the plant based food market is thriving year after year, the competition is heightening. Considering the widening outreach, the global market has led to the presence of a plethora of market players. Manufacturers are consolidating their presence by introducing new product lines, strengthening their current line of product offerings and enhancing taste and texture.
The major market disruptors are undoubtedly organizations like Beyond Meat, and Impossible Foods. Several others are quickly catching up notably include Planterra foods, Amy's Kitchen, Memphis Meat, Ojah, Finless Foods, Sunfed Meats, ChickP, Quorn Foods, Before the Butcher, v2food, Aspire Food Group, and Aleph Farms among others. Key players are attempting to gain a competitive advantage by expanding their plant-based product distribution by forging strategic partnerships and launching advertising efforts that highlight their diversity of possibilities.
Some of the recent distribution partnerships in this domain:
Beyond Meat + PepsiCo Joint Venture
In January 2022, Beyond Meat and PepsiCo entered into a joint venture with the plan to launch a plant-based Beyond Meat® Jerky as its first product. Beyond and Pepsi announced the joint venture, called The PLANeT Partnership, with the goal of creating plant-based snacks and drinks together.
The partnership gives Beyond, a relative newcomer to the food world, a chance to leverage Pepsi's production and marketing expertise for new products. For its part, Pepsi can deepen its investment in plant-based categories — which are growing increasingly crowded — while working with one of the top creators of meat substitutes. It also helps Pepsi work toward its sustainability and health goals for its portfolio.
Daily Harvest Crumbles- A Plant-Based Protein Proudly Grown in the Ground
In April 2022, Daily Harvest announced the launch of Crumbles, a versatile plant-based crumble made entirely from real ingredients like lentils, nuts, seeds, and vegetables. Consumers now have a people and planet-friendly way to add more nourishing plant protein into their diets. Crumbles offer 13 grams of protein per serving and are free of gums, fillers, hydrogenated oils, GMOs, or artificial anything.
Crafted by Daily Harvest's team of chefs and nutritionists, Crumbles are launched in two mouth-watering varieties: Walnut + Thyme and French Lentil + Leek. Both are savory, herbaceous, and seasoned to perfection, yet versatile enough to use as a base for different recipes. The new collection is easy to prepare and ready in minutes, offering a simple way to integrate more nuts, seeds, legumes, and veggies into diets – and make a difference for the planet.
Imagine Meats + Starbucks- Launch of #StarbucksVeganMenu
Imagine Meats, a leading Indian plant-based meat alternative that launched in 2021, has been expanding its reach with great success ever since. Recently, the company cemented its ties in the QSR industry with the iconic international chain of coffee shops- Starbucks with an all-new vegan menu. The vegan menu at Starbucks will feature a Vegan Sausage Croissant Roll, Vegan Kebab Wrap and a Vegan Croissant Bun.
How Have the Investments Been Growing in the Plant Based Food Market?
As the world increasingly moves towards a more sustainable diet, the scope of investments in the plant based food market is increasing exponentially. As of 2020 and 2021, the alternative protein industry raised US$ 4 billion in investments, representing a threefold increase in the industry's history. In addition, over half of all global food and beverage brand owners are likely to invest their new product development and R&D budgets in plant-based products.
Top global retailers are working on ways to incorporate their commitment towards plant based. For instance, Tesco committed to increasing sales of meat alternatives by 300%, while Amazon Foods promised to widen its plant-based food portfolio sales in the years to come.
Even though the market penetration is limited, the vegan investments are at an all-time high year-over-year. Veganism is trending across financial and stock markets, as investors concerned about climate change and animal suffering will invest towards vegan listed companies and stocks. Moreover, apart from individual vegan stocks, vegan mutual funds or exchange traded funds offer promising returns on investment.
Which Regions have been Key Beneficiaries of the Plant-Based Food Revolution?
A number of regions have benefitted from the plant-based food revolution, attracting copious amounts of investments. Plant based startups looking for vegan-friendly investment funds can choose between several options. For instance, Switzerland's Blue Horizon is an impact investor shaping the alternative protein sector and has raised more than US$ 850 Million and invested in over 50 companies in the alternative protein sector, aiming to supercharge their portfolio in the alternative protein sector. Likewise, U.K's specialist private family fund Veg Capital is providing early-stage capital to companies developing meat, dairy, eggs, and seafood replacements with plant-based, recombinant, and cultivated ingredients.
Global Governments notably Canada, Denmark, Australia, Germany, UK, Japan are also investing in the form of direct grants or through public-private partnerships. By far, the greatest concentration of investment and research activities has happened across the Asia Pacific, as it is a hotbed of seafood consumption. Needless to say, alternative seafood is a promising category, which witnessed nearly 30% of total investment volumes in 2021.
As of February 2022, a consortium of Canadian investment and protein firms raised US$ 200 Million in equity capital to finance the next generation of food processors. Led by Bellwood Partners and Champlin Advisory, the consortium aims to build a capital pool exclusively for the domestic processing of the sector. On similar lines, CULT Food Science Corp. completed a strategic investment into Singapore cultivated seafood startup Umami Meats, in December 2021. The partnership aims to make cultivated seafood much less expensive to produce, and therefore easier for companies to bring to markets. Umami will first focus on improving the process for cultivating Japanese Eel, Yellowfin Tuna, and Red Snapper. The startup also intends to work with Halibut, Grouper, and Mahi-Mahi as future projects.
What are the Challenges in the Plant Based Food Market?
Despite a significant expansion in the plant-based food market, there are several fundamental hurdles limiting this progress. Product formulations, raw material acquisition, increased operating or production expenses, and a lack of sufficient cash are all important barriers to overcome.
The taste, texture, and appearance of plant-based products are a major challenge for the top players in the plant-based food market. The sensory experience of plant-based food is a hindrance to adoption for many customers, especially if they expect a flavor and feel similar to animal-based products. Plant-based manufacturers have come a long way in figuring out how to make plant-based alternatives taste mostly like (or better than) the real thing, but it is still a difficult undertaking. According to a recent survey, the taste is crucial to more than 4 out of 5 Americans, and 44 percent dislike the flavor of plant-based diets. According to additional research, when consumers around the world cannot discover tasty plant-based alternatives, they turn to animal protein.
Furthermore, becoming a profitable plant-based food company is not easy; there is intense competition, and developing good and nutritious recipes can be costly. Without investment, it would be hard to develop products that compete with the animal products market in terms of flavor, texture, quality, shelf life, or price parity. New technologies, on the other hand, are necessary to replicate animal products and produce plant-based diets. Therefore, a significant investment in various advanced equipment is required by the players in the plant-based food market, proving that financing is a serious impediment, particularly for start-ups in the plant- based food market.
Plant-based brands are also concerned about sourcing issues regarding raw ingredients. In addition to farm production bottlenecks, demand fluctuations, labor shortages, and logistical issues with processing and transportation, many brand owners are afflicted by pandemic-related sourcing issues. For emerging Plant-based concepts, this presents a serious challenge since ingredient sourcing is highly customized and inherently more challenging.
Environmental conditions, such as drought or flooding, can destroy crops and lead to a shortage of raw ingredients. For plant-based brands, this can be a big loss. For example, drought conditions in 2021 caused oat harvests in North America to reach near-record lows, jeopardizing the supply of an ingredient used in plant-based milk brand, Oatly. The supply crisis has also been exacerbated by issues with railroad shipping.
As a result, Oatly has expanded its sourcing options after poor harvest conditions limited oat production. The plant-based milk producer has increased its prices to offset higher raw material costs worldwide. This might be challenging for the brand in a price competitive market. To offset such challenges, brand owners need to diversify their ingredient profile, at the same time form cooperatives with farmers in order to source sustainably.
In the organic supply chain, regulations have long been in place for handling produce, such as cargo tracking, temperature controls, and supply and demand planning software. In such a case, the product can be tracked from farm to table and, in the event of a recall, tracked back to the source. However, meat alternatives, combining plant-based ingredients, have raised new food safety concerns for supply chain organizations handling these products. There are critical considerations regarding the storage and processing of meat alternatives. These considerations include how to handle each ingredient in the products, and how to identify contamination or temperature control of the products, which lead to waste and spoilage.
The lack of cold chain logistics is one of the most important factors hindering the growth of Indian plant-based brands. The Indian market is still warming up to a variety of products that require temperature-controlled environments. There are no low-cost temperature-controlled transport options for alternative dairy products, particularly plant-based ice creams. As a result, companies find it difficult to expand into new states and retail outlets.
To Conclude
The global plant based food market is presently going through an unmatched level of innovation and competition. Companies are investing in their research and development activities to launch new innovative and revolutionary plant based foods, creating a healthier and sustainable food system.
Plant-based food is becoming a long-term solution for customers all over the world, owing to the growing number of product possibilities in the plant-based business. In the years to come, leading players and new entrants will look for lucrative sales channels and market exposure for their products.
Looking forward, in the coming decades, a massive transformation of the industry is projected. The socially responsible consumers will lead by example, inspiring others to adopt plant based diets. Growth takes time and like any other industry players, plant based food manufacturers are also understanding the challenges and exploring the opportunities to gain a major share in the market.
This line has been used verbatim in many places, pls reword