35-50 Micron Thick Tapes Remain Highly Preferred
35-50 micron is emerging as the ideal thickness of BOPP tapes which account for 2/5th of the total revenue share. As the retail market has reformed in recent years with packaging as a key factor to attract consumers, manufacturers are targeted towards capitalizing on a range of thickness of BOPP tapes, which can be used in both hot and cold temperatures and provide improved adhesiveness and high tensile strength for packaging.
Moreover, demand for tapes of above 65 micron thickness is expected to see significant leap in coming years.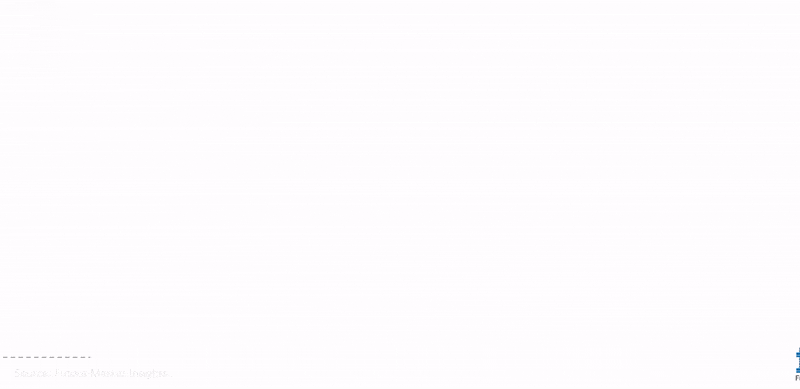 Manufactures Set Eyes on Opportunities in East Asia
With smart packaging technologies in place and numerous innovations in packaging for e-commerce industry, Europe continues to spearhead the global BOPP tapes market. As low-cost remains an influencing factor, manufacturers are focusing on expanding their manufacturing capabilities in developing countries such as China, where operation cost is relatively low.
Moreover, East Asia's market is set to register 7% CAGR through 2029 in parallel to rise in disposable income of consumer spending on online shopping and manufacturers viewing the region from both manufacturing and target market perspective.
Eco-friendly Alternatives to Represent Potential Threat
Over the years, BOPP tapes remained a product of choice among various end users, for their aggressive tackiness, firm adherence to even rough surfaces, and high resistance to heat, weather, and aerial oxidation. However, in recent times, governments' crackdown on use of products with high environmental impact, especially single-use plastics, is emerging as a key challenge for manufacturers of BOPP tapes.
Positive consumer sentiment for rapidly penetrating bio-based adhesive tapes that adheres environmental guidelines is likely to create a hindrance in future prospects of the market.
How Growth will Unfold
Use of BOPP packaging in manufacturing & warehousing landscape accounts for more than 60% of the total market share, attributing to manufacturers offering customized adhesives solutions for sub-sectors. Within this category, the food & beverage industry leads the adoption of BOPP tapes, while significant increase in demand is expected from electronics & electricals sector. In recent times, robust growth of the e-commerce industry is grabbing attention from market players.
Today, high-income consumers are increasingly relying on online shopping, owing to wide availability of diverse products along with time-saving door-step delivery. The result is expected to lead to increased demand for BOPP tapes in near future.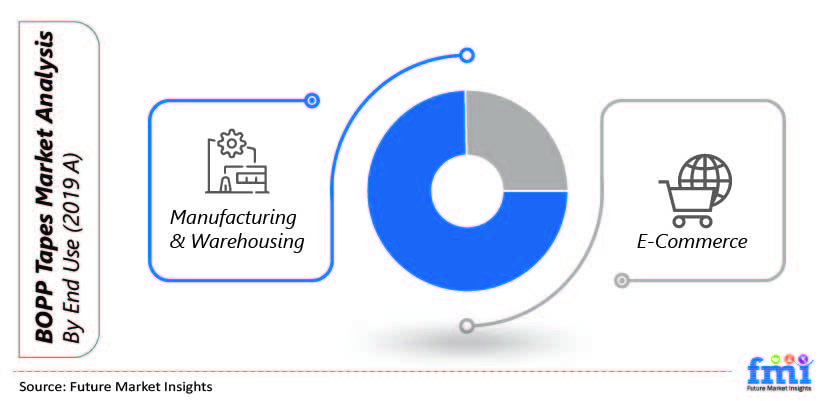 FREQUENTLY ASKED QUESTIONS ABOUT GLOBAL BOPP TAPES MARKET
Which factor is at the forefront of generating demand for BOPP tapes?
The capacity to withstand all the extreme weather conditions due to its physical properties are adding benefits to the rise in the demand for BOPP Tapes.
How is the growing preference for online sales channels propelling consumption of BOPP tapes?
Increasing demand for online packaged food has given substantial support to the rise in the need for BOPP tapes. In addition, an increase in the demand for take away food trend has eventually given a push to rise in the need for customized BOPP tapes for packaging.
Which regional market will display full growth potential for manufacturers of BOPP tapes?
North America is poised to be the leading BOPP tapes market over the next decade. However, East Asian and South Asian markets are set to emerge as highly attractive regions, projected to grow at healthy CAGR values between 2019 and 2029.
What are the major challenges hindering the growth of BOPP tapes market?
Existence of various alternatives of packaging tapes along with the lack of stringent environmental regulations for using eco-friendly and biodegradable products lead to the utilization of easily available plastic packaging tapes hindering the growth of the market.
Which strategies would support the leading players for competitive edge?
With rapid expansion of E-commerce, the manufacturers have started selling their products directly by starting their websites in order to increase the profit. Moreover, major manufacturing companies are setting up their production facilities in APAC due to the availability of low and efficient labor costs.
World's Most Profilic Intelligence Engine
Get Access To The World's Largest Market Research Database. Ngage with a revolutionary intelligence engine that scale and pricing that flexes as per your needs
Sign Up Now
BOPP PACKAGING TAPES MARKET TAXONOMY
The global BOPP Tapes market is segmented in detail to cover every aspects of the market and present a complete market intelligence approach to readers.
By Thickness
35 - 50 Micron
51- 65 Micron
Above 65 Micron
By Adhesive
Hot Melt Rubber
Hot Melt Acrylic
By Width
11mm -30 mm
31mm - 70 mm
Above 70 mm
By End-use
Manufacturing & Warehousing

Food & Beverages
Chemicals & Lubricants
Electronics & Electricals
Automotive
Personal care & Cosmetics

E-Commerce
Others
By Region
North America
Latin America
Europe
South Asia
East Asia
MEA
Oceania
Need specific information?