Market Outlook
There has been a significant rise in demand for superfoods. Bananas are abundant in vitamins, minerals, fibers, carbohydrates, and also have low fat content. Cavendish banana also contains a considerable amount of dopamine, which is a great antioxidant and enhances the metabolism and functioning of the nervous system. These nutrients complement each other to make Cavendish banana a "Superfruit". Consumers with increasing awareness about dietary requirements and nutritional profile of bananas are becoming more inclined towards them.
Cavendish banana cultivars are a member of the triploid (AAA) group. The height of the plant and the characteristics of the fruits distinguish Cavendish cultivars, and different authorities may recognise different cultivars as distinct. Also, Cavendish banana crops produce high yields per hectare and are less susceptible to damage from environmental factors such as storms due to their short stems which further boosting demand for Cavendish bananas.
In its new study, ESOMAR-certified market research and consulting firm Future Market Insights (FMI) offers insights about key factors driving demand for Cavendish banana. The report tracks the global sales of Cavendish banana in 20+ high-growth markets, along with analyzing the impact COVID-19 has had on the food and beverage industry in general, and Cavendish banana in particular.
How the Historical and Future Outlook for Cavendish Banana Market Match Up?
Increasing developments in the food and beverage industry and rising health awareness are leading to a shift in focus towards food safety and hygiene and most importantly, the nutritional profile of the product. Cavendish bananas are rich in several crucial nutrients such as vitamins, potassium, and dietary fibers. Owing to this, consumers are considering bananas as a healthy food to be consumed with every meal to enhance the nutritive index of the meal and improve the functioning of the digestive tract. According to FMI's analysis, Cavendish banana sales have grown at 2.9% CAGR between 2016 and 2020.
Securing a smooth and uninterrupted supply of raw material is essential for assuring high profitability. Unlike other fruits, bananas grow in all seasons and thus have uniform availability throughout the year. This has encouraged many manufacturers to enter the banana and banana-related products market, as the uniformity in the supply chain allows them to achieve economies of scale, leading to reduced processing costs. FMI expects global Cavendish banana market to grow at 4.2% CAGR through 2031.
What is leading to Adoption of Cavendish Banana Puree in Functional Beverages?
Cavendish banana puree is being extensively used in functional drinks, for instance energy and sports drinks, along with other vegetables. It is anticipated that banana drinks will soon take down other functional drinks such as Gatorade, as banana contains over 27 grams of carbohydrates, with glucose, fructose, and sucrose levels at almost half as compared to Gatorade.
Researchers have found that after intake of banana in place of energy drink, there was no significant difference observed in the performance of cyclists, however, they lost 0.4 kg of their body weight while being on the banana trial. Hence Cavendish banana puree infused functional beverage is widely preferred by athletes to maintain the required body weight and health.
Does Cavendish banana Provide Nutritional Benefits to Infants?
Banana is a great first food for infants aged four months and above as it has a soft, chewable texture that can easily be mashed by gums. It also has a great nutritional value. In many regions, traditionally, Cavendish banana or Cavendish banana puree is among the first foods given to a baby and it is considered a gold standard. With the increase in the number of working mothers, there is a rise in demand for Cavendish bananas to be used in infant food due to their convenience and nutritional benefits.
Key manufacturers such as Abbott, Nestle, and Medlife are producing infant formula with banana content, which is gaining mass traction owing to the innate sweetness of bananas, their nutritional content, and benefits to the developing digestive tract of the baby.
How Is Rising Demand for Gluten-free Products Affecting Sales?
According to the Institute of Food Technologists, the gluten-free product market is growing at a rapid rate. The gluten-free market is mainly driven by the rising prevalence of celiac disease. The highest prevalence of celiac disease is in Europe and Oceania, which presents a great opportunity for the Cavendish banana market to grow in these regions, as bananas are an impeccable replacement for gluten-containing ingredients. Also with the rise of the paleo diet, consumers are refraining from including grains and gluten in their diet, resulting in a growing demand for Cavendish banana by-products such as Cavendish banana flour.
What are the Benefits of Consuming Cavendish Banana as a Pre-workout Food?
Having a perfectly balanced pre-workout meal is very important to gain all the essential macronutrients and dietary compounds that the body needs for proper functioning. Cavendish bananas are rich in simple carbohydrates, making them the perfect food for giving more energy to enhance performance during a workout. It is also advised that simple carbohydrates such as bananas should be consumed 30 to 60 minutes ahead of a workout.
EU Agrees to 2-year Extension of Cameroon Banana Support Measures
Banana Accompanying Measures (BAM) is an EU-funded program to support the cultivation of bananas with the aim of addressing underlying weaknesses and low productivity by providing enhanced physical infrastructure, implementation of quality standards, technological innovation, and such support. Cameroon was supported by the BAM program for over 7 years (2013-2021) with equipment such as generators, irrigation systems, and more. Intending to boost the competition further, the local authorities requested an extension to the seven-year program, which was granted by the EU. The extension of the program was also aimed at revitalizing farmers of bananas who were affected by the COVID-19 pandemic.
Anti-fungal and Anti-bacterial Properties in Peel and Pulp of Cavendish Banana Driving Sales
Cavendish bananas are proven to have pharmaceutical applications owing to the anti-microbial properties of the banana peel. A variety of chemical compositions are reported in a banana, for instance, myricetin-3-O-rutinoside, apigenin glycosides, dopamine, kaempferol-3-O-rutinoside, and serotonin are stated to be in different parts and different concentrations in different types of bananas. These compositions are anticipated to open novel opportunities in controlling many diseases and modification of drugs.
Country-wise Insights
How big is the Opportunity in Ecuador for Cavendish Banana Sales?
With increasing awareness and demand for bananas, many leading banana producing countries, for instance Ecuador, is enhancing its production and export capacities of the Cavendish banana.
Also, banana is contributing a significant portion of export revenues for many countries of Latin America, like Ecuador, which holds over 30% of the global banana market supply.
Why is Consumption of Cavendish Banana High in India?
India is the leading producer and consumer of banana. India is estimated to hold 67.2% in terms of value for the South Asia Cavendish banana market. After mango, banana is India's second most popular fruit crop. It is a favorite fruit of all classes due to its year-round availability, affordability, varietal variety, taste, nutritive and medicinal value.
Also, Hi-tech crop cultivation is a financially viable enterprise that leads to increased production, improved produce quality, and early crop maturity, with the produce commanding a premium price, which fuels demand even more.
How Big is the opportunity for Cavendish Banana Sales in Russia?
According to the Investment Growth Authority of Lebanon (IBAL), fresh fruits and vegetables account for more than 11% of the average Russian food basket per year. According to research conducted by the RBK Department of Consulting, the average household's weekly food expenses range from 3,632 rubles (US$ 114.29) in Moscow to 2,809 rubles (US$ 89.27) in a city with a population of less than 500,000 people. Also, Russia is highly dependent on imported fruits which make up almost 50% of Russian fruit sales. Furthermore, average consumption of Cavendish bananas in Russia is estimated at 845 KT in 2021.
What is the Market Share of China in East Asia Cavendish Banana Market?
China is estimated to hold a leading share of 95.1% in terms of market value of the East Asia Cavendish Banana market, which is expected to grow at a CAGR of 3.7%. Also, China is among the countries which have driven the strongest production expansion in recent years, in response to fast growth in domestic demand.
Where are Bananas Grown in Australia?
More than 90% of Australia's bananas are grown in northern Queensland's tropical banana-growing areas, mostly around Tully and Innisfail. Other tropical development areas can be found in the Northern Territory and Kununurra, in northern Western Australia. From just south of Coffs Harbour in northern New South Wales to Bundaberg in southern Queensland, as well as Carnarvon in Western Australia, subtropical bananas are grown. In Australia, all fresh bananas are grown on the continent. Imports are banned due to the danger of pests and disease to local farms.
Category Wise
Why is the demand for Organic Cavendish Banana Rising?
Organic food has secured a large consumer base in the last decade, especially in developed countries. Consumption of organic Cavendish bananas is also anticipated to rise considerably in developing countries in the coming years, with growing trade opportunities. Owing to increasing awareness, the consumer base is shifting towards clean labeled products with tags like non-GMO and organic due to their belief that food should be natural and free from synthetic products. Organic food is produced through activities that are sustainable and hence kinder to the planet, which is also driving its demand due to the growing eco-consciousness among the global population.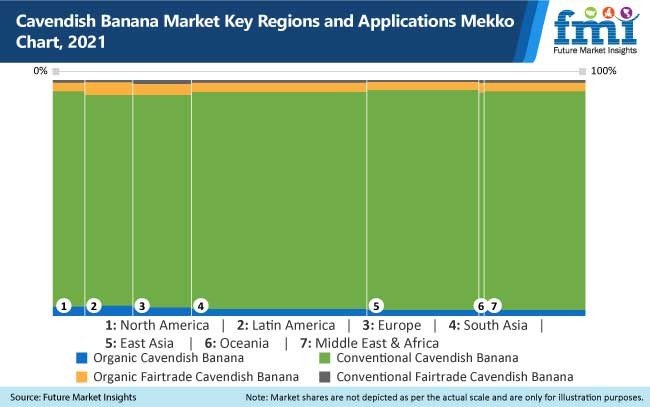 What are Prospects for Application in Cosmetic and Personal Care Segment?
Aqueous extract from Cavendish banana is used for cosmetological applications as it is claimed to have a soothing effect. Cavendish banana peel is also claimed to treat acne and sun damage, as well as minimizing wrinkles, while vitamin B6 and potassium reduce dryness.
Owing to the natural oils present in bananas, manufacturers are keen on developing hair and skincare products based on Cavendish bananas. According to the Journal of Pharmacognosy and Phytochemistry, "Banana masks are perfectly suited for dry, dyed hair and hair after a perm", owing to which a large consumer base is ardently using Cavendish banana products in hair care and the segment is forecasted to grow with a CAGR of 5.8%.
Why are Online Retailers Considered Leading Channels for Indirect Sales of Cavendish Banana?
While online sales of fresh produce remains a small percentage of total sales of Cavendish banana, the rate of acceleration of positive change in growth is increasing drastically. Both consumers and food retailers are becoming more comfortable with online fruits ordering, which could be poised for significant gains in 2021.
Also, consumer access to virtually anything can be done through the convenience of the Internet. Grocery shopping is no exception anymore which fueling the consumption of Cavendish banana through online retailers.
Competitive Landscape
India is among the largest producers of Cavendish bananas and it is relying on contract farming methods for the cultivation of bananas, as agribusiness companies can only own limited landholding for the cultivation of bananas. Contract farming allows these companies to access a large number of smallholder farmers of Cavendish bananas without the legal restraints of owning land.
This model also concentrates heavily on local exporters for the supply of bananas and takes full responsibility for quality control, marketing, and distribution of Cavendish bananas in the global market. Contract farming provides farmers with access to more and better infrastructure, as well as reducing the input cost for the farmers. This model can be implemented in other key Cavendish banana producing companies situated in different countries as well.
Some of the leading companies operating in the Cavendish banana market are:
All Nippon Airways Trading Co Ltd.
Exporganic S.A.
DISCOVERY ORGANICS
Salix Fruits
Agroexport Carmita
Union de Bananeros de Uraba
GinaFruit S.A.
Chiquita Brands International Sàrl
Fresh Del Monte Produce Incorporated
Pisum Food Services Private Limited
Reybanpac, Rey Banano del Pacífico C.A.
*The list is not exhaustive, and only for representational purposes. Full competitive intelligence with SWOT analysis available in the report.
Scope of the Report
Attribute

Details

Forecast Period

2021-2031

Historical Data Available for

2016-2020

Market Analysis

USD Million for Value and MT for Volume

Key Regions Covered

North America, Latin America, Europe, East Asia, South Asia, Oceania, MEA

Key Countries Covered

US, Canada, Brazil, Mexico, Rest of Latin America, Germany, Italy, France, U.K., Spain, BENELUX, Nordic, Russia, Poland, Rest of Europe, Japan, China, South Korea, India, Thailand, Indonesia, Malaysia, Singapore, Rest of South Asia, Australia, New Zealand, GCC Countries, South Africa, Rest of MEA

Key Segments Covered

Product Type, Application, Sales Channel and Region

Key Companies Profiled

All Nippon Airways Trading Co Ltd.
Exporganic S.A.
DISCOVERY ORGANICS
Salix Fruits
Agroexport Carmita
Union de Bananeros de Uraba
GinaFruit S.A.
Chiquita Brands International Sàrl
Dole Food Company
Fresh Del Monte Produce Incorporated
Pisum Food Services Private Limited
Reybanpac, Rey Banano del Pacífico C.A.

Report Coverage

Market Forecast, brand share analysis, competition intelligence, Drivers, Restraints, Opportunities and Threats analysis, Key factors, Market Dynamics and Challenges, Strategic Growth Initiatives

Customization & Pricing
Key Questions Answered in Cavendish banana Report
At what rate the demand for Cavendish banana is expected to grow for the next 5 years?

The global Cavendish banana market is estimated to grow at a CAGR of 4.2% in terms of value, for the next 5 years.

Which is type of Cavendish banana registers maximum sales?

Conventional Cavendish banana currently holds the largest share in the global Cavendish banana market and is estimated to grow at 3.4% CAGR through 2031.

Which are the leading companies offering Cavendish banana?

Some of the leading companies offering Cavendish banana are All Nippon Airways Trading Co Ltd., Exporganic S.A., DISCOVERY ORGANICS, Salix Fruits, Agroexport Carmita, Union de Bananeros de Uraba, GinaFruit S.A., Chiquita Brands International Sàrl, Dole Food Company, and Fresh Del Monte Produce Incorporated among others.

What are the key factors driving Cavendish banana sales?

Cavendish bananas have strong presence in ethnic food of different regions, which is a key factor driving their sales. Besides this, the market for Cavendish banana is expected to gain from rising demand for gluten-free products, increasing use of Cavendish banana extract in hair and skin care products, and the rising demand for on-the-go snacks.

Which are the key success factors supporting the growth of Cavendish banana market?

Some of the key success factors supporting the Cavendish banana market growth are as follows: implementation of new cultivation techniques, product portfolio, nuanced marketing campaigns, exploiting economies of sales, and development of by-products, and many others.
Cavendish banana Market by Category
By Product Type
Organic Cavendish Banana
Conventional Cavendish Banana
Organic Fairtrade Cavendish Banana
Conventional Fairtrade Cavendish Banana
By Application
Food and Beverage Processing
Cosmetic and Personal Care
Pharmaceutical & Supplements
Animal Feed
Other Industrial
Foodservice (HoReCa)
Household (Retail)
By Sales Channel
Direct sales
Indirect Sales

Modern Trade
Convenience Store
Departmental Store
Online Retailers
Traditional Grocery Store
Other sales Channel
By Region
North America
Latin America
Europe
South Asia
East Asia
Oceania
Middle East & Africa
Need specific information?