About the Report
The health benefits of bananas have been well known in several cultures and societies for centuries and the market for banana flour has been leveraging this knowledge to fuel consistent growth. While the demand for banana flour as a replacement for wheat flour has been consistently growing in the food and beverages industry, previous growth estimates failed to account for changes in cropping and consumption patterns witnessed in 2020 as a result of the Covid-19 pandemic.
The most enduring effect of the pandemic on banana flour is in the form of small banana plantations increasing in several countries. This includes even countries like Saudi Arabia, where banana cultivation had hitherto been an almost alien concept.
The key reason for this trend is the general increase in number of small plantations, especially by new or amateur farmers, and the relative convenience and ease of banana cultivation. Besides this, 2020 also saw a major slowdown in global trade, which adversely affected exports of bananas and banana flour.
The market also suffered more than other import-export oriented markets since most major banana producers are relatively poor countries in Africa and these countries were the worst affected by global trade disruptions.
Having said this, African countries continue to dominate banana production with countries in sub-Saharan Africa accounting for almost half of the global banana cultivation; banana is grown in nearly half of the total area under farm cultivation in sub-Saharan Africa and the fruit accounts for 1/5th of the region's carbohydrate consumption. However, banana plantations in Africa have increasingly become vulnerable to the Fusarium fungal disease.
As a result, developments in African farm sector continue to be constantly and keenly watched by major players in the market.
Introduction
Predominantly driven by the gluten-free wave trending in the food and beverages industry, alternative flours such as banana four are slated to witness steadily growing popularity over the next few years. The global banana market is expected to reach beyond the revenue worth US$ 735 Mn towards the end of 2027. Witnessing steady expansion at a CAGR of just under 4% over 2017-2027, the market is poised to fetch growing consumption among consumers as well as end user segments in F&B sector.
According to a recent market research intelligence on banana flour, Future Market Insights expects that rising consumption of green (cooking) banana and soaring demand for banana flour for dressings, condiments, and sauces will prominently drive the growth of banana flour over the forecast period.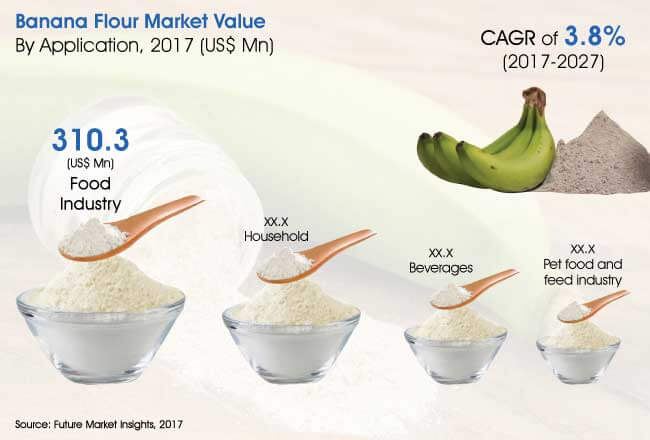 Global Brands and Local Manufacturers of Grain Flour Alternatives to Govern Competitive Landscape in Banana Flour Market
The global consumption of banana flour is forecast to surpass 400,000 MT by the end of 2027. The steadily growing demand for banana flour is catered by a large number of companies, which make the market a fragmented landscape. A majority of key companies competing in the global banana flour landscape are based in the US and hold key market presence across North America. Besides large players, a significant number of domestic enterprises or manufacturers of grain flour alternatives such as banana flour play a crucial role in shaping the competitive landscape of the market.
Gluten-free and Mineral-rich Profile of Banana Flour to Push Consumption among Bakeries and Noodles Manufacturers
Banana flour as an alternative to wheat flour has been one of the common ingredients used in bakery sector, especially in Latin America and MEA. With growing awareness about rich magnesium, potassium, and manganese content of banana flour and the associated cost competitiveness, the bakery markets in other regions are also anticipated to generate decent demand for banana flour in the near future.
Moreover, a majority of African countries have been using cooking or green banana flour as a fiber-rich ingredient in noodles, which is witnessing further traction with the growing popularity of gluten-free noodles. Increasing focus of the gluten-free segment on large scale production of gluten-free noodles is most likely to boost the uptake of banana flour by the food industry.
Africa's Lead for Green Banana and Banana Flour to Underpin MEA's Massive Revenue Share in Banana Flour Market
Around 45% share of the total revenue for banana flour is accounted by MEA market for banana flour, which is majorly driven by East and West African regions. Consumption of green banana in countries such as Uganda and Tanzania is considerably high, as the population considers green banana as one of the prime carbohydrate sources.
Bakery sector in these regions also consumes notable volumes of green banana flour, of which the leftover is often exported overseas to international buyers based in the US, Europe, UAE, and Japan. While this underscores high potential business opportunities in East Africa for banana flour manufacturers, governments in African region that are initiating steps for production and promotion of banana flour will further complement the growth of banana flour sales across MEA.
Banana Flour Consumption to Witness a Steady Surge Owing to an Edge over Other Sources of Resistant Starches
Banana flour is rich in resistant starch (RS) that resists the process of blood sugar breakdown, eventually reducing the blood glucose level. Moreover, research has proven the capability of RS in green banana flour to help in proliferation of gut-healthy microbial population, offering a wide range of benefits to the gut health promoting a healthy colon. Banana flour RS thus also serves as an effective probiotics carrier, boosting the immune system.
In addition, a considerable population across the early banana flour adoption regions consume banana flour as their regular weight reduction regime. Recently, the FDA categorized RS from banana flour as a dietary fiber. With increasing consumer awareness about the RS functional superiority of banana flour over other sources of RS such as banana will continue to provide green banana flour a distinct edge over counterparts – boosting the demand for banana flour in the near future.
Competition Tracking: Global Banana Flour Market
Among a large number of companies operating actively in the competitive landscape of global market for banana flour, NuNatural Inc., Zuvii, NOW Health Group Inc., Diana Foods, ADM Wild Europe GmbH & Co. KG, and KADAC Pty Ltd constitute an important chunk of players. A majority of them will focus on effective marketing and promotional strategies, in addition to the extension of their gluten-free offerings portfolio.
Moreover, mergers and acquisitions targeting global expansion will remain a key strategy for a number of companies in the market. A growing trend of fortified flours is expected to influence strategic developments in the market in the near future. Furthermore, in an effort to maintain a stronghold in the food ingredients space, companies are expected to consider innovation as the key strategy.
IAG's NuBana brand specializes in an extensive range of different banana flour grades indigenous to Ecuador. The company promotes this banana flour range as a clean labeled functional ingredient, which is expected to open lucrative business opportunities within the food and beverages sector, especially for beverages, puddings, pasta, sauces, crackers, fruit fillings, cereal bars, and even baby food.
World's Most Profilic Intelligence Engine
Get Access To The World's Largest Market Research Database. Ngage with a revolutionary intelligence engine that scale and pricing that flexes as per your needs
Sign Up Now
Detailed Market Segmentation
Region
North America
Latin America
Western Europe
Eastern Europe
Asia Pacific
Middle East and Africa
Application
Beverages
Pet Food and Feed Industry
Household
Food Industry
Source
Organic
Conventional

Bakery & Snacks
Infant Foods
Filling and Dressings
Soups and Sauces
Others
Sales Channel
Direct Sales
Indirect Sales

Modern Trade
Convenience Store
Specialty Store
E-Retailers
Other retail format
Need specific information?