Rising Demand for Functional Beverages to Benefit the Banana Puree Market
A functional beverage is usually meant to offer certain health benefits to consumers. Most functional beverages contain some vitamins, minerals, vegetables, and fruit purees. Some examples of functional beverages include energy drinks, performance drinks, and enhanced fruit drinks. Greater consumer awareness coupled with a high disposable income ensures that developed regions such as North America remain the largest markets for functional beverages for some time to come.
Banana puree can be a major ingredient in functional beverages and this directly benefits the global banana puree market. An incremental dollar opportunity of almost US$ 85 million for the period from 2017 to 2027 is waiting to be tapped in the beverage segment of the banana puree market.
Women Joining the Workforce Leading to Demand for Baby Nutrition Food
An ever-increasing number of women are joining the global workforce every year, leading to booming demand for baby nutrition foodstuffs. Baby nutrition food comprises baby yoghurt, easy-to-digest cereals, oatmeal, baby led weaning, etc. Baby yoghurt and cereals often have fruit purees of different flavours as the primary ingredient.
The infant food segment has been growing at a rapid clip because of the widespread use of banana puree in the production of a number of finished foods. The infant food segment is anticipated to be worth approx. US$ 250 million by end 2027, making it the largest segment in the banana puree market.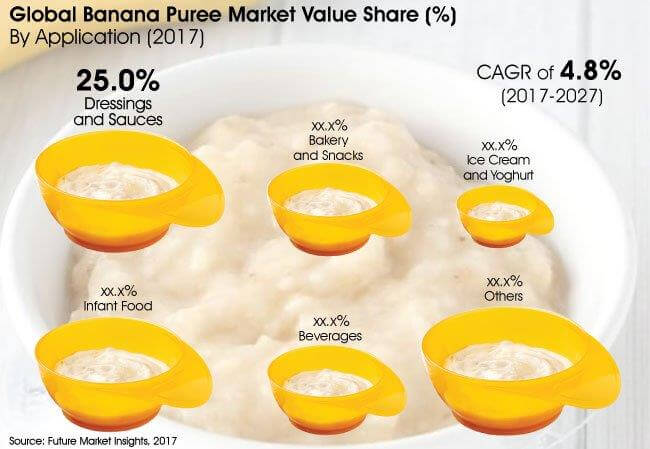 False Beverage Manufacturer Claims Make Consumers Wary and Sceptical
Consumers seek out beverages that deliver them maximum health benefits based on sound reasoning and facts. Unfortunately, they are quite sceptical of the tall claims made by prominent beverage manufacturers now and this can create a certain degree of hesitation and confusion concerning ingredients of functional beverages marketed aggressively. On account of the lower emphasis on product safety and labelling, false health claims by manufacturers to sell their wares have risen exponentially, posing a challenge to banana puree market growth.
Banana Cakes Include Banana Puree as the Main Ingredient
The bakery industry has undergone substantial changes because of higher disposable income, health concerns, and a demand for convenience food products. The traditional packaged baked goods category is facing intense competition from convenience food. The bakery industry consists of delicious foods such as breads and rolls, pizzas, biscuits, and baked desserts.
Banana cakes are very popular amongst European consumers in particular and these cakes are made from banana puree. The bakery and snacks segment had a market share of almost 12% in the global banana puree market in 2017 and is anticipated to lose 66 BPS over the course of the forecast period.
Popularity of Banana Shampoos Fuelling the Global Banana Puree Market
Cosmetics Europe estimates the Europe personal care and cosmetics market to have a value of US$ 90 billion at 2016 retail prices. Several cosmetic conglomerates such as Procter & Gamble, Unilever, and L'Oreal Group have invested sizeable funds in the region, and are introducing innovative products that have fruit ingredients.
For e.g. – Body Shop International, a subsidiary of L'Oreal Group has introduced a banana shampoo with banana puree as a key ingredient. Cosmetics is a part of the Others segment in the Western Europe banana puree market and is poised to have a volume of more than 2400 MT by end 2027.
Banana Puree Market Taxonomy
An important chapter in the banana puree market report highlights the segmental analysis with a forecast of the banana puree market. The banana puree market has been studied on basis of application, process, source, and region.
Application
Beverages
Infant Food
Bakery & Snacks
Others
Dressings & Sauces
Ice Cream & Yoghurt
Process
Source
Region
North America
Latin America
APEJ
Japan
Western Europe
Eastern Europe
Need specific information?
Talk Show:
The Rise of Intelligent Packaging
Personalized, Connected and Sustainable
November 18, 2021
11:00-11:45 AM PST (USA & Canada)
This is a LIVE session