Food Segment Exhibits High Demand
On the whole, the food segment accounted for the largest market share due to increased demand for healthy and gluten-free goods. This demand for natural and organic ingredients from a larger section of the health-conscious population also encourages producers to cut expenditure on costly ingredient systems and build innovative flour-based systems for optimal use in extruded food products.
Pulse flours are used in various food products as replacements for other agricultural products such as wheat, corn, soy, and other conventional ingredients to improve the nutrient content of the final food product. This is one of the factors driving the food industry's pulse flour market. In the food processing industry pulse flours were of enormous importance. In the food segment the largest share was represented by the bakery items sub segment.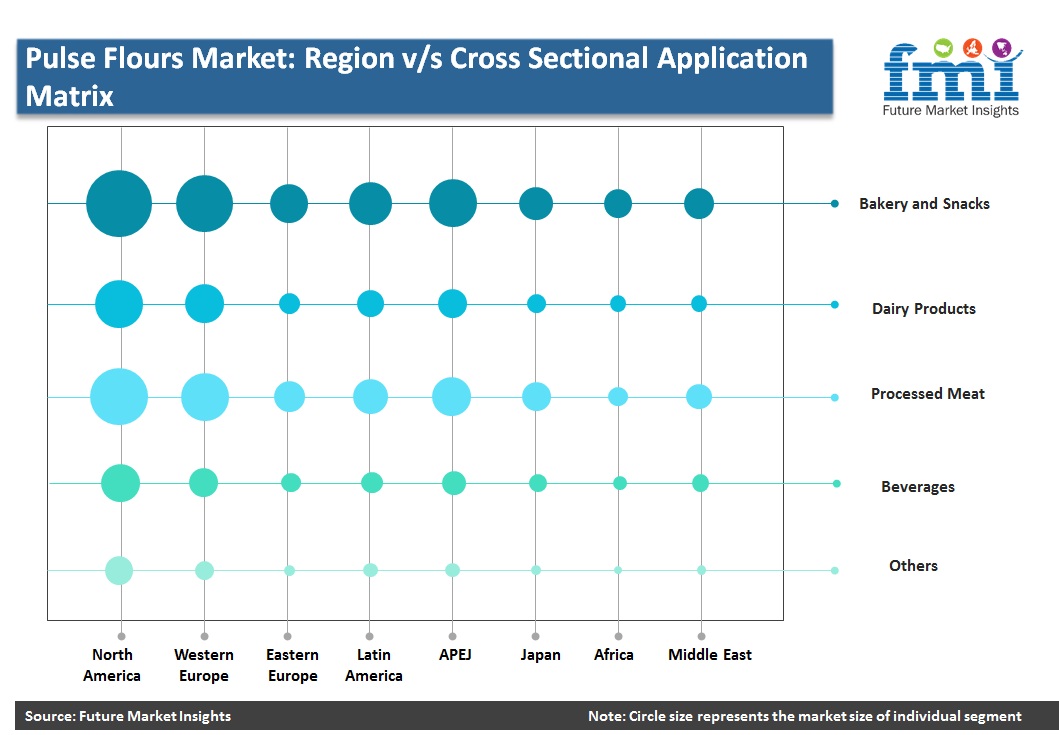 Asia-Pacific is the Largest and Fastest Growing Region in the Global Pulse Flour Market
Asia Pacific dominates the demand for pulse flours and North America follows. India is a leading consumer of pulse flours, due to increasing awareness of the benefits of pulse flour products. Furthermore, the main driving force in this area is considered to be improved agricultural growth followed by advances in the food processing and food service industry.
In addition, growing demand for organic and green label convenience food items in North American countries such as the U.S. and Canada is expected to fuel pulse flour market growth over the assessment period. North America also accounts for a higher use in food preparation of GM pulse flours, which is projected to boost the global pulse flour market. In addition, ongoing R&D activities to remove unpleasant smell and flavors from pulse flours are likely to fuel the pulse flour market growth.
Growing Demand for Gluten-Free Flour to Push Sales
It is expected that the pulse flour market will be powered by the demand for gluten-free flour and a healthier choice over conventional available meal. Quite a number of consumer applications like texture, emulsifiers, protein ingredients and others. It is anticipated that the high nutrient and protein content in the pulse flour will enable the market penetrate deeper into urban areas as the working class population is likely to choose healthier products before other demography.
However, it is expected that the pulse flour market will face competition from other natural protein ingredients available in the market. Furthermore, the increasing demand for nut and oilseed-based flours such as hemp, soy, flax, and almonds may hamper the overall growth of the market.
How Growth will Unfold
The pulse flour market is driven primarily by the meal's health benefits. Pulse flours add protein, fiber and micronutrients while minimizing fat that is an unusual property found in a food item. To improve the health qualities of gluten-free products, adding a small amount of pulse flour can be used. Consumers around the world are drawn by the quality of pulse flour. Countries such as India, the U.S., and Canada are the emerging Pulse flour markets, and hence a promising market.
Pea and chick pea are commonly used in pulse meal preparation. Pulse flour is best used for cooking a wide range of snacks that cannot be prepared with wheat flour or any other form of food. Hence, Pulse Flour market is expected to grow during the forecast period due to its versatile benefits.
Nonetheless, some restrictions do come with Pulse Flour. Pulse Flour is strictly dependent on the type of pulse used and the manufacturing technique used for pulses that may impede the quality of the flour. Pulse quality also depends on the environment, rainfall, water supplies & water quality, and the use of pesticides & manure that can hinder the quality of finished product or flour.
Pulse Flour industry has potential to develop in the APEJ region and in North America. Thousands of Pulse flour companies have started up in the U.S. and Canada over the last few years and they're all doing well. It is important to increase.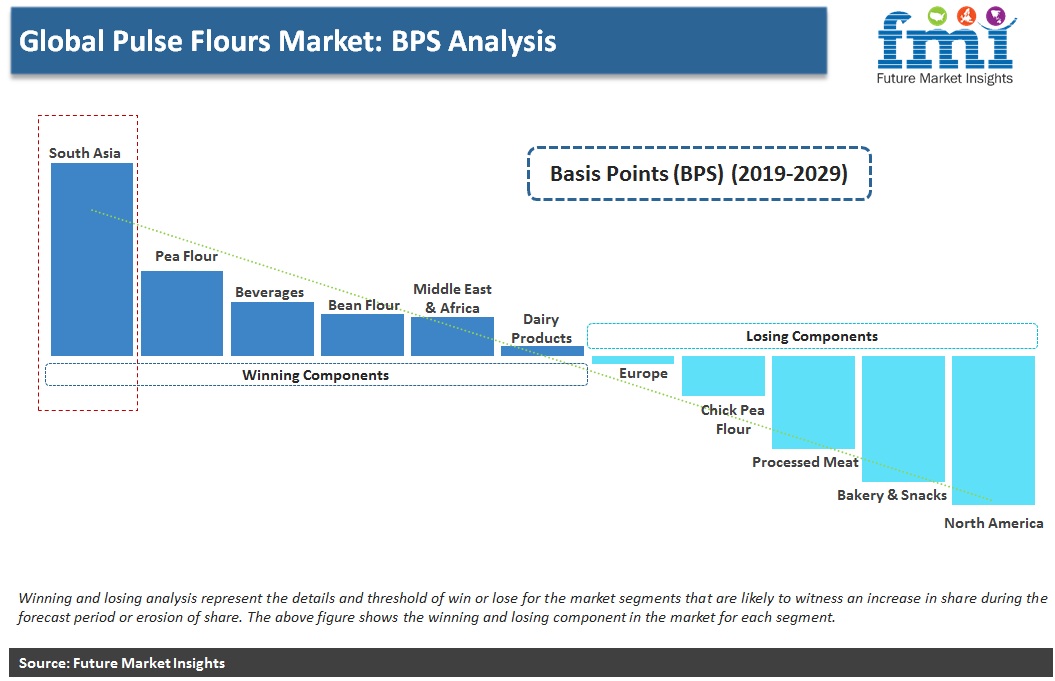 PULSE FLOUR MARKET TAXONOMY
The global Pulse Flours market is segmented in detail to cover every aspect of the market and present complete market intelligence to readers.
By Type
Lentils
Peas
Beans
Chickpeas
By Application
Bakery
Beverages
Feed
Dairy
Others
Distribution Channel
Store Based
Non-Store Based
Region
North America
Latin America
Europe
East Asia
South Asia
Oceania
MEA
Need specific information?