An Incisive, In-depth Analysis on the Pulse Flour Market
This study offers a comprehensive, 360 degree analysis on the Pulse Flour market, bringing to fore insights that can help stakeholders identify the opportunities as well as challenges. It tracks the global Pulse Flour market across key regions, and offers in-depth commentary and accurate quantitative insights. The study also includes incisive competitive landscape analysis, and provides key recommendations to market players on winning imperatives and successful strategies.
COVID -19 : Impact Analysis
Request the coronavirus impact analysis across industries and markets
Request Covid -19 Impact
Pulse Flour Market Remains Highly Fragmented and Competitive; Local Manufacturers to Hold a Lion's Share
With a significant share, regional players are projected to dominate the pulse flour market, making for a highly competitive landscape. Local manufacturers of pulse flour are expanding their product offerings to capture a significant share of the global pulse flour market. Future Market Insights' (FMI) recently published report on the global pulse flour market projects higher profit margins likely to be achieved by manufacturers of pulse flour. Being predominantly dominated by smaller players catering to the needs of pulse flour consuming local customers, the global pulse flour market is witnessing robust operational strategies by manufacturers in terms of strengthening their distribution systems, with wholesalers in the middle of the pulse flour supply chain.
Local players in the fragmented pulse flour market are anticipated to explore more moderate-to-high growth prospects, specifically in emerging economies offering first-mover opportunities to native pulse flour vendors. Conversely, FMI foresees the entry of multiple private players in the pulse flour market with branded and differentiated pulses exerting an upward pricing pressure, making pulses and pulse-based products including pulse flour more expensive and less affordable to the rural population.
Growing Demand for Plant-based Proteins to Push Sales of Pulse Flour in the Coming Years
As per the Food and Agriculture Organization (FAO) of the United States, pulses contain 18 to 25 percent essential amino acids. As per the market study, pulse flour is projected to fulfill the increasing demand for special diets pertaining to different dietary requirements including gluten-free, diabetic, and vegetarian diets, owing to no gluten, low glycemic, and rich source of eight essential amino acids present in pulses. Moreover, consumers opting for diets with less meat and more plant-based proteins will drive the overall pulse flour market.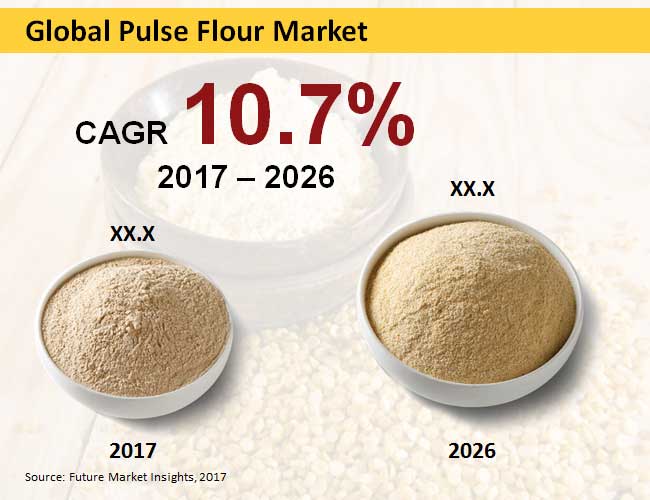 Value Addition and New Product Development a Key Focus Area for Manufacturers
Given the increasing consumer awareness of health, healthy nutrition options, and ready-to-eat food products, affordable good quality protein in convenient packaging is likely to drive the adoption of pulse flour—specifically ensuring nutritional security in developing countries. Considering the above mentioned factor, focus is likely to remain on pulses used as raw material for new product development in the near future, notes FMI in this exhaustive report on the pulse flour market. Manufacturers are projected to extend the value addition opportunities in pulse flour based gluten free baked products, snacks, breakfast cereals, breads and batter—through primary and secondary processing. For instance, Ingredion's new range of pulse flour boasts of a 'clean flavor profile', offering a healthy alternative to gluten-free flours. Likewise, AGT Foods offers a diverse range of pulse flour (PulsePlus Flour) offering nutritional benefits including protein enhancement, dietary fiber enrichment, and low glycemic formulation. Further, greater emphasis is being placed on identifying and determining characteristics of functional quality and critical nutrition of pulse flour.
Global Government Bodies Campaigning to Promote Pulse Flour Consumption
As per the European Union's project named Transition Paths to Sustainable Legume-based Systems in Europe (TRUE), the diversity and quantity of legume products including pulse flour has increased ever since the United Nations Food and Agriculture Organization launched the International Year of Pulses in 2016. Moreover, research suggests nearly 190 percent rise in legume products carrying vegan claims and an approximate rise of 70 percent in products with gluten-free claims. Similarly, Pulse Canada too is looking to expand its pulse production by 2025—with a focus on promoting whole split pulses in the foodservice and retail sectors and pulse flour in the processed foods sector.
Application in Pet Foods to Expand Opportunities for Manufacturers of Pulse Flour
Although pulse-based food products for pets is a fairly new concept, food experts are exploring the option of using pulse fractions in premium pet-food formulations. Pet owners are becoming increasingly aware of certain dietary intolerances and allergies in pets including the inability to digest gluten-laden products. The grain-free food products for pets are projected to be replaced by plant-based variants including pulse flour. Moreover, an ongoing FDA investigation linking grain-free foods and canine dilated cardiomyopathy could have a significant impact on this segment's momentum, thereby driving the sales of pulse flour in the global market.
Competitive Landscape Analysis of the Global Pulse Flour Market
As per FMI's recently published report on the global pulse flour market, key players in the fragmented pulse flour market are looking at strategic collaborations, mergers, and acquisitions as key market strategies to solidify their market position, expand their product offerings, and reach out to customers in different geographies. For instance, Archer-Daniels-Midland Company, a key player in the global pulse flour market, acquired Chamtor, a producer of wheat based sweeteners and starches in July 2017. In the same year, ADM entered into an agreement to acquire Crosswind Industries, a Kansas-based producer making products for pets. Another leader in the global pulse flour market- Ingredion Incorporated, completed the acquisition of Thailand-based Sun Flour Industry Co. Ltd.'s rice starch and rice flour business in 2017. Ingredion also completed the acquisition of TIC Gum in the same year. More recently, Fiberstar, Inc. partnered with Batory Foods, a key competitor in the global pulse flour market to increase sales momentum in the global F&B sector.
Click to know more on the competitive scenario in the global pulse flour market to understand key strategies of market participants.
The new report compiled by Future Market Insights (FMI) offers key insights, segmentation analysis, and forecast on the global pulse flour market. The report titled 'Pulse Flour Market: Global Industry Analysis 2012-2016 & Opportunity Assessment 2017-2026,' include all the factors playing an important role in the market. The report has utilized both top-down and bottom-up approaches in order to provide an estimation on the market size of the global pulse flour market. The report also provides key insights and forecast on various market segments and regions including country-wise analysis. Market dynamics in the report including market drivers, key trends, opportunities in the market, and challenges in the market. The research study also includes primary and secondary research done in order to identify market opportunities and provide information on all the key factors in the pulse flour market. As the part of primary research interviews were conducted with industry experts and all the information provided was verified with various data sources. Meanwhile, annual reports, financial reports by various companies formed as the part of the secondary research.
The report also comprises Porter's five force analysis, SWOT analysis as well as market attractiveness analysis to identify all the opportunities in the market. Forecast on THE revenue, market share, year-on-year growth, and CAGR in percent form is also offered in the report to understand market growth. Absolute dollar opportunity is also given in the report as it the most important factor in identifying opportunities for producers.
The report also focuses on the leading players in the global pulse flour market. Detailed profiles of the companies operating in the market is also given in the report including product portfolio, financial overview along with the company overview and latest developments. Information on the key players can help businesses to plan new strategies in to gain a competitive edge in the market.
Market Taxonomy
Key trends in the report focuses on how the market will perform in the coming years, and key developments, and new product being launched. With the detailed description on the various market segments, the report also provides information on the new technologies and techniques being used in the production of pulse flour. The report also provides detail on the factors that are likely to impact the market growth during the forecast period 2017-2026. All the important data including market size, year-on-year growth, revenue, CAGR, and basis point share has been provided in the report. Key trends in the report offer the clear picture on the market, latest developments, etc. The report also talks about the new technologies being used by manufacturers in the production process.
| | | | |
| --- | --- | --- | --- |
| Region | Product Type | Distribution Channel | Application |
| | | | |
| | | | |
| | | | |
| | | | |
| | | | |
| | | Other Distribution Channel | |
Geographically, the market is segmented into North America, Japan, Latin America, Asia Pacific Excluding Japan (APEJ), Europe, and the Middle East and Africa.
Harish Tiwari
Global Head - Business Development
CASE STUDIES
See how our work makes an impact.
At FMI, we design strategies that are adaptive, impactful, and implementable.