Increasing Demand for Vegan and Gluten-Free Products Supports the Market Growth
The elevated demand for vegan and plant-based products is increasing the demand for pulse-based ingredients globally. Nowadays consumers are more inclined towards using pulse-based ingredients due to its inherent attributes for health benefit. Pulse are not only limited to food and drinks but also is one of the key element for pet food products. The growing population globally demands sustainably produced protein-rich foods.
These crops are used in the production of protein-rich seeds that can be used as material for the production of pulse ingredients or can be eaten directly, such as protein concentrates, flours, or isolates, and starches. However, the flavor is a major factor restraining the use of many vegetable protein ingredients.
Similar to soy ingredients, off-flavors in pulse ingredients are a barrier to consumption and limit the expansion of pulse ingredients into mainstream food applications. Nonetheless, pulse ingredients will continue witnessing high demand from food and beverages, feed and other segments.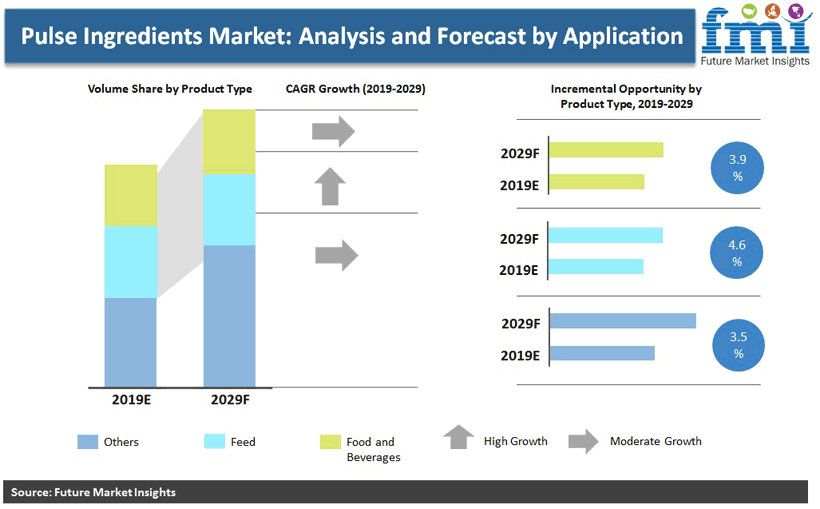 Demand for Pulse Ingredients in Asia Pacific is Expected to see Substantial Growth
Over the forecast period the Asia Pacific region is expected to be the fastest growing market. The area is backed by increasingly increasing population, urbanization and middle-class population expansion with rising demand for health-benefiting food products.
The region consists of countries such as China and India, with a population base of one billion plus. In addition, the region consists of Japan, which is expected to be a major revenue pocket for manufacturers of pulse ingredients due to a wide population base of older age groups.
Worldwide Availability of Pulse Flour will Fuel Demand
Due to the presence of various proteins, iron and fibres, pulse ingredients mainly pulse flour is in high demand. Pulse flour has many applications, for example, it can be used to make cookies, pasta, and puddings. In addition, increasing pulse flour applications across various industries such as food and beverages, animal feed products will support the growth of the market.
Due to the growing knowledge among consumers about vegan and plant-based protein sources, the pulse flour market will witness surge in sales. At national and global level the pulse sector is undergoing complex changes.
Projections indicate that demand for pulse ingredients in developing countries such as India, China and others will continue to increase as a result of increasing incomes and growing population. In addition, pulses are considered one of Indian diets' primary source of protein.
How Growth will Unfold
Improved health awareness among consumers worldwide is boosting market demand for pulse ingredients. In addition, the growing demand for pulse starch in various food industry applications is also expected to significantly influence the market for pulse ingredients. In addition, the increasing popularity among consumers about protein-rich food products is expected to have a fuel the demand for pulse ingredients.
In the coming years, rising customer inclination toward vegetarian and vegan diets worldwide is projected to boost the markets for pulse ingredients. The rising demand for clean label and gluten-free food items is anticipated to provide market participants opportunities to capitalize on untapped potential. Worsening situation, on the other hand, is supply chain disruptions caused by the recent COVID-19 effect. With manufacturers experiencing difficulties in obtaining raw materials and fewer staff available, the production of chemicals for animal nutrition may become hampered.
As a result of prevailing trends some of the leading market players are likely to focus on various expansion strategies to sustain their growth in the future. As per our findings product innovation, collaborations, acquisition, and expansion will remain popular strategies among market players to gain competitive edge.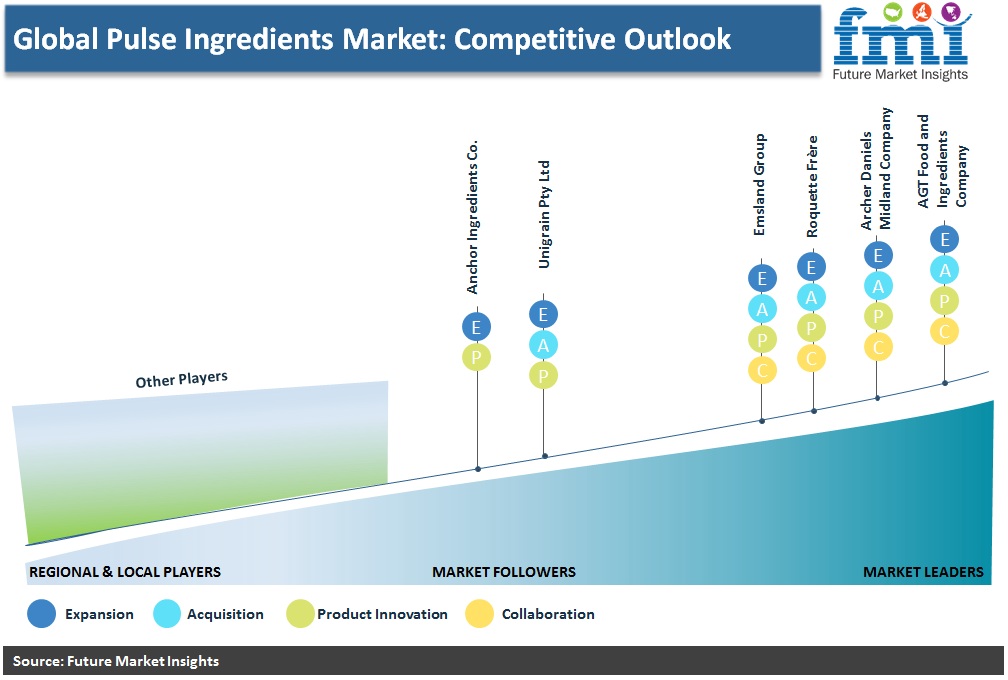 PULSE INGREDIENTS MARKET TAXONOMY
The global Industrial Margarine market is segmented in detail to cover every aspect of the market and present complete market intelligence to readers.
Form
Type
Spreadable
All Purpose
Butter Blend
Application
Bakery
Confectionery
Sauces
Dairy and Ice-cream
Spreads & Toppings
Others (Ready to Eat Meals, Baby Food, and Snacks)
Region
North America
Latin America
Europe
East Asia
South Asia
Oceania
MEA
Need specific information?