MRI Pulse Oximeters Market - Key Research Findings
The global MRI pulse oximeters market size in 2018 was ~US$ 30 Mn.
The MRI pulse oximeters market is expected to grow at a CAGR of ~2% during the forecast period of 2019-2029.
Collectively, the North America and East Asia regions and are likely to account for half of the revenue shares of the MRI pulse oximeters market by the end of 2029.

North America, owing to the strong presence of MRI pulse oximeters, is estimated to continue to be a prominent regional market for the manufacturers of MRI pulse oximeters.
Key Factors Shaping the MRI Pulse Oximeters Market
Increasing Prevalence of Chronic Diseases to Boost the Market
With the growing population, the prevalence of chronic disease is increasing among the all age groups, and people suffering from chronic diseases such as cancer and HIV are more susceptible to infectious diseases. The rate of prevalence of infectious diseases is directly proportional to the demand for high-end diagnostic machines such as MRI and CT scan.
At present, the cancer treatment market and cardiac disease treatment market are among the prominent segments of the MRI pulse oximeters market. ~10 million deaths that take place across the world can be attributed to cancer. Most of the medical device companies have 7T capacity MRI machines in their pipeline product. These advancements in the digital imaging field are expected to be among the key factors driving the growth of the MRI pulse oximeters market.
Enhanced Sales Network and Distribution Channels
Due to the complex nature of MRI machines and accessories such as MRI pulse oximeters, the sales force of vendors needs to be technically skilled to be able to explain the characteristics and function of the products in their catalog to prospective users. The requirement of a technical background becomes even more essential when understanding the custom requirements of researchers to ensure that the vendor is able to meet the product specifications and manufacture them accordingly.
For custom products and services, the distribution network needs to be robust enough to meet delivery timelines. Leading players, such as Nonin and IRadimed Corporation, have their offices, manufacturing sites, and distribution facilities in almost all parts of the world for MRI pulse oximeters. The emergence of e-commerce also aids in the increasing availability of MRI pulse oximeters from prominent players.
Increasing Frequency of Acquisitions and Mergers
In the MRI pulse oximeters market, manufactures are majorly focusing on merging with those companies who are pioneers in the radiology field. This is a common trend followed in the U.S. & Europe markets. Increasing investments from medical device companies from Europe and Asia are also among the key factors boosting the growth of the MRI pulse oximeters market.
In addition, enforcement pertaining to research and rapid advancements in MRI-compatible pulse oximeters is another factor boosting development and innovation in the MRI pulse oximeter market.
Technological Advancements Leading to Demand for Higher Quality MRI Pulse Oximeters
Innovations in the manufacturing process of MRI pulse oximeters are resulting in the higher demand for multifunctional MRI pulse oximeters. A number of companies have a product portfolio of MRI technology, and are developing high-quality and multifunctional MRI pulse oximeters. These companies are also trying to meet the customer demand and GMP compliance for faster regulatory approval.
Technological advancements in MRI pulse oximetry, partnerships between leading companies, which are boosting research activities in the radiology field, growing demand for advanced SpO2 measuring techniques, and technological advancements in MRI instruments are some of the major factors fuelling the growth of the global MRI pulse oximeters market.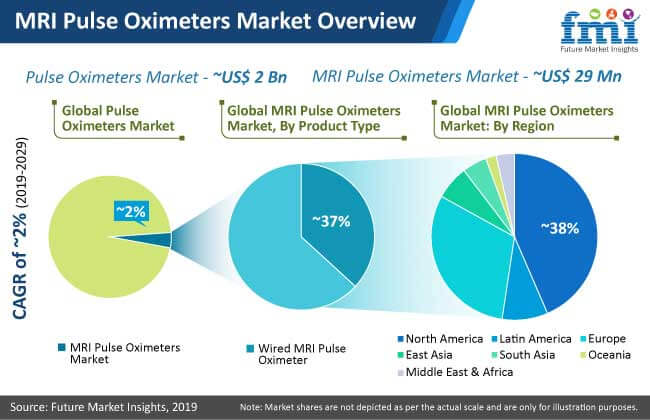 MRI Pulse Oximeters Market Structure Analysis
The global MRI pulse oximeters market represents a fairly fragmented competition landscape, where majority of the key players maintain their strategic focus on acquisitions and mergers, targeting a concrete global footprint.
The MRI pulse oximeters market has been relatively steady in size, which remains a key factor for its dynamic competitive nature.
The leading manufacturers of MRI pulse oximeters are presently prioritizing R&D and new product launches to resonate with the booming adoption of MRI pulse oximeters in North America, Europe, and China.
Portfolio extension and regional expansion is also identified to remain one of the crucial developmental strategies followed by manufacturers of MRI pulse oximeters.
For a stronger foothold in target markets, MRI pulse oximeter manufacturers will continue to rely on inorganic strategies such as acquisitions and mergers.
Deeper understanding of the market trends and preferential shifts of end-use segments across various regions are expected to create a hindrance for market players that are looking forward to untapped opportunities in the MRI pulse oximeters market.
MRI Pulse Oximeters - Extending the Traditional Functionality
The new-age medical technologies have transformed the way healthcare professionals and patients participate and interact with each other. Owing to rapid pace of technological advancements in healthcare industry, several medical devices have undergone a paradigm shift, and progressed significantly beyond their initial functions. In recent times, companies have been seeking to make their products stand out in an increasingly crowded market place, and some have invested heavily in design processes and capabilities.
Pulse oximeters – which started out as a simple device designed to estimate and monitor patient's pulse and arterial saturation of oxygen – have evolved into a more complex device, offering multiple functions at the press of a button along with vital signs monitoring devices. As pulse oximetry technology is constantly moving way ahead of its original capabilities, it only makes sense to explore ongoing and future developments in pulse oximetry functions and applications.
Future Market Insights (FMI), in its new study, turns the spotlight on 'MRI Pulse Oximeters Market', and share credible insights that can assist the stakeholders in well-informed decision-making.
The Aggravating Need for Early CHD Detection
MRI-compatible pulse oximeters – designed using non-magnetic components to enable safe and accurate monitoring of patients' vital signs during MRI scans – have garnered considerable traction in in-depth analysis of diseases. Apart from using in connection with congenital heart defects (CHD), MRI pulse oximeters are increasingly used as a standard diagnostic measure in the area of anesthetics, intensive care, and emergency care.
These devices continue to gain momentum as a viable screening tool to detect clinical and subclinical levels of hypoxemia that could raise suspicions for critical CHD. As CCHD remains one of the common birth defects with high risk of mortality, MRI pulse oximeters are smart pulse oximeters creating a new era for the diagnosis of such diseases at the initial level that can effectively initiate necessary treatments.
Considering the rapid shifts towards quality-based healthcare models, key manufacturers of MRI pulse oximeters are incorporating fiber optic SpO2 sensor and intelligent pulse-by-pulse filtering technology in their products that can provide a wide variety of display indicators to ensure reliable readings. However, in most cases, healthcare professionals do not prefer pulse oximetry testing during MRI scans in the view of time-consuming procedures, which continue to limit the sales of MRI pulse oximeters.
Tracking Market Landscape across Geographies
Demand for MRI pulse oximeters is currently based on high prevalence of chronic diseases such as cancer and cardiovascular diseases along with an increase in the adoption of radiological technologies for accurate diagnosis of diseases. The future of MRI pulse oximeters, however, can be disruptive with the emergence of cost-effective alternatives including wireless and wrist-worn pulse oximeters which provide precise SpO2 measurements and are not restricted to MRI environments.
While the U.S. and EU5 continue to offer greater opportunities due to strong presence of key stakeholders, market consolidation in East Asia will remain a key to acquiring distinct competitive edge, backed by favorable government initiatives for the expansion of healthcare sector.
Advancements in MRI Machines to Dictate Stakeholders' Strategies
With a massive shift taking place in global healthcare sectors, R&D spending continues to represent high percentage of market stakeholders' expenditure. While existing MRI pulse oximeters work efficiently with 5T MRI scanners, developing and introducing products that are compatible with both 5T and 7T Magnetic Resonance Imaging machines should be an important strategy for the manufacturers, considering a CE and FDA approval of 7T MRI scanner in 2017.
Realizing an increased production of better alternatives, manufacturers will need to differentiate their products through innovations and incorporation of user-friendly sensors. Additionally, it is important for MRI pulse oximeters to efficiently operate without interference by the electromagnetic fields used for MRI procedures. Manufacturers are thus leveraging fiber optic technology to avoid conductive pathways formed by any metallic materials.
As the current MRI pulse oximeters are organ specific, requiring different sensors for different organs, manufacturers investing in the development of products that are not organ specific and provide accurate SpO2 readings equally in all sensor locations are likely to be rewarded in the long run.
MRI Pulse Oximeters Market – Mapping the Road Ahead
MRI pulse oximeters market players remain focused on meeting the needs for pulse oximetry on infants, pediatrics, and adults in fixed-site as well as mobile MRI units. Continuous developments in these products are centered on easy-to-use designs and greater flexibility for clinicians to obtain patients' vital signs information. Considering the greater awareness of such devices, especially in developing countries, manufacturers are seeking faster approval of their products for reduced time-to-market.
However, MRI diagnosis continues to associate with high costs, thereby adding to reluctance of pulse oximetry testing during MRI scans. In addition, MRI pulse oximeters are sensitive and have relatively high maintenance costs as compared to generic pulse oximeters, which remain key challenging factors for the manufacturers.
Key Segment
By Product Type
Wired MRI Pulse oximeters
Wireless MRI Pulse oximeters
By Modality
Sensor with monitor
Sensor without monitor
By End User
Hospitals
Diagnostic Laboratories
Ambulatory Surgical Center
By Region
North America
Latin America
Europe
South Asia
East Asia
Oceania
Middle East and Africa
Need specific information?