Magnetic Resonance Imaging (MRI) Contrast Agents Market By Product Type (Paramagnetic, Superparamagnetic), End-Use (Hospitals, Ambulatory Surgical Centers, Diagnostic Centers)& Region - Forecast 2019–2029
Magnetic Resonance Imaging (MRI) Contrast Agents Market - Analysis, Outlook, Growth, Trends, Forecasts
February 2019

REP-GB-11023

233 pages
Magnetic Resonance Imaging (MRI) Contrast Agents Market to Surge 1.5X by 2029
The global magnetic resonance imaging (MRI) contrast agents market is anticipated to join the billion-dollar club in 2025. While the healthcare sector across the world is showcasing a radical shift towards value-based models, government agencies are playing their part by enabling easy product approvals, in unison. As the preference for non-invasive treatment and multimodality diagnostic imaging services continues to climb, the global magnetic resonance imaging contrast agents will expand 1.5X by the year 2029.
Paramagnetic Contrast Agents Capture over 95% Market Share
Owing to better clinical outcomes as well as increasing availability of patient-compliant drugs, paramagnetic contrast agents will be at the forefront of the global magnetic resonance imaging contrast agents market by a huge margin. Among these contrast agents, extracellular fluid (ECF) agents are leading the pack with around 90% share, while blood pool contrast agents (BPCAs) are likely to see double-digit demand growth. Meanwhile, this study predicts sluggish demand growth for superparamagnetic contrast agents.
Opportunities Abound in Developed Regional Markets
Upsurge in MRI installations and MRI scans as well as healthcare spending would be the deciding factors shaping the global magnetic resonance imaging contrast agents market, in both, developed and developing regions. By capturing a relatively higher share in overall revenue, North America continues to define stakeholders' bottom lines, followed by Europe.
The U.S. and Germany are spearheading these developed regional markets, respectively. Moreover, the emergence of the MRI contrast agents market in Asia is influencing stakeholders to realign their strategies.
Product Customization - A Unique Selling Point
In an effort to gain a competitive edge, players in the magnetic resonance imaging contrast agents market are focusing on customizations to aid radiologists provide high-quality patient care. Bracco Diagnostics Inc., for instance, introduced a customizable media kit, in mid-2019, for ProHance® (Gadoteridol) MRI contrast agent injection to visualize lesions in the head and neck during MRI scans. Furthermore, GE Healthcare launched Clariscan (gadoteric acid), a new macrocyclic MRI contrast agent, in Europe and South Korea.
How Growth Will Unfold
Hospitals would remain key end users in the global magnetic resonance imaging contrast agents market, on the back of substantial rise in installed base of MRI units and high visit rate at outpatient departments. Diagnostic centers, on the other hand, are also reflecting lucrative prospects for market players. The adoption of MRI contrast agents in both these end users currently accounts for over ¾ share of total market revenue, while that in ambulatory surgical centers (ASCs) is likely to dip through 2029.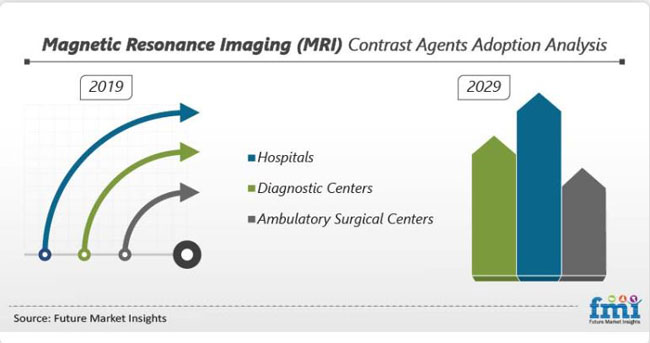 Frequently Asked Questions about Magnetic Resonance Imaging (MRI) Contrast Agents Market
Which region is expected to lead the sales of magnetic resonance imaging contrast agents?
North America remains the most lucrative market in terms of revenue, and this trend is anticipated to continue throughout the forecast period. Asian countries such as India and China remain the targeted geographies expected to provide immense opportunities for regional and major players operating in the magnetic resonance imaging contrast agents market.
Which product type is expected to be attractive in the magnetic resonance imaging contrast agents market?
Paramagnetic contrast agents have emerged as a prominent segment by product type, representing more than 99% of revenue share in the MRI contrast agents market. Owing to their use as MRI contrast agents for humans, unlike superparamagnetic contrast agents, which are basically used for in-vivo and in-vitro MRI studies of small animals, the segment enjoys high demand.
Who are the major players contributing to the growth of magnetic resonance imaging contrast agents market?
Bayer AG, Guerbet GmbH, and GE Healthcare LLC. are key players operating in the magnetic resonance imaging contrast agents market. Introduction of new products and effective marketing are the key strategies being practised by major market players to enhance their product portfolio and market share in the global MRI contrast agents market space. However, providing a cost-effective product is also another major criterion where manufacturers are competing on.
How do complications associated with MRI contrast agents hamper market growth?
MRI contrast agents are generally very safe but also found to be toxic and harmful to some extent. Nephrogenic systemic fibrosis (NSF) is the most common complication encountered during the diagnosis procedure using MRI contrast agents.
Manufacturers in the magnetic resonance imaging contrast agents market are correcting these flaws by using binding agents or cheaters to prevent the deposition of metals in the body. However, some concerns have also been raised that not all the gadolinium injected for the scan are eliminated from the body, and may cause harm to the body in the long-term.
World's Most Profilic Intelligence Engine
Get Access To The World's Largest Market Research Database.
Sign Up Now
Key Segment
FMI's study on the magnetic resonance imaging contrast agents market offers information divided into three important segments - product type, end user, and region. This report offers comprehensive data and information about the important market dynamics and growth parameters associated with these categories.
By Product
Paramagnetic Contrast Agents

Extracellular Fluid (ECF) Agents
Blood Pool Contrast Agents (BPCAs)
Organ-specific Agents

Superparamagnetic Contrast Agents
End User
Hospitals
Ambulatory Surgical Centers
Diagnostic Centers
Region
North America
Latin America
Western Europe
Eastern Europe
APEJ
JAPAN
Middle East and Africa
Need specific information?
Our Clients