Almond Flour Market Value to Grow over 2X Between 2019 and 2028
The rise of veganism and impressive growth of gluten-free trend collectively underpin the sales of non-traditional flours across the food industry. Almond flour has been one of the first-introduced gluten-free flour alternatives that continues to gain traction as a preferred bakery ingredient. Inclination towards protein-rich diet is another strong factor pushing almond flour sales. This study tracks the growth trail of global almond flour market and forecasts more than 2X expansion in it between 2019 and 2028.
Frequently Asked Questions About Global Almond Flour Market
How will the almond flour market progress in the future?
Almond flour has been among the traditional non-grain flour choices among the health-conscious consumer cluster. Versatile nutritional profile continues to fuel the almond flour market, which would be further complemented by the growth of gluten-free and vegan trends.
Which form of almond flour is preferable?
Blanched almond flour that has a sweet and nutty flavor, unlike the undesired taste characteristic of other gluten-free flour varieties, will remain a preferred choice. Brands are also launching innovative offerings in this category. The availability of a wider range of blanched almond flour variants is increasing.
Which regions will the lucrative markets for almond flour manufacturers?
Almonds are widely popular nuts in North America. In addition to this, there is accelerating demand for it in flour and oil segments. The demand for almond flour is therefore likely to rise considerably, especially with chefs and artisanal bakers extensively experimenting with using in in bakery products.
This is also a chief driver of the almond flour market in North America. Europe, the house to world's largest bakery market, will also be an important investment pocket for almond flour manufacturers.
Will climatic uncertainties continue to be a challenge for almond production scenario?
Yes, being an agro-based sector, the almond production scenario remains largely influenced by the uncertainties in weather conditions. Seasonal threats such as extreme cold conditions and droughts lead to destruction of almond orchards, which continue to be a challenge to the production of almond and related products such as almond flour. The consequent high price point of almond flour also remains a longstanding barrier to market growth.
How do you analyze the almond flour market structure?
A majority share of the global almond flour market is held by five leading companies. Backed by their large production capacity, strong distribution network, and high-quality products, key players in the almond flour market continue to successfully limit competition from the rest of the market. A majority of market leaders are based in top almond producing countries such as the U.S., thereby significantly contributing to North America's market growth.
Blanched Almond Flour Holds over 50% Market Share
By the end of 2019, more than half the almond flour market revenues will be accounted by blanched almond flour owing to greater awareness about its health benefits over the natural counterpart. Although both the forms represent a similar nutrition profile, the former is finer, lighter, smoother, and fluffy in texture. Blanched almond flour is thus used in a wide array of food products that target a health-conscious consumer cluster. This trend has been compelling almond flour manufacturers to differentiate their offerings as fine blanched and extra fine blanched almond flour.
Europe Makes up for 1/3rd of Total Almond Flour Sales
High awareness about health benefits of consuming almond products such as almond milk and almond flour accounts for Europe's primacy in global almond flour market. Notable expansion of the vegan trend and wide availability of gluten-free products across the European Union will remain the prime booster to Europe's market that currently holds around a third of total almond flour sales. Several European farmers are interested in replacing their traditional sunflower and wheat fields with almond orchards, which would be an excellent factor driving sales of almond flour and related products in the near future. Western Europe will particularly see the sales ramp up in bakery, along with in products such as dairy-free spreads and sauces.
Manufacturers Unlocking Opportunities in Dietary Supplements
In contrary to conventional grain flours, almond flour is low-carb, high-protein and rich in fiber and healthy fats. High magnesium and Vitamin E content accounts for its solid functionality in blood glucose regulation. Moreover, escalating demand for plant-based or vegan, and allergy-free protein ingredients is further translating into amplifying sales of almond protein. The growth of dietary supplements industry will thus augur well for almond flour market, as manufacturers of almond flour have been discovering multiple windows of opportunities in the dietary supplements market. Between 2019 and 2028, this adoption is poised to rise at a robust rate of over 8%.
Blanched almond flour remains preferred
Demand for organic almond flour to increase rapidly
Conventional products hold a massive market share
Demand for organic almond flour to increase rapidly
Maximum revenue generated through industrial applications
Adoption in dietary supplements to surge dramatically
Indirect sales remain high
Direct sales to witness stable growth
How Growth will Unfold
Compared to household and foodservice sectors, the industrial sector exhibits remarkable opportunistic potential for the almond flour market players. A majority of almond flour consumption by industrial sector is accounted by bakery, followed by products such as sauces and spreads. While demand for almond flour to be used in bakery products currently represents more than half the total sales within industrial sector, increasing demand as a key ingredient in gluten-free bakery premix and other similar convenience products would further accelerate sales. This trend will continue throughout the forecast period.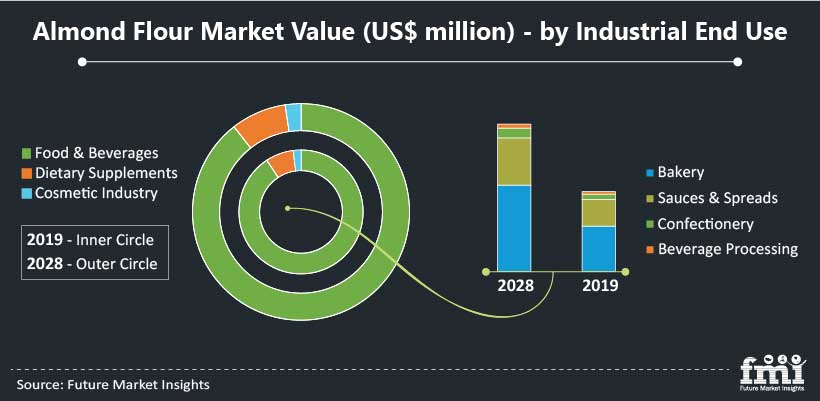 * This data is only a representation. Actual data may vary and will be available in report.
Click Here To Know How The Growth Will Unfold
Custom Market Research Services
FMI offers custom market research services that help clients to get information on their business scenario required where syndicated solutions are not enough.
Overview
Almond Flour Market Analysis 2019 - 2028
The report on the global almond flour market is intended to offer global industry assessment for 2012-2018 and 2019-2028. In this study, Future Market Insights (FMI) covers some of the chief factors that are likely to impact the demand and supply of almond flour over the next couple of years. It includes detailed review of growth drivers, challenges, opportunities, and prevailing trends in the market. It therefore covers crucial information intended to help readers get a comprehensive overview of the almond flour market.
Almond Flour Market Taxonomy
The report segments the global almond flour market in detail to present an executive-level blueprint to the reader
End User
Household
Foodservice
Industrial
Cosmetic Industry
Dietary Supplements
Region
North America
Latin America
Western Europe
Eastern Europe
Japan
APEJ
MEA
To Learn More About our Comprehensive Perspective on Almond Flour Market,
Get in touch
COVID -19 : Impact Analysis
Request the coronavirus impact analysis across industries and markets
Request Covid -19 Impact
CASE STUDIES
See how our work makes an impact.
At FMI, we design strategies that are adaptive, impactful, and implementable.