Introduction
In terms of value, the global coconut flour market is estimated to be valued at more than US$ 380 Mn in 2017 and is expected to cross US$ 720 Mn by the end of the forecast period. The global coconut flour market is slated to exhibit a CAGR of 6.6% in terms of value during the forecast period 2017 – 2027.
North America Coconut Flour Market Snapshot
In 2017, the coconut flour market in the North America region is estimated to be valued at more than US$ 140 Mn and is expected to register a CAGR of 6.8% over the forecast period to reach a market valuation of nearly US$ 274 Mn by the end of 2027. The market in the region is expected to create absolute $ opportunity of US$ 124.8 Mn between 2017 and 2027. The coconut flour market in North America is expected to remain dominant throughout the forecast period in terms of revenue contribution.
However, the supply chain of coconut has a multi-layered and complex marketing channel, from production point of view to domestic and international marketing. The volume and value in the export of coconut flour are showing a significant increase.
Gluten intolerance spans a wide spectrum of product offerings infused with coconut flour
The main benefit of coconut flour is that it is completely gluten free. Presently there are millions of consumers who are allergic to wheat or are sensitive to gluten. Coconut flour is an alternative to wheat flour and is gradually becoming a substitute for wheat flour as far as gluten intolerant consumers are concerned. Today, a variety of products made from coconut flour are available in the market such as breads, muffins, pancakes, cakes, cookies and cupcakes; and these taste similar to products made from wheat flour.
It is a delicious low carb, gluten free alternative to wheat. An estimated 30% of consumers are choosing gluten free products and almost 41% of the consumers in the United States believe that gluten free products are beneficial. All these factors are boosting the market for coconut flour, especially in North America.
Low production cost of coconut flour has enabled new entrants to enter the market
The economical production cost of coconut flour and the fact that it can be produced in both small and large quantities is one of the significant factors driving the coconut flour market in North America. The raw material for the production of coconut flour is obtained from the by-product (waste) of the coconut milk industry and the process as well as the equipment used in the production is simple and cheap. The by-product in processing coconut milk provides a value-added income to manufacturers along with a nutritional and healthy source of dietary fibre for consumers.
Unfavourable climatic conditions for the production of coconut
One of the major restraints for the production of coconut flour in the North America region is the unfavourable climatic conditions due to which coconut cannot be produced domestically. The fruit is either exported from Latin America or from the Asia Pacific countries were coconut is available readily. Brazil was the top coconut producing country till 2010; however, now three Asian countries namely Philippines, Indonesia, and India are the major coconut producing countries. Almost 90% of the global supply of coconuts comes from Asia. The Philippines exports more than $1 billion worth of coconuts to the United States alone.
North America Coconut Flour Market Attractiveness Analysis
Among all the types, the market for organic coconut flour is expected to register the highest CAGR of 6.8% in terms of volume during the forecast period. For instance, Bob's Red Mill Paleo Baking Flour which includes almond flour, arrowroot starch, coconut flour, and tapioca flour was launched by the company in 2016. The product has been quite popular amongst consumers. Companies are catering to the service of grain-free lifestyle, as consumers are looking for more unique gluten free flour blends. The millennial generation is the major contributor to this ongoing trend in the region.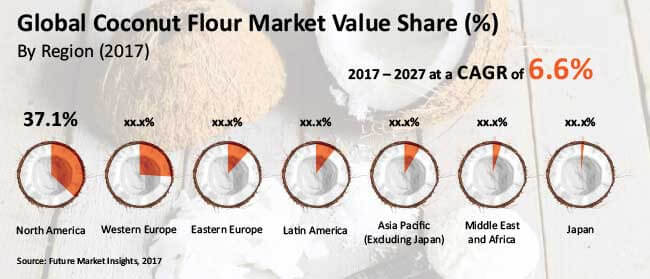 The wide-ranging benefits of coconut flour are boosting its demand in the European and North American markets
"Individual consumers are gradually becoming aware about the various beneficial properties of coconut flour. Coconut flour products are surging in the market as an alternative for baking ingredients in the United States and Europe. It is gaining traction amongst consumers during festival seasons such as Christmas and New Year Eve in Europe. The ingredient is being added to supplement healthy diets owing to its benefits such as antibacterial and antifungal properties."
Market Taxonomy
By End Use
Industrial
Retail

Modern Trade
Grocery/Conventional Stores
E-retailers
By Application
Baked Products
Snack Foods

Multi-Grain Chips
Polvoron
Kroepeck
Extruded Products

Extruded Products
Animal Feed
By Product Form
Whole Full Fat Flour
Low Fat High Fibre Flour
Medium Fat Flour
By Technology
Fresh-Dry Process
Wet Process
By Nature
By Region
North America
Latin America
Western Europe
Eastern Europe
Asia Pacific Excluding Japan
Middle East and Africa
Japan
Need specific information?