Top 3 Market Growth Influencers
High Demand for Plant-based Products to Drive Market Growth

Consumers drive the shift to plant-based food products consumption. While buying a specific product, they consider multiple factors such as plant source, animal welfare problems, etc. Companies are therefore attempting to create vegan products according to consumer needs. Food and beverage manufacturers can also use coconut milk goods to create vegan goods to improve their final products and nutritional value. Consumers' inclination towards vegan products is therefore expected to have a beneficial effect on the development of the market for coconut milk products.

Health Benefits of Coconut Milk Products Capturing Consumers' Interest

Consumers are prepared to pay more for those products that provide health advantages, and this awareness is expected to be a driver for the coconut milk products market development. Coconut milk products offer a number of health advantages. Coconut dairy products are a wealthy iron source that enables hemoglobin to function and form. Coconut milk products can be used to prepare different products that can assist to avoid anemia and enhance anemic patients' health as well. During the forecast era, these various health advantages provided by coconut milk goods are expected to boost their demand.

Rising Demand for Plant-Based Cosmetic Products

Awareness of the side effects caused by chemicals used in cosmetic products has led to a change in consumer preferences. Consumers prefer the use of plant-based cosmetic products, so coconut milk products serve as an appropriate choice because they are rich in nutrients and also help to hydrate skin and hair. The growing demand for plant-based products is therefore anticipated to bring traction to the coconut milk products market.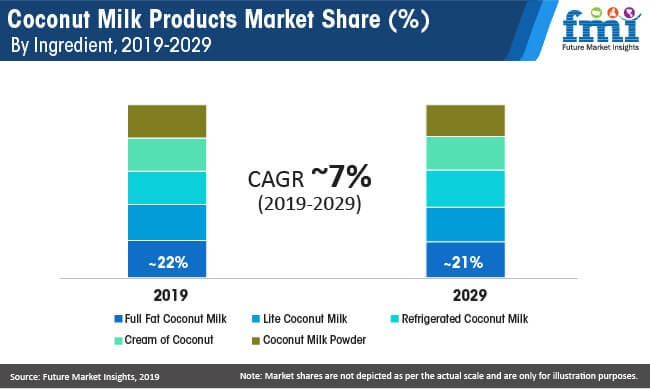 Coconut Milk Products Market Structure Analysis
The global coconut milk products market is a moderately competitive market. Approximately 75% - 84% share of the market is held by tier-1 players.
Expansion of the business through mergers, acquisitions, collaborations, and alliances are the strategies followed by key players in the coconut milk products market.
The key market players focus on strategies such as adoption of new technologies to develop innovative products, and further enlargement of sales and distribution channels.
Noteworthy investments in the research and development for novel and sturdy products are projected to boost the growth prospects of the coconut milk product market.

Major players in the coconut milk products market are S&P International Holding Limited, Sambu Group, Grace Foods Canada Inc., Nestlé S.A., Renuka Foods PLC, J Mitra Sdn. Bhd., Santanku Sdn Bhd, M&S Food Industries, Monty & Totco Co., Ltd., and Primex Coco Products, Inc. amongst others.
Market Segmentation
The global coconut milk products market is segmented in detail to cover every aspect of the market and present complete market intelligence to the reader.
Nature
Flavor
Product
Full Fat Coconut Milk
Lite Coconut Milk
Refrigerated Coconut Milk
Cream of Coconut
Coconut Milk Powder
End use
Food & Beverages
Foodservice
Cosmetic & Personal Care
Sales Channel
B2B
B2C

Hypermarket
Convenience Store
Food Specialty store
Online Store
Region
North America
Latin America
Europe
Asia Pacific
Middle East & Africa
Need specific information?